IN 1977, the entire planet was foaming at the mouth for anything Star Wars. The frenzy continued for several years with  piles of Star Wars products flooding the stores daily.  It seemed all you needed to do was bear a passing resemblance to the film or utter the words "star" and/or "wars" and your product would sell like hotcakes.
Back then, George Lucas' legal team wasn't as it is today: a ruthless band of bloodthirsty lawyers on the prowl day and night for any unlicensed, unauthorized Star Wars merchandise. Indeed, there were a surprising number of unapologetic copycats cashing in on the Star Wars gravy train, and getting away with it.   Plus, Lucas was evidently a lot more liberal about where Star Wars could rear its money-making head, as evidenced by this Donny & Marie Show segment….
The film had a seismic impact on every niche of the pop culture landscape, with tons of Star Wars clones at the cinema, and loads of Star Wars toys hitting the shelves.  Perhaps not as well remembered are the records, but they were no less impacted.  Here are a few examples of music inspired by Star Wars  – or more accurately, inspired by the giant mounds of cash left in the wake of this cinematic money pot.
STAR WARS AND OTHER GALACTIC FUNK – MECO (1977)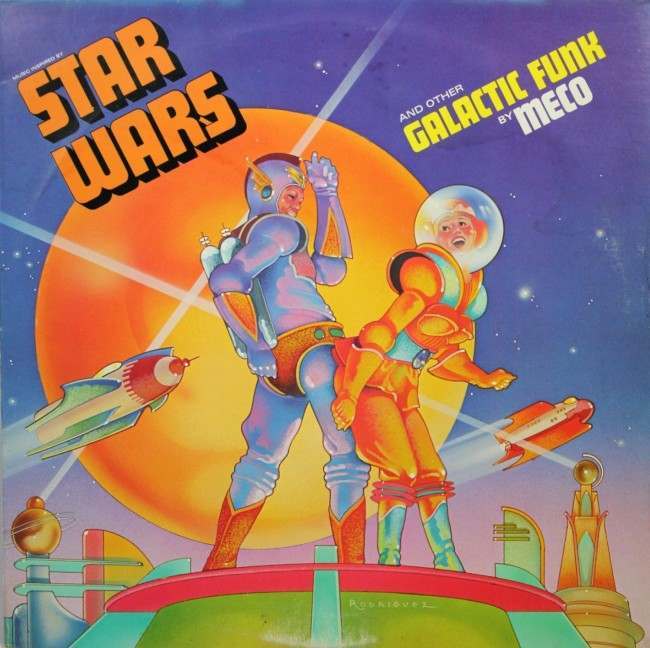 Perhaps the biggest beneficiary of the public's insatiable appetite for all things Star Wars was the sci-fi disco band, MECO.  "Star Wars Theme/Cantina Band" actually was a big hit, reaching #1 in the US and #7 in the UK.  The Top of the Pops rendition, featuring disco-cowboy dancers, is the very definition of a "must see".
DISCO MUSIC INSPIRED BY STAR WARS – THE PLANET ROBOTS (1977)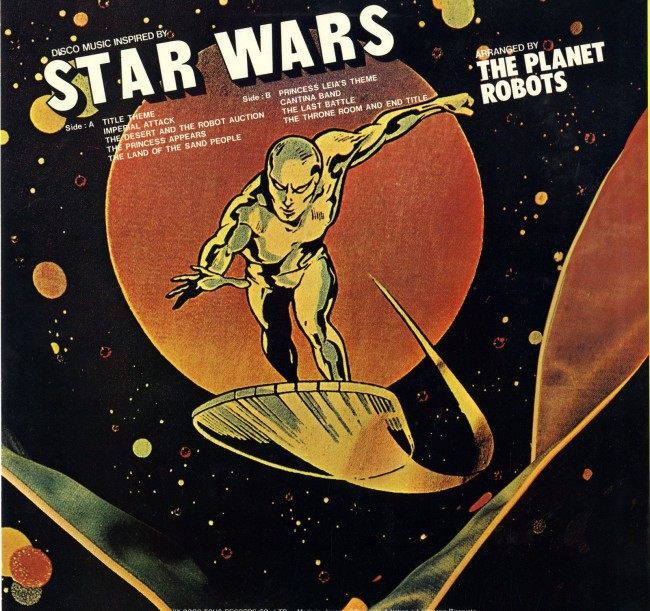 I haven't the slightest idea what the Silver Surfer has to do with Star Wars.  I suppose if you're going to rip off Star Wars, you may as well pilfer Marvel as well.  The Planet Robots were nothing if not efficient in their pilfering.
STAR ROBOT SYSTEM – BANG BANG ROBOT (1977)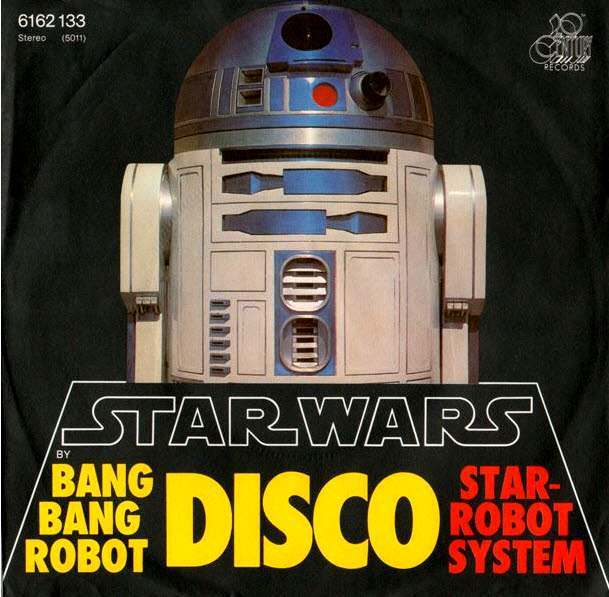 It's amazing to think that Bang Bang Robot got away with sticking R2-D2 on their single sleeve.  Nowadays, for such an infraction, Lucas' lawyers would have your first born son banished to a North Korean labor camp.
Here's their song "Star Robot System".  Be prepared for some heavy duty '70s "wah wah" guitars.
THEME FROM STAR WARS (DISCO VERSION) – THE VENTURES (1978)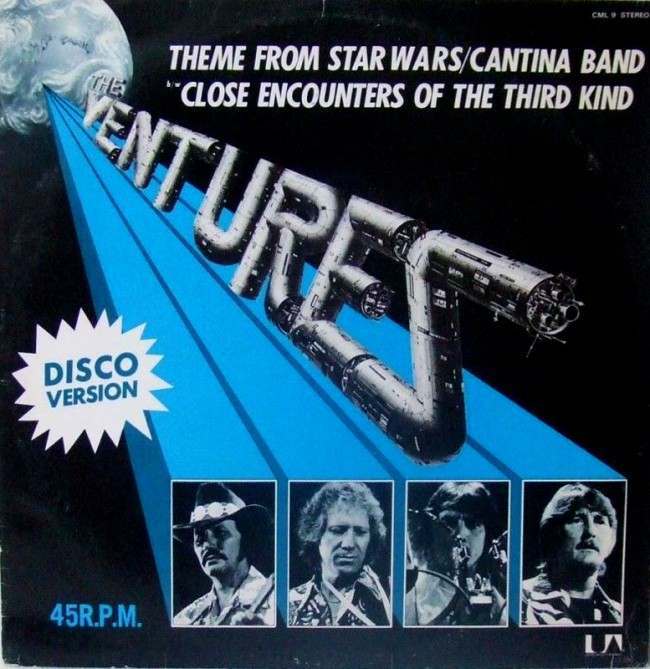 How in God's name The Ventures went from über-cool surf-rock to über-lame space-disco is beyond me.  I can't help but think that every Ventures member gives himself a whopping face-palm at the mere memory of this album.
DUCK WARS – THE WIBBLE WABBLE SINGERS AND ORCHESTRA (1978)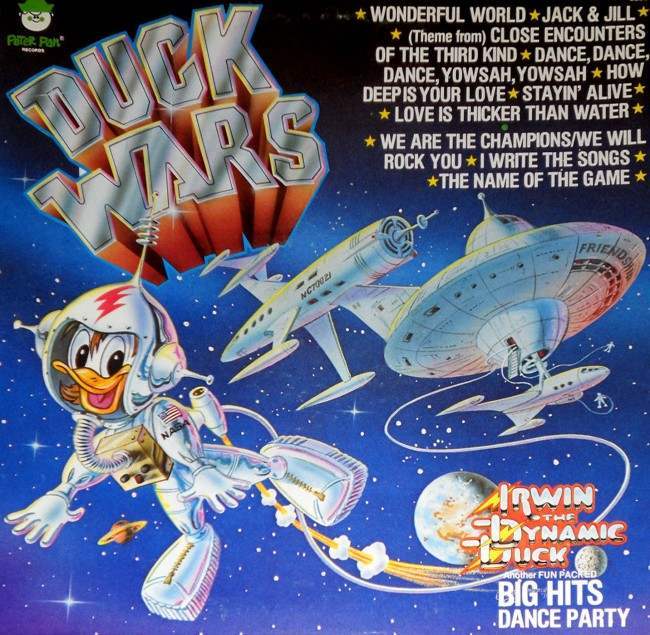 Just remember that no matter how bad this is, no matter how gut-wrenchingly terrible this shameless grab for cash is, it's still better than The Phantom Menace.
MUSIC FROM STAR WARS – JOHN ROSE (1977)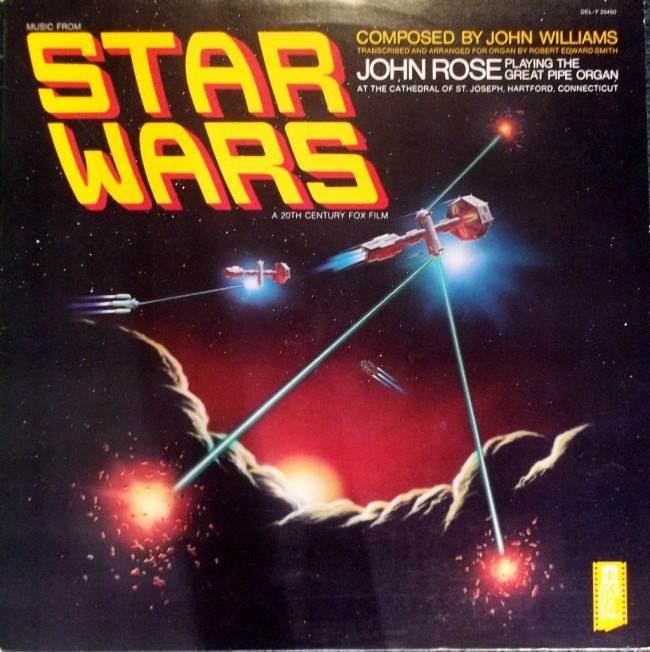 I don't mind a pipe organ version of the Star Wars tracks, but at least get the cover art right.  What the hell is this sci-fi mess?  These are saddest looking space ships I've ever laid eyes upon, and they appear to be wielding giant sparklers.  WTF?
STAR WARS – THE KID STUFF REPERTORY COMPANY (1977)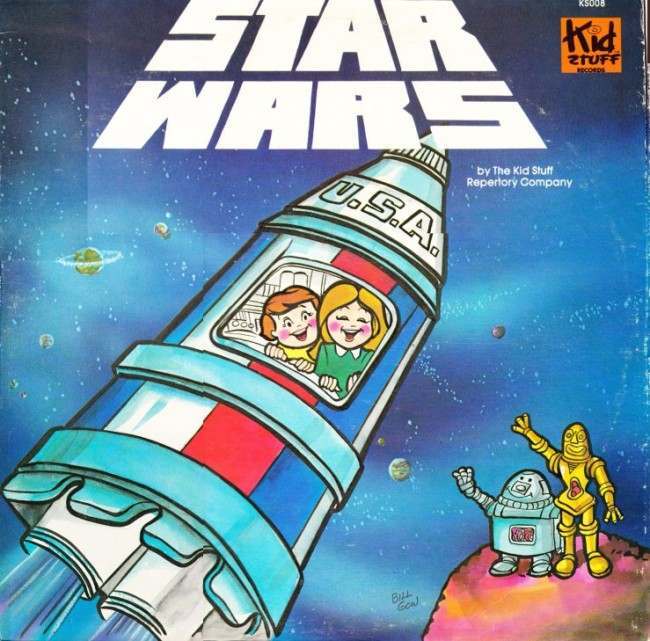 Is it just me, or do the two robots look slightly familiar?  I'm sure the Kid Stuff Repertory Company paid zero royalties and never asked for permission to use the name Star Wars.  As I've said, things were a bit looser in '77.
STARWAR – LASSE SAMUELSON (1978)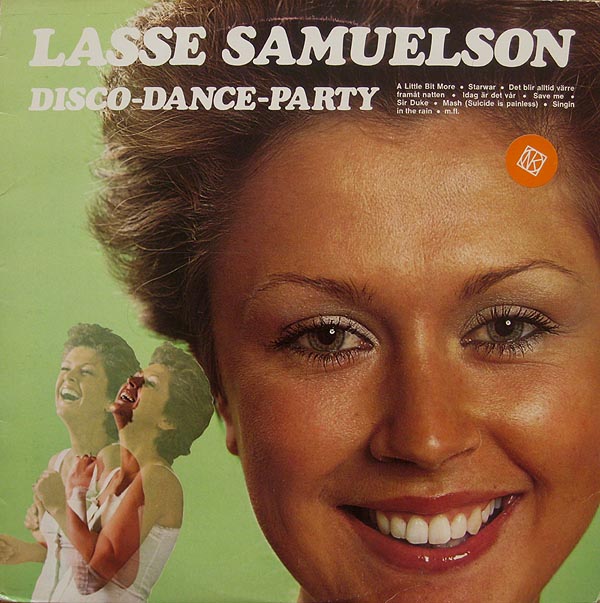 I'm including this just to illustrate how far reaching the Star Wars pandemic was.  This album of Swedish funk instrumentals contains the obligatory Star Wars theme.  Indeed, if we were to cover every album that ripped off this John Williams score, we'd be here all night. Sadly, I can't provide the Lasse Samuelson rendition of Star Wars, but here's a groovy number called "Sunnyside" from this LP that is a worthy substitute.
CHART WARS – VARIOUS ARTISTS (1982)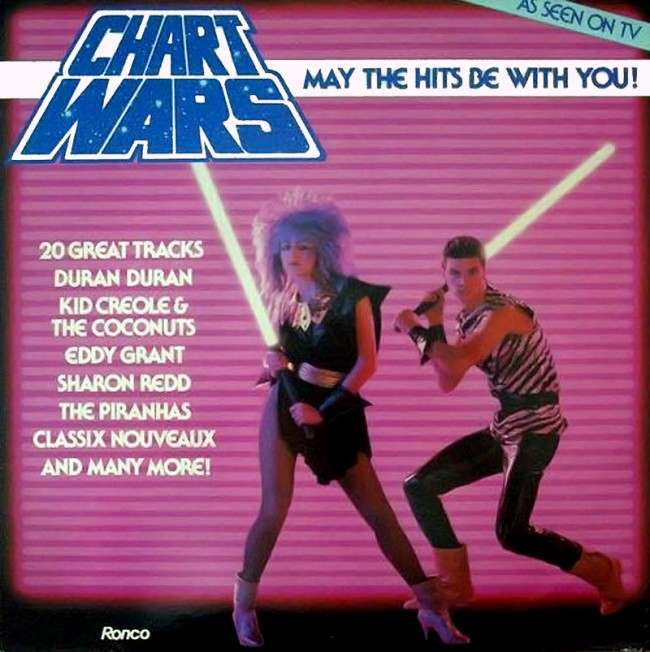 This record came out two years after The Empire Strikes Back, yet the Star Wars mojo is still alive and kicking.  It should be noted that there is nothing approaching a sci-fi track on this record, yet they still elected to go with lightsabers.  Also, take note of the guy on the right – finally, a gay Jedi.
It's safe to say that the inhabitants of earth were stricken with "Space Fever" in 1977.  So, I think it only fitting we end with the sci-fi disco track "Space Fever" by Cosmic Gal (1979).  It's truly awful, but all is forgiven due to the generous amount of pelvic thrusting. The Force is strong with these disco dollies. As Yoda would say, "Thank me afterward, you will.  Yes, hmmm."