Max's Kansas City was the place to be in 1970s New York, when the city was bursting with cultural imagination. This was before New York went corporate, when the city was vibrant, messy and a trip to Max's Kansas City on Eighteenth Street and Park Avenue South meant being served by Debbie Harry, your waitress for the night, and sharing the visible air with the likes of William S. Burroughs, Robert Mapplethorpe, Andy Warhol, John Cale, Allen Ginsberg, Robert Rauschenberg, David Bowie, Iggy Pop, Lou Reed, Candy Darling, Jackie Curtis and Holly Woodlawn. Max's Kansas City was where you watched an unknown named Bob Marley open for an only slightly less unknown Bruce Springsteen.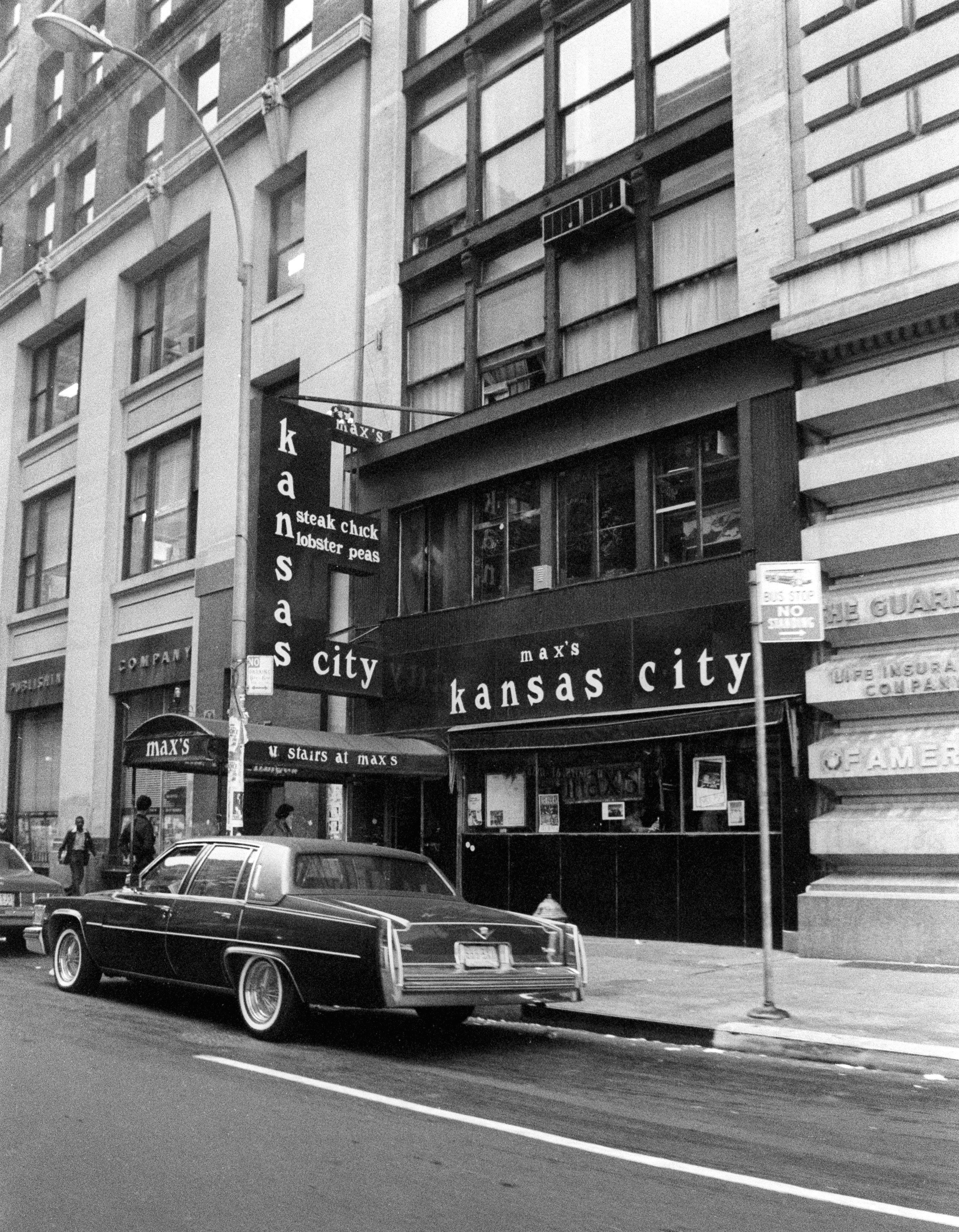 "I met Iggy Pop at Max's Kansas City in 1970 or 1971," recalled David Bowie. "Me, Iggy and Lou Reed at one table with absolutely nothing to say to each other, just looking at each other's eye makeup."
James Wolcott writes:
A restaurant and nightclub on Park Avenue South whose name had little to do with Max and even less to do with Kansas City, this magnet for artists, actors, musicians, poets, and fame moochers was opened in 1965 by Mickey Ruskin [1933–1983]…

The mottled glory that was Max's is a two-part saga. From the mid-60s to the early 70s, it was thronged with painters, sculptors, and Zeus-browed critics, its in-crowd back room becoming the banquet spot for Andy Warhol and his apostles from the Factory. (Warhol's flagship band, the Velvet Underground, recorded a live album there.) This gave way to the thundering hooves of glitter-rockers such as the New York Dolls in their platform wedges and lipstick pouts, bringing down the curtain on Act I. Max's closed in 1974 and reopened in 1975 under new management and became the North Pole of the punk/New Wave movement to CBGB's southern pole on the Bowery.
Max's closed in 1981.
Many great photographs of nights at Max's were taken by Croatian artist Anton Perich, who joined the venue's staff as a busboy in 1972 and pulled out his camera for a photo whenever the chance presented itself.
He recalls:
There were three epicenters at Max's: Bar, Back Room and Upstairs. Each zone had prominent art. You didn't have to go to MoMA to see contemporary American art. Mickey was the top curator of that time. Bar had a hovering sculpture by Forest Myers. The window was by Michael Heiser. At the Long Wall was Donald Judd. The Passage way had a crashed car by John Chamberlain; it had sharp ends, so all waitresses had bruises. The Back Room had the legendary bloody neon cross by Dan Flavin as well as Myer's Laser's End – probably the most immaterial sculpture ever made. Upstairs had some Warhols. My photograph hung over the cashier by the entrance. I was elated to be in such a company. Those are the real secrets of Max's.
'I adored Jackie. Candy said, "I can't go into Max's. It's against the law." Louis Waldon [a performer/presence on the scene] said, "This is a place unlike any other. You will not be arrested for dressing like a woman." She became very comfortable and a fixture. Jackie came to Max's in drag. Once, she stood outside the restrooms and tried to make a decision of which one to use. She finally took the ladies room and the place went crazy. There was a small gathering of people urging her to try it. "Go, go go." They cheered when she did it.' – Jeffrey Nickora, who worked at Max's as "Cashier/maître d, everything that needed to be done"
Iggy Pop and the Stooges played Max's in the summer of 1973:
In the confined space, the New York crowd was transfixed with both excitement and fear, for as Bebe Buell, the Ford Agency model and celebrated girlfriend of Todd Rundgren, points out, 'There was that element of danger, because everybody had heard about his antics on stage.' The second night, the club was again jammed, and as Iggy walked over the tables and chairs, glaring at the crowd, one chair either wobbled, or was pulled from under him; he slipped and fell onto a table top full of glasses, which shattered under his weight. As Iggy got up again, Nite Bob saw cuts on his chest and chin, and a puncture wound by one of his ribs; as Iggy staggered to the side and crashed into him, Bob noticed his own shirt was covered in blood and shouted, 'Let's pull it. Let's stop it, man. You can't do this!'

Iggy kept singing, the blood dripping down his chest. He discovered that if he pulled his left arm back, blood would spurt out in a continuous stream. 'It was horrible, like a Roman arena,' says Wayne County, Max's DJ who later became an unlikely punk star. Nite Bob recalls, 'We had this saying that a piece of Gaffa tape will fix anything, but he was bleeding so bad the tape wouldn't even stick.' – Iggy Pop: Open Up And Bleed: The Biography by Paul Trynka
Via: Vanity Fair, Dazed and Stephen Kasher Gallery. For a great read, check out Max's Kansas City: Art, Glamour, Rock and Roll, by Steven Kasher,