Martin Ramirez (January 30, 1895 – February 17, 1963) was an immigrant who arrived in California from his native Jalisco, Mexico, in 1925, where he owned a small ranch, leaving behind his wife and four children in his search for work.
There was trouble at home:
Starting in 1926, the three-year Cristero Rebellion—in which pious Catholics battled the Draconian anticlerical measures of President Plutarco Elias Calles – raged in Jalisco. Tens of thousands died, on both sides. The Ramírez ranch was devastated.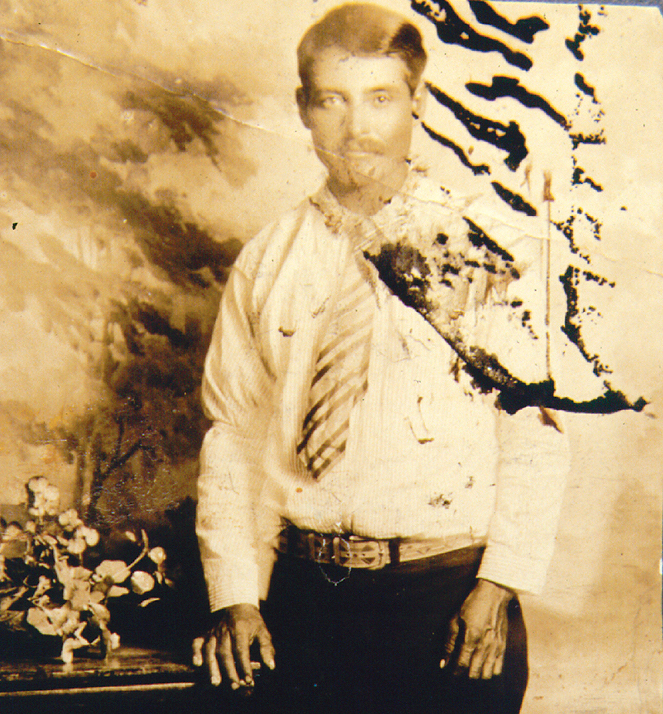 Ramirez worked on the railways. But from 1931, when he was arrested for being poor and disorientated, Ramirez was institutionalized in California mental hospitals. Diagnosed as a catatonic schizophrenic at the Stockton State Hospital, before transfer in 1948 to DeWitt State Hospital near Sacramento. Kept apart from 'decent' society, Ramirez drew and painted on very long sheets of scrolling examining-table paper, envelopes, bags and bits of paper he'd glue together with a paste of bread or potatoes mixed with saliva. He used melted wax crayons, often laced with charcoal, fruit juices, shoe polish, and more saliva.
Recent research has uncovered a strange tale: Ramírez misunderstood a letter from home to say that his wife had joined the hated Federal forces, and he vowed never to return. In any case, the family lost track of him for years and, but for a nephew's visit in 1952, had no further contact with him.
He died in hospital.
Fast forward to today, and Martín Ramírez is viewed as colossus of 20th century art.
"Simply one of the greatest artists of the 20th century."

At DeWitt in 1948, a psychologist and artist of Finnish descent named Tarmo Pasto discovered Ramírez and began to save the large drawings…

Dr. Pasto began bringing Ramírez art materials, and at one point lived on the grounds of DeWitt, a former Army camp, so he could observe Ramírez every day. In the early '50s he helped arrange four solo shows of Ramírez's work, most of them on college campuses, including Syracuse. In 1955 Dr. Pasto sent 10 drawings to the Solomon R. Guggenheim Museum, but never heard back. A museum intern rediscovered them in the mid-1990s, and they were officially accessioned in 1997; all of them have been lent to this exhibition…

In 1968 the Chicago artist Jim Nutt met Dr. Pasto when both men were teaching at Sacramento State, and eventually persuaded him to sell most of his Ramírez drawings to Mr. Nutt and his art dealer, Phyllis Kind. Dr. Pasto wanted to send his son to medical school, and the drawings needed extensive conservation. He could not afford either.

Roberta Smith, New York Times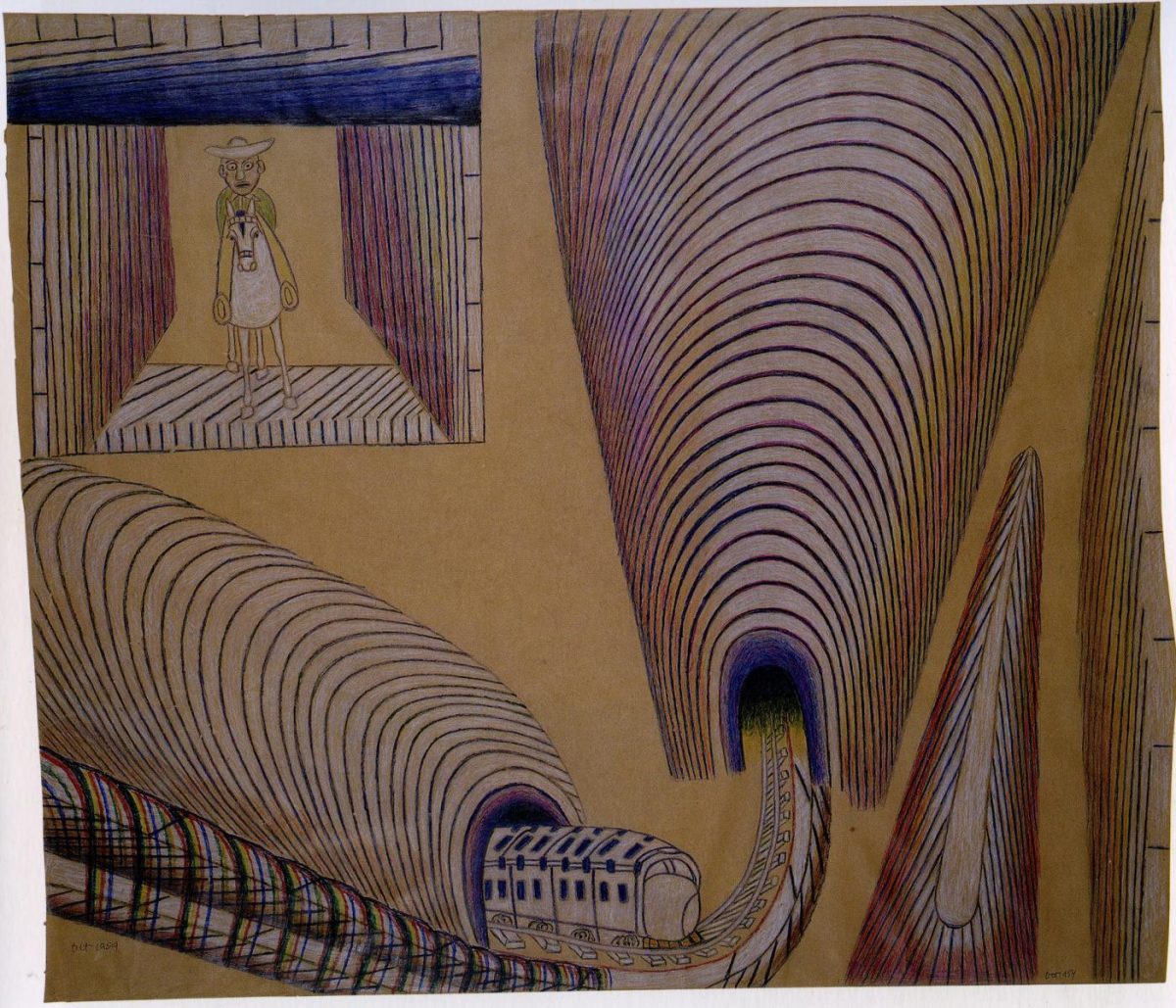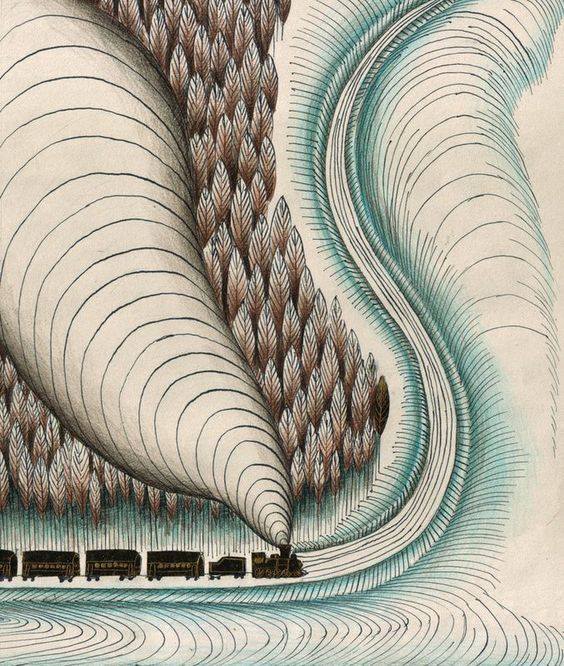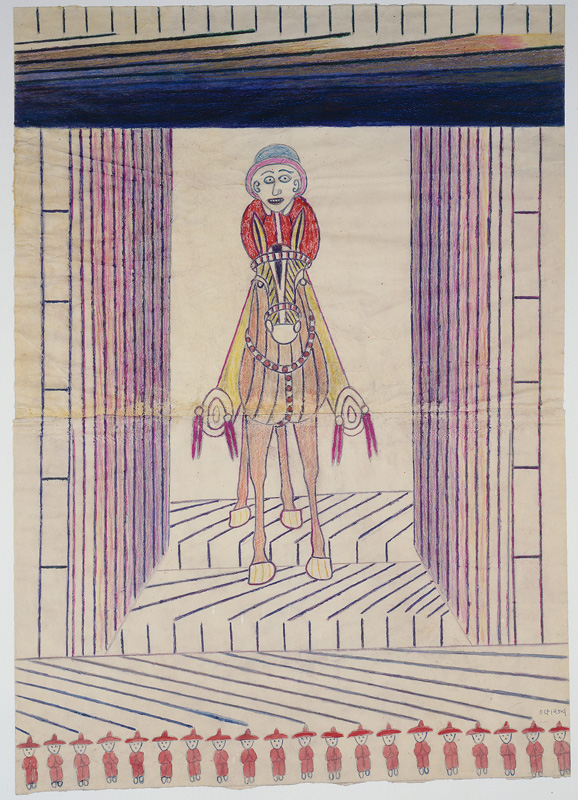 In 2015, the United States Postal Service released a set of 5 commemorative "Martin Ramirez" Forever stamps, which marked the first time an Outsider artist and Mexican-American artist was featured on a USPS Stamp
The estate of Martín Ramírez is represented exclusively by the Ricco/Maresca Gallery since 2008.
Via: ICLA , FolkArtMuseum , HyperAllergic , LA Times