1950s Berlin In Color.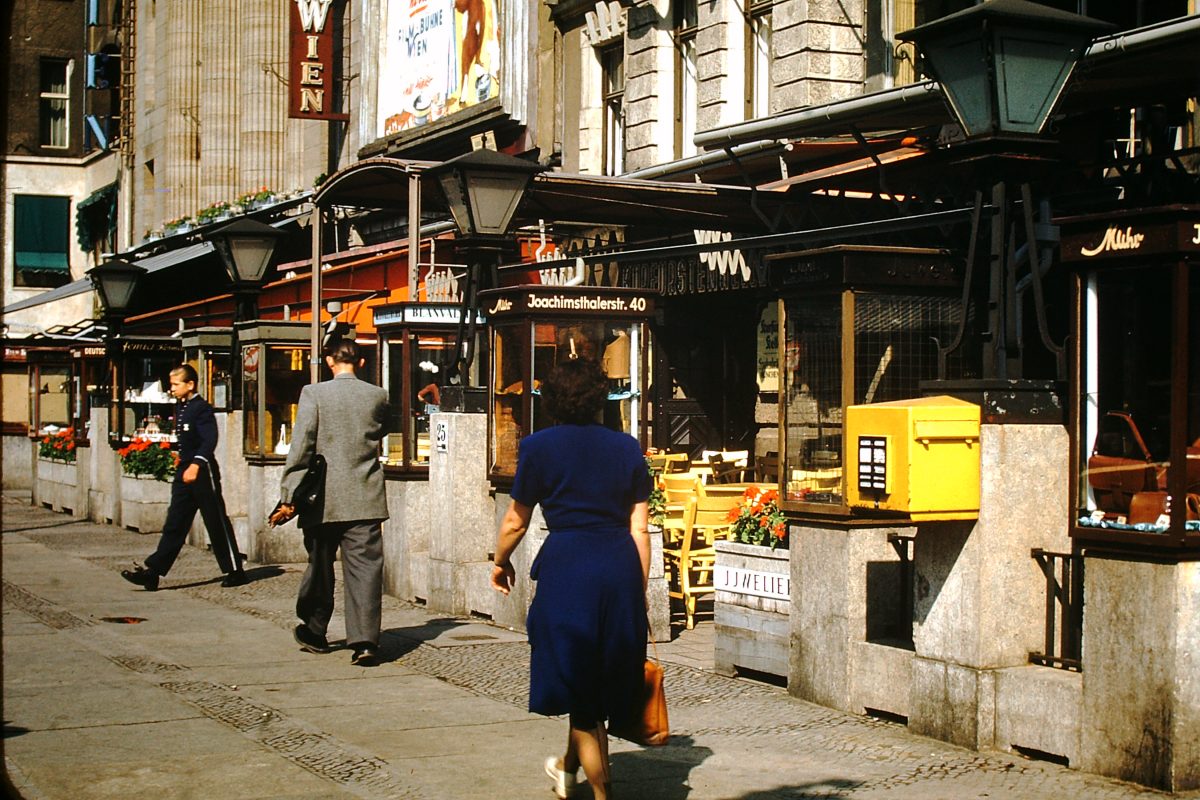 Southern Californian Irma Louise took these Kodachrome photographs of Berlin, West Germany, in the summer of 1953. We love them.
Collector Paul Thorne tells us about how he came by the photos, and what he knows about the woman behind the camera. If anyone knows more, please let us know.
All I know about Irma Louise I learned from my accountant, who inherited her personal effects upon her death in (including the slide collection). He was going to throw them out so I rescued them thinking it would be fun to gradually reveal them. She was his client as well. The rest I've put together from just studying the pictures.

She died at 100 in 2013. As far as I can tell she never had to really work and never had children. I think her family were quite well off. Her parents are in many of the early world travel Kodachrome photos. She traveled with them all over the world.

She became the head of the South Bay Camera Club in Southern California in the mid-1950s.That seems to have become her passion. Many of the slides were grouped as part of her many slide show presentations. Hence the large number of title slides and the model shoots which were arranged by her for the club.

She eventually met her husband there, and they started taking photos together. (some good ones of them kicking-back together in there first apartment, and later entertaining the family and friends at their house). John became the projector operator for the club and he was very fond of the rural southwest and sailing (he was a sail-maker by trade.)

They lived in Palos Verdes and most of their travels were in the US. They lived a upper middle class life by all appearances.

After John died in the early 1980s Irma became more passionate about nature photography. I haven't scanned too many of those yet. But there are hundreds of slides of 1980's Alaska wilderness yet to be revealed. She got one of those really long lenses and went out on snow-cats to photograph polar bears and the like several times, well inter her late seventies. The last photos I have seem to date from about 1989. She would have been 76.

I'd say I have scanned about 3/5 of the total slides. There are a few hundred more of the world travel photos to get to. I'll probably go at the rest of those next. There are boxes all over in closets, garage etc. I only scan when I have a large block of free time, which I never know when will happen.

I think Irma Louise (she went by the two names together always) was an example of a very modern woman who was born into a traditional world. I never met her but I did hear that she was firmly against digital photography and thought it was not real photography. I never added the photographic details of her slides, other than date and title but she meticulously scribbled on them every exposure setting and f-stop reading etc. One of many reasons it seemed a shame to let these pictures go unseen.
All photos copyright: Found Slides