The Continental Baths – New York's Trailblazing Gay Club
In 1968, homosexuality was illegal in New York State. Business at New York City's Everard Baths was booming. Lines snaked around the block. Bathing was big business at the 'Ever-hard'.
Sensing an opportunity, Steve Ostrow and his wife, Joanne, that same year opened the Continental Bathhouse in the basement of the faded Ansonia hotel on New York's 74th Street and Broadway. In order to succeed at business, "you can either fulfill a need or create a desire," wrote Continental founder Steve Ostrow in his book Live at the Continental. "If a business can create a desire that fulfills a need, how can you lose?"
The Continental Baths boasted 400 private rooms, a sauna, a swimming pool, vending machines full of drinks laced with acid and ecstasy and – get this – a dancefloor, where beginning in 1974 the likes of DJs Frankie Knuckles, Larry Levan, Bobby "DJ" Guttadaro, David Rodriguez and Joey Bonfiglio worked the crowd. Bette Midler ("Bathhouse Betty") accompanied on piano by Barry Manilow, New York Dolls, Patti Labelle, Nell Carter, The Pointer Sisters, Cab Calloway, The Andrew Sisters, Lesley Gore, Peter Allen, Sarah Vaughn and Andy Kaufman all performed at The Continental.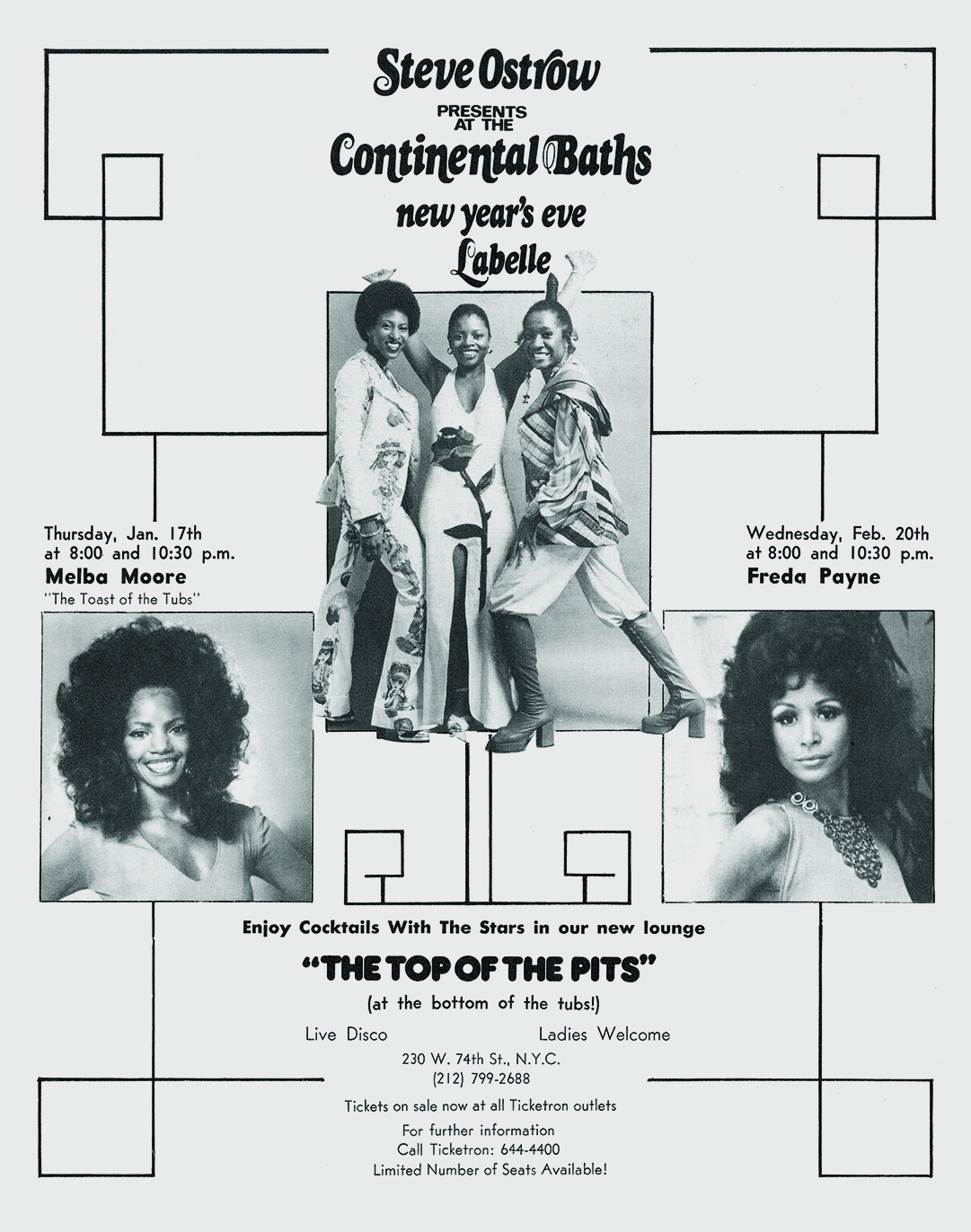 "I had been to a few clubs. But they turned me off. They were dirty … filthy. They treated you like shit… I built a disco room, a DJ booth, and these special things where you put the records: 'turntables'! It was spectacular. People would dance in their towels, bathing suits, nude or anything!"

– Steve Ostrow
"You don't understand what it was like in the 70s. There was no such thing as Aids. If you went to the Baths and there were 20 guys in the steam room, half an hour later you came out and you'd had some sexual contact with at least half of the guys in that steam room. And then after another half an hour, I'd go in the Jacuzzi, then I'd go in the sauna, then the whirlpool … By the time I'd left, I'd have had some sexual contact with 150 different people."

– David Wallace, who frequented the Continental Baths in the 1970s
"Alfred Hitchcock came to the Baths. He wouldn't have any sex with anyone; he would just come, watch, look at people, swim in the tub and then leave," says Ostrow, chuckling. "People would say: 'Who is that fat guy in the towel?'"

–  Steve Ostrow
"Homosexuality was illegal. Two men dancing together was illegal. Very good-looking policemen would come in, rent a room, get into a towel, go into the steam room and then wait for someone to touch them. And then, from underneath the towel, out would come handcuffs. Then they'd arrest everybody in the place."

– Steve Ostrow. The Baths was raided over 200 times.
What to wear? Nothing too inviting – I don't want to be mistaken for David Bowie – and nothing to sedate – I don't want to be mistaken for a sales man at the Harvard co-op. I settle for my lumberjack look: Bean Boots and a tight fitting Western shirt over jeans which are baggy in the rear… Two friends have invited me along for an evening at The Continental Baths. The Baths is one of New York's more ingenious hustles: a gay club during the week, and a discotheque on Saturday night, when you can rent a cabana for $15, or roam the grounds for $5 dollars to mingle or just to watch.

The floor is crowded nightly, and at show time you are likely to find some of the most unusual entertainment anywhere – Lillian Roth singing you must've been a beautiful baby while Mick Jagger looks on. Scenes like that began to attract the curiosity of many straights. In response the Baths began admitting straights on Saturday nights. It was a sure-fire formula for notoriety: in the past year, the Baths has emerged as New York's most Weimarian nightspot…

They have a blue door, with a simple plaque announcing 'The Continental'… You walk downstairs into a shapeless gymnasium. There is a swimming pool in the centre of the room, and the entire place feels heated to the approximate temperature of a sauna at the Y. Except there are no tiles on the walls and there is a refreshment stand and potted plants and wicker swings and deck chairs and soft agile lighting and loud music and an Exercycle and weights and pulleys set in the corner of the room like props…

No one is exactly flaming here tonight, or at least there is little dazzle in the room, except for the persistent traces of the stimulant amyl nitrate hanging like vinegar in the air. Some men are in the nude, especially those grouped around the pool, and some are wearing towels with little patch is a buttock exposed…

The show begins with Steve Ostrow introducing himself. Steve Austro runs The Continental… Ostrow looks imperious and vaguely Viennese, like an old torch lamp you sit under to read the Saturday Evening Post. He tells people to clear an aisle are and then gets really Von Sternberg for his intro …Without further ado… Bette Milder begins to wind her way through the audience. She gets a mulch ovation, petals and poppers rain at her feet… Here is a performer who violates all the proper lovechild rules of rock, the Janis Joplin rules of needful naivete. Here is the spirit of Tin Pan Alley out there strutting like nobody's business, and the guys in the audience are seeing the last bastion of true blue hetero pop crumble in the face and body and nuance Of Bette Midler… the audience at the Continental loves her and honors her because they know she is right."

– Richard Goldsteing, A Night At The Baths, New York magazine Jan 8 1973
To say that the Baths were conducive to indulgence is an understatement. In the recent documentary Continental, Steve Ostrow remarked that only ten to twenty percent of the crowd was there for the sex, while Frankie thought differently, putting the number of sex-driven clientele somewhere between ninety-nine and 144 percent.8 When asked for his craziest memory of the club, Nicky Siano recalls a twenty-four-hour period in which he had seventeen different sexual partners (he couldn't remember who was DJing). Knuckles recalled an anecdote where someone dropped LSD into the aquarium near the dance floor and the fish started jumping out. When the staff tried to put the fish back in, they'd jump right back out.
Did you go?
Via WaxPoetics , The Guardian