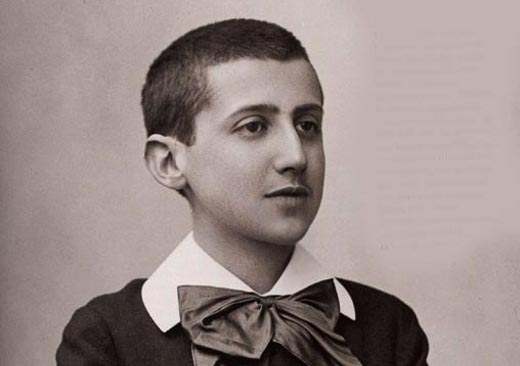 Marcel Proust was an onanist of no little enthusiasm. His father thought that too much self love would lead to homosexuality if left unchecked. To combat Marcel's excessive tossing, Proust senior shoved a few notes into the lad's sticky paws and despatched him to the local brothel, where he would be set straight. We know what Marcel thought of it all because he wrote about it in letter to his grandfather.
18 May 1888

Thursday evening.

My dear little grandfather,

I appeal to your kindness for the sum of 13 francs that I wished to ask Mr. Nathan for, but which Mama prefers I request from you. Here is why. I so needed to see if a woman could stop my awful masturbation habit that Papa gave me 10 francs to go to a brothel. But first, in my agitation, I broke a chamber pot: 3 francs; then, still agitated, I was unable to screw. So here I am, back to square one, waiting more and more as hours pass for 10 francs to relieve myself, plus 3 francs for the pot. But I dare not ask Papa for more money so soon and so I hoped you could come to my aid in a circumstance which, as you know, is not merely exceptional but also unique. It cannot happen twice in one lifetime that a person is too flustered to screw.

I kiss you a thousand times and dare to thank you in advance.

I will be home tomorrow morning at 11am. If you are moved by my situation and can answer my prayers, I will hopefully find you with the amount. Regardless, thank you for your decision which I know will come from a place of friendship.

Marcel.
Via: Letters of Note, Larst Onovich;