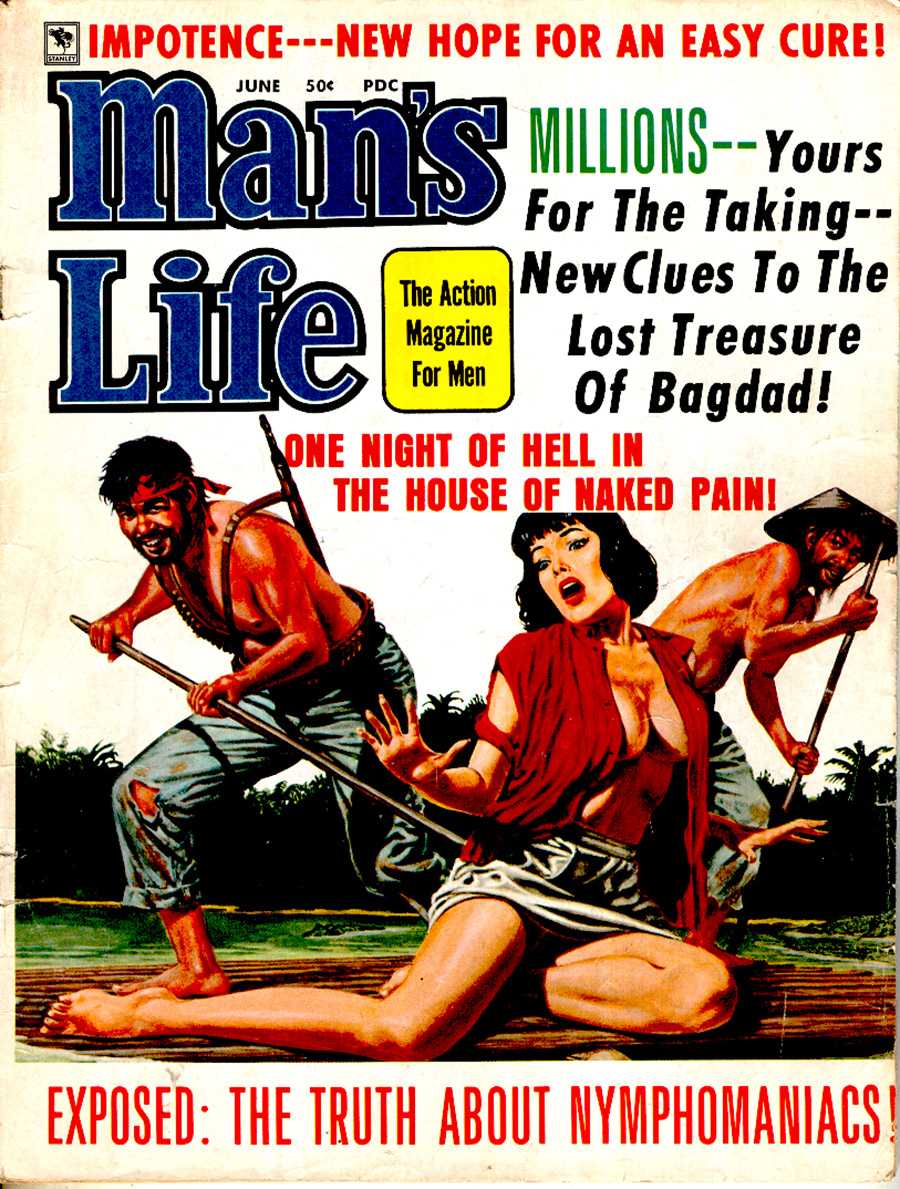 Well, it looks like we have a lot to look forward to in this issue. We can expect to learn the truth about nymphomaniacs, we get an inside look at the house of naked pain, and an easy cure for impotence. If you're not familiar with vintage action magazines, be prepared for lots of politically incorrect tomfoolery peppered liberally with violent sweaty perversions. It's what your grandfather read while swigging his highball and chain-smoking Pall-Malls.  Enjoy.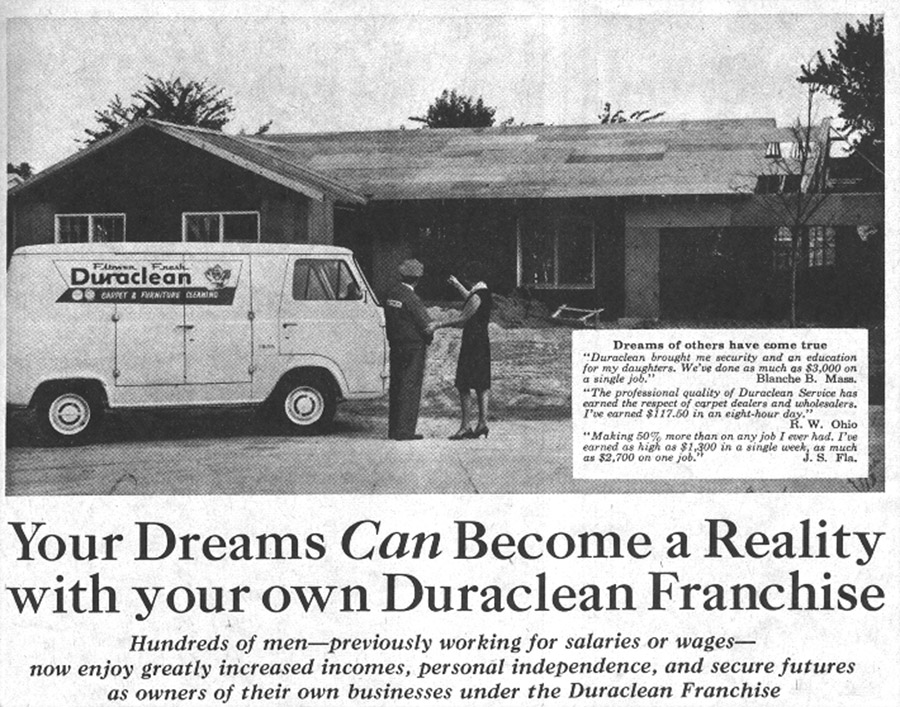 On the first pages we are presented with an advertisement for a life-changing job opportunity- a carpet cleaning business.
"Unthinking men may tell you that the day is past when an individual can build a successful business of his own.  The 'mama and papa' grocery store, and the corner druggist have succumbed to the gigantic chains.  But, in their place an exciting new kind of business abounds with big profit opportunities for the individual."
It's interesting to read that small businesses were complaining about "gigantic chains" in the Pre-Wal-Mart days of 1970.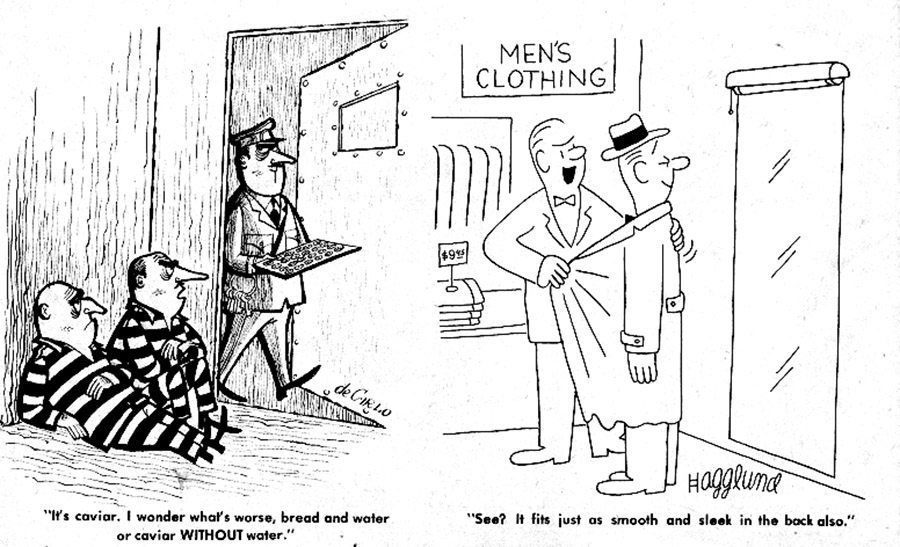 No men's magazine would be complete without the rarely-funny comics.  For more, check out Men Misbehaving in Mid-Century Adult Magazine Cartoons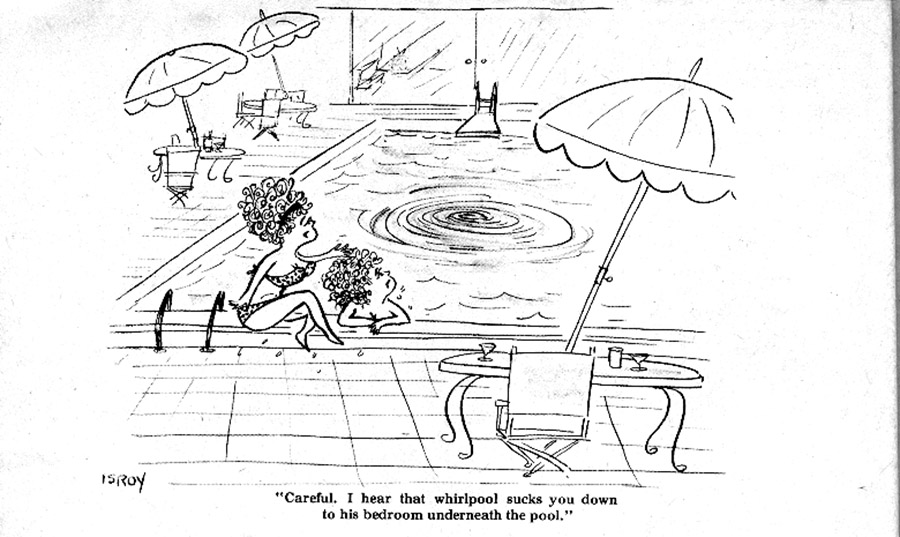 Next, we meet Audrey, a "big little girl" – just five feet tall, but "all woman" at 38-23-37.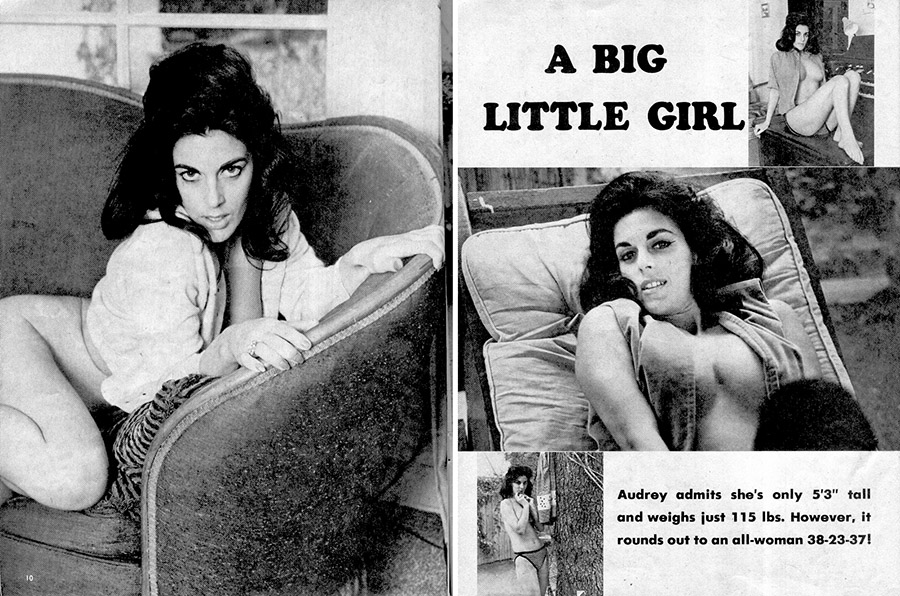 It's 1970, so magazines like Playboy had long since gone full "X" with full frontal nudity.  Men's action magazines like this one and Real Men, Men's Adventure, True Men's Stories, Rage, etc. never went the full monty.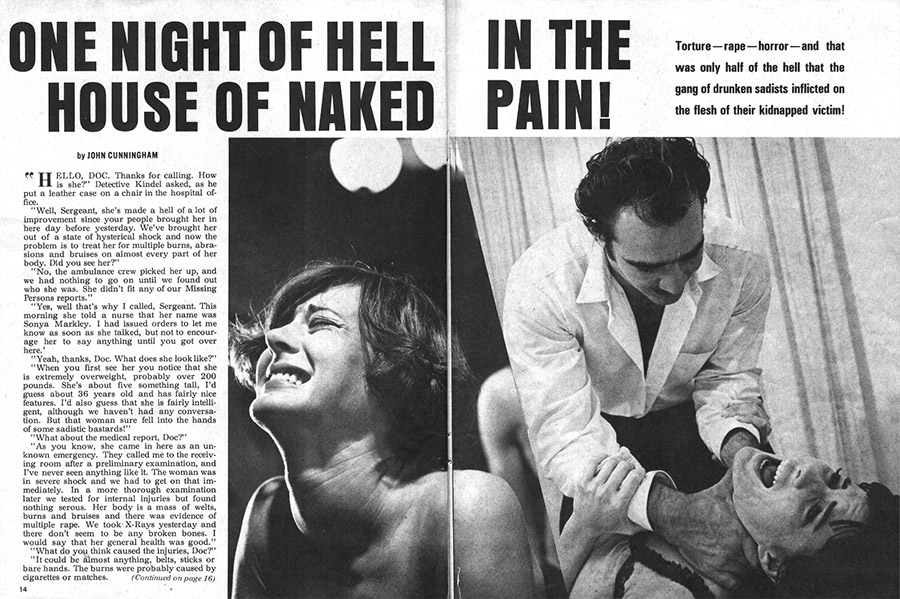 True detective magazines (and men's action magazines less often) were choc full of sadistic stories of men abusing women.  I suppose they were an outlet for deep sexual frustration and the dark fantasies.  This one is particularly grim. A woman tells the police about her stay at a country barn (aka the house of naked pain):
"I was continuously raped, slapped, pinched and burned with cigarettes while sprawled naked and helpless in the middle of a ring of sex crazed men.  I screamed frantically for mercy but my pleas were answered with more torture. "
A charming story for the whole family to enjoy.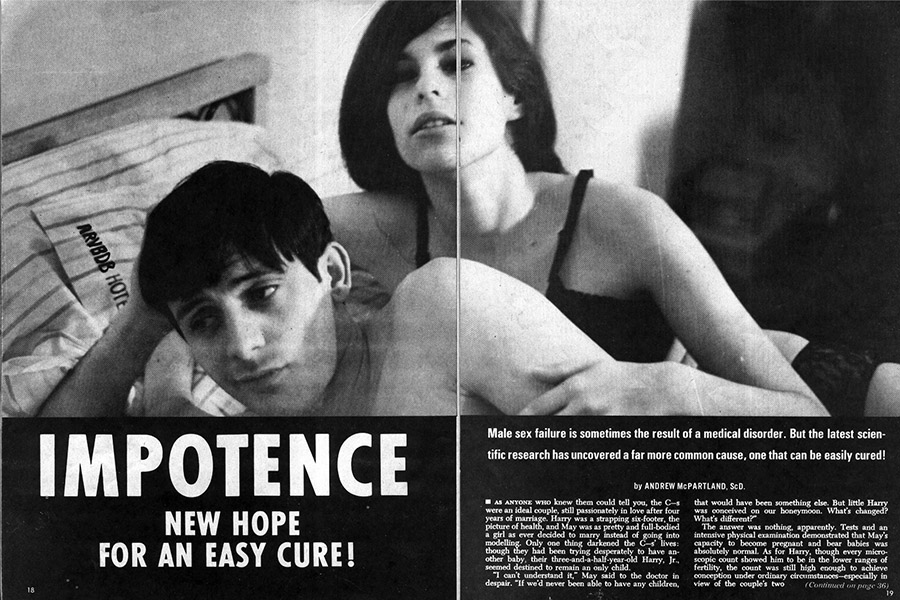 This article on impotence is hilarious.  It spends page after page going through this couple's tortuous attempts at making a baby, with each try ending in abysmal failure.  The problem causes a rift in the marriage and the two eventually separate…. until one day, the wife receives some advice from a social worker:
"Then the social worker undertook to show her how a bit of wifely affection, a warmth and genuine love for her husband might have changed the whole picture."
Ta-da! The cure for impotence is revealed: it's all the wife's fault.  She should be more warm and loving to her poor husband.  In the end, the two have a baby and live happily ever after.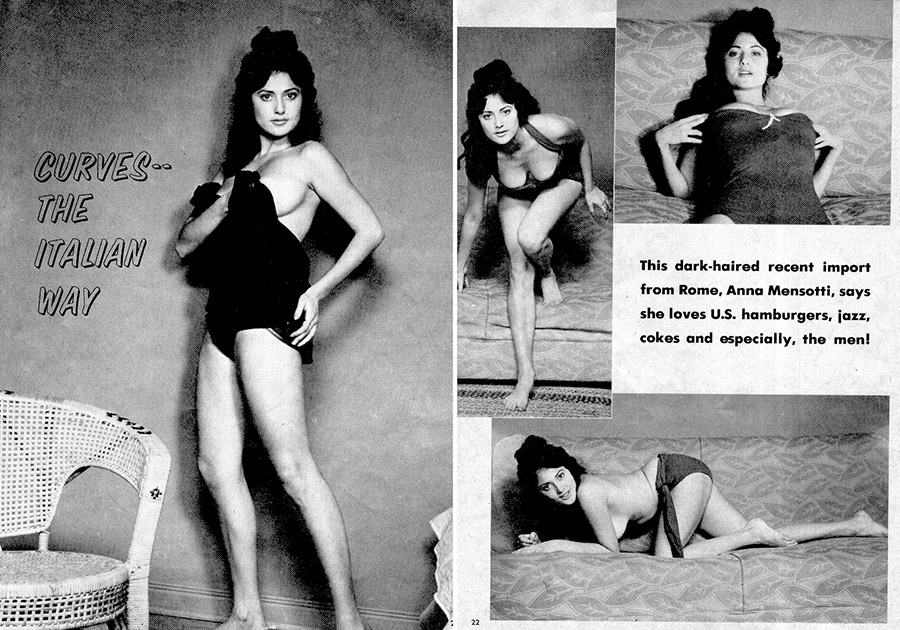 "This dark-haired recent import from Rome, Anna Mensotti, says she loves U.S. hamburgers, jazz, cokes and especially, the men!"
I did a quick search for Miss Mensotti without any luck.  I wonder what became of her.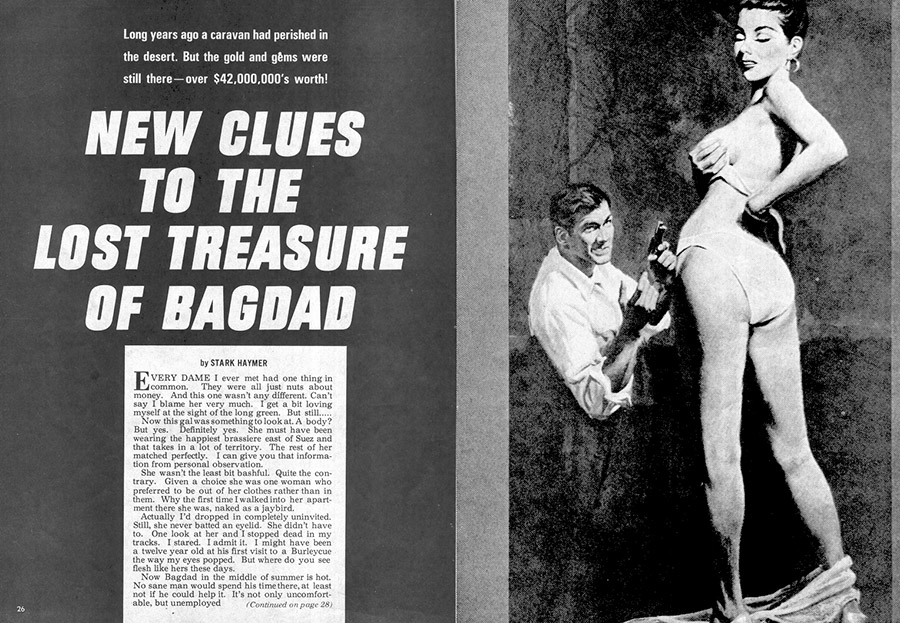 "Every dame I ever met had one thing in common.  They were all just nuts about money.  And this one wasn't any different….. Now this gal was something to look at.  A body? But yes.  Definitely yes.  She must have been wearing the happiest brassiere east of the Suez and that takes a lot of territory."
A typical action magazine story written by a poor man's Raymond Chandler.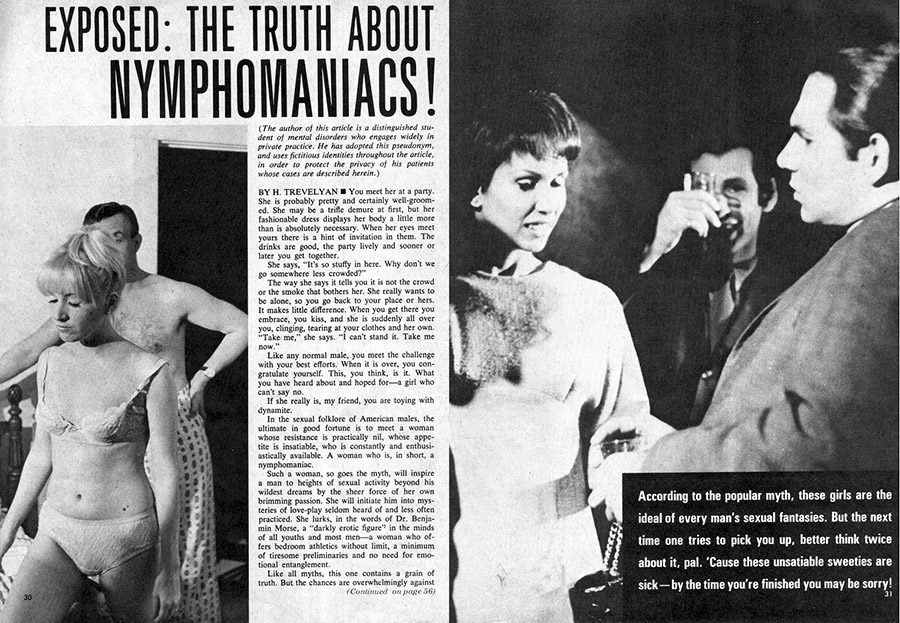 "According to popular myth, these girls are the ideal of every man's sexual fantasies. But the next time one tries to pick you up, better think twice about it, pal.  'Cause these unsatiable sweeties are sick – by the time you're finished you may be sorry!"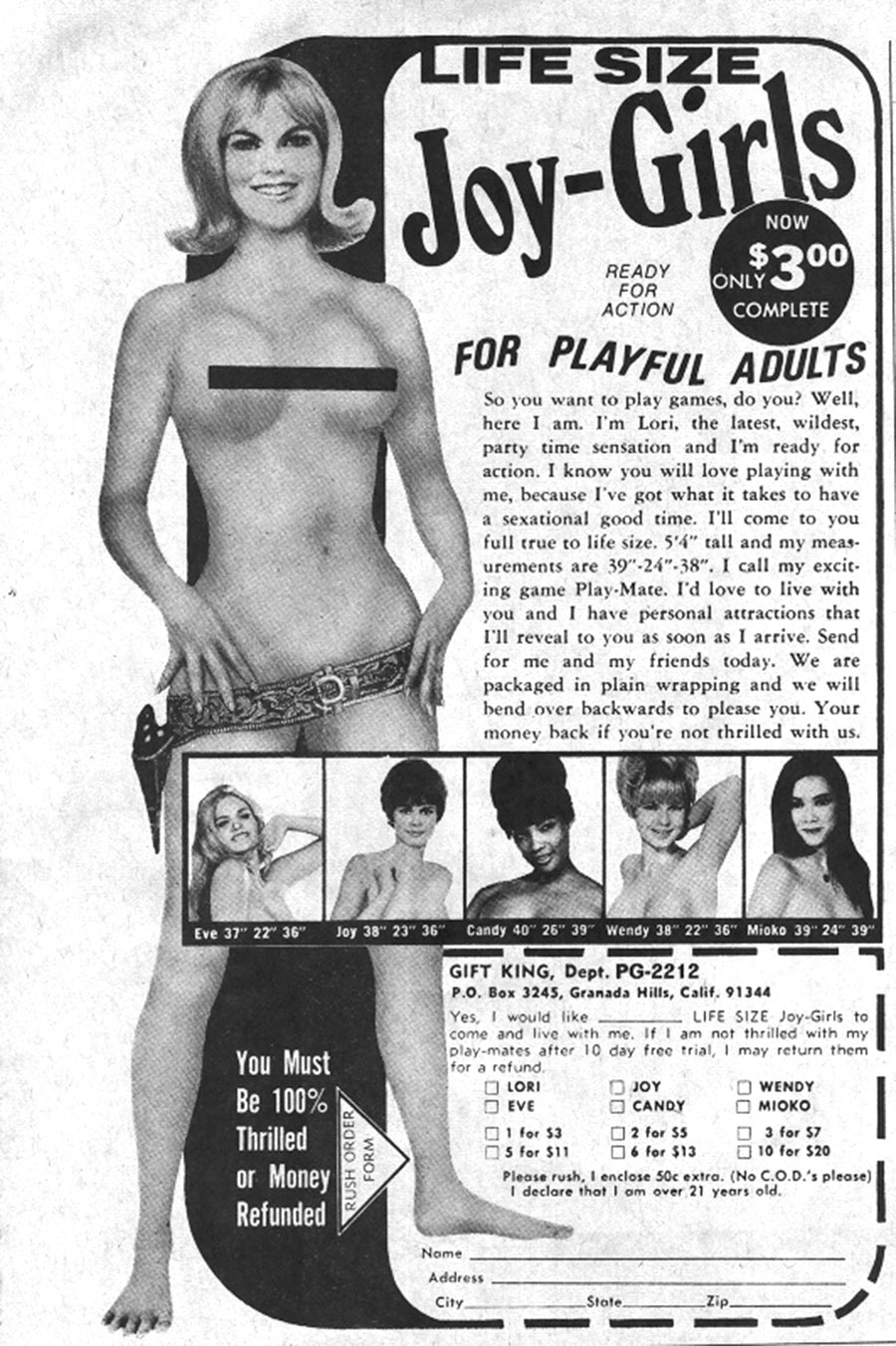 It's 1970 – the sexual revolution is in full swing.  If you're buying a blow up doll, you may want to re-evaluate some of your life choices.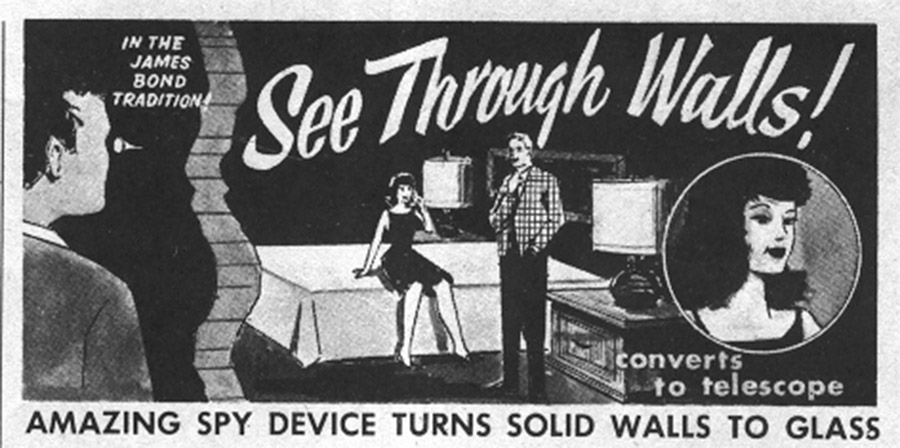 Blow up dolls, and now Peeping Tom tools?  This is getting rather sad.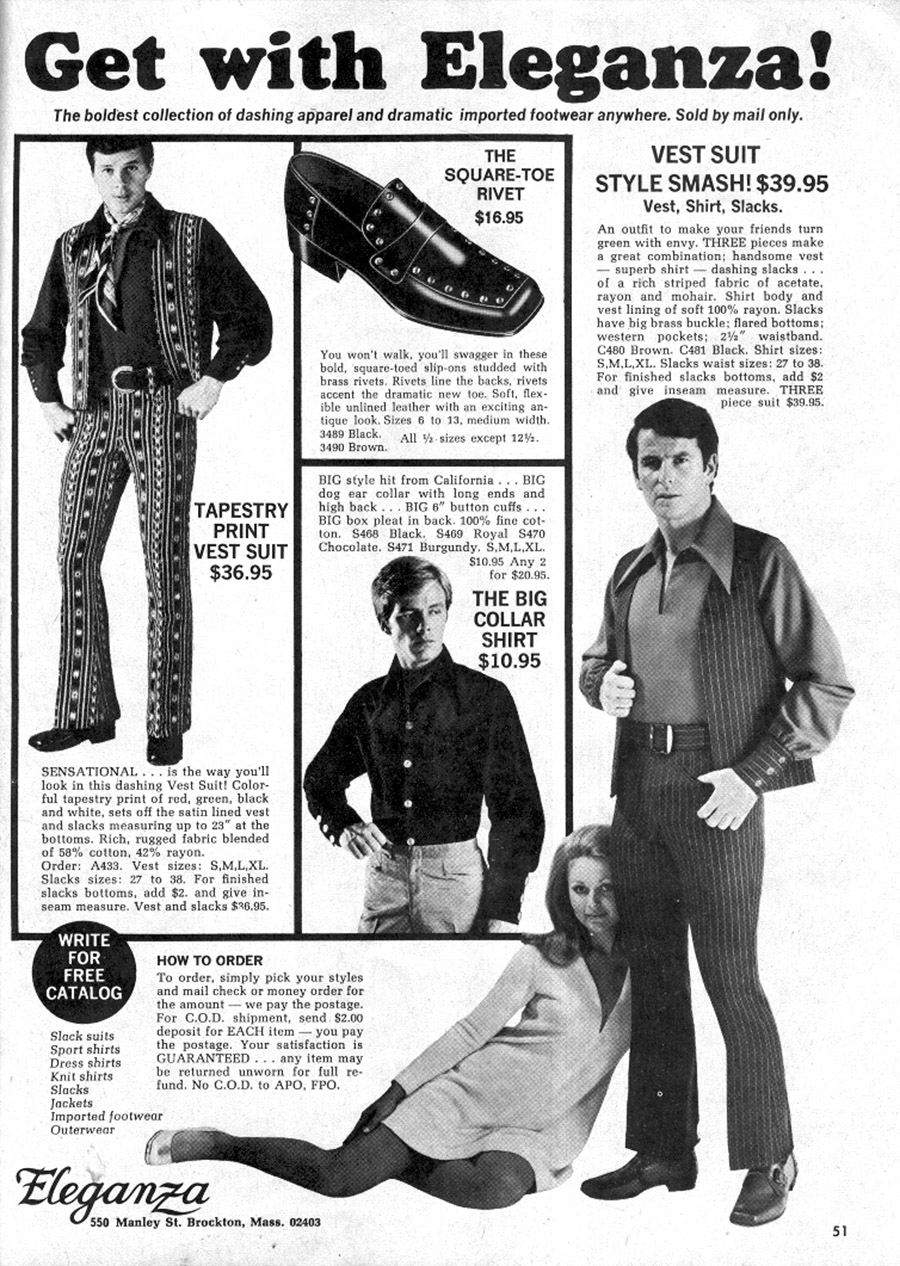 When it came to pimp-approved clothing, no one could beat Eleganza.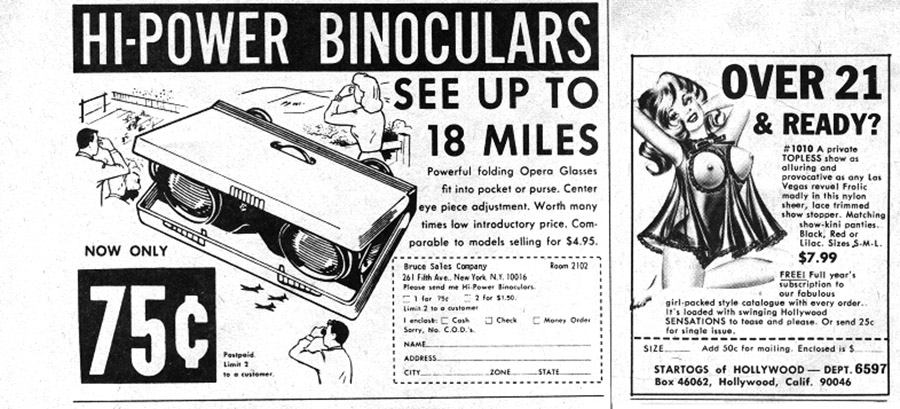 The ads in the back pages of these magazines were always the best part: full of sleazy, shady and questionable advertisements, made for duping horny males out of their cash.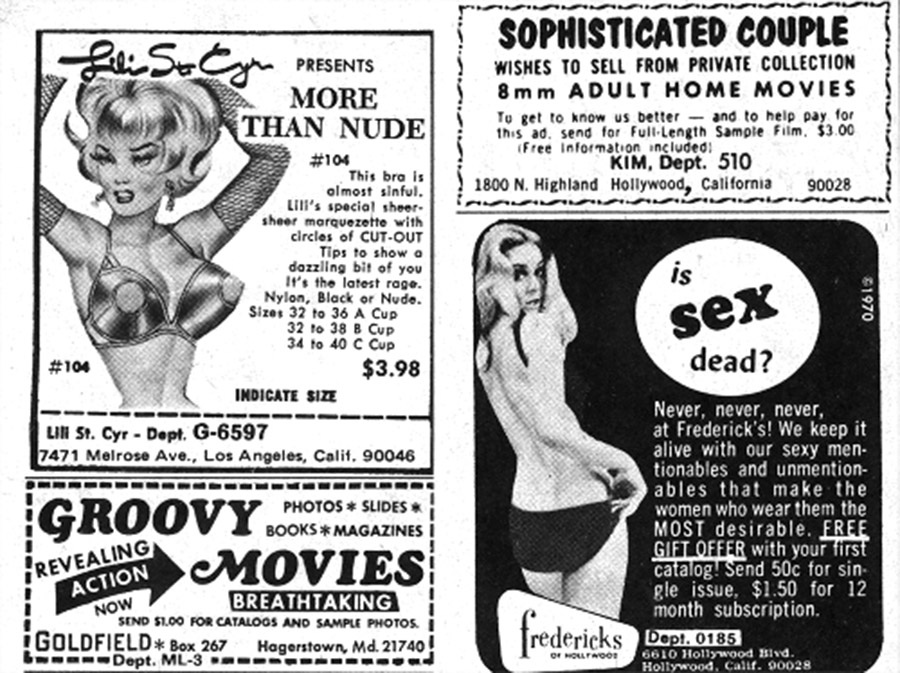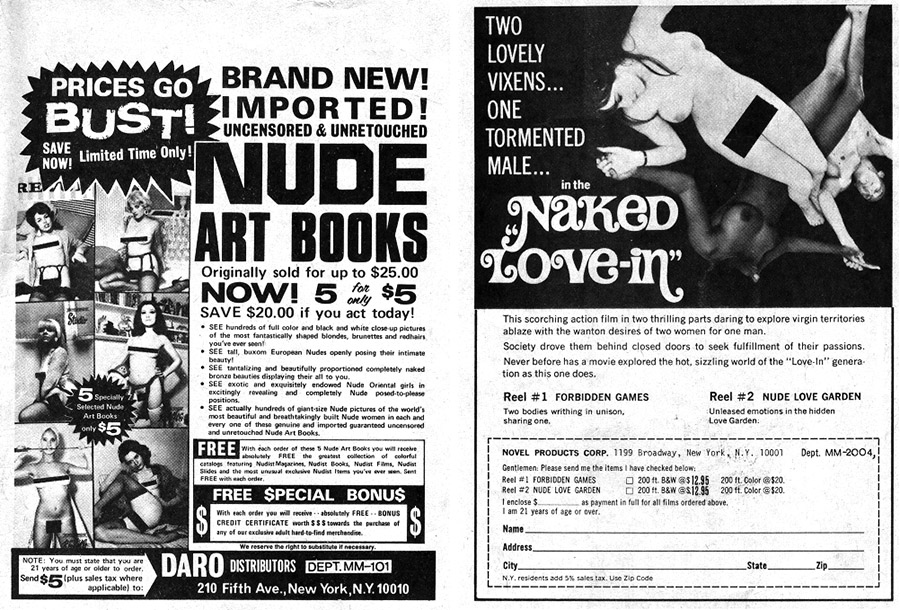 Well, what have we learned today, folks? We learned that (1) men should avoid nymphos at all costs and (2) male impotence is all the woman's fault.  We also learned that men's action magazine readers were interested in sadomasochistic stories, inflatable sex dolls, and handy tools for watching others have sex.
The men's action magazine is a strange, strange world.  As much fun as it's been, I'm quite ready to get back to normal life.  Cheers.