Well before Playboy came along, men's magazines had a long tradition of providing risqué cartoons between the dirty pictures.  They generally came in the form of one-panel gags featuring a pretty lady, a misbehaving male, and a cheesy caption.
What's interesting is how unbelievably politically incorrect these gags are by today's standards.  The women are almost universally portrayed as buxom, loose and dumb, while the men are ogling, slobbering wolves.  So, let's have a look at some of these naughty illustrations that graced the pages of men's magazines in the 1940s-1960s, all featuring these lovable perverts and bimbos.  Enjoy.
Jem, November 1956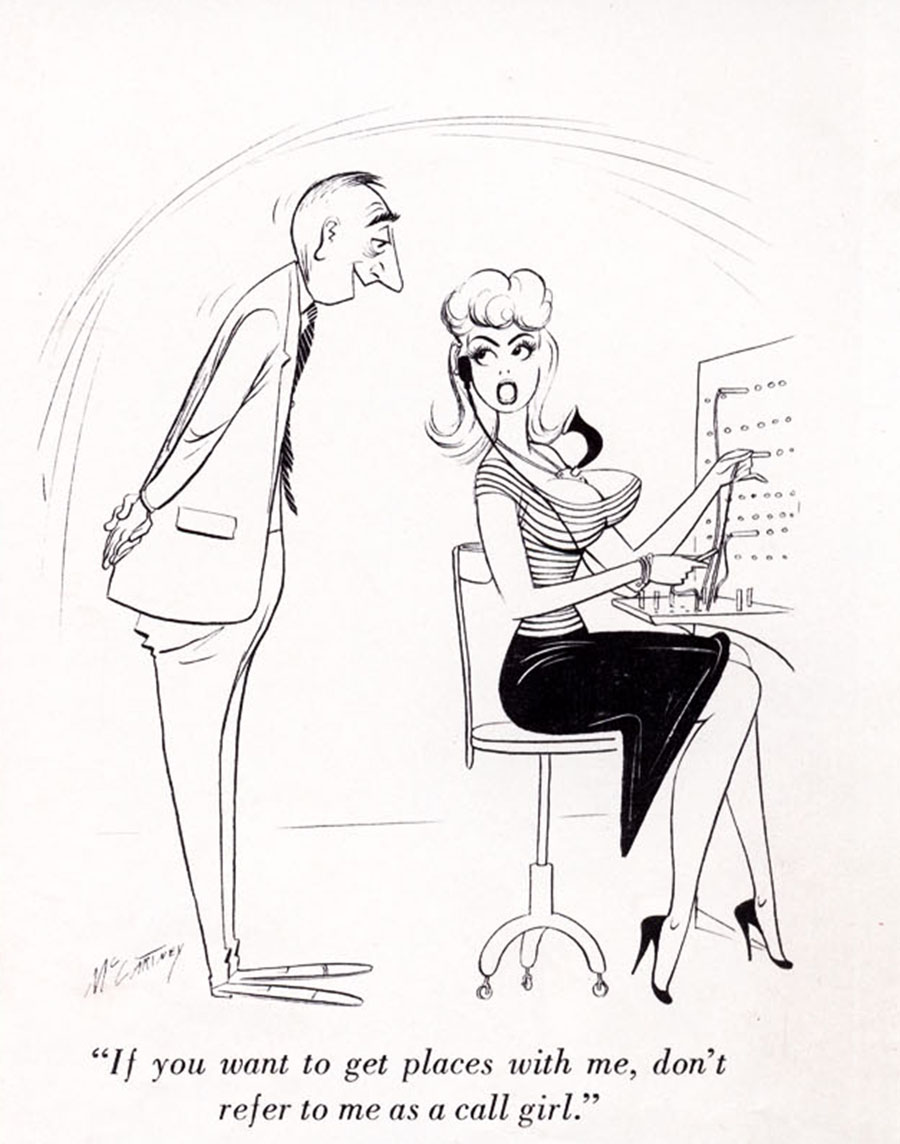 "If you want to get places with me, don't refer to me as a call girl."
Ace, June 1959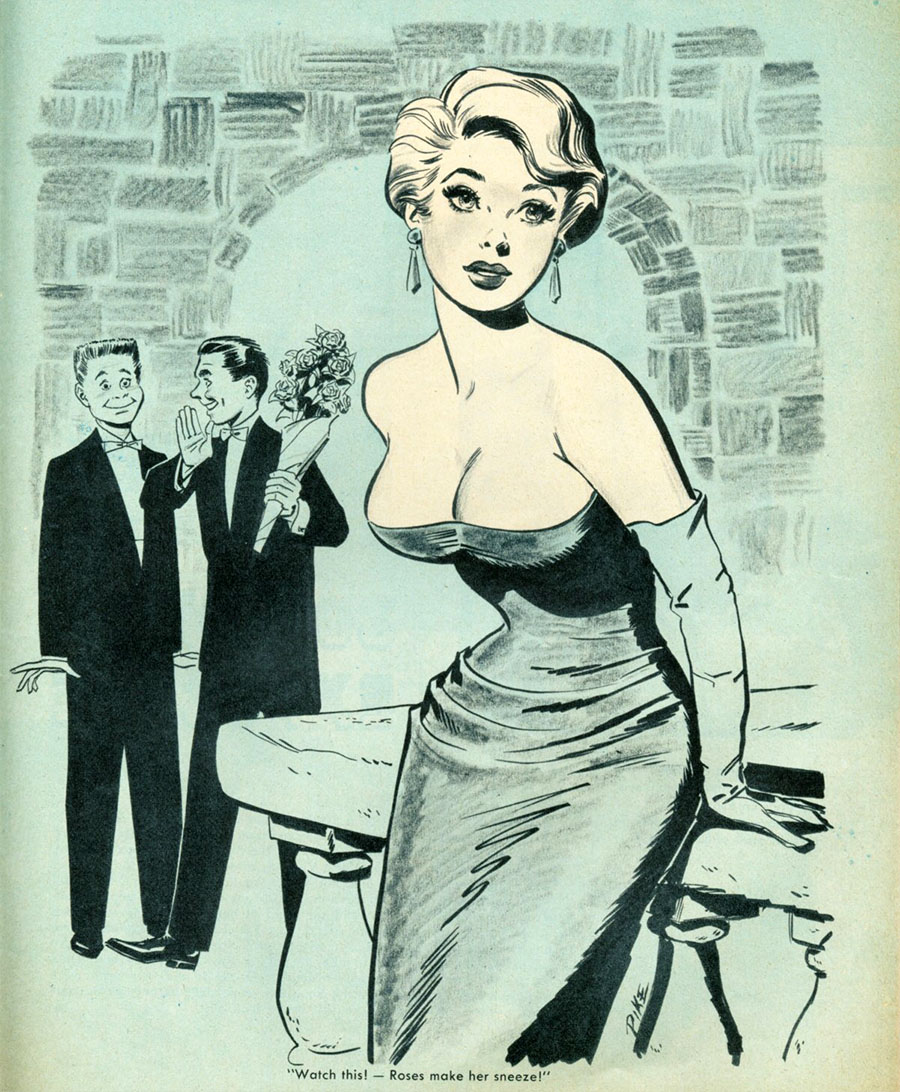 "Watch this! – Roses make her sneeze!"
What a douche bag!
Gee Whiz, April 1967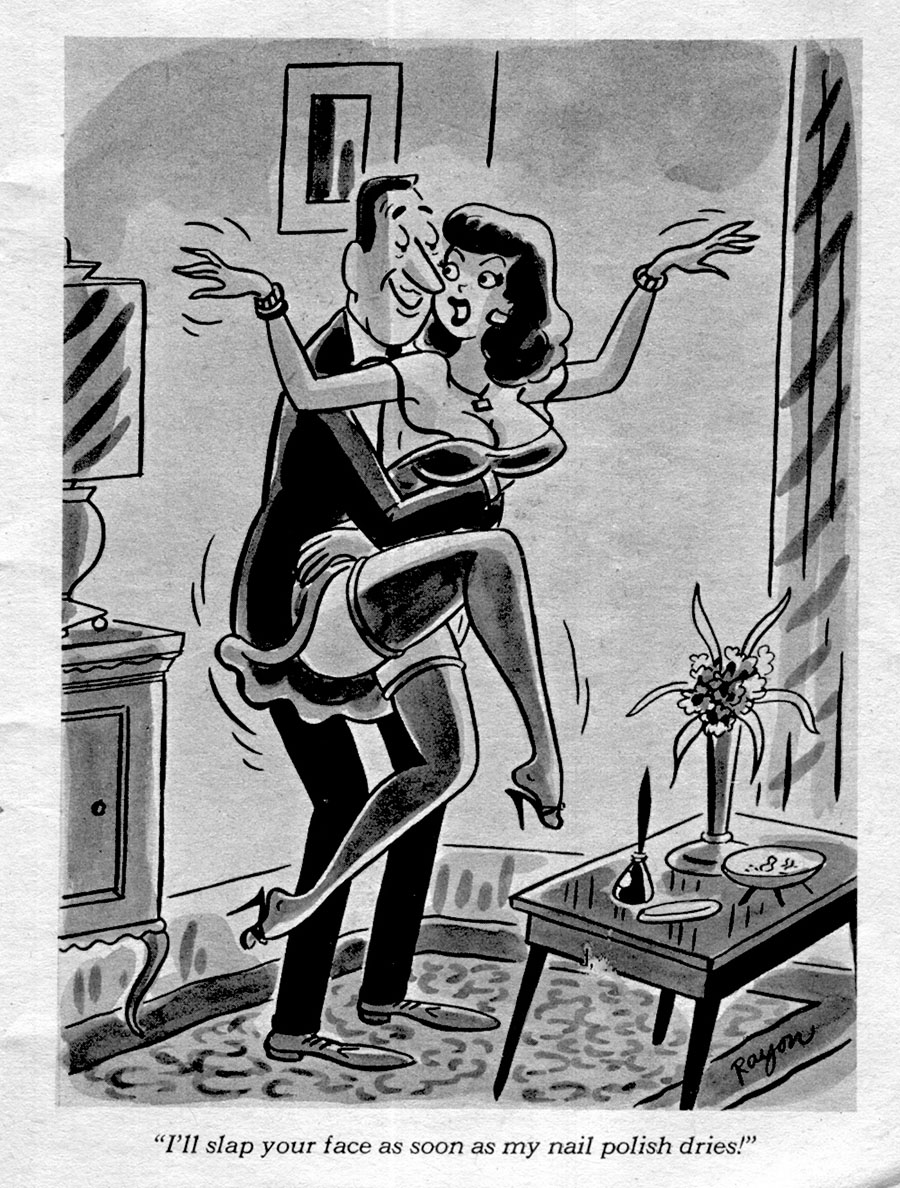 "I'll slap your face as soon as my nail polish dries!"
Grin, August 1940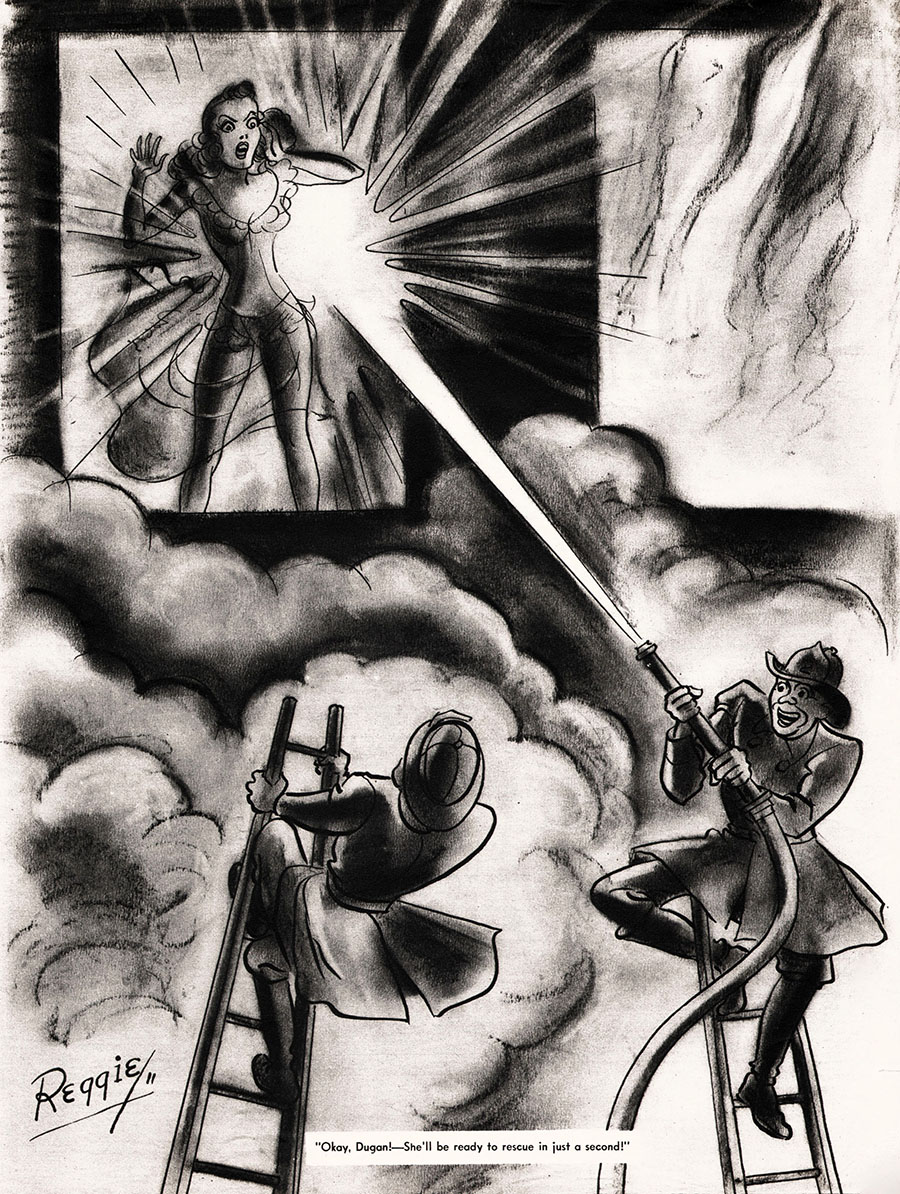 "Okay, Dugan! – She'll be ready to rescue in just a second!"
(rubbing eyes) Am I really seeing this?  If this is any indication for what's in store, it's going to be an interesting ride.
Bachelor, June 1961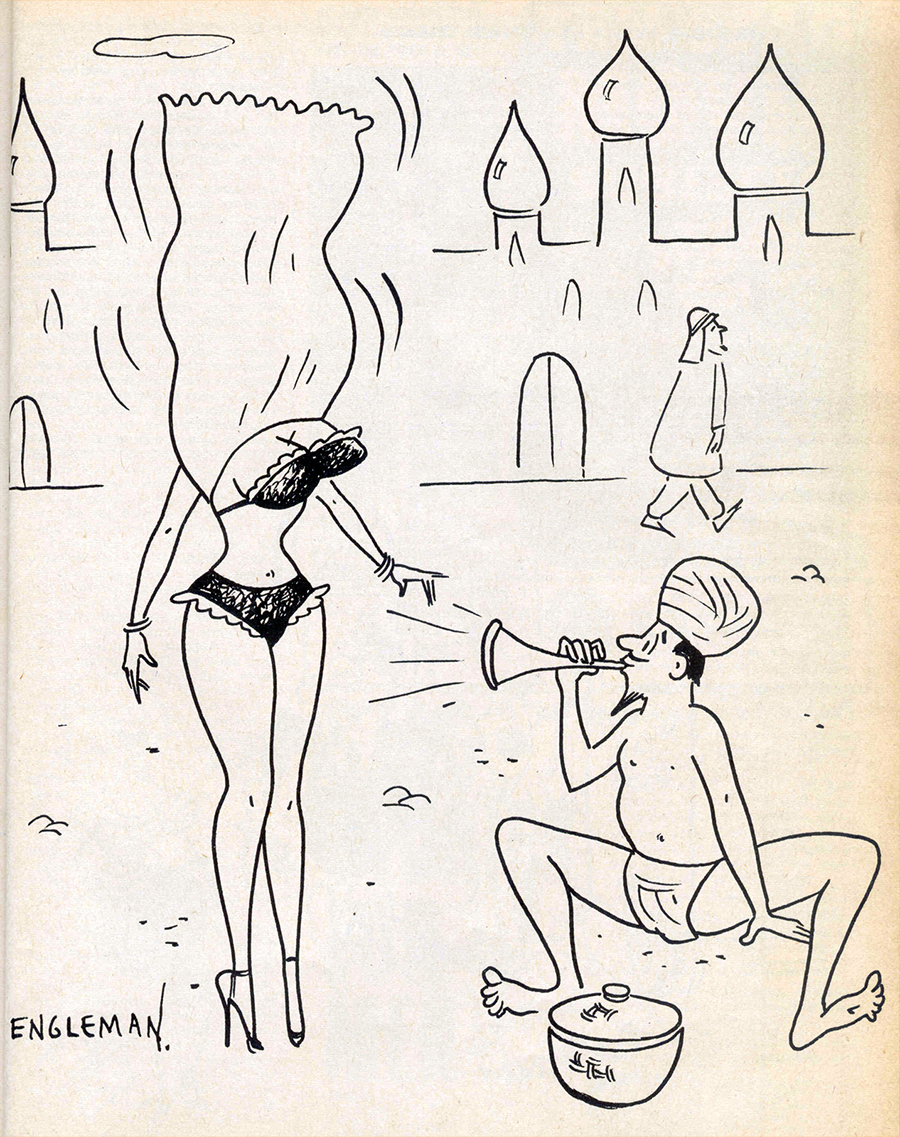 And another example of a racial stereotype getting a look up a gal's dress…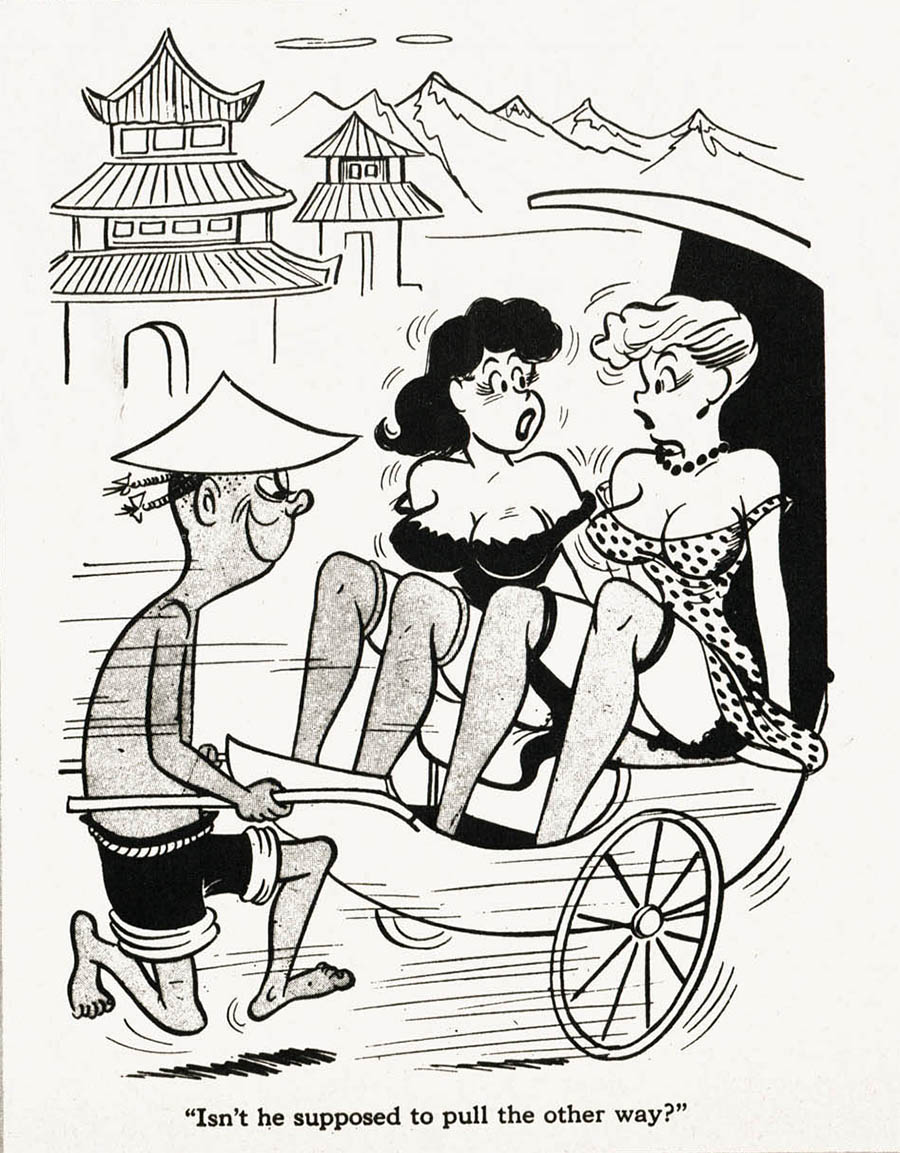 MAN Jr., November 1949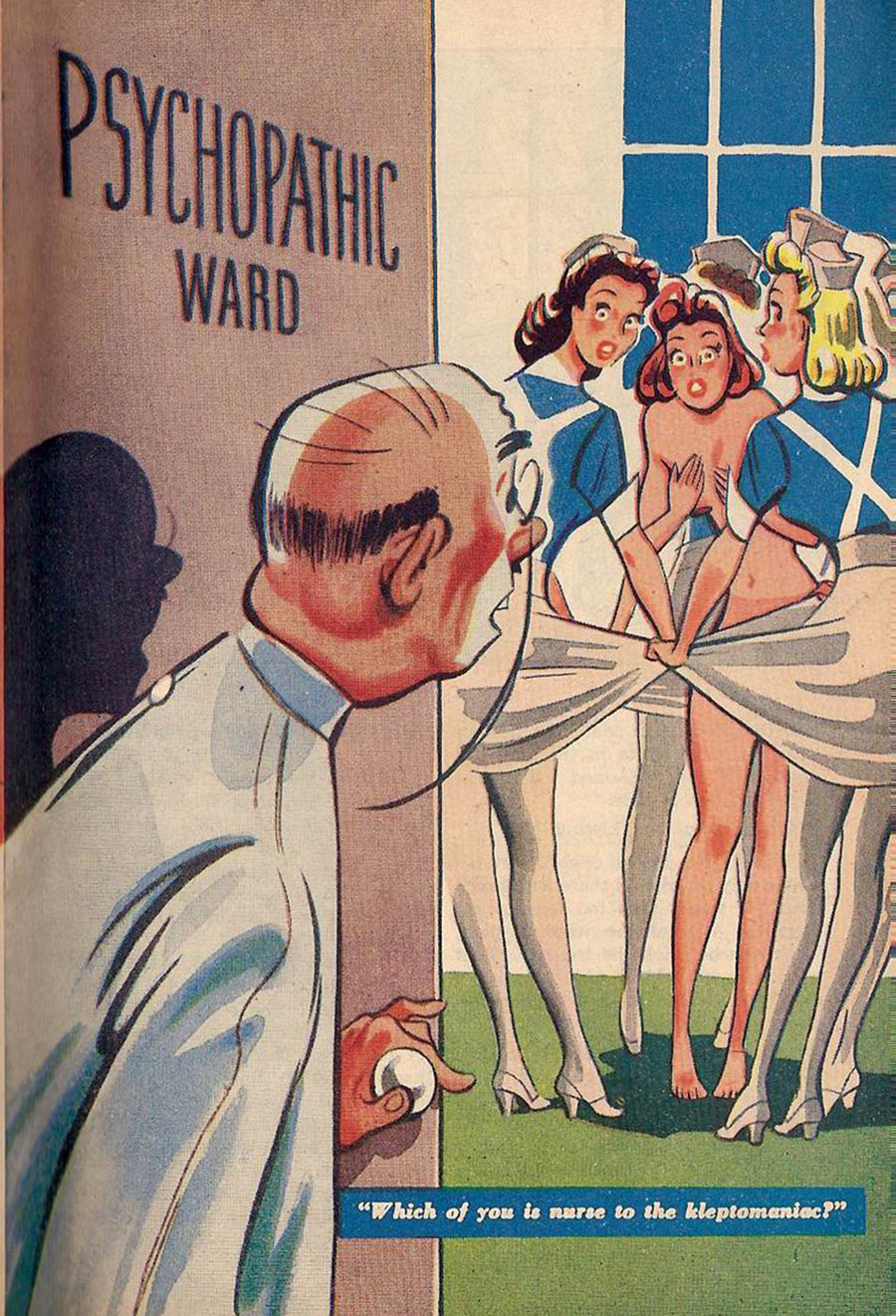 "Which of you is nurse to the kleptomaniac?"
(Hmm. Kleptomaniac isn't the term I would have chosen for a guy who rips the clothes off of women.  But okay.)
Adam, October 1958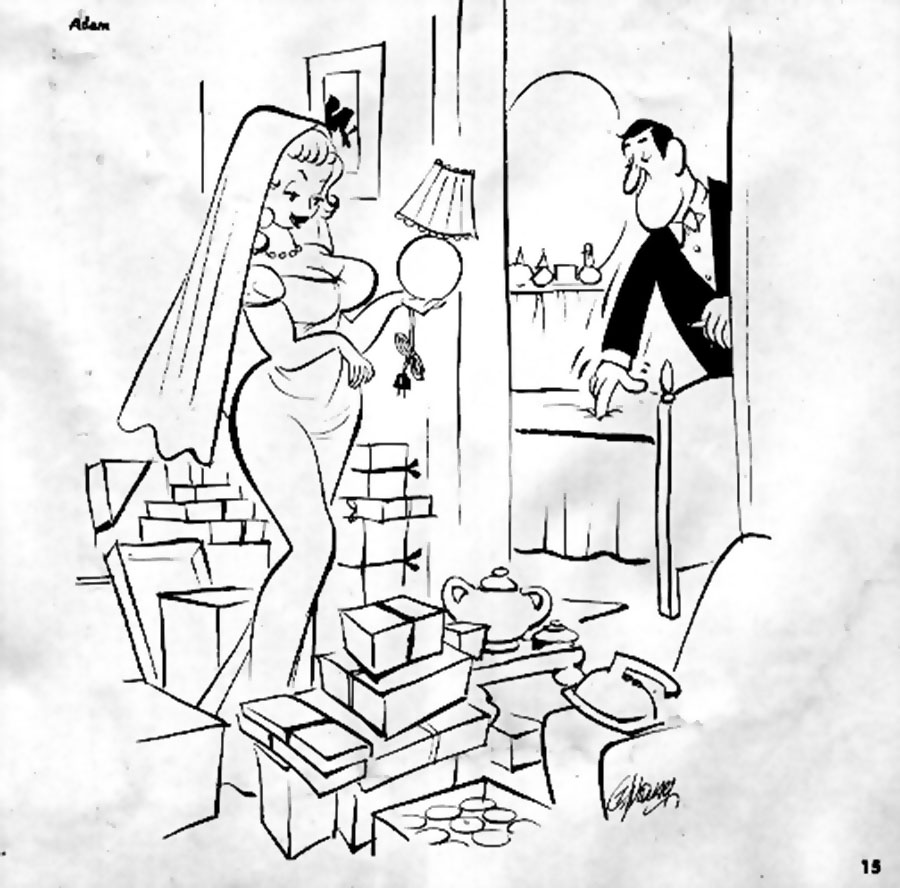 No caption – just a very simple, yet effective comic.  She looks at the loot, and he tests the bed.  Nothing needs to be said.
Escapade, May 1956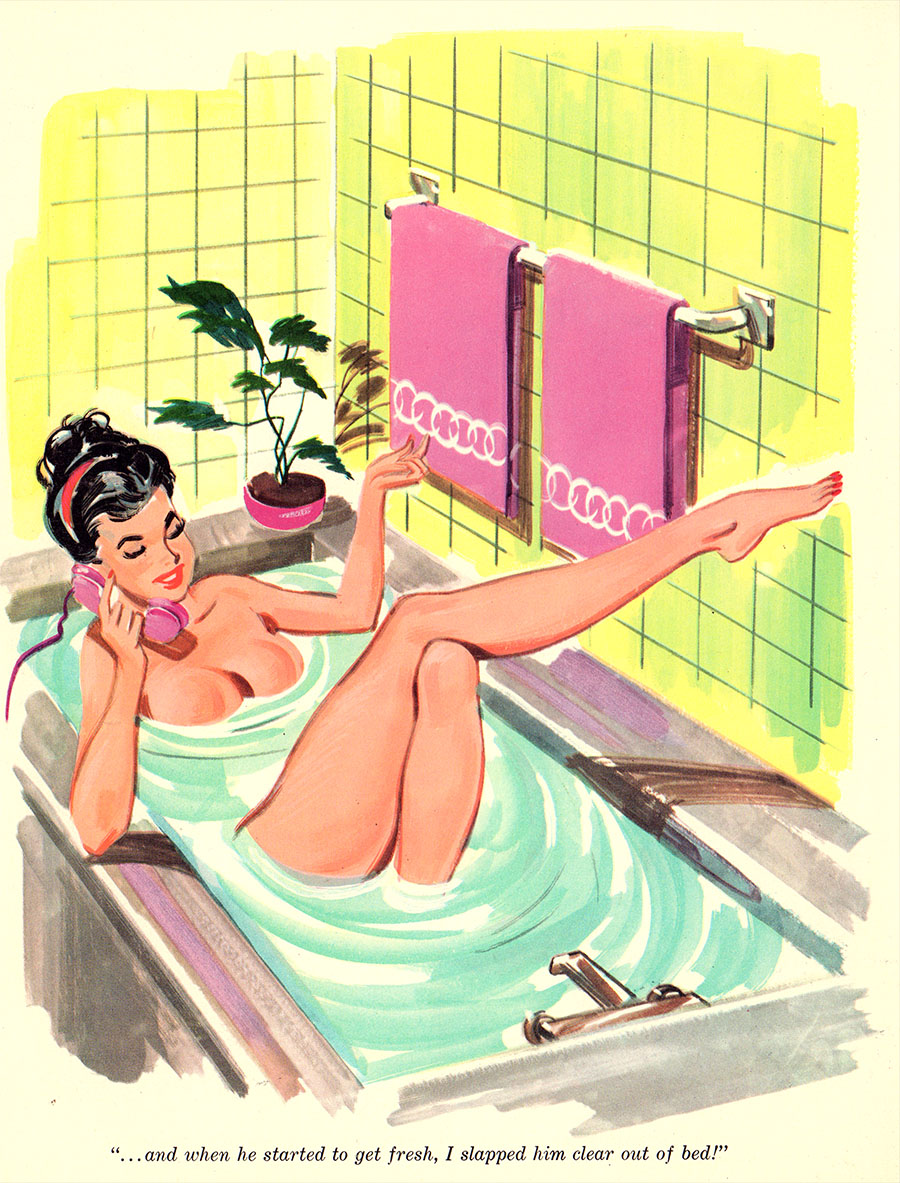 "…and when he started to get fresh, I slapped him clear out of bed!"
A textbook example of where the artistry far exceeds the punchline.
Hit!, January 1953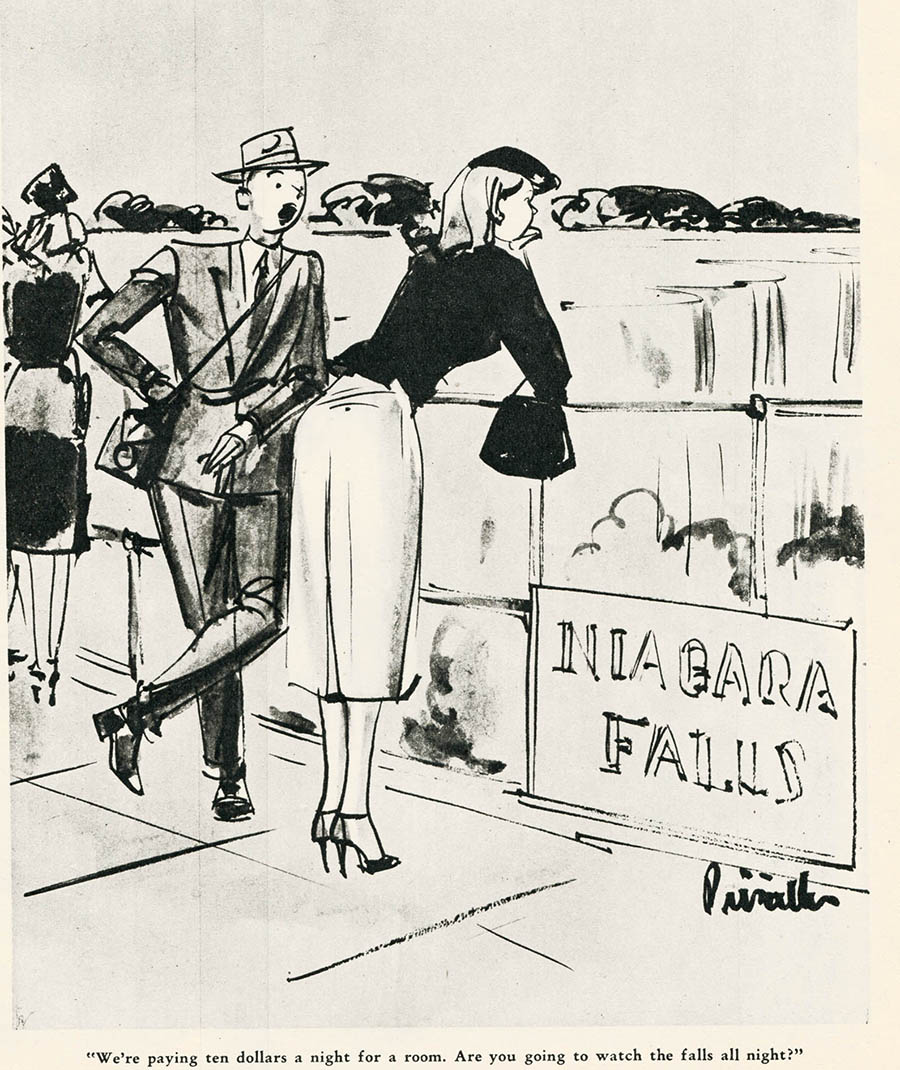 "We're paying ten dollars a night for a room.  Are you going to watch the falls all night?"
What an asshole.
After Hours, vol.1 no.1, 1957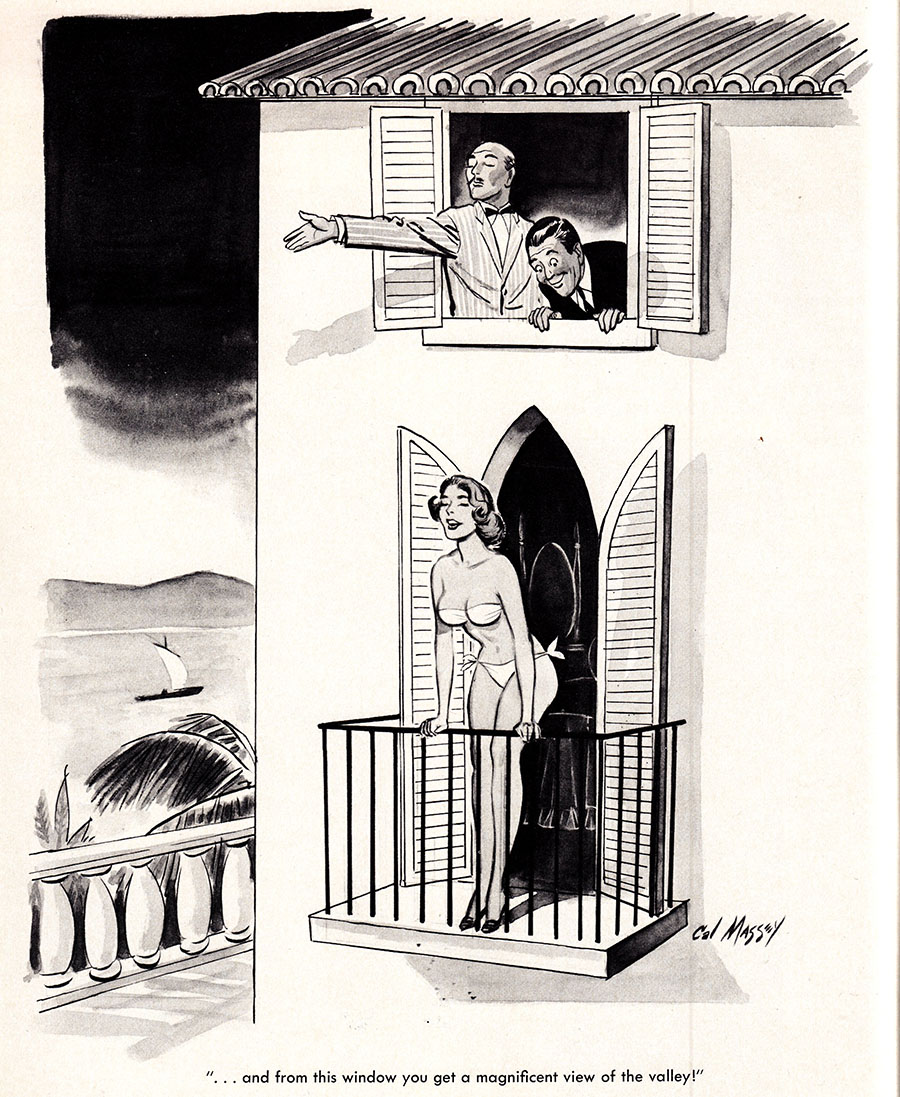 "…and from this window you get a magnificent view of the valley!"
Bachelor, June 1961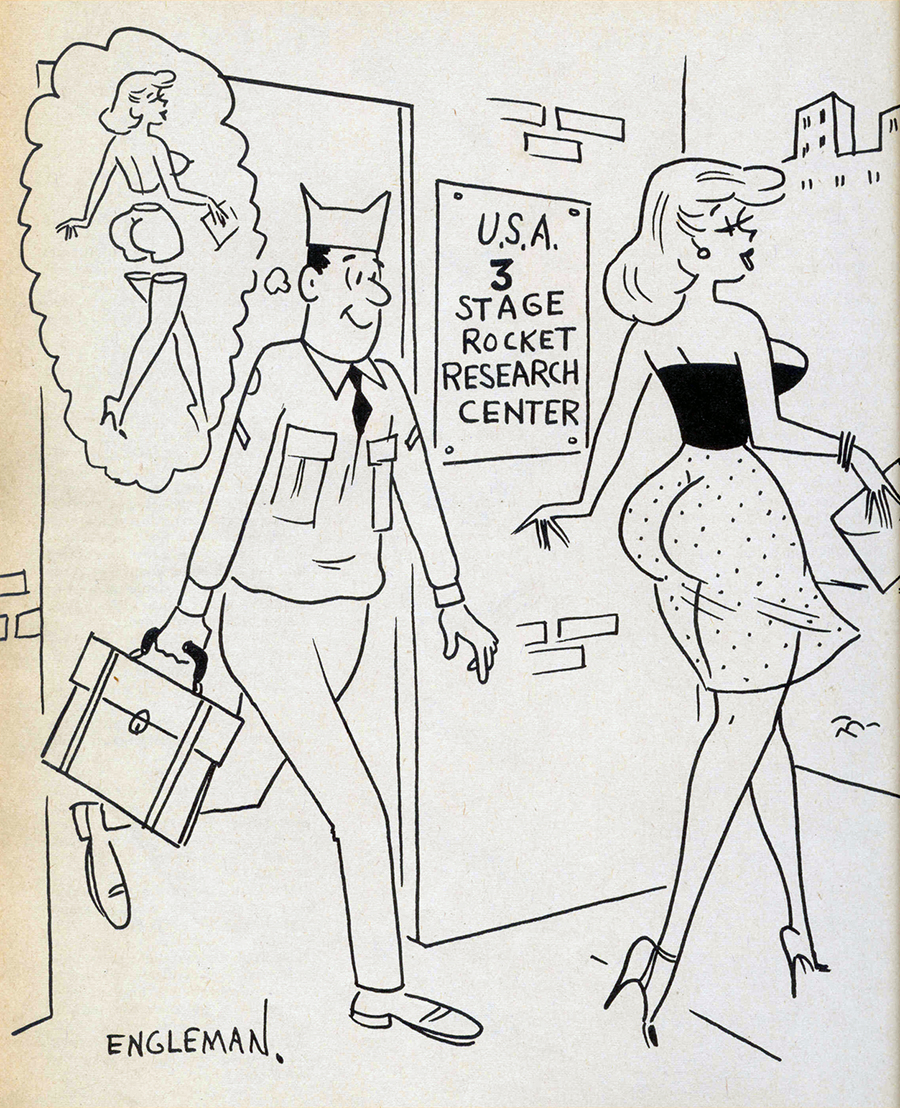 Cabaret, September 1956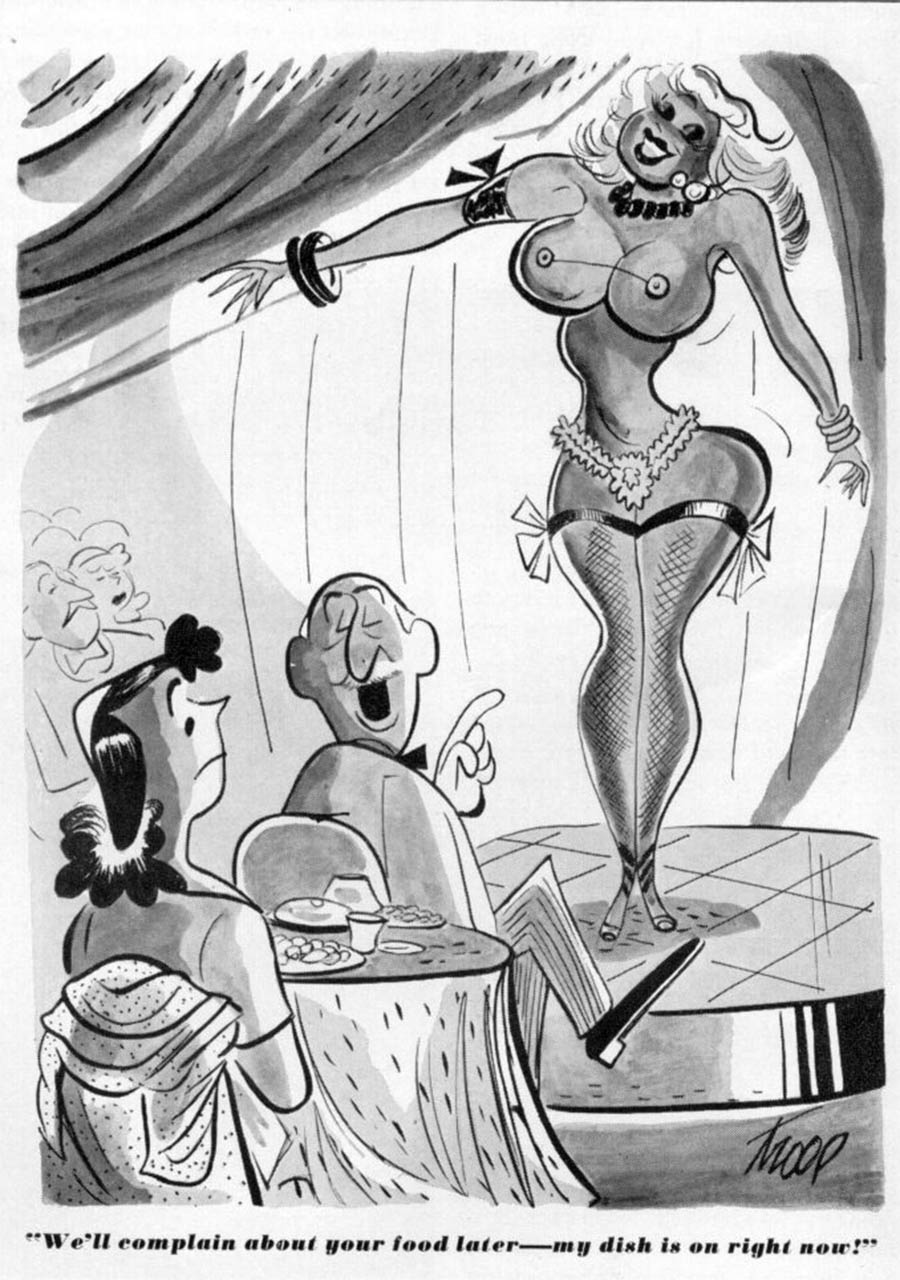 For Men Only, March 1961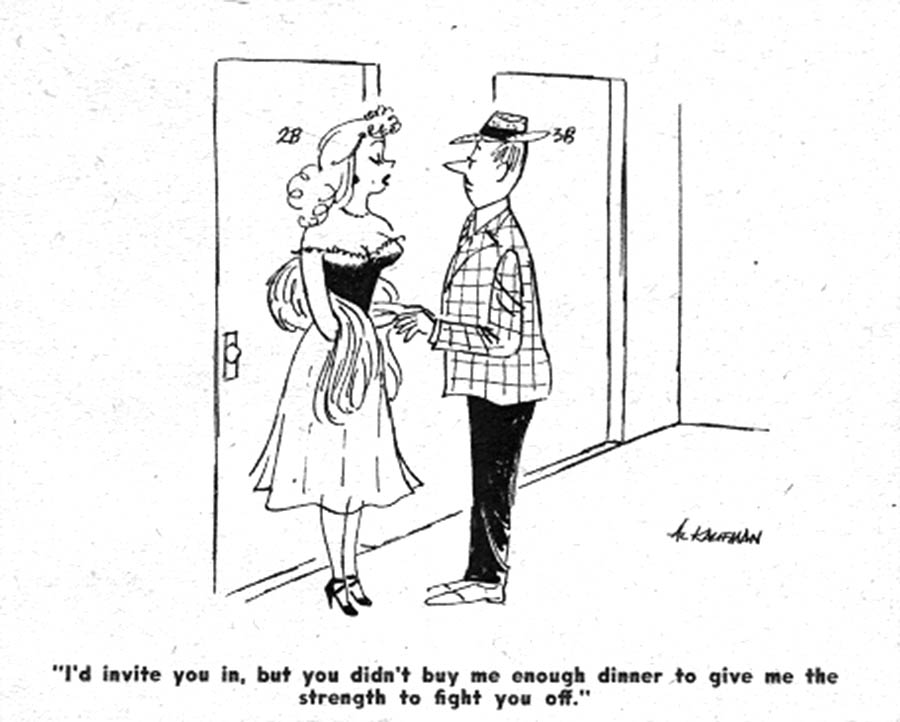 "I'd invite you in, but you didn't buy me enough dinner to give me the strength to fight you off."
Caper, March 1963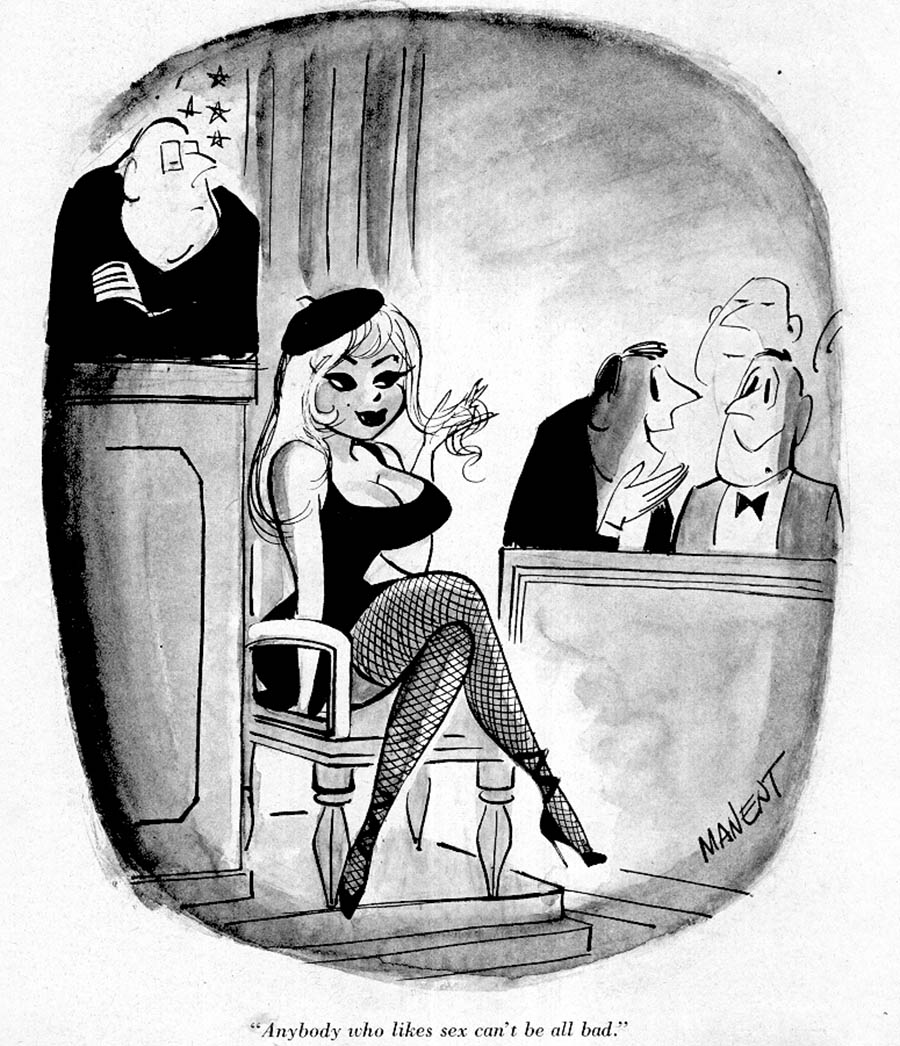 "Anybody who likes sex can't be all bad."
Jem, November 1956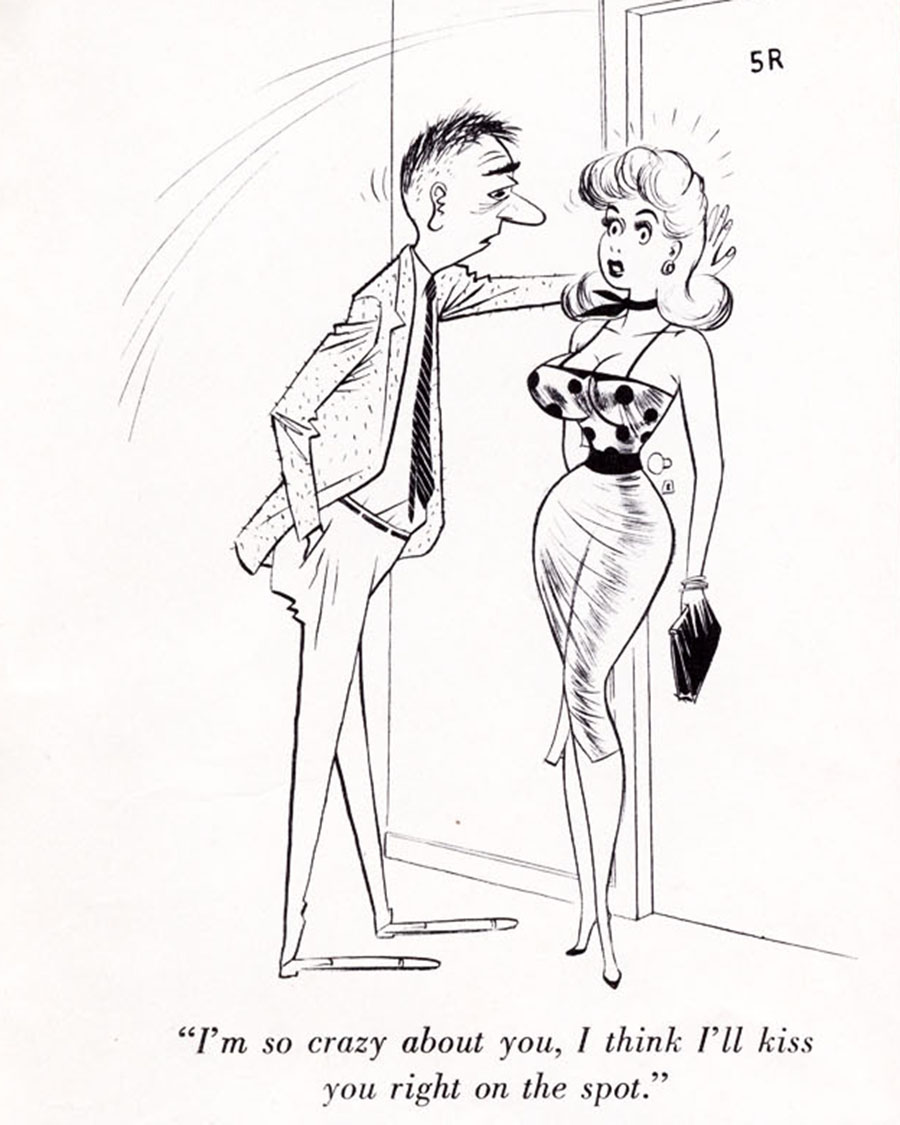 "I'm so crazy about you, I think I'll kiss you right on the spot."
Cabaret Yearbook, 1956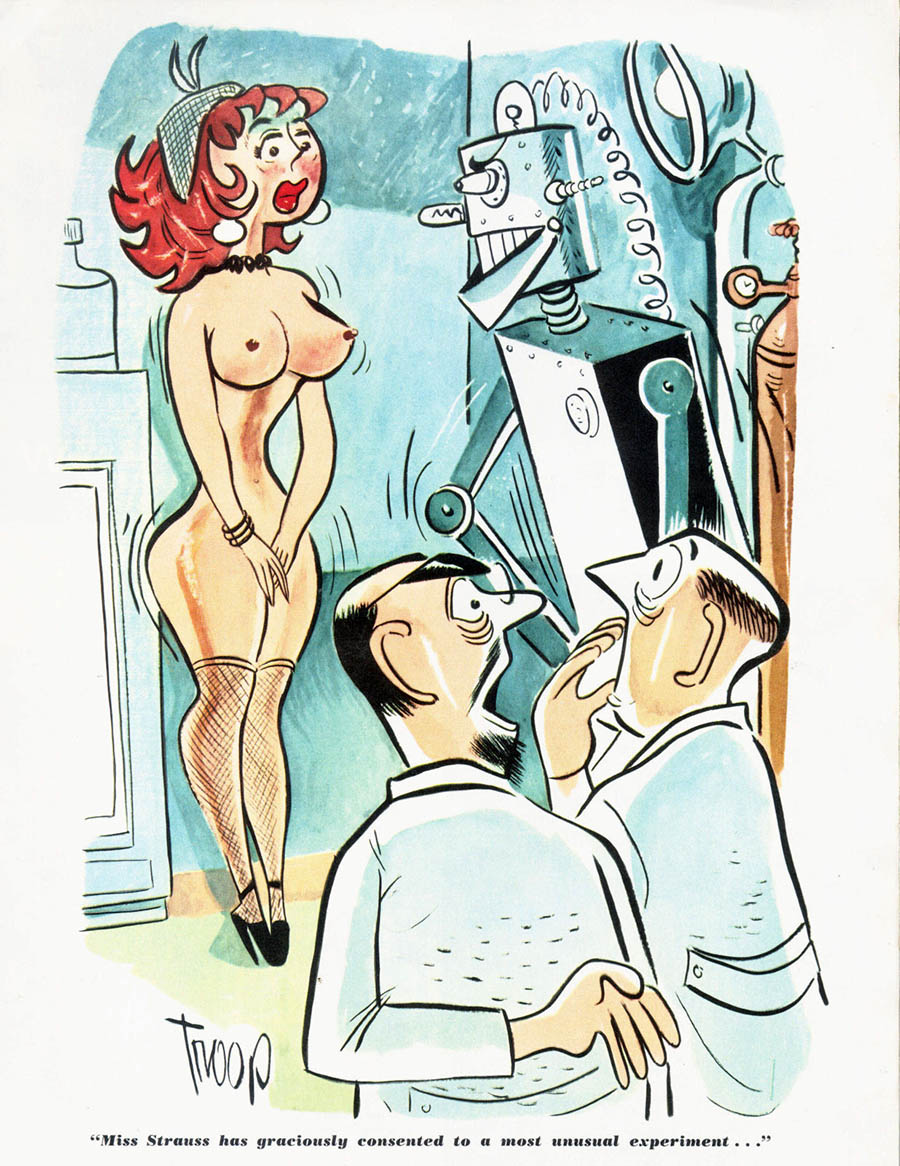 "Miss Strauss has graciously consented to a most unusual experiment…."
WTF?!?
Monsieur, June 1957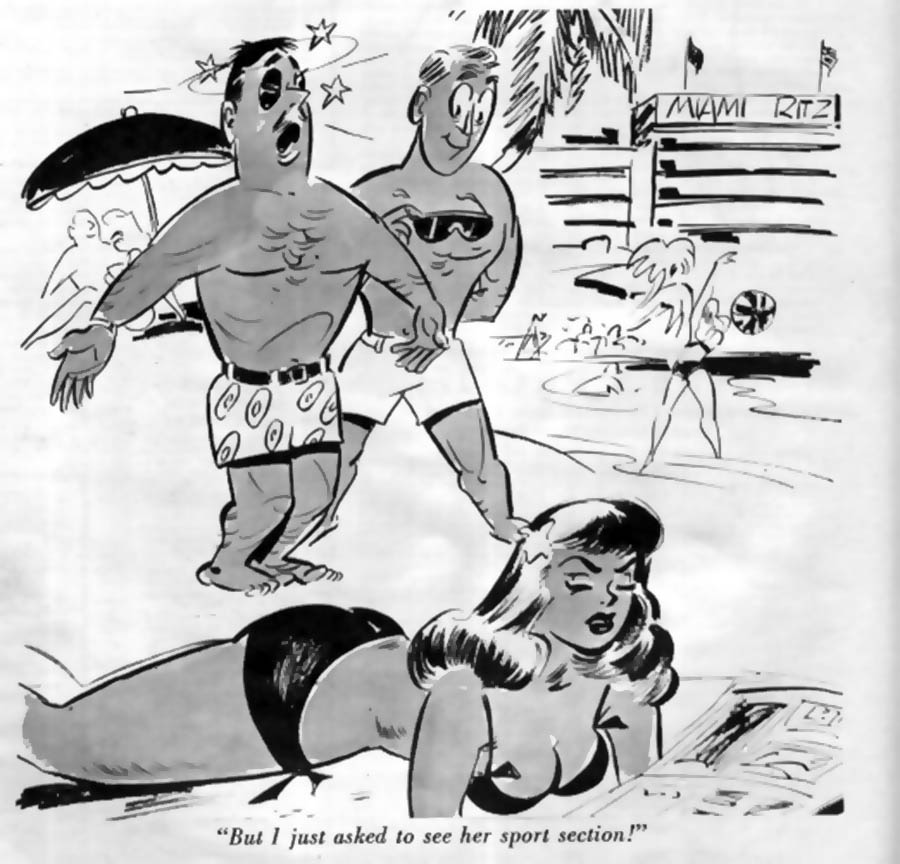 "But I just asked to see her sport section!"
Mr., May 1953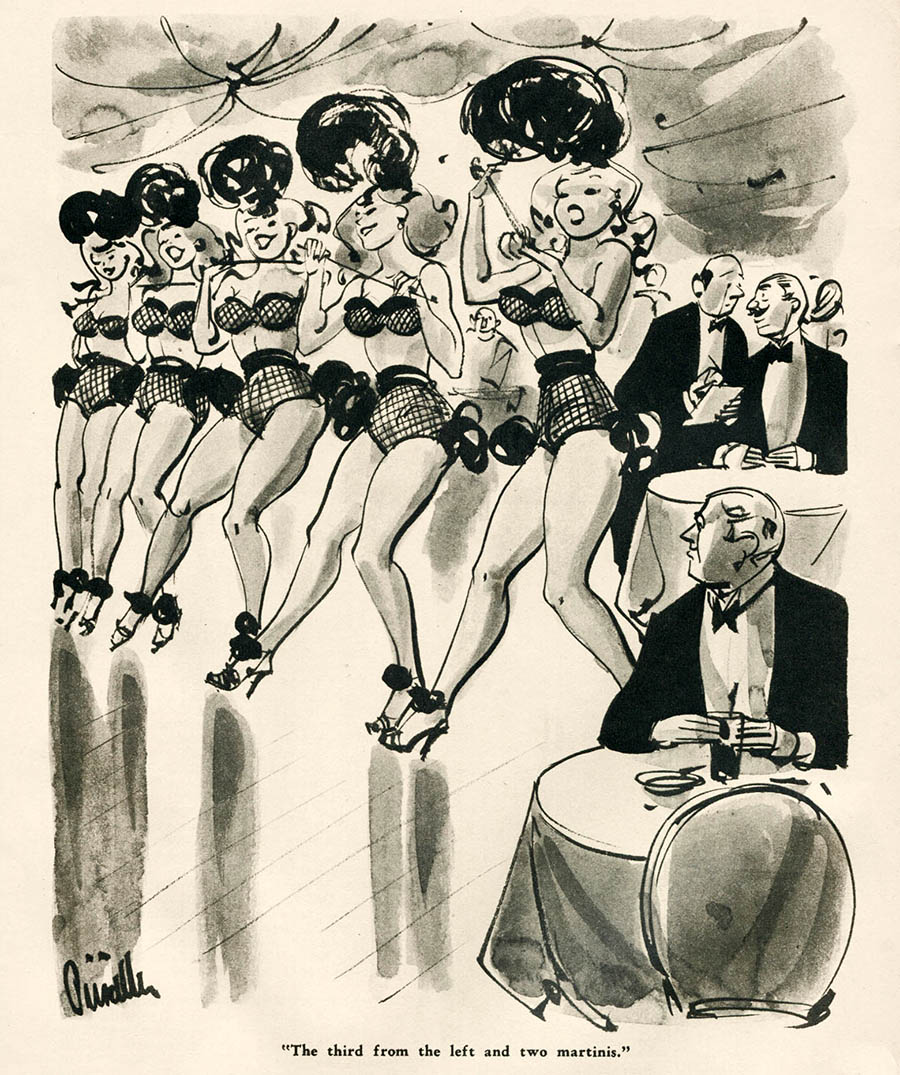 "The third from the left and two martinis"
Carnival, March 1956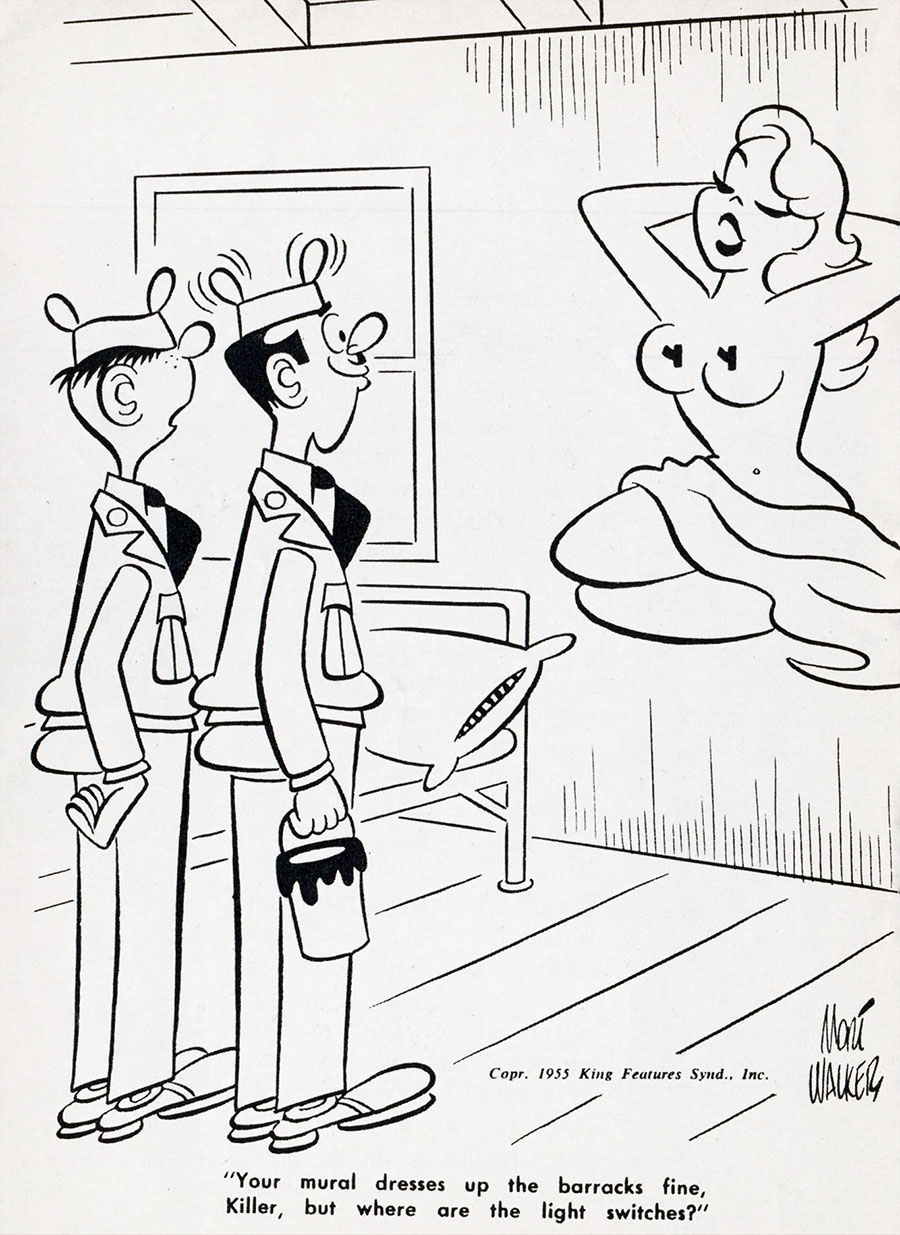 "Your mural dresses up the barracks fine, Killer, but where are the light switches?"
This is actually kind of shocking considering this is an actual Beetle Bailey cartoon by Mort Drucker.  Didn't know Mort went off-color.
Click, March 1939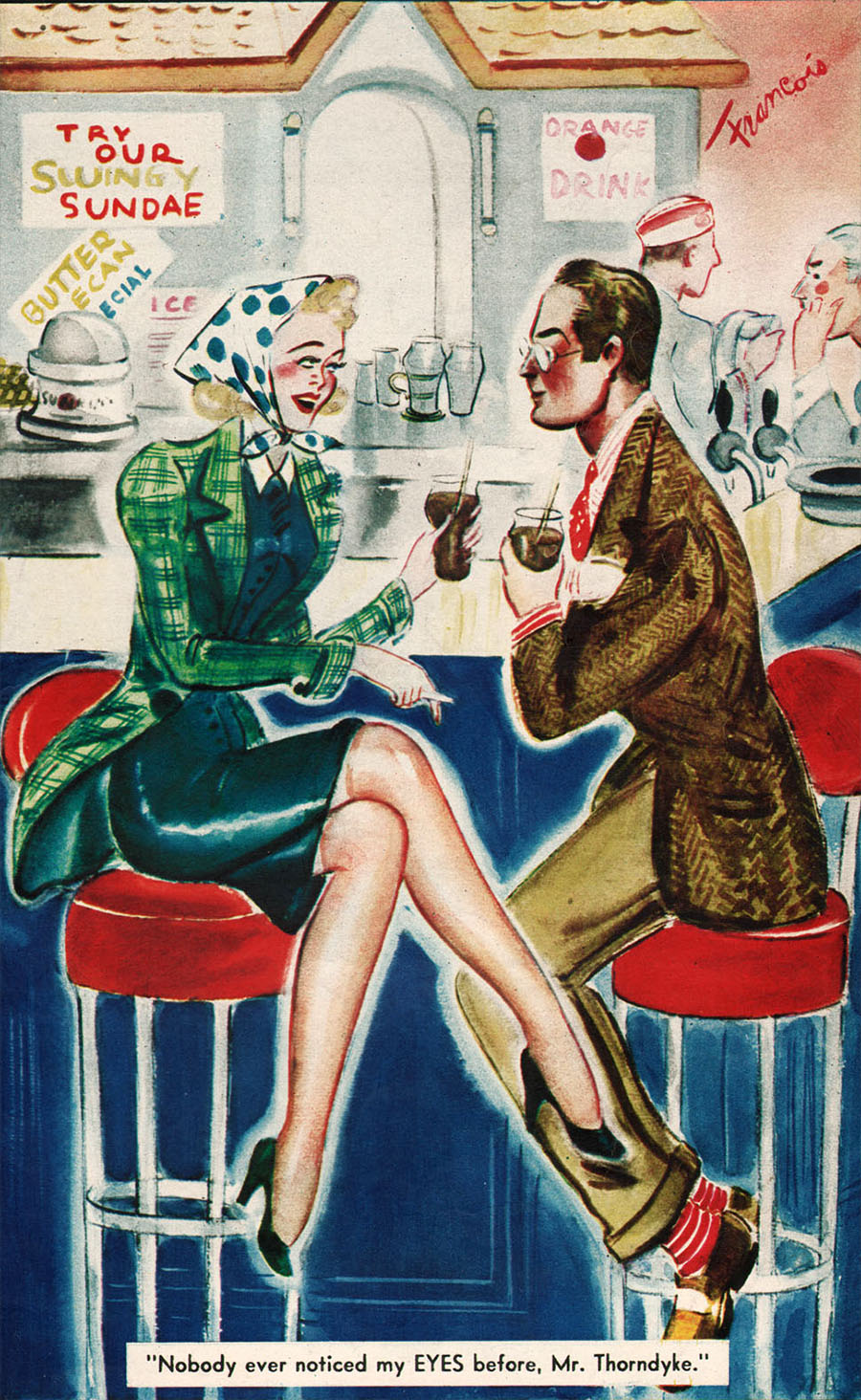 "Nobody ever noticed my EYES before, Mr. Thorndyke."
I'm not sure I really get this one, but I included it because I thought the artwork is pretty good.
Gee Whiz, April 1967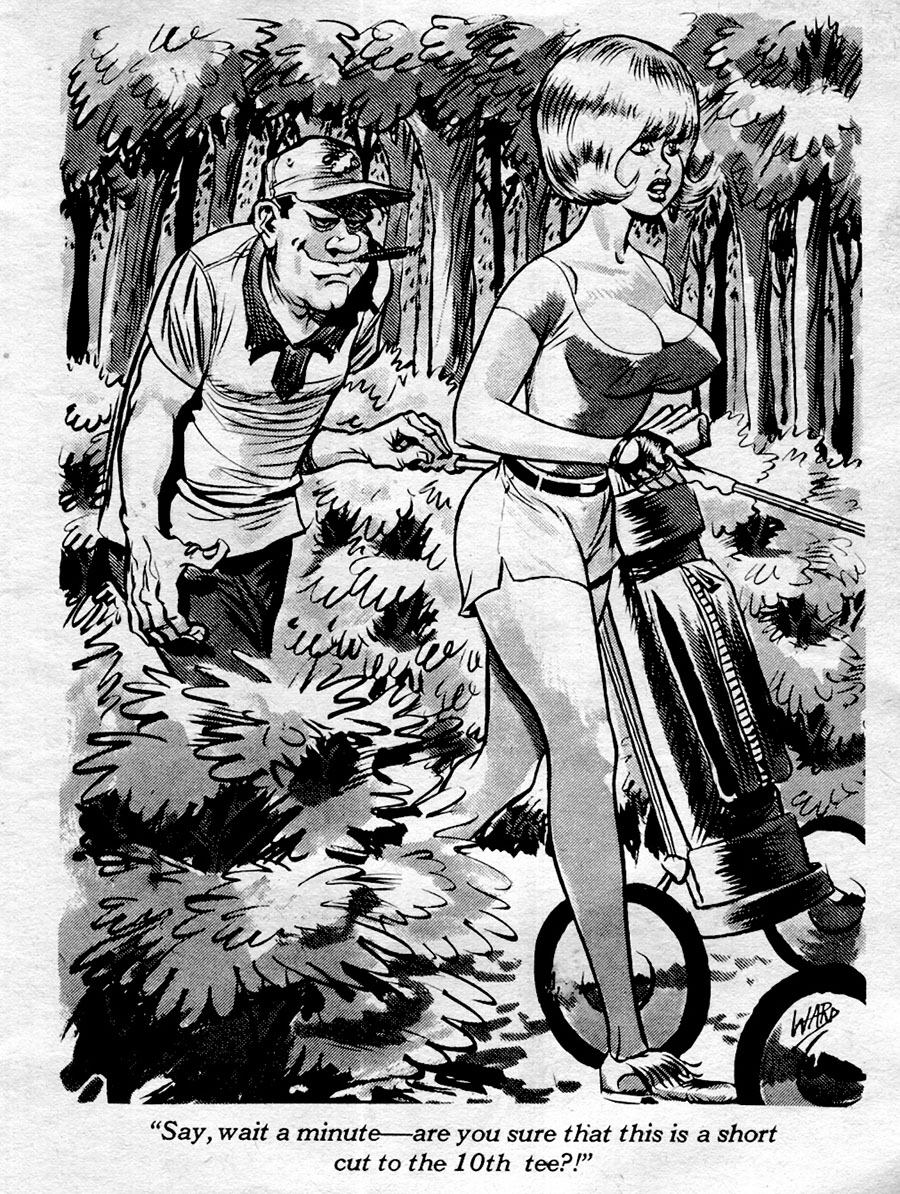 "Say, wait a minute – are you sure that this is a short cut to the 10th tee?"
Yikes. This is just damn scary.
Grin, August 1940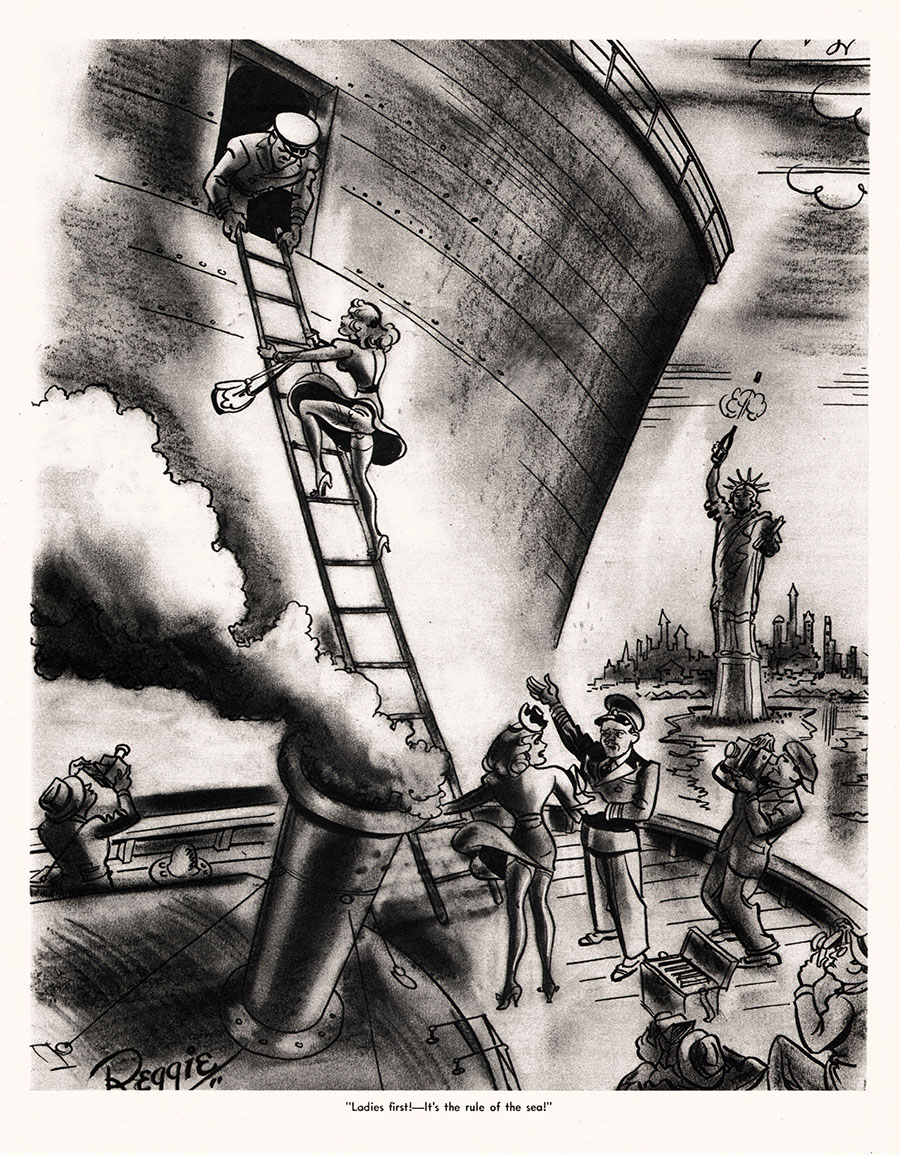 "Ladies first! – It's the rule of the sea!"
Rake, January 1962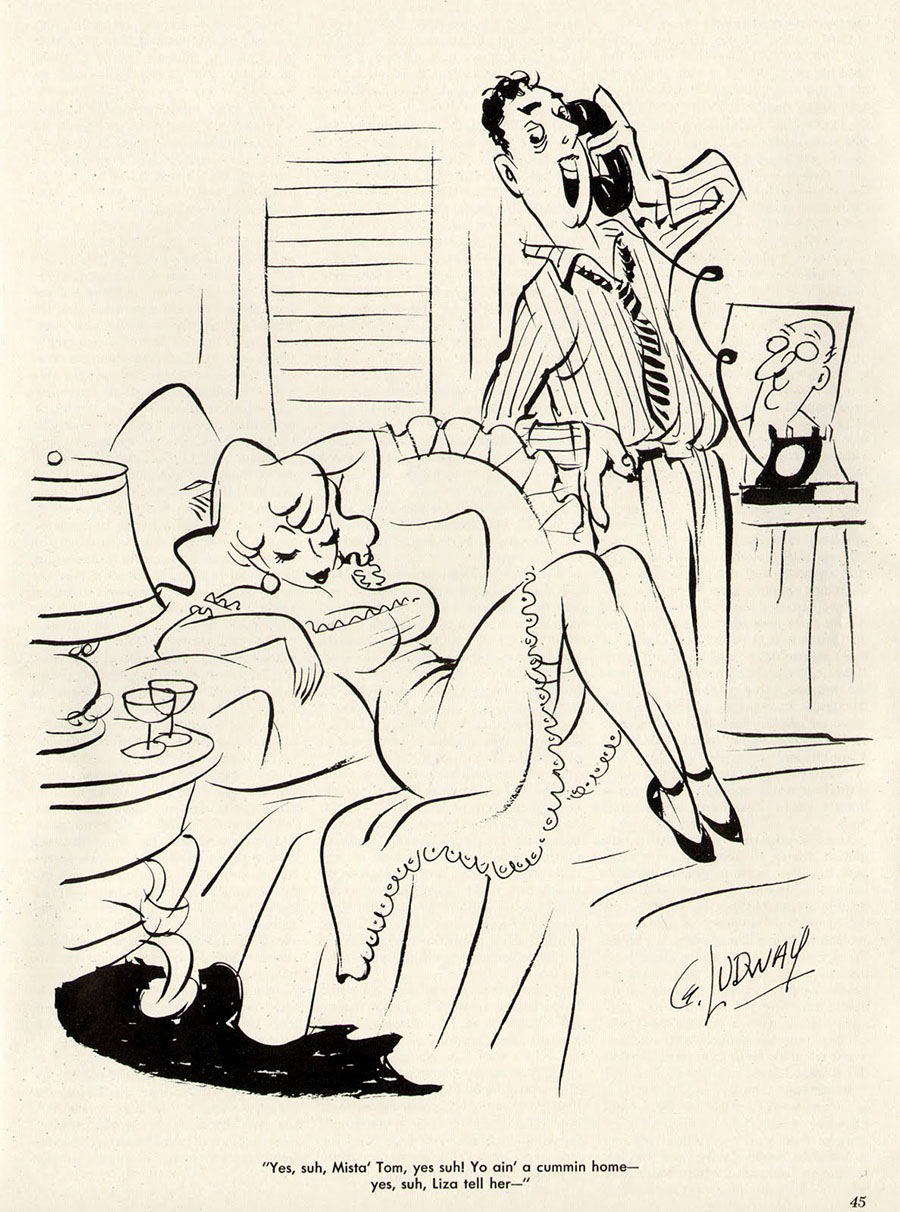 "Yes, suh, Mista' Tom, yes suh! Yo ain' a cummin home – yes, suh, Liza tell her – "
Well, folks, they don't make'm much more offensive than this.
Fling, vol.2 no.11, 1959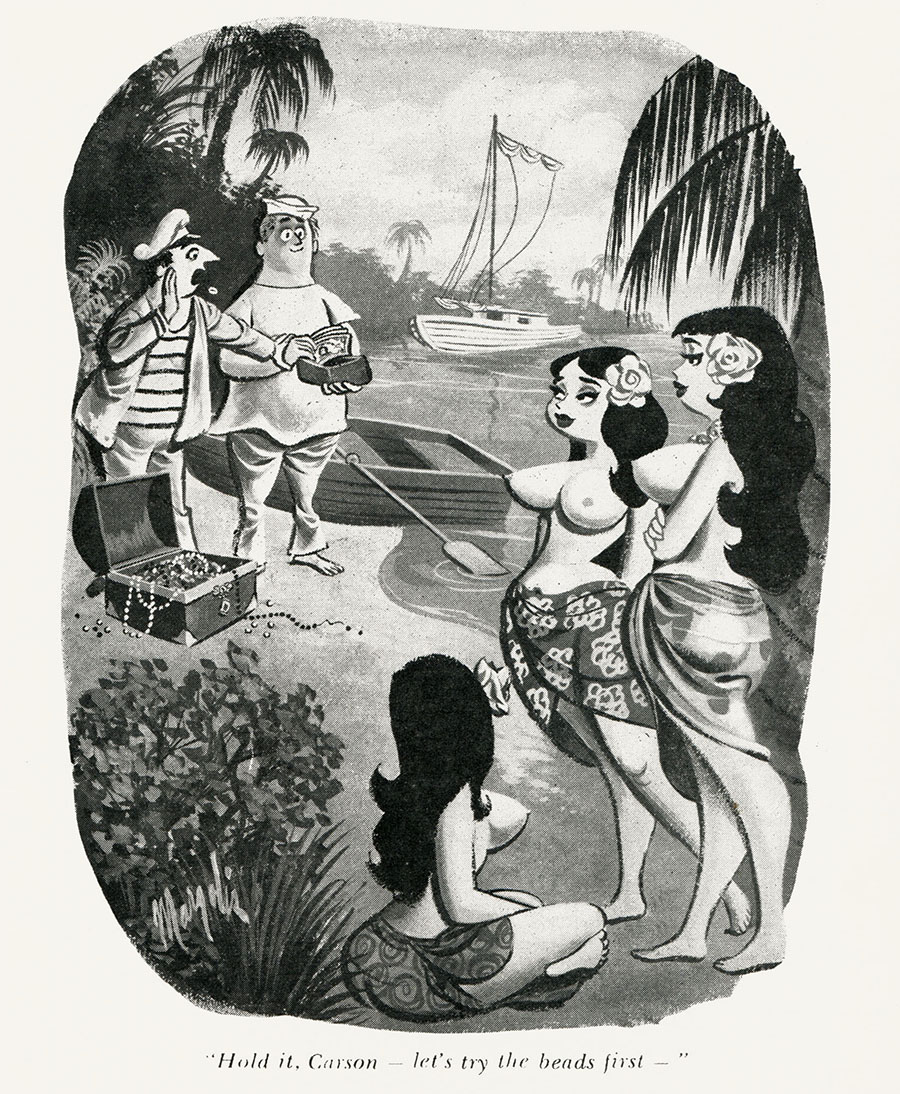 "Hold it, Carson – let's try the beads first – "
Nugget, February 1956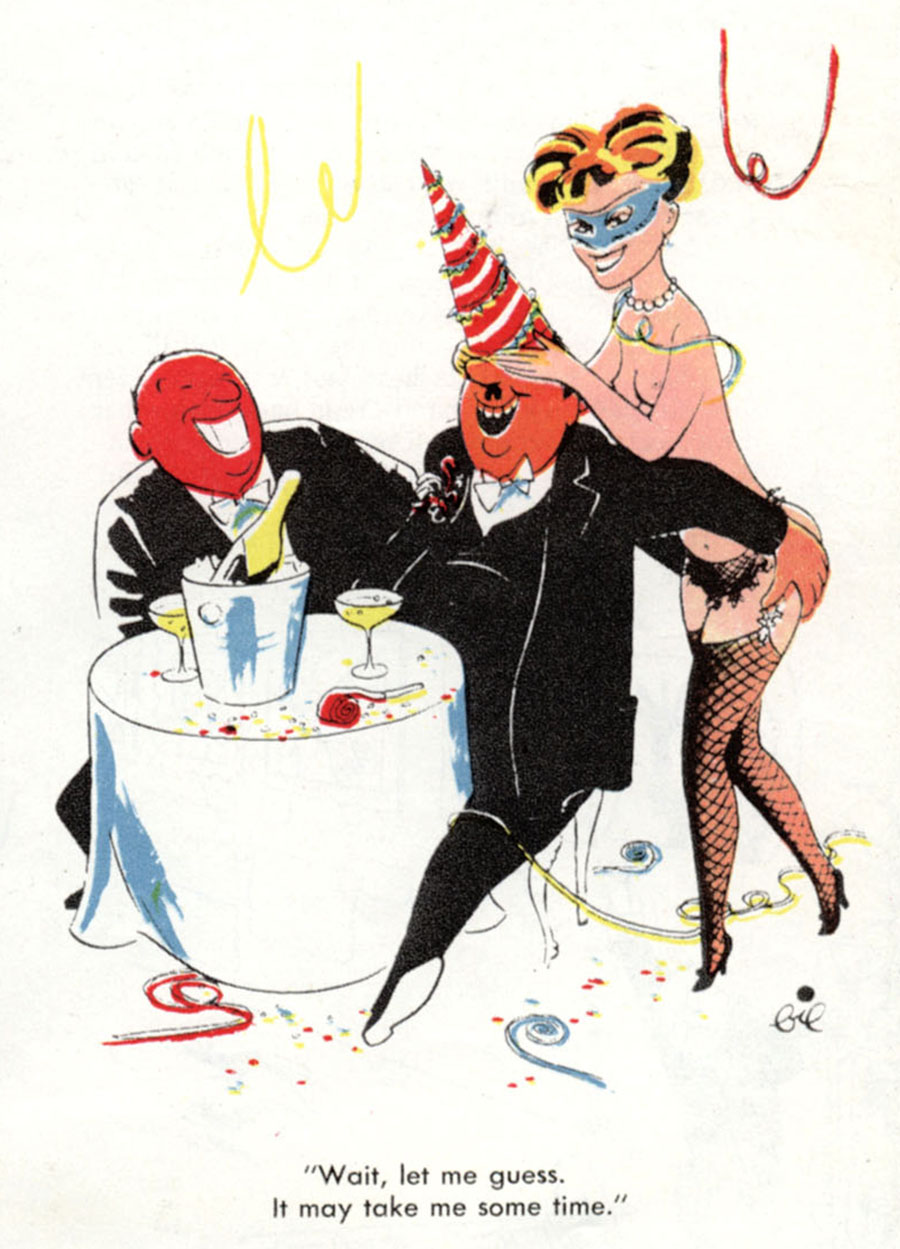 "Wait, let me guess.  It may take me some time."
Sir!, May 1953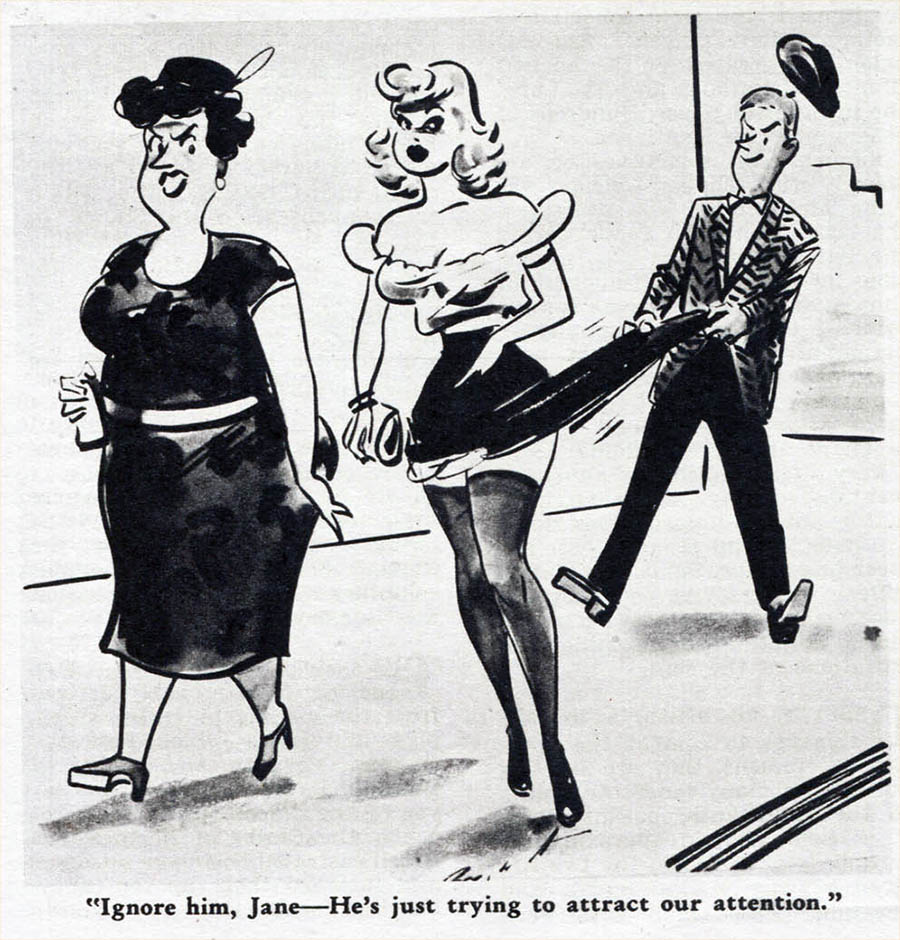 "Ignore him, Jane – He's just trying to attract our attention."
Or, here's another option, Jane.  Call the f***ing police!