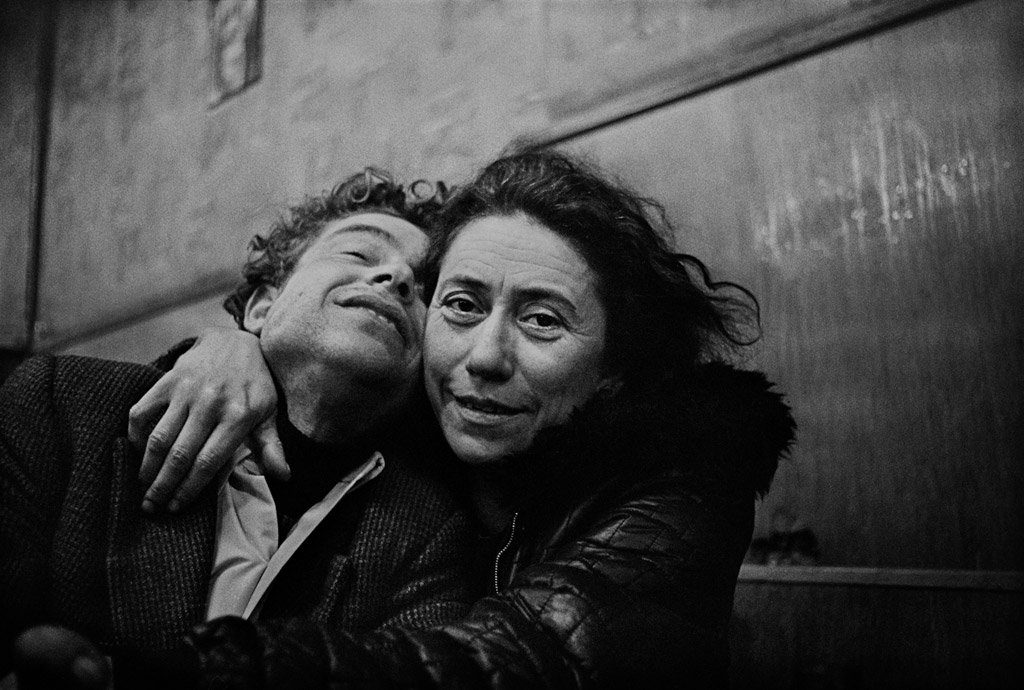 Cafe Lehmitz was a dive on Hamburg's Reeperbahn, the venue of choice for the good people working the city's vibrant red-light district.
Anders Petersen first saw Hamburg as an 18-year-old visitor from his native Sweden in 1962. He liked what he saw. In 1967 he returned to photograph the faces who made the place throb with life. "I went back there to find my friends and take pictures of their lives," he says. "But people told me they were almost all dead."
He bumped into Gertrude, a friend, in a bar. He told her his plan to photograph the area's vibrancy, and they arranged to meet the following evening at 1am at a place called Cafe Lehmitz.
"Lehmitz was the first thing I did seriously. It filled me up," Petersen recalls. "I really identified with these people and their situation, this group who were outside society. I respected them. I felt very strongly about them."
"So I was there at one o'clock exactly," Petersen continues. "I found a seat on the corner of a table and I put my camera down." Some drinkers picked up the camera and took photos of one another.
"They threw the camera to me, I kept it, and started to shoot," he says. "At that moment Gertrud came in, two hours late. 'Look! It's working!' she said. 'So stay here and take some more pictures.'" Petersen did, staying for a month before returning to Stockholm. But he kept going back to Hamburg – and to Cafe Lehmitz – taking photos every few months for the next two and a half years.
"Uschi. She was a very nice woman, very kind, very generous. She was raped when she was 14, she said by her cousin, and they blamed her. So she went out and started to earn money in the way, you know, that is very common."
"In another there is a woman – I don't remember her name – together with a man in a big hat. He was being very hard and rude to her. It was a horrible and upsetting situation. I was asking myself, should I really publish this? But I also have to show this side of life at the cafe. Not only the romantic things…

"I don't have the same taste today. Then I was very much concerned about the atmosphere, the milieu. I was very influenced by Ed van der Elsken's Love on the Left Bank. But now I'm more into what I think I'm connected to, what I can identify with. I'm more direct."
Café Lehmitz Revisited is at Circulations in Paris until 22 December; Anders Petersen Retrospektive is at MARTa Herford, Germany, until 12 March.