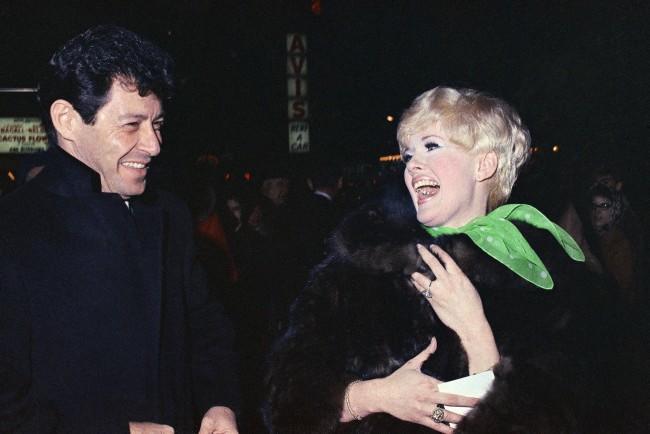 On January 30, 1967, singer Eddie Fisher and actress Connie Stevens (nee Concetta Anna Ingolia) announced their engagement at New York's Plymouth Theatre.
He wore hair oil. She wore furs.
Eddie was the star of a former TV show called Coke Time.
In 1955, Eddie had married Debbie Reynolds, resulting in two children Carrie Fisher and Todd Fisher.
They were America's sweethearts:
"I am truly a product of Hollywood in-breeding. When two celebrities mate, someone like me is the result" – Carrie Fisher.
It didn't last. In 1958, news broke of his affair with Elizabeth Taylor, widowed when Michael Todd, Eddie's best friend, had died in a plane crash.
In 1959, Fisher divorced Reynolds and married Taylor. They would remain together for four years, divorcing in 1964.
Debbie Reynolds married twice more. And she twice more divorced.
Debbie would say:
"Eddie had been best man at their wedding and I had been a bridesmaid. We saw a lot of each other and I never suspected that she was going to entice my husband away.  I might not have been as surprised were it anyone else. But how it all happened was rather scandalous in that they didn't take more care to avoid hurting me. I understand when I look back on it. Who would pass by Elizabeth? No woman living was as beautiful as her. And Eddie had even tried to act like Mike Todd, smoking big cigars.  I was the last to find out about the affair. There had been hints in the papers and I had noticed that when I turned up at functions or parties on my own my friends were whispering. Although I didn't want to find out the truth, I had to face up to it. Even so, it was a great shock to find them together. It left me shattered… I was a virgin when I married Eddie, but Elizabeth had been married three times. I was devastated because I had two children.  I was very religious so I didn't believe in divorce, but they laid guilt on me that I was keeping them and true love apart. So, I finally let Eddie off the hook. I told him to go."
Taylor would cheat on Fisher with Richard Burton.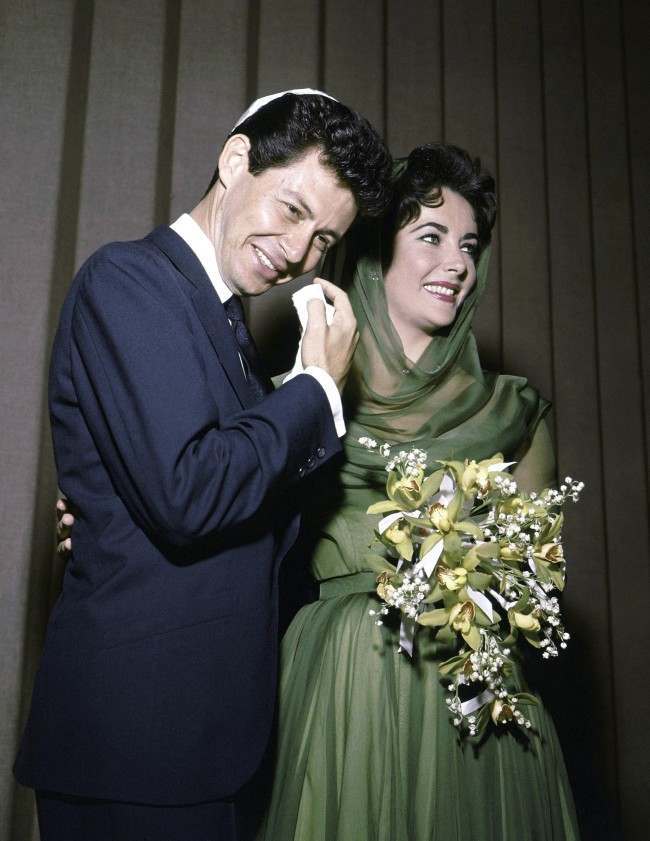 Taylor married Larry Forenzky in 1991. And divorced him in 1996. Before that she married these men:
By the time Eddie the crooner married Connie Stevens, his reputation was sullied. She was the actress, who had starred as Wendy Conway in the sitcom Wendy & Me.
In the series (a slight variation of The George Burns and Gracie Allen Show), Burns plays a somewhat fictionalized version of himself. He is the owner of an apartment building, while Stevens plays his tenant, Wendy Conway. Episodes typically revolved around Wendy pulling Burns into comedic situations mostly involving her husband, played by Ron Harper, and other people in the building.
She had been married before, divorcing actor James Stacy in 1963.
On September 27, 1973, a drunk driver struck Stacy and his girlfriend, waitress Claire Cox, while they were riding tandem on a motorcycle. Cox died of her injuries, and Stacy lost his left arm and leg. Stacy's ex-wife, actress and singer Connie Stevens, organized a 1974 celebrity gala to raise money for his expenses. The gala, whose attendees included Frank Sinatra and Barbra Streisand, raised $118,000 for his expenses.  In 1976, he won a $1.9 million landmark lawsuit against the bar that had served the drunk driver…

After his recovery, Stacy appeared in roles created to accommodate his handicap. His comeback film was the 1975 Kirk Douglas Western Posse, in which he was cast as newspaper editor "Harold Hellman", a part Douglas had written for him. In 1977, he starred in the TV movie Just a Little Inconvenience, playing a double-amputee Vietnam veteran. The role earned him his first Primetime Emmy Award nomination for Outstanding Lead Actor in a Drama or Comedy Special…

In November 1995, Stacy pled no contest to a charge of molesting an 11-year-old-girl[4] and entered a Ventura County rehab facility… Stacy, who is required to register as a sex offender under Megan's Law, currently resides in Ventura, California.
Stevens and Fisher had two daughters, the actresses Joely Fisher and Tricia Leigh Fisher. They divorced in 1968. Eddie would go on to marry twice more.
These pictures are evocative of the time. Eddie has the pallor of a hard drinker with a cocaine habit. She is powdered and glowing.
But it is the last photo in this set that makes us look and look again. What is he saying to her? Her expression is choice…