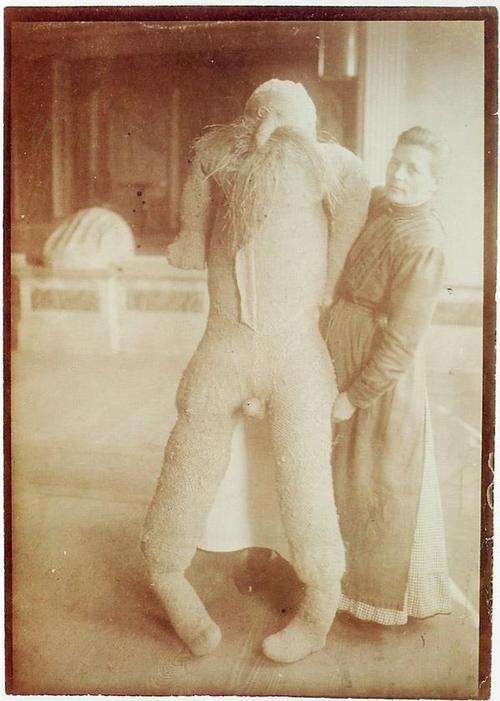 AS early as the 1920s, art historian and junior doctor Hans Prinzhorn recognized the talent in his patients at the Heidelberg Psychiatric Clinic, and began collecting their works. The world-renowned Prinzhorn Collection at Heidelberg's University Hospital now contains over 5,000 drawings, oil paintings, wood carvings and textile works.
The picture above is of Katharina Detzel (1872-1941) and her dummy:
Detzel was put in a mental institution in 1907 after supposedly sabotaging a railway line as a political protest. Before the Nazis murdered her (as a part of Nazi euthanasia program) in 1941, she wrote a play, tried to establish a home for babies, protested against the way the inmates were treated, and created miniature figures out of bread dough she probably chewed herself. Katharina also made a life-sized male doll out of the mattress ticking and straw from her bed, which she'd pummel when she was angry or dance with when she felt happy. This male gave her the surrogate love she needed in the institute.

Hans Prinzhorn (1886-1933), who as an art historian and doctor was versed in both fields, is regarded nowadays as having pioneered an interdisciplinary approach…. His richly illustrated book The Artistry of the Mentally Ill (Berlin 1922) not only documented the collection, but partly interpreted it and contextualised it through a critical examination of the prevailing culture. Here he departed once and for all from any questions about the relevance of the works for diagnostics. Instead, he emphasised that all of these creative phenomena are equally valid in psychological terms, and that some have recognisably artistic quality – thus allowing this disparaged "insane art" and its creators to be given a positive re-evaluation. Prinzhorn's great achievement was, in effect, to open up the blinkered viewpoint of psychiatry to include the realms of both art and art history. This was a courageous step which, in the long term, helped the patients' creative production receive its just acclaim and to promote a reintegration of the patients into society.
More.