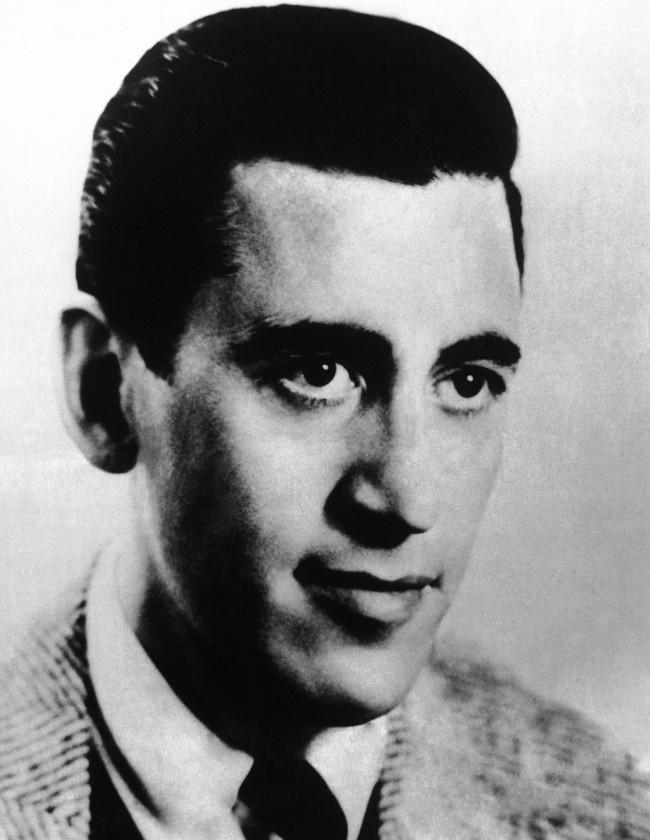 JD Salinger died in  died in 2010 at age 91. Some of his unpublished works have been found. Cornel Bonca looks at them:
[T]his is the biggest literary "get" of the American 21st century.
The books include a World War II novel featuring Sergeant X from "From Esme," the most intriguing character outside Holden and the Glass family that Salinger ever created. It includes a novella, in diary form, written by a World War II counterintelligence officer — Salinger's job during the war — "culminating in the Holocaust." Given Salinger's war experience and his painstaking writing process, these two works could conceivably add up to a contribution to American World War II literature on a par with the work of Mailer, Jones, Heller, and Pynchon.

A third manuscript is, we're told, a "manual of Vedanta," a book explaining Vedanta Hinduism (and presumably, its relation to Salinger's work), "with short stories, almost fables, woven into the text." Finally, there are two compilations, one entitled The Family Glass, gathering all the published Glass stories together with five new storiesabout Seymour, the last of which "deals with Seymour's life after death." Given that once Salinger got going on the Glasses, his "stories" inevitably metastasized into novellas, this book is likely to be a real tome, and might conceivably be the greatest contribution Salinger makes to American letters, dealing as it must, with the question of how to live a genuine spiritual life in a postwar, post-Holocaust world.

Then there's the final book, which [biographers David] Shields and [Shane] Salerno describe as "a complete history of the Caulfield family," gatheringCatcher, six previously published (and I would imagine, wholly rewritten) Caulfield stories written in the early-to-mid 1940s, as well as new stories featuring, presumably, Holden, Phoebe, Allie, and D.B. Caulfield. Five new Salinger books! Doubtless, they will make us entirely reconceive Salinger's current oeuvre. If the books are even close in quality to Catcher or Franny & Zooey, they might reroute the course of late 20th-century American literature.
It just so happens – and what are the odds? – that the Weinstein Company is developing a film about JD Salinger. The film will examine "the effects war can have on an artist".
It's the kind of marketing-news tie-in Salinger would have detested.
Thssi from a letter Salinger wrote to Ernest Hemingway from a military hospital in Nuremberg in 1944:
"Nothing was wrong with me except that I've been in an almost constant state of despondency and I thought it would be good to talk to somebody sane. They asked me about my sex life (which couldn't be normaler – gracious!) and about my childhood (Normal)… I've always liked the Army … There are very few arrests left to be made in our section. We're now picking up children under ten if their attitudes are snotty. Gotta get those ole arrest forms up to Army, gotta fatten up the Report."

"How is your novel coming? I hope you're working hard on it. Don't sell it to the movies. You're a rich guy. As Chairman of your many fan clubs, I know I speak for all the members when I say Down with Gary Cooper."

"I'd give my right arm to get out of the Army, but not on a psychiatric, this-man-is-not-fit-for-the-Army-life ticket. I have a very sensitive novel in mind, and I won't have the author called a jerk in 1950. I am a jerk, but the wrong people mustn't know it."
The film could be awful…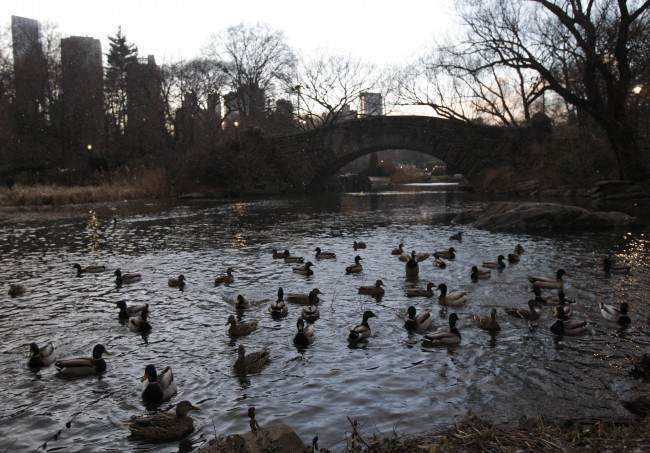 Photo: Dozens of mallards gather near the edge of The Pond on a winter's day in Central Park in New York, Thursday, Jan. 28, 2010. Salinger's teenage protagonist, Holden Caulfield of Catcher in the Rye, wondered where the ducks from the Central Park pond go in winter.