On the evening of 10 November 1938 many people all over Britain would have sat down, taken a sip of their Bournevita, and with a comfortable sigh, opened their latest issue of Homes and Gardens. Meanwhile in Germany, seven months after the country had invaded Austria, Kristallnacht began – the Night of Broken Glass, when with sickening violence, the Nazis burnt over 1000 synagogues and destroyed 7,000 Jewish businesses throughout Germany and Austria. Ninety-one people were killed by the Stormtroopers and for the first time Jews were arrested on a massive scale and about 30,000 Jewish men were sent to the Buchenwald, Dachau, and Sachsenhausen concentration camps. The Times, the day after Kristallnacht, wrote:
No foreign propagandist bent upon blackening Germany before the world could outdo the tale of burnings and beatings, of blackguardly assaults on defenceless and innocent people, which disgraced that country yesterday.
While this was all happening the readers of Homes and Gardens were offered a gushing tour of Haus Wachenfeld, Hitler's chalet in the Bavarian Alps. The article was written by the ridiculously named Ignatius Phayre which was actually the pseudonym of a William George Fitzgerald.
Here are some excerpts from the Fitzgerald's obsequious article.
At first no more than a hunter's shack, "Haus Wachenfeld" has grown, until it is today quite a handsome Bavarian chalet., 2,000 feet up on the Obersalzburg amid pinewoods and carry orchards.

Then, as his famous book, Mein Kampf ("My Struggle") became a best-seller of astonishing power (4,500,000 copies of it have been sold).

The site commands the fairest view in all Europe. This is to say much, I know. But in these Bavarian Alps there is a peculiar softness of greenery, with snow-white cascades and forest-clad pinnacles.

The effect of light and air in the house is heightened by the rolling and trilling of many Hartz mountain canaries in gilded cages which hang or stand in most of the rooms.

It is a mistake to suppose that week-end guests are all, or even mainly, State Officials,. Hitler delights in the society of brilliant foreigners, especially painters, singer and musicians. As host he is a droll raconteur.

Bavarian chef, Herr Dannenberg, contrives an imposing array of vegetarian dishes, savoury and rich, pleasing tot he eye and wells tot the palate, and all conforming to the dietic standards which Hitler exacts. But at Haus Wachenfeld he keeps a generous table for guest of normal tastes. Here bons viveurs like Field-Marshals Goring and von Blomberg, and Joachim von Ribbentrop will forgather at dinner.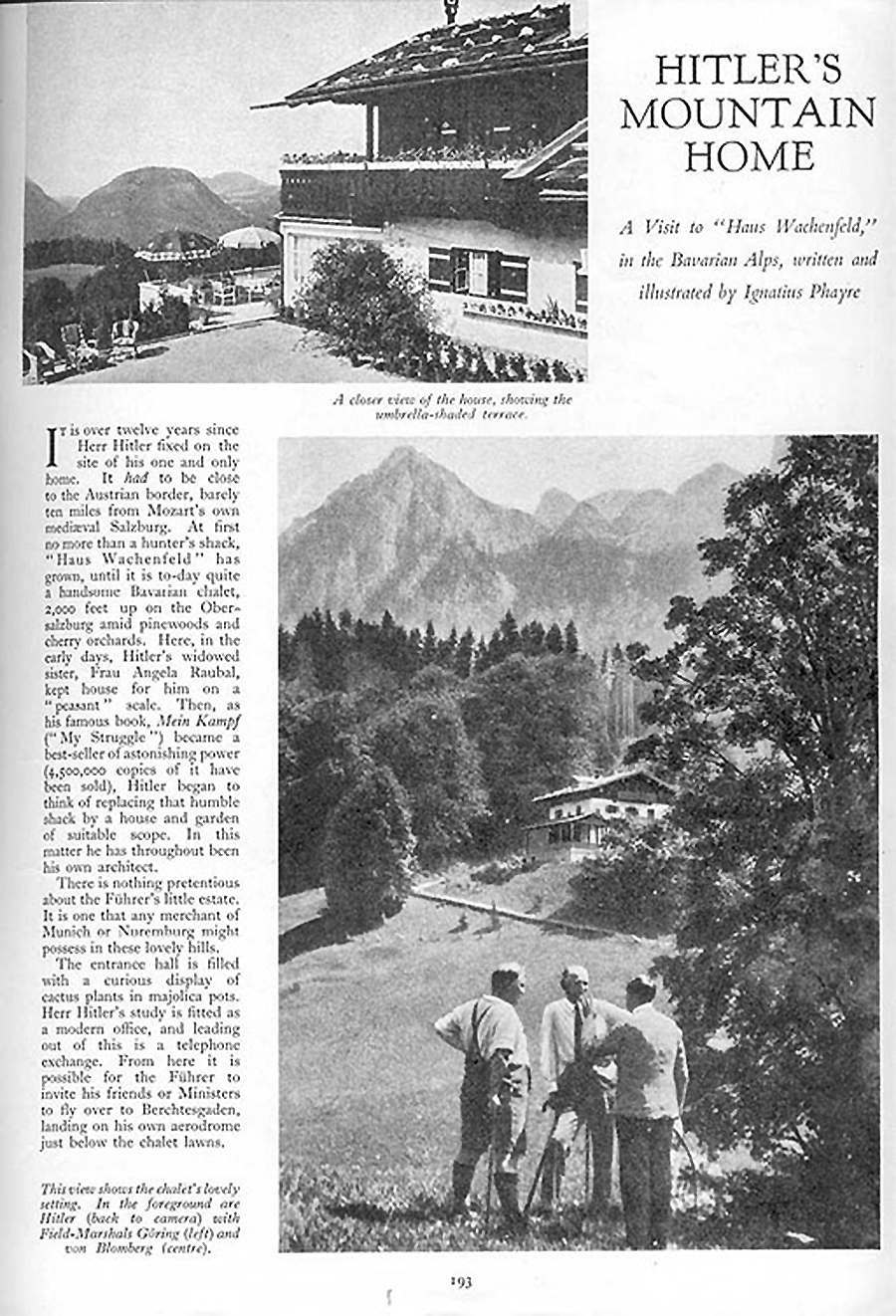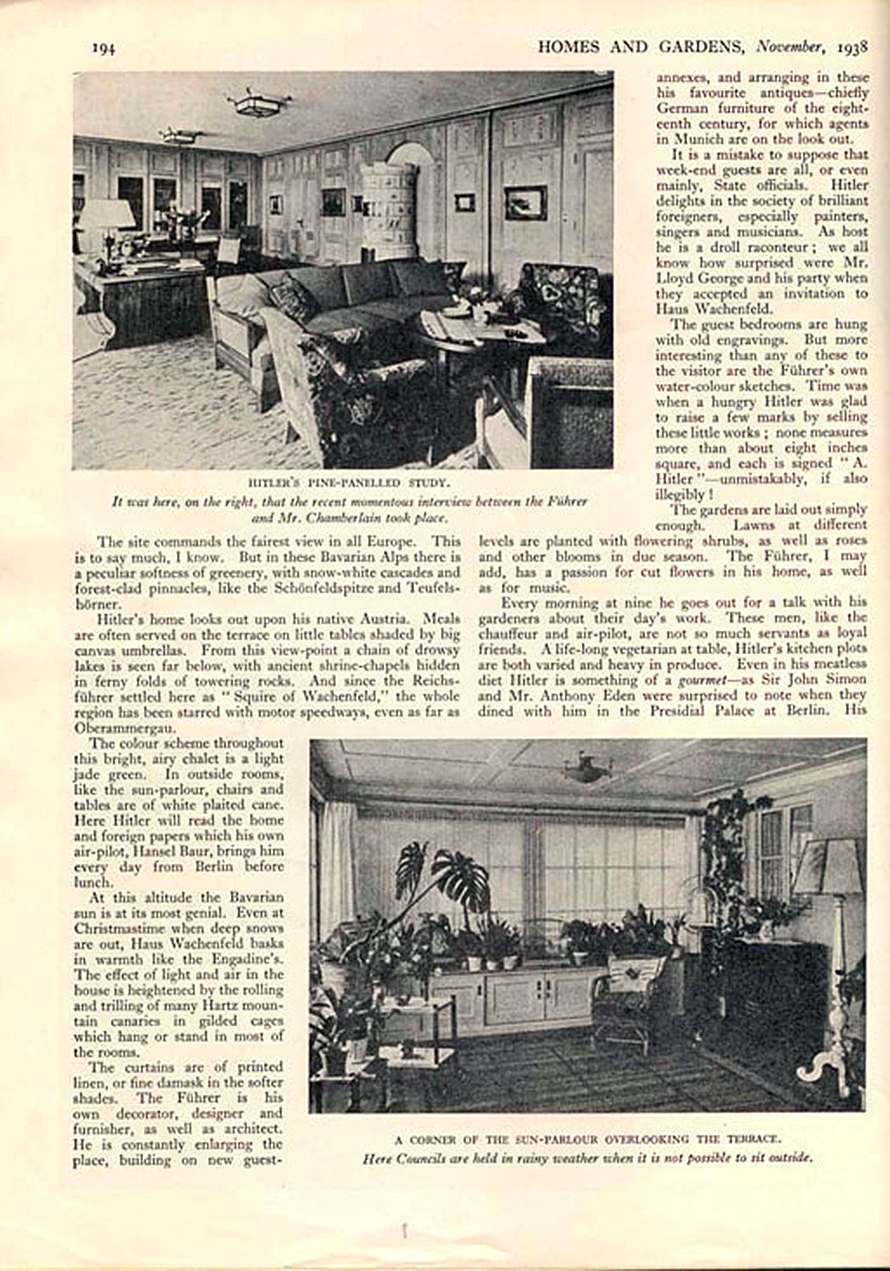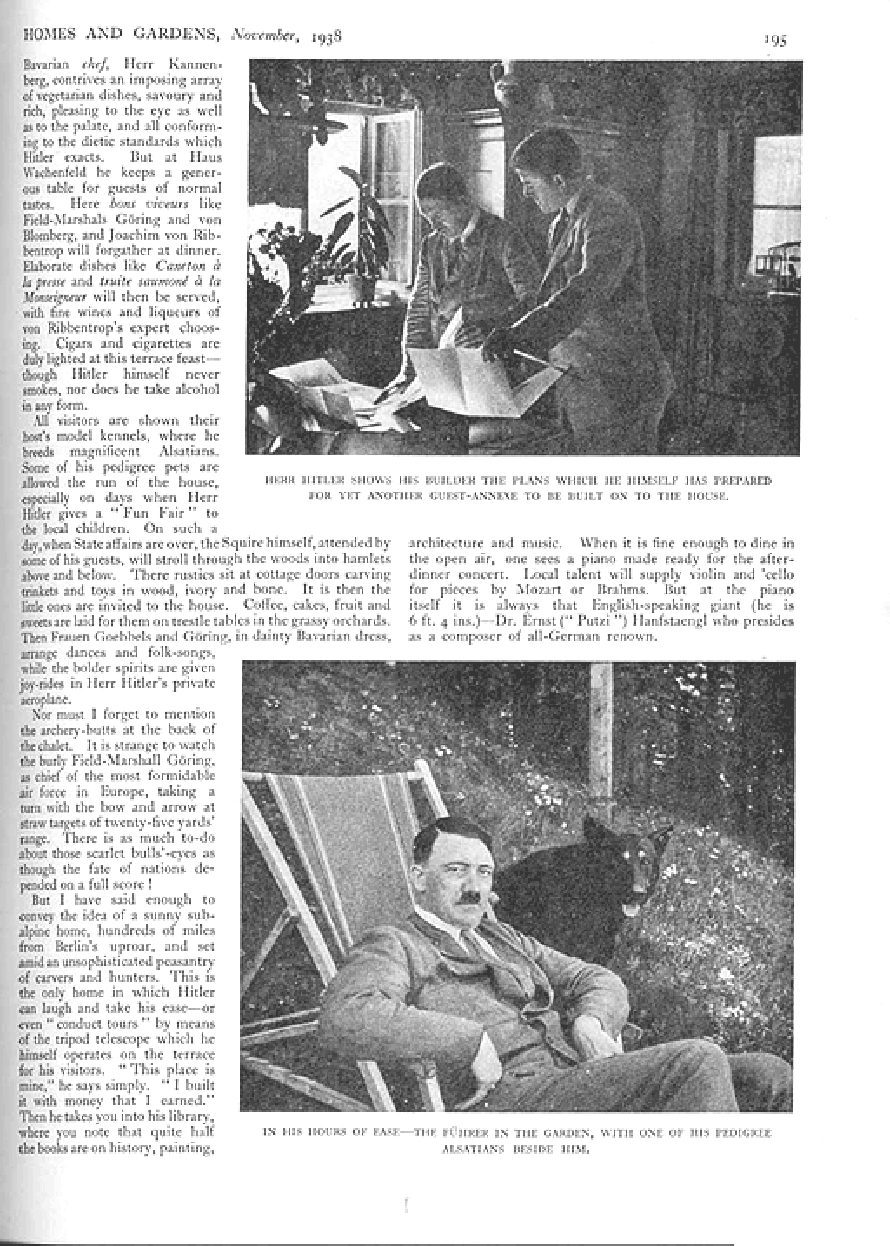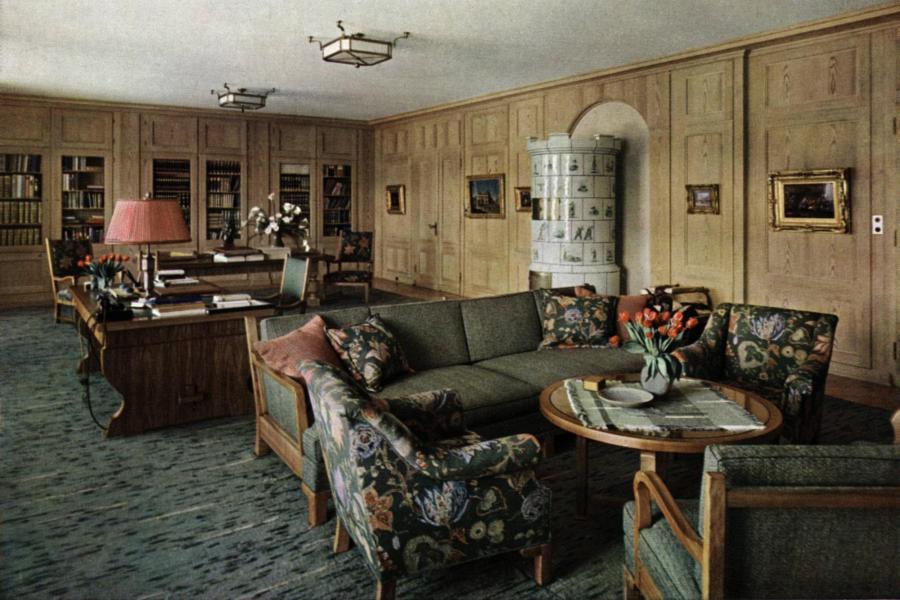 Less than 11 months after the Hitler "at home" article in Homes and Gardens was published Germany invaded Poland. Two days later on the 3rd September Britain and France declared war.