CARROTS played their part in World War Two. Carrots would win the war. And, as luck had it, there were lots and lots and lots of them. Too many. The Ministry of Food had an idea: get shot of the surplus of carrots by marketing them as part of the war effort.
"This is a food war. Every extra row of vegetables in allotments saves shipping… the battle on the kitchen front cannot be won without help from the kitchen garden.
Isn't an hour in the garden better than an hour in the queue?" – Lord Woolton, Minister of Food, 1941.
Carrots enable you to see in the dark – and best spot the Germans: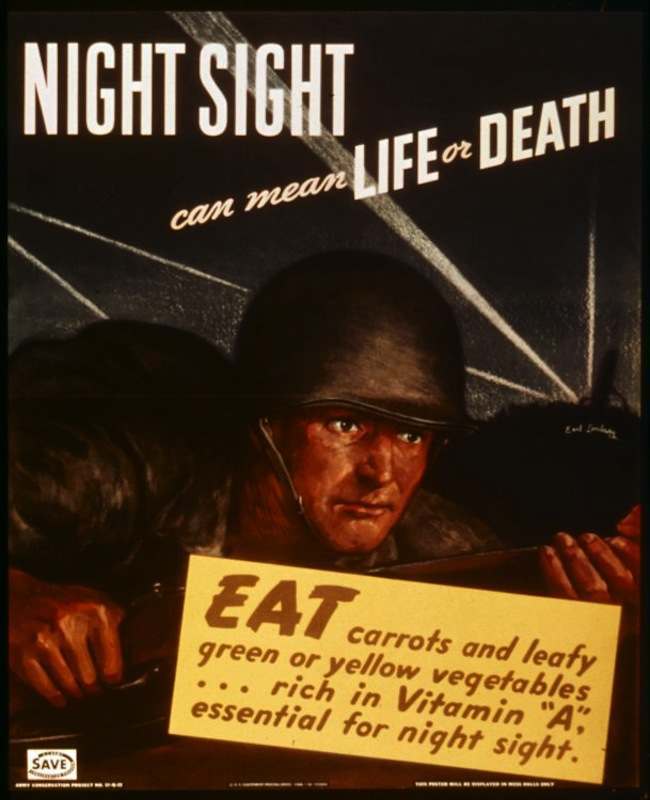 Dr Carrot is here to help.
In 1941,Walt Disney's Hank Porter created Carroty George and his family of rooters.  Carroty George's motto was "I'll tell you what to do with me".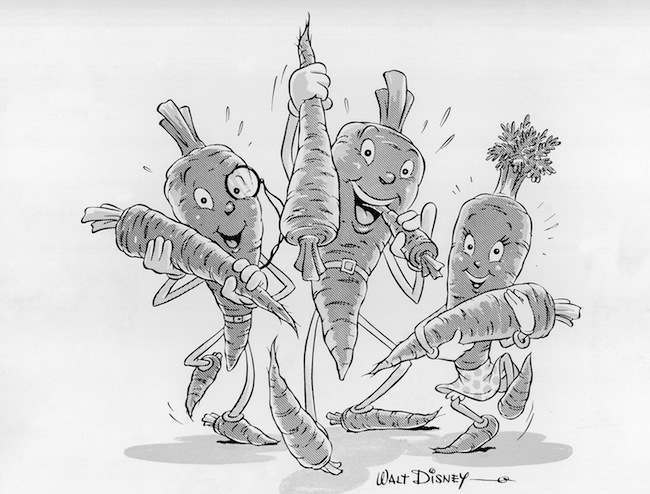 Although the carrot is a biennial plant Walt Disney, Hollywood Cartoonist, has created caricatures which suggest hidden potentialities. Indeed, the British ministry of food has requested Disney to create drawings of carrots in order to promote a vitamin campaign in Britain. Carrots are said to aid vision during blackouts. Three of Disney's contributions to the eat-more-carrots offensive in Britain shown Nov. 6, 1941. (AP Photo)
You could make lots of carrot-rich food, such as Carrolade, a hearty drink.


The slogan tells us: "Carrots keep you healthy and help you see in the blackout."
Children will see carrots as lollies: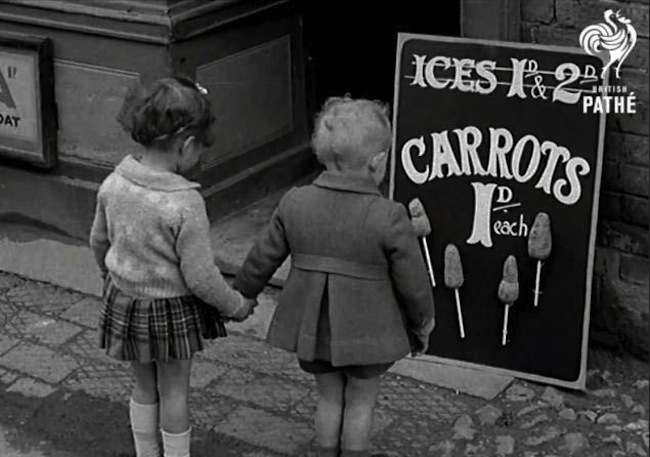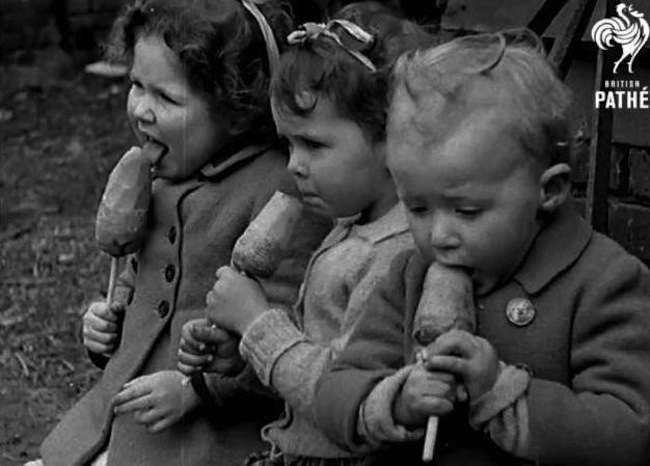 Housewives make carrots work their magic: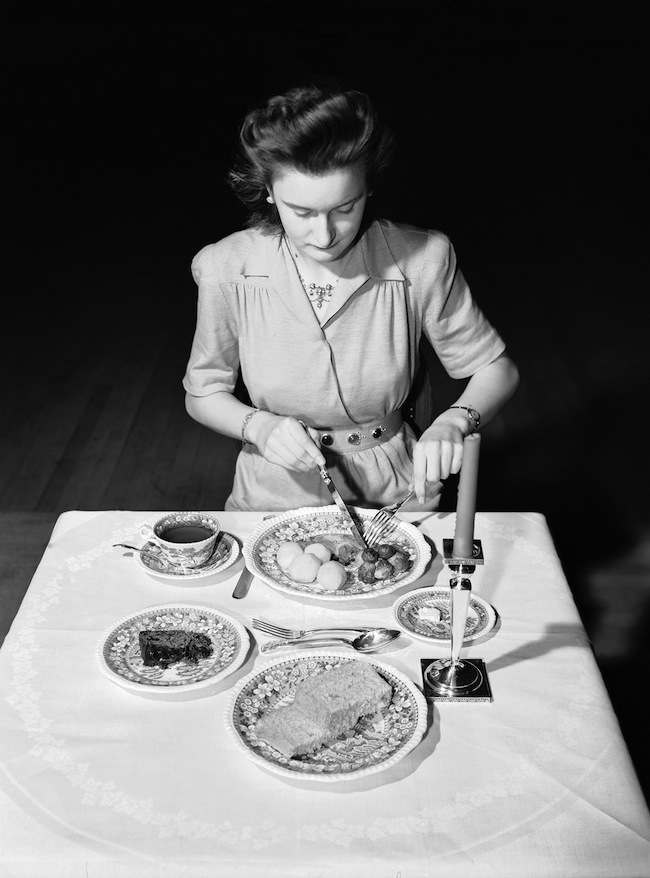 Miss Enid Nobes of Portsmouth, Hampshire in England demonstrates the average British Yuletide dinner, Dec. 23, 1942. It consists of a thin slice of meat, such as lamb, boiled potatoes, Brussels sprouts, tea, bread and a small dab of butter, with a small pudding for dessert. The traditional Christmas pudding will be evolved from spice, prunes, apples, carrots and potatoes, cooked over a communal stove to save precious fuel. Even this menu will mean careful saving of ration coupons for several weeks before Christmas. To rescue the from further slicing in 1943, U.S. farmers are mobilizing all resources to meet next year's food goals. (**Caption information received incomplete) (AP Photo)
Everything with carrots.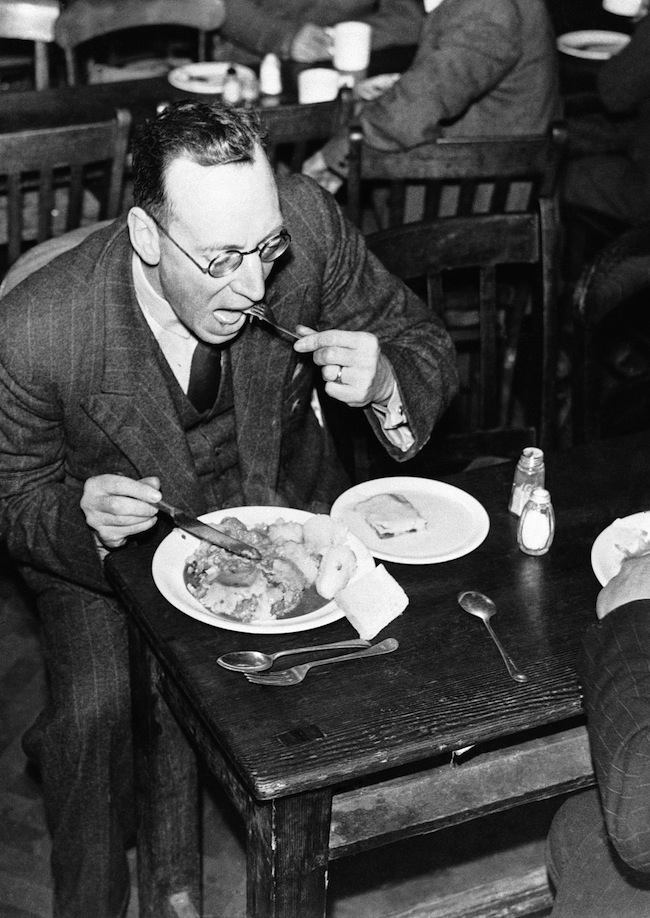 Arthur Stolber, a British advertising salesman, at work on one of the lunches served at the communal restaurant operated by the London County Council at Memorial Hall in Farringdon Road in London on Oct. 2, 1941. Stolber, who regularly gets his meal at the communal restaurant, says the food is cheaper and better cooked than that he can get elsewhere. The cost of a lunch is one shilling two pence (at the time around 24 cents). A typical menu consists of: fried fish or roast beef or steak pudding or steak pie or sausages; boiled potatoes and cabbage or carrots; bread or roll; fig and custard. Coffee or tea may be had instead of dessert, or is two pence (approximately three cents) extra. (AP Photo)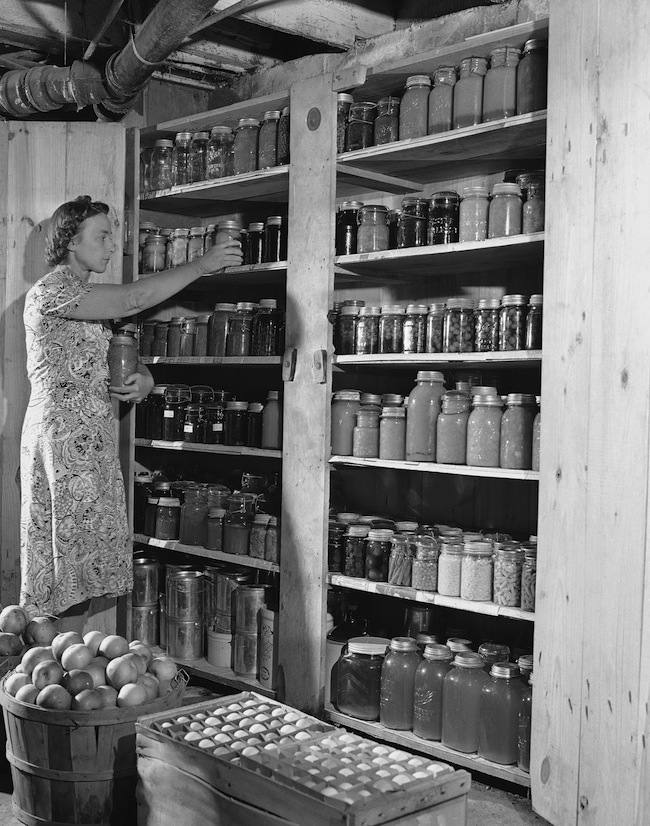 Mrs. Bridgeland takes some preserves from her well-stocked basement pantry for Sunday evening supper in Seward, Illinois on Oct. 2, 1942. Everything from fruits and jellies to tomatoes, carrots and pickles can be found on the shelves, all raised on the farm and put up by Mrs. Bridgeland and her daughters. The apples and eggs on the floor, all gathered that day on the farm. (AP Photo)

The age-old system of barter has been revived by a big store at Croydon. Local gardeners who have grown more than they need for their own consumption are invited to bring their surplus produce to the store market prices being paid in these coupons, which can then bee exchanged in the store for goods of any other king, clothing coupons also being required, of course, if clothes are purchased. The market produce thus purchased by the store is then re-sold to the public at the lowest prices. The barter system in operation at the store in Croydon, London August 9, 1941. Marrows, carrots, and other vegetable produce is being exchanged for frocks. (AP Photo)
War on never wanting.

Caring for your carrots.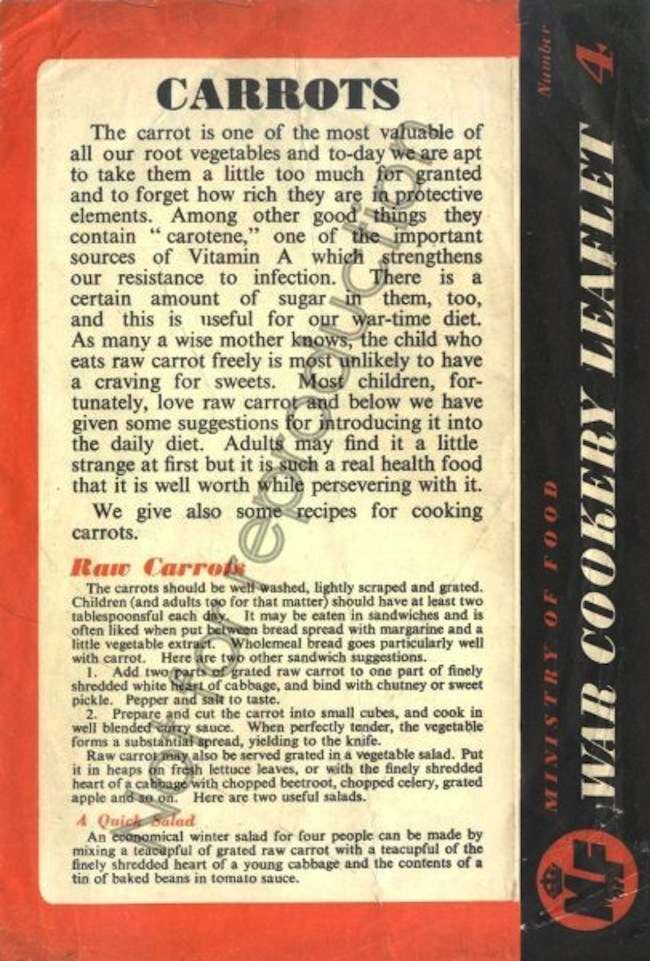 More at the wonderful Carrot Museum.
Anorak respectfully acknowledges the research work undertaken by the World Carrot Museum on this topic and has kindly given permission to use the material.