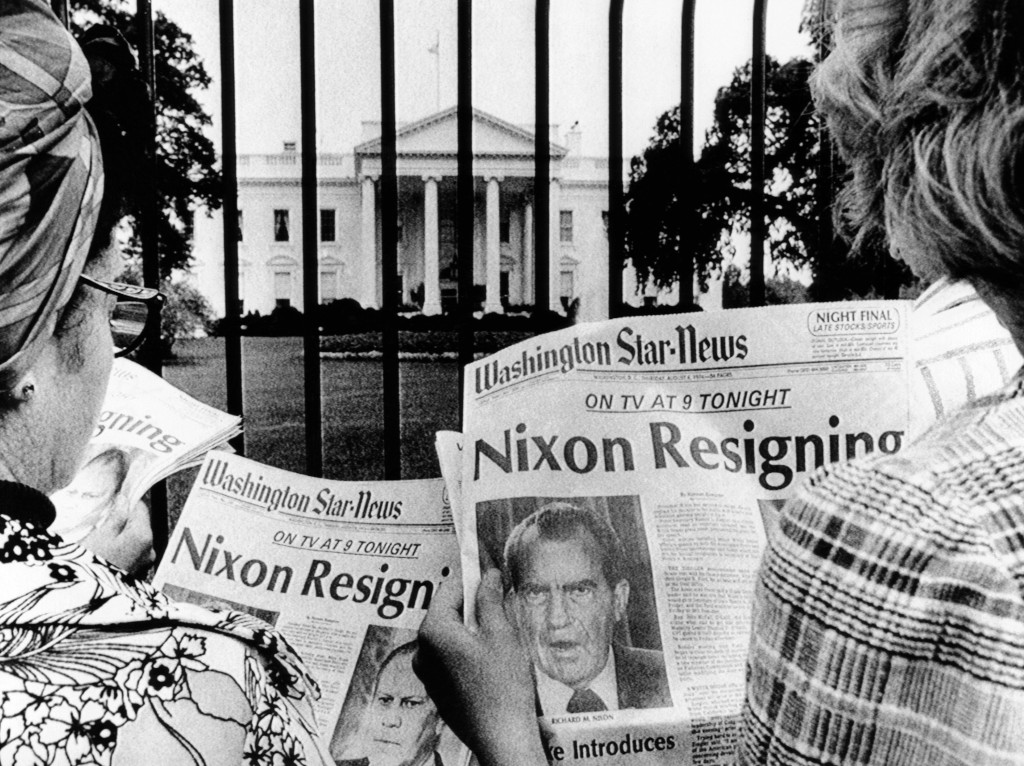 On August 8, 1974, Richard M. Nixon resigned as President of the United States, putting an end to the country's "long national nightmare" as his successor Gerald Ford famously said in his acceptance speech a few hours later. (Its other "long national nightmare," the war in Vietnam, wouldn't end for almost another year.) Ford continued, in another bit of famous phrasing that alluded to John Adams, "Our Constitution works. Our great Republic is a government of laws and not of men. Here the people rule."
Nixon's presidency, forever marred by the Watergate scandal, is also, of course, marred by the escalation in Vietnam, bombings of Laos and Cambodia, massive resistance at home, and his active involvement in the 1973 coup that ousted Salvador Allende in Chile and installed the brutal fascist dictator Augusto Pinochet. There were a few high points in his presidency, like his historic visit to China and his creation of the Environmental Protection Agency, which tend to get overshadowed by his spiteful, paranoid temperament, corruption, and heavy-handed authoritarianism.
Despite dismal approval ratings during Watergate and, finally, his resignation, Nixon remained unrepentant. He was all smiles in photos of his final day in office, and his departure has been best remembered by the photograph of him grinning and flashing his signature "V" sign as he boards the presidential helicopter on August 9th, maybe anticipating the full pardon Ford would grant him one month later. But the days before he made his public announcement were fraught. When he informed his family, his "daughters were in tears," notes Kacy Burdette at Fortune.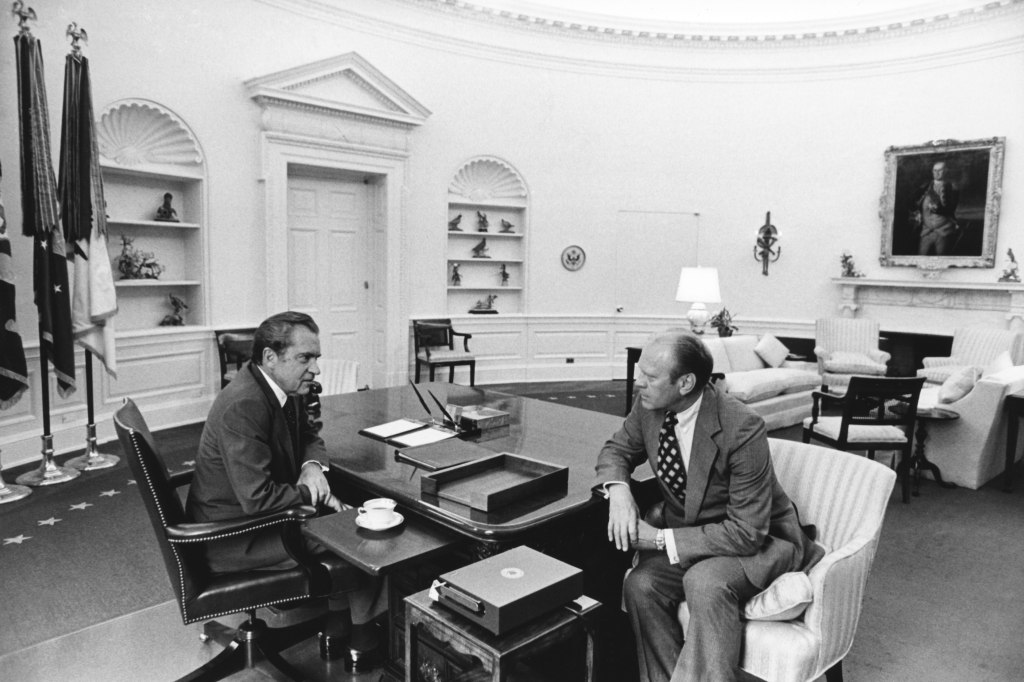 Nixon himself, shaking hands with his vice president in their last Oval Office meeting, said to Ford, "this is the last time I'll call you Jerry, Mr. President." The exchange, he recalled in a 1983 interview "brought a tear or two to his eyes—I think to mine, too." Assessing his own disposition, Nixon told his interviewer, "I've always been very stoical, very fatalistic about danger…. If it will happen, it will happen. The thing to do is to go on and do the best you can. People think it's a little stupid, and perhaps it is, but there's nothing you can do about it."
Nonetheless, he became emotional as he addressed his supporters "He choked up," writes Burdette, "and said, 'I just hope I haven't let you down.' He continued to weep until just before he went on live TV to announce his resignation, effective at noon the next day, to the country." When he addressed his staff, "I spoke from the heart," he remembered.
The photos from his final days show his last presidential lunch (pineapple with cottage cheese), Nixon with his family and poodle, Trixie, embracing his daughter Julie, his biggest supporter, addressing his cabinet and the country, and finally leaving the White House and boarding the helicopter.
via Fortune