"Give no quarter. You can surf later" – message etched on the Zippo lighter of a US soldier in the Vietnam War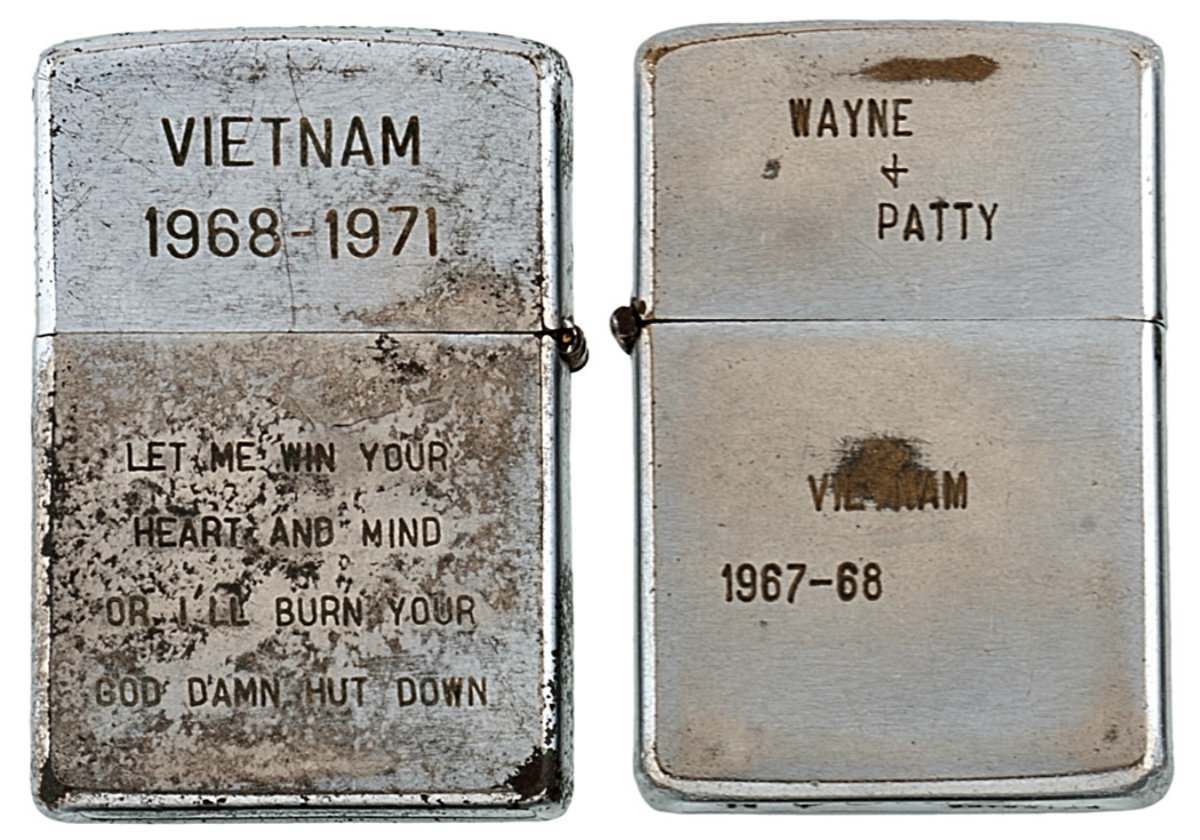 American artist Bradford Edwards' collection of Zippo lighters were acquired in the streets of Ho Chi Minh City, formerly known as Saigon.
He tells NPR:
"I'm not into it because, really, of the war or because of memorabilia or because of any real, I would say, direct historical aspect. I'm in it for the artistic sensibility and the direct emotional expression that you see via text or images. You find everything on these lighters. And what you find mostly is this general feeling of young male Americans. People who were not happy about coming and were even less happy about being here. Feelings about the war, about the military, about how they were feeling personally, missing their girlfriends, drug use, sex, everything was on the lighter. There it was, a miniature little canvas, and there was an etching table, a vendor, and you just had whatever you wanted inscribed on it. So, it was for them."
This excerpt from the Cowan's Auctions lot description:
Edwards explains that he is fascinated with the lighters as windows into the minds and experiences of the men experiencing a certain place and time. As Vietnam has evolved into a more modern and open nation in the last 20 years, foreign tourists have driven a growing market in the mementos, leading to an explosion in fakes. Edwards proclaims there are no real Zippos in Vietnam now. James Fiorella, author of The Vietnam Zippo (Schiffer Publishing, 1998) and probably the only authority on the subject with an expertise equal to Edwards, agrees, and warns collectors that over 95% of Zippos being sold in the open-air markets of Ho Chi Minh City and Ebay alike are fakes.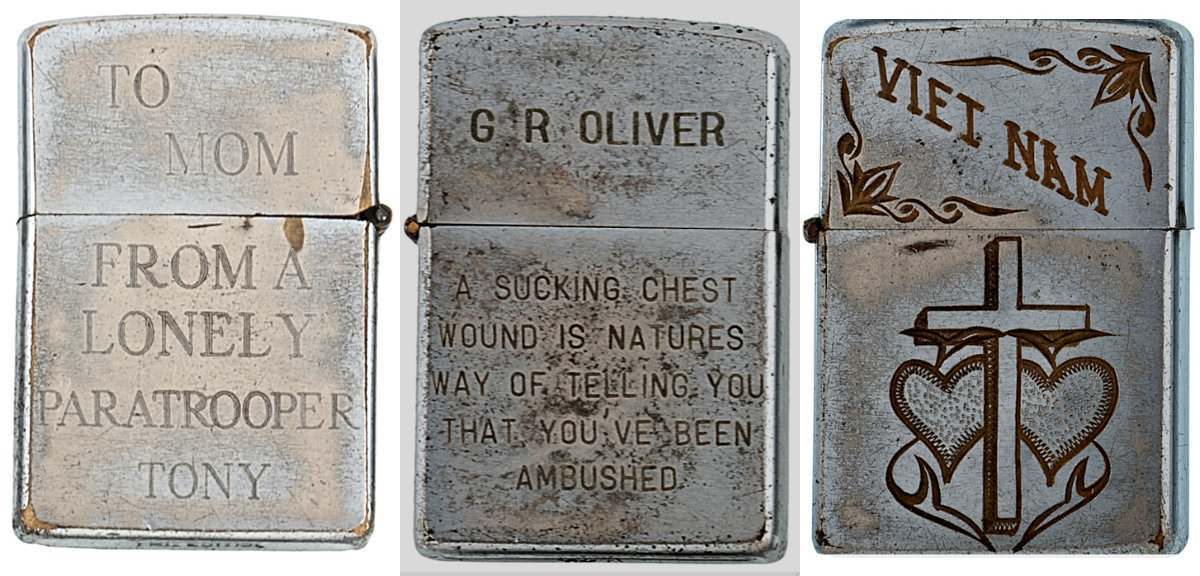 Any of these guys ever end up working on Madison Avenue? The slogans:
DEATH FROM ABOVE.
SWIFT, SILENT, DEADLY
WHEN GOD OPENED THE GATES OF HELL, THE 101st WALKED OUT
DEATH IS MY BUSINESS, AND BUSINESS HAS BEEN GOOD.
YEA THOUGH I WALK THROUGH THE VALLEY OF THE SHADOW OF DEATH I WILL FEAR NO EVIL FOR I AM THE EVILEST SON OF A BITCH IN THE JUNGLE
KILL THEM ALL LET GOD SORT THEM OUT
STOLEN FROM A GOOK 5-11-67
35 KILLS IF YOU ARE RECOVERING MY BODY FUCK YOU
SOCK IT TO ME
GIVE NO QUARTER
YOU CAN SURF LATER
LIFE HAS A FLAVOR THE PROTECTED WILL NEVER KNOW
FUCK IT
WHEN I DIE BURY ME FACE DOWN SO THE WORLD CAN KISS MY ASS
PLEASE DON'T TRY TO TELL ME ABOUT VIETNAM I'VE BEEN THERE
WHEN THE POWER OF LOVE IS AS STRONG AS THE LOVE OF POWER THEN THERE WILL BE PEACE
I LOVE THE FUCKING ARMY AND THE ARMY LOVES FUCKING ME
WE THE UNWILLING LED BY THE UNQUALIFIED DOING THE UNNECESSARY FOR THE UNGRATEFUL
FIGHT FOR PEACE, LIVE FOR WAR, DIE FOR NOTHING
WHEN I DIE I'LL GO TO HEAVEN BECAUSE I'VE SPENT MY TIME IN HELL
WHY ME?
A FRIEND WITH WEED IS A FRIEND INDEED
ALWAYS RIPPED AND ALWAYS STONED, I MADE IT A YEAR I'M GOING HOME
I'D RATHER SMOKE GOD'S GRASS THAN DROWN IN MAN'S JUICE
ASK NOT WHAT YOUR HEAD CAN DO FOR YOU BUT WHAT YOU CAN DO FOR YOUR HEAD
GIRL IF YOU WANT TO FUCK SMILE WHEN YOU HAND THIS LIGHTER BACK
CANDY IS DANDY BUT SEX WON'T ROT YOUR TEETH
GIVE ME HEAD TIL I'M DEAD
I LOVE SEX SO BABY YOU CAN GIVE YOUR SOUL TO GOD BECAUSE YOUR ASS IS MINE
I LOVE YOU MARY
TO MOM FROM A LONELY PARATROOPER
I CAME HERE AND LEFT BEHIND A NICE FAMILY AND A WONDERFUL GIRL I LOVE BUT SOMEDAY I WILL GO HOME

 
War History Online has the background:
George G. Blaisdell founded Zippo Manufacturing Company in 1932, and produced the first Zippo lighter in early 1933, being inspired by an Austrian cigarette lighter of similar design made by IMCO. It got its name because Blaisdell liked the sound of the word "zipper" and "zippo" sounded more modern. On March 3, 1936, a patent was granted for the Zippo lighter

In 2012 Cowan's Auctions put up a lot of 282 Vietnam War-era Zippo lighters featuring personalized and anonymous engravings chosen by U.S. soldiers, sailors, and airmen during deployment. The collection was compiled by American artist Bradford Edwards over several years in the 1990s, on-site in Vietnam. The collection sold for $35,250 on June 21, 2012.

Zippo, the utilitarian tool carried by nearly all soldiers since World War II, a symbol of dependability and the rare thing that all soldiers could count on. Used for lighting cigarettes, heating food, illuminating letters from home, or setting fire to huts of suspected VC, Zippos were used so frequently in Search & Destroy missions that GIs nicknamed them "Zippo Missions" or "Zippo Raids." After purchasing one from the post exchange store for $1.80, a soldier could personalize his lighter at sidewalk tents with one of wide selection of stock designs or a personalized message.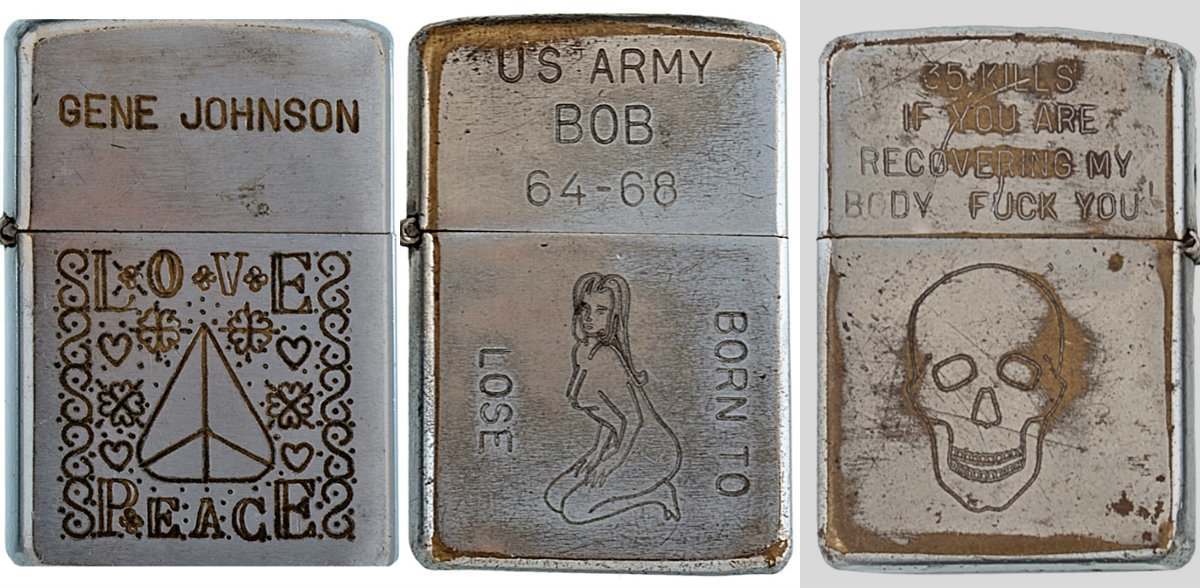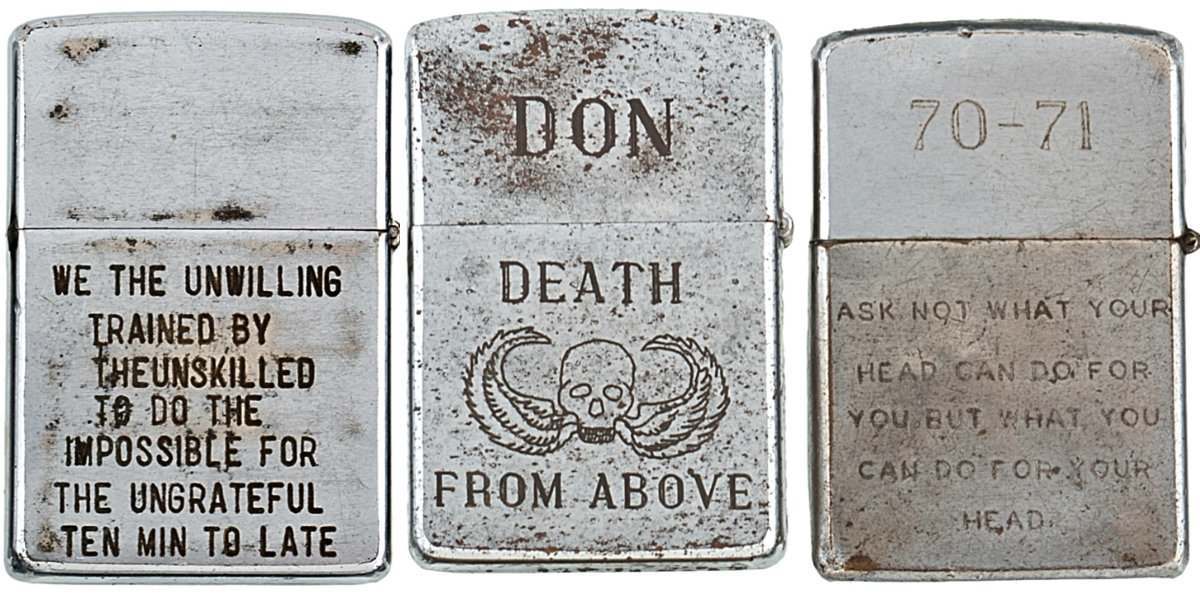 Via War History Online, DesignObserver