Margaret Nolan was a twenty-year-old pin-up known as Vicky Kennedy when she was selected to be dressed in a gold leather bikini and dipped in gold paint by Robert Brownjohn for the 1964 James Bond movie Goldfinger.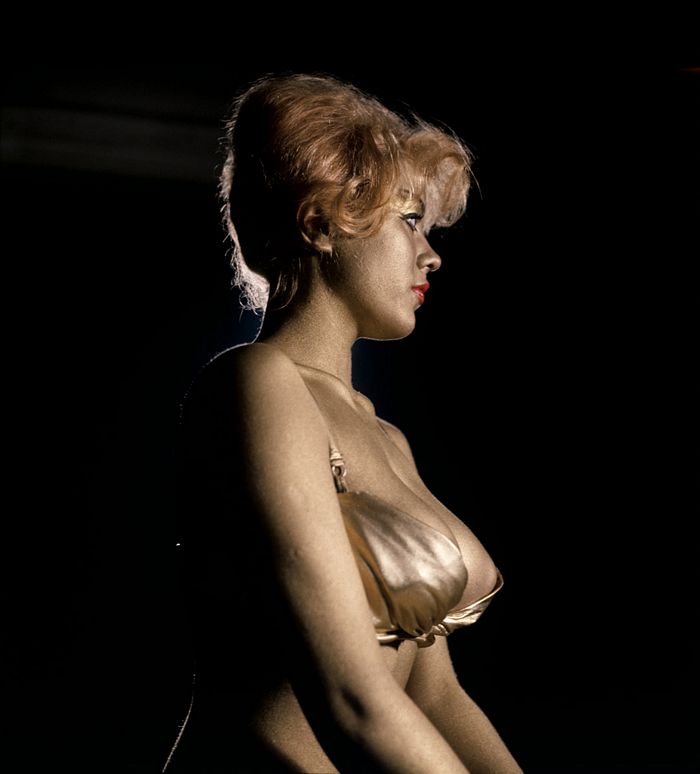 "On this type of film the only themes to work with are, it seems to me, sex or violence. I chose sex," opined Brownjohn in Sex and Typography for Herbert Spencer's Typographica magazine.
Golden Nolan was suggestive enough to requite state approval lest it drive viewers wild. It got the nod, becoming the the first film sequence to require clearance from British film censors. Brownjohn was recognised for his daring, winning the prestigious gold pencil at the Design and Art Director Awards in 1965.
Nolan didn't fare quite so well. In the movie, Shirley Eaton played the golden girl suffocated in gold paint. Nolan got cash and a small part role as Dink, a masseuse. That followed her part as 'Grandfather's Girl at Casino' in The Beatles film A Hard Day's Night. But the casting agents and viewers' liked her. Nolan would go on to appear in such stables of British light entertainment as Crossroads, Carry on Cowboy, Adam Adamant Lives!, Steptoe and Son, The Sweeney and Crown Court. 
Via: HeavyMetal, MOMA, DangerousMinds