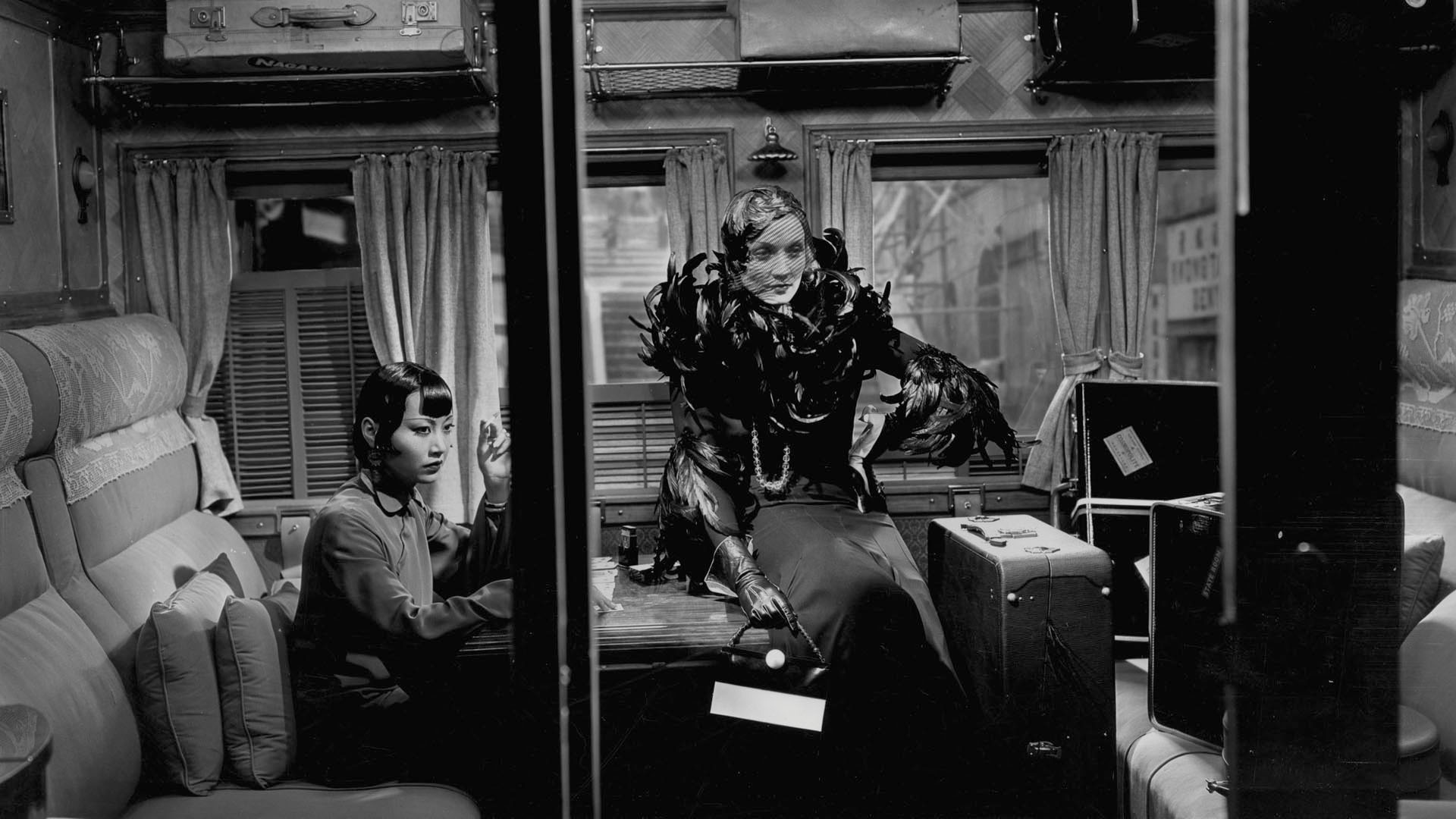 Shanghai Express was the fourth of seven films Josef von Sternberg and Marlene Dietrich made together and was based on a 1931 short story by Harry Hervey called Sky Over China. The tale was loosely based on an incident called at the time the Lincheng Outrage where in 1923 a Shandong warlord captured the Shanghai to Beijing express train and took 25 westerners and 300 Chinese people hostage.
Hervey's story also includes parts of Guy de Maupassant's short story Boule de Suif which also includes travellers stopping in a country at war and a where a woman is called upon to sleep with the commander in charge.
In 1931, China is in the midst of a civil war. Friends of British Captain Donald "Doc" Harvey (Clive Brook) envy him because the fabulously notorious Shanghai Lily (Marlene Dietrich) is a fellow passenger on the express train he is taking from Peking to Shanghai. Because the name means nothing to him, they inform him that she is what's called a "coaster" or "a woman who lives by her wits along the China coast" – in other words, a prostitute or courtesan. On the train, Captain Harvey meets the infamous Lily, who, by coincidence is his former lover Madeline.
A few years before she had played a trick on him to work out if he really loved her, but it backfired, and he left her. "It took more than one man to change my name to Shanghai Lily," she tells him. Lily clarifies that she still cares deeply for him, and it becomes apparent that his feelings also have not changed when she inadvertently sees the watch she gave him with her photograph still in it. Among the other passengers in first class are fellow coaster Hui Fei played by the beautiful Anna May Wong. A Manchester Guardian review from 1932 when the movie was first released was complimentary of the beauty of Dietrich but also of Anna May Wong's acting:
The film has compensating strength in the star, who photographs more beautifully than before and, though she is acted off the screen by Anna May Wong, shows herself unique in Hollywood by being majestically beautiful.
Wheeler Winston Dixon in Senses of Cinema describes the movie as surprisingly feminist:
In all of Sternberg's work with Dietrich she is almost always portrayed as a strong, dominating presence, but here, Anna May Wong's character is – for a refreshing change – seen as Dietrich's equal in the eye of the both the film's protagonists, and Sternberg's narrative vision of the film. Though both may be ladies of ill repute, they are presented almost as sisters, sharing the same compartment, playing hot jazz on a windup portable phonograph, and displaying equal contempt for the film's men, who are seen as either prigs or fools. When Hui Fei returns to the train after being raped by Chang, it is Lily who stops her from committing suicide, grabbing a knife out of her hand – the same one she will later use to kill Chang – and admonishing her: "don't do anything foolish".