The Gaffer Tapes
THIS week Sports Minister Helen Grant became the latest politician to execute the self-destructive manoeuvre we shall refer to as 'live quiz fail' – the embarrassing failure to correctly answer questions pertaining to one's own specialist field. Ms Grant, who claims that sport is in her DNA, was asked a series of simple quotations such as 'Who is the current female Wimbledon champion?' and 'Which team won the FA Cup this year?' A seemingly harder question concerning Maidstone United FC was put to her because the club resides in her parliamentary constituency – although 'Manchester United because it's my favourite club' as she declared in the interview.
Labour's Richard Caborn had similar problems when he became Minister for Sport in 2001.
Under questioning from Clare Balding, he failed to name Martin Johnson as captain of the British Lions rugby team, failed to name a single jockey in that week's Ascot and failed to name three of the semi-finalists at the Queen's Club tennis tournament. He managed to identify England's cricket coach as 'the Aussie' – but this was a somewhat unsatisfactory description of Zimbabwean Duncan Fletcher.
Such failures are trivial, albeit embarrassing, and less concerning than the kind of historical and geographical ignorance regularly displayed by our leaders when they are alone and unbriefed in the face of an unexpected question. As occurred in 2006 during an interview with Tony Blair on Channel 4 News, when Blair admitted that that he had never heard of Mohammad Mosaddegh, the Iranian prime minister overthrown by a British-backed coup in 1953.
When it comes to gaffes, however, the stakes are raised to levels that Blair and co can only dream of. Here is our arbitrary and unscientific top five:
5: Mitt Romney
A gem from last year…
But a Mitt says: 'I'm not familiar precisely with what I said, but I'll stand by what I said, whatever it was.'
4: Sarah Palin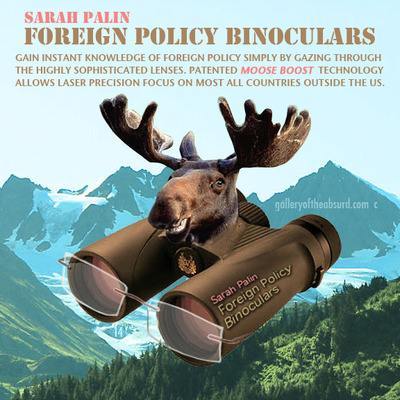 Palin famously claimed to be able to see Russia from Alaska…
Here she manages to cram her entire political philosophy into this concise answer to a question on Obama's bail-out…
3: Stephanie Banister
If anyone can rival Palin for the female crown it is the new kid on the block, from Australia's One Nation movement. In a recent televised interview she referred to Islam as a country, confused haram with the Koran and declared that the national disability scheme was working well, despite it not starting until 2016.
She supports a ban on halal meat, but has no objection to kosher food, because: 'Jews aren't under haram, they have their own religion which follows Jesus Christ… they've just got a certain way of making it where haram has a tax on the food.'
Banister said afterwards that she had misrepresented. 'Unfortunately, they've completely twisted all my words and made me out to be a stand-up criminal and a stupid moron,' she said, while conceding that she was 'possibly inexperienced' and 'still learning about the politics side of life'.
2: George W Bush
So many to choose from, but here's a favourite.
Remind you of anyone?
And the winner is… (who else?) Dan Quayle
Incredible to think that Quayle served as Vise-President to Bush, because when it comes to foot in mouth, no one else is close to the man whose name is a synonym for 'gaffe'. And when they appear to get close, they are often, like Dubya himself, the victim of a misattributed 'Quaylism'.
His quotes are legion and legendary…
'The Holocaust was an obscene period in our nation's history. No, not our nation's, but in World War II. I mean, we all lived in this century. I didn't live in this century, but in this century's history.' (Press conference, 1988)
'I believe that I've made good judgments in the past, and I think I've made good judgments in the future.' (Campaign function, 1988)
But he will be forever remembered for one moment, summed up I one word: 'POTATOE'