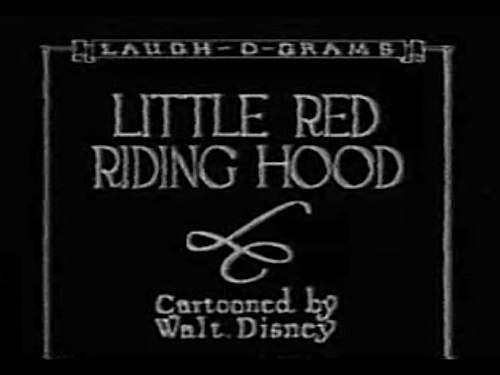 IN 1922, Walt Disney brought us the Little Red Riding Hood laugh-o-gram. This was Walt Disney's first full-length short cartoon.
* In 1915, Disney founded the Laugh-O-Gram Studio in Kansas City, Missouri, inviting some of animation's future greats, including Iwerks, Hugh Harman, Friz Freleng, and Rudolph Ising, to create fairy tale cartoons. This program features six of these tales: Little Red Riding Hood (aka Grandma Steps Out), Jack the Giant Killer (aka The KO Kid), Puss in Boots (aka The Cat's Whiskers), Goldie Locks and the Three Bears (aka The Peroxide Kid), The Four Musicians of Bremen, and Newman Laugh-O-Grams. Iwerks, a Kansas City native, followed Disney to Hollywood, where he was instrumental in the creation of the Alice Comedies and the transformation of Oswald the Lucky Rabbit into Mickey Mouse.
* In the Laugh-o-Gram named after her, Little Red Riding Hood is on her way to deliver some doughnuts when Disney's first villain attacks her. Her cat fetches a man in a helicopter who rescues her.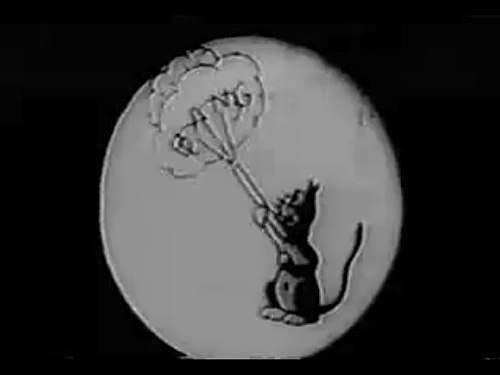 As the story opens, a woman is kneading bread. She tears off chunks, throws them over her shoulder, and her cat uses a shotgun to blast holes in the bread, making them into donuts, which fall into a pot. This seems a rather complicated procedure, with much waste of bread and a significant expenditure of ammunition. To say nothing of the effect on the ceiling.
And then?
* After a while, the cat eats one of the donuts, then dies, and his nine lives fly out of him as a counter in the bottom right of the screen keeps track. The mother gives the donuts to Little Red Riding Hood, presumably to take to Grandma. Red gets her car out of the garage bearing her name, and we see that it is powered by a dog that is being drawn forward with sausages dangled on a stick behind the car. A strange contraption, but hey, if it works, it probably saved Red a lot on gas.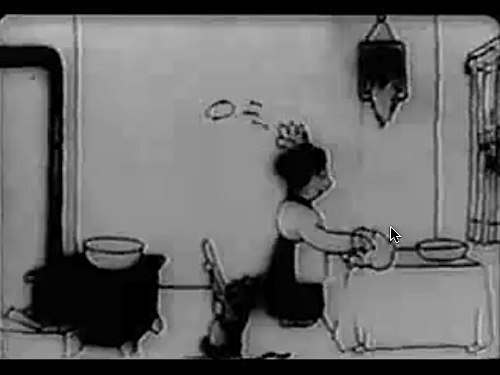 * On May 23, 1922 Walt Disney with Ub Iwerks took the remaining assest from the defunct Iwerks-Disney Commercial Artists and along with $15,000 raised from local investors merged them with Laugh-O-Grams. With the help of Frank Newmann, Disney signed a deal with Milton Feld to produce a 1 minute reel per week featuring local news and public-service curtain raisers. During this time Disney created an animated character called Professor Whosis who came on the screen in between public announcements to tell jokes to the audience. Professor Whosis proved so popular that Disney was soon asked to double his output to 2 weekly 1 minute reels. The succes of these 1 minute reels persuaded Ub Iwerks to quit his own job at the Kansas City Film Ad Company and join his old friend Disney at Laugh-O-Grams. They obtained a staff of animators by placing an ad in a local paper offering lessons to anyone wanting to learn the animation business. With everything in place they quickly set about produing their first "real" animated film. For their first film Disney chose to adapt "Little Red Riding Hood", as it was a story that was frequently read to him by his mother as a child. He filmed it using a single hand cranked camera.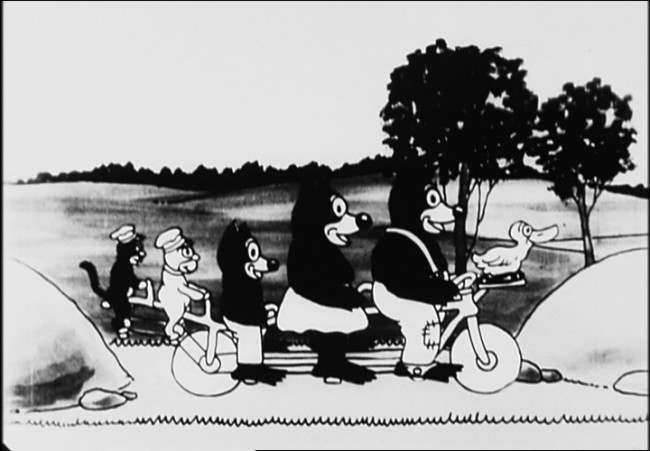 * The Laugh-O-grams were a hit, leading to commissions for animated intermission fillers and coming attractions slides for Newman's theaters. Spurred by his success, the 19-year-old Disney decided to try something more ambitious: animated fairy tales. Influenced by New York animator Paul Terry's spoofs of Aesop's Fables, which had premiered in June 1920, Disney decided not only to parody fairy-tale classics but also to modernize them by having them playing off recent events. With the help of high school student Rudy Ising, who later cofounded the Warner Brothers and MGM cartoon studios, and other local would-be cartoonists, Disney worked for six months putting together his first fairy tale cartoon.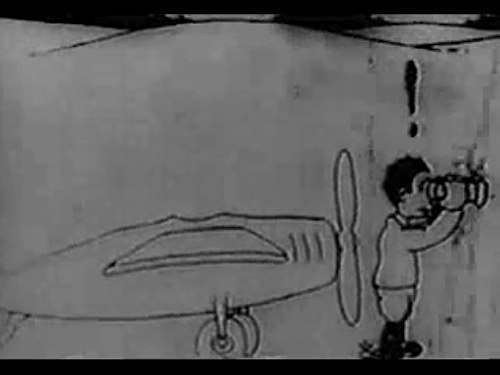 Until recently, it was believed that only four of Disney's Laugh-O-Grams fairy tale cartoons still existed: Little Red Riding Hood, Puss in Boots, Cinderella, and The Four Musicians of Bremen (all 1922). It was also conventional wisdom that the fairy tales had been a series of six, released only in the United States—and perhaps only in part; for soon after buying the series from Disney, non-theatrical distributor Pictorial Clubs of Tennessee filed for bankruptcy.

But Pictorial Clubs had shady sister companies in different states. Some, it turns out, continued to distribute Laugh-O-Grams years later; all seven of them, not six. Jack and the Beanstalk and Jack the Giant Killer (both 1922), two titles traditionally misremembered as one and the same, were actually different shorts. A 1922 press release, discovered by researcher Michael Barrier, announced that the series would include both titles; John Kenworthy noted the two titles listed as separate, completed cartoons among Laugh-O-Gram Films' bankruptcy records.

As the sound era dawned, the seven fairy tales changed owners. As early as 1991, J. P. Storm and M. Dreßler's pivotal German study Im Reich der Micky Maus included German release information for a 1929 Disney cartoon series entitled "Wuppy"; in his Animated Film Encyclopedia (2000), Graham Webb revealed an American equivalent alternately titled "Whoopee Sketches" and "Peter the Puss." Bollman and Grant were credited as producers for the New York-based Sound Film Distributing Corp.; in England, Wardour Films distributed the reels theatrically.
Behold, the birth of a great: