CHEESE Whiz – aka Cheese Billy Whizz – was once sold as the product that gave your day a kick in the nervous system.
Cheese Whiz is , of course, utterly revolting, more reminiscent of the secretions that ooze form a cow's nose than the udders. But maybe it can be disguise even more horrible food?
In 1954:
From the Urban Dictionary:
Cheez Whiz
1. Artificial cheese. One chemical away from being seran wrap.
2. Lethal spray cheese it can kill a person if used wrongly.
3. BAAAAAH i looooove ma cheez whizz!!!!! i no i waaaaaaaaaaant it!"cheez whiz, you know you want it!"
4. (a) Essence of pure cheezy goodness; (b) Common anal lubrication; (c) Cause of human suffering (i.e., sexually transmitted diseases).
5.the greatest person the world has ever seen. As in "i like cheese"; "i love cheez wiz, hes the greatest person ever"
It's 1958, and cheese whiz goes with anything but, oddly, nothing really goes with cheese whizz: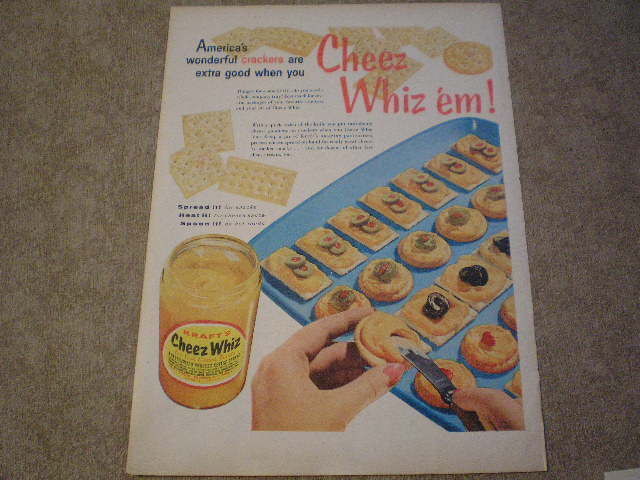 James Lileks links cheese military muscle:
I've never understood why nations with great cheese don't have better armies.
If the USA gets cheese will it become more – gulp! – French?
In 1978: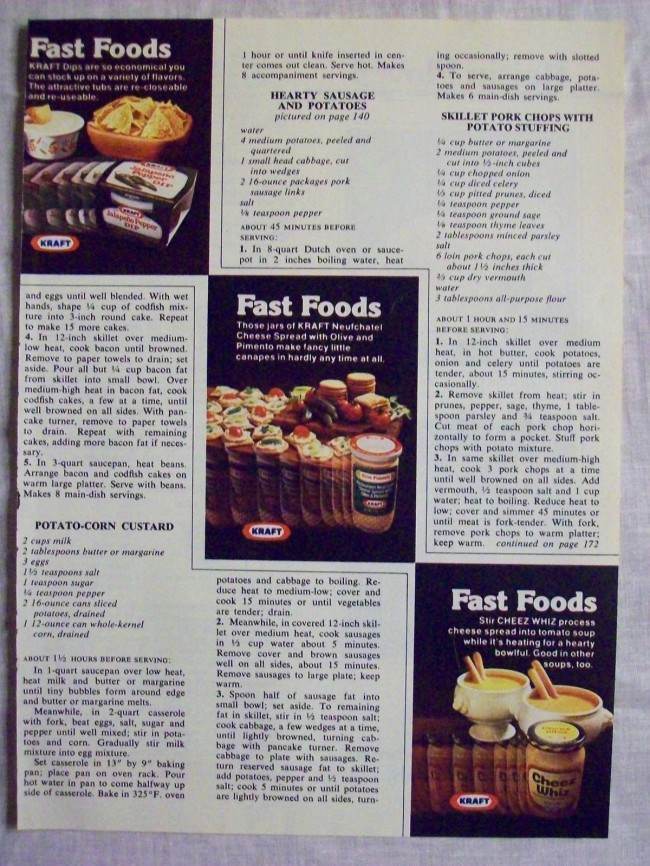 Did you ever attempt the Seacoast Casserole from the 1960s? Fishermen in peril would smear it on their heads and to attract rescuers.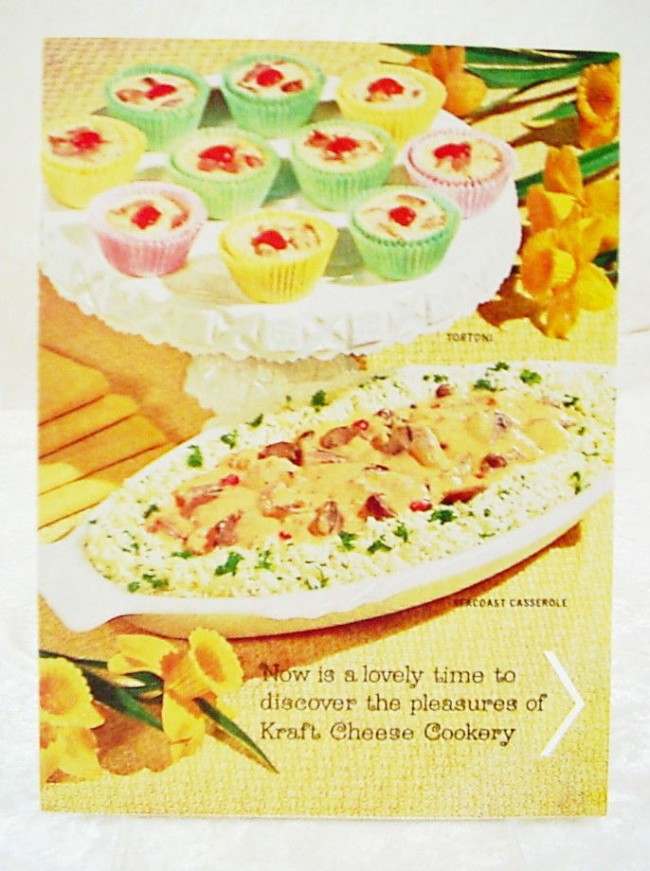 Looks like Mustard!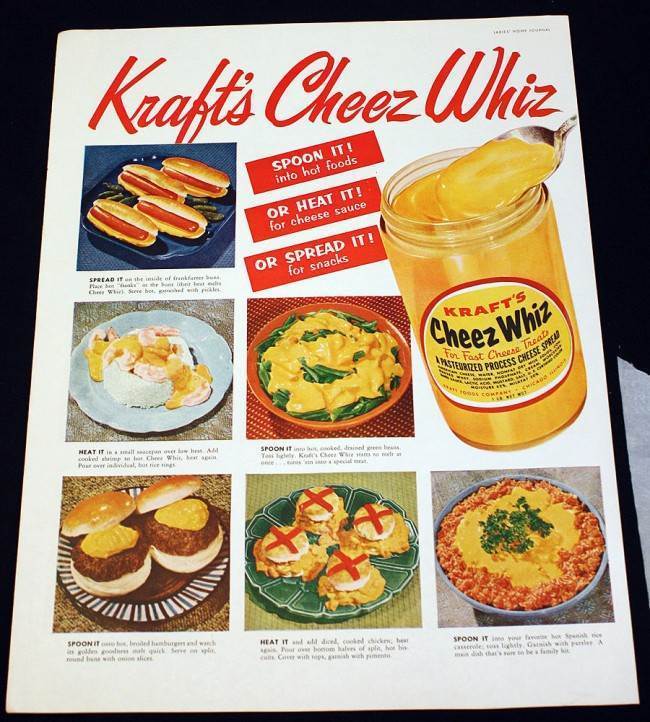 This little guy never did need a high-vis jacket: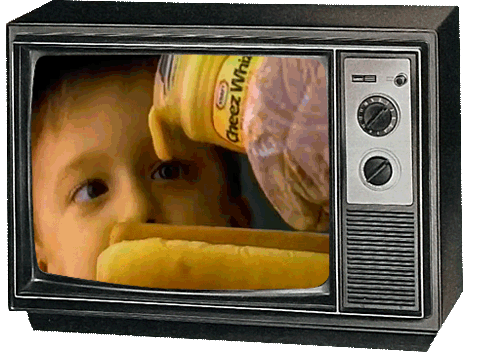 In 1986, it was hot.
The cheese-gunk was invented by Edwin Traisman, a food scientist from Wisconsin. He also managed to stanadardize McDonald's French fries. Lisa McComb, a spokeswoman for McDonald's, said of Mr. Traisman: "He truly made a significant contribution to McDonald's fries."
* While he was at Kraft, from 1949 to 1957, Mr. Traisman led the team that combined cheese, emulsifiers and other ingredients into the bright yellow sauce called Cheez Whiz, a topping for corn chips, cheese steaks and hot dogs. It was introduced in 1953.
The Ingredients:
WHEY, CANOLA OIL, MILK, MILK PROTEIN CONCENTRATE, MALTODEXTRIN , SODIUM PHOSPHATE, CONTAINS LESS THAN 2% OF WHEY PROTEIN CONCENTRATE, SALT, LACTIC ACID, SODIUM ALGINATE, MUSTARD FLOUR, WORCESTERSHIRE SAUCE (VINEGAR, MOLASSES, CORN SYRUP, WATER, SALT, CARAMEL COLOR, GARLIC POWDER, SUGAR, SPICES, TAMARIND, NATURAL FLAVOR), SORBIC ACID AS A PRESERVATIVE, MILKFAT, CHEESE CULTURE, OLEORESIN PAPRIKA (COLOR), ANNATTO (COLOR), NATURAL FLAVOR, ENZYMES.
Yum!
Other uses for Cheese Whizz.
Fancy making your own? Sandy Szwarc says Cheese Whizz is all healthy. And this is how you make it:
Bring glyceryl esters of fatty acids to room temperature to increase their plasticity, then beat with sucrose to entrap air particles in the mix. Beat phosphatidylethanolamine into the matrix which is now a foam emulsion with droplets of glyceryl esters of fatty acids and dispersed air. Add amylopectin and amylose, the protein gluten, and sodium bicarbonate. Crosslinking occurs between disulphide bonds in the gluten, creating a rubbery texture, with air trapped in the mix. Heat the mix so that the air and dihydrogen monoxide particles expand making the foam rise, coagulate the ovalbumin and stiffen the lining of the cells. Amylopectin and amylose undergo gelatinisation which further stiffens the mix. The foam expands and becomes a solid gel with a light porous texture.
Just like mama used to make…