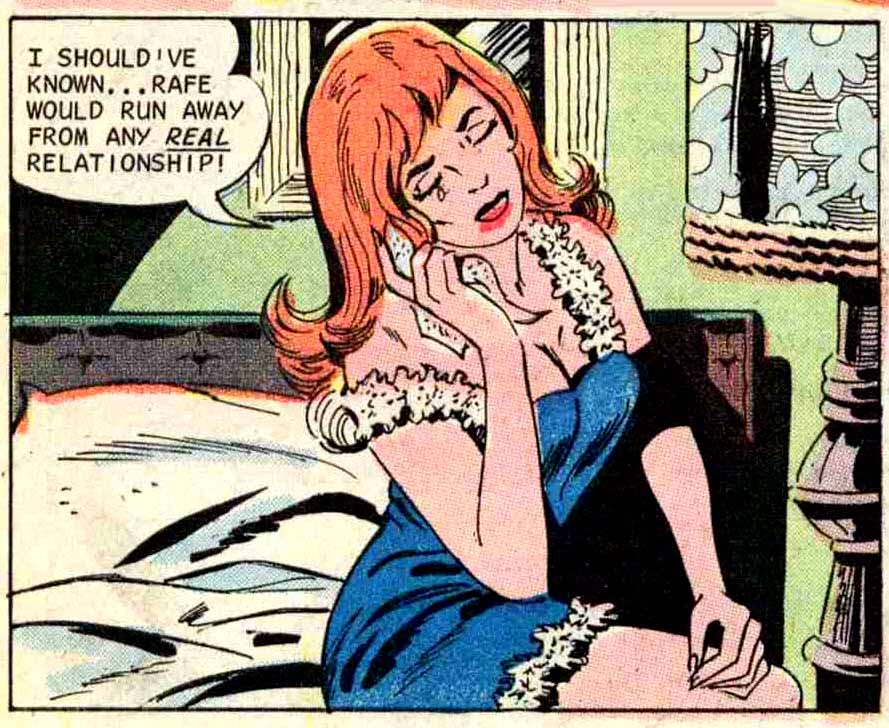 Romance comic books of the 1950s-1970s were nothing if not predictable.  You could be assured that in every issue the girl would fall in love, but tragedy was sure to strike – usually due to her own mistakes.  At this point in each story, the girl cries in bed, as if the world were ending.  Sure, we all know that by the final panel, love will be restored… but it's that bit before the happy ending that we're focusing on today….
So, let's have a look at these weeping, self-loathing, overly-attached, needy females as they lie in bed, pining for their men and wishing they'd never been born.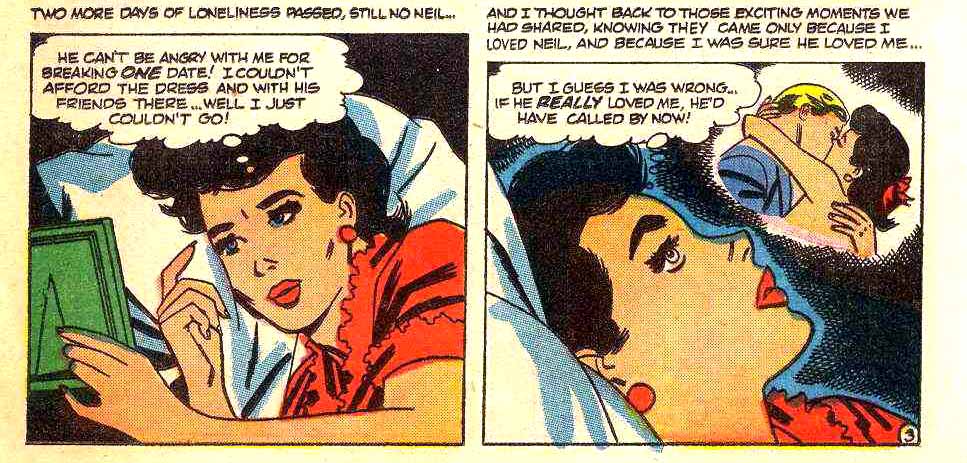 "Two more days of loneliness passed, still no Neil…"  Poor girl – bedridden and driven to a deep depression over some dude named Neil.  "If he REALLY loved me, he'd have called by now!"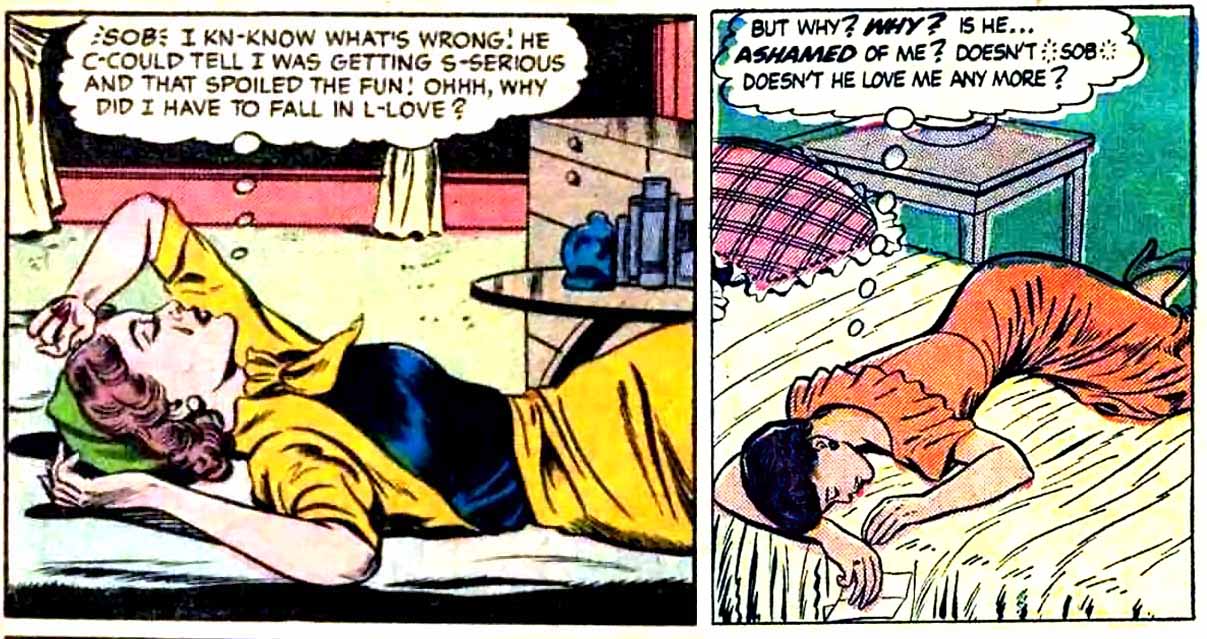 It's as if the mid-century woman was an emotional train-wreck; a delicate self-loathing flower, helpless and woefully insecure.  If only their men would show them affection, they might have something to live for.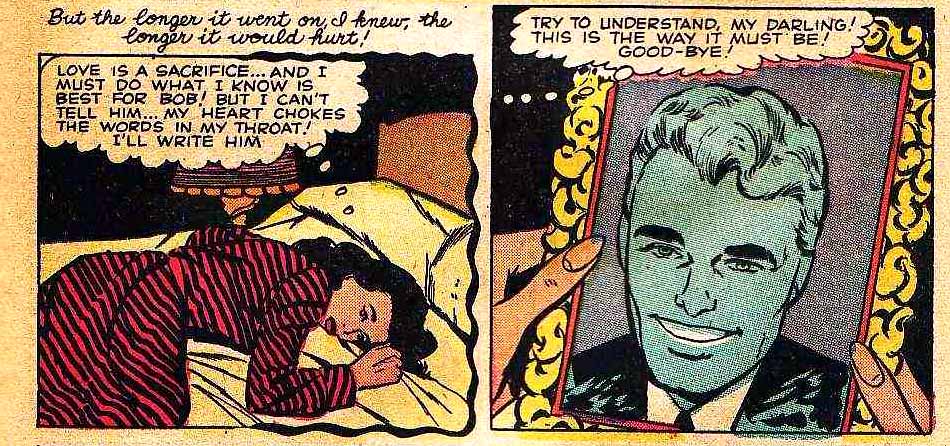 What a shame.  Bob looks like such a nice guy.  But as she says – "I must do what I know is best for Bob!"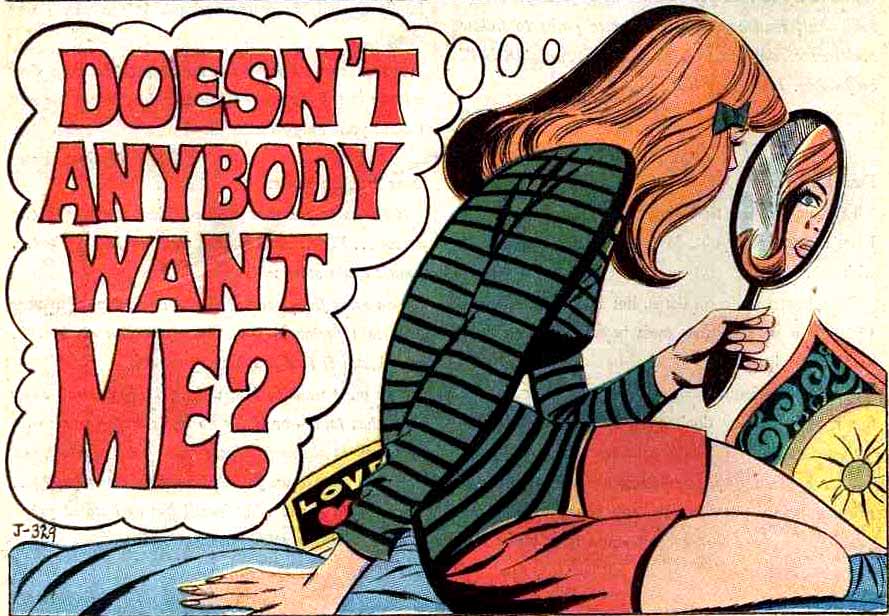 I'm so ugly.  I'm so stupid.  I'm so unworthy.  The self-esteem of the romance comic girl was a psychological dumpster fire.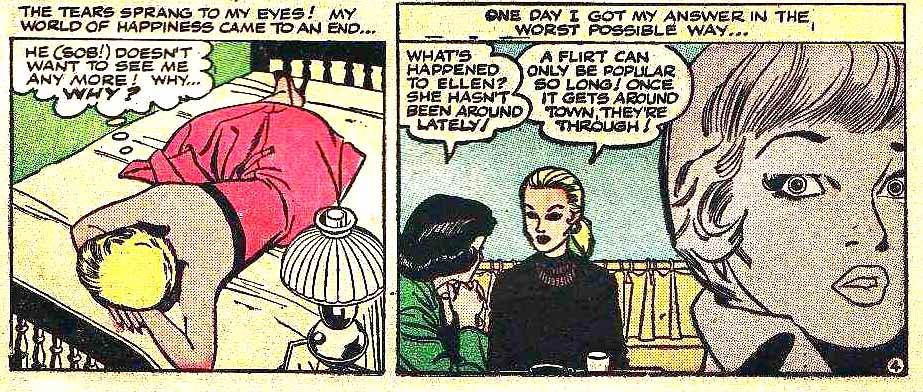 "My world of happiness came to an end"…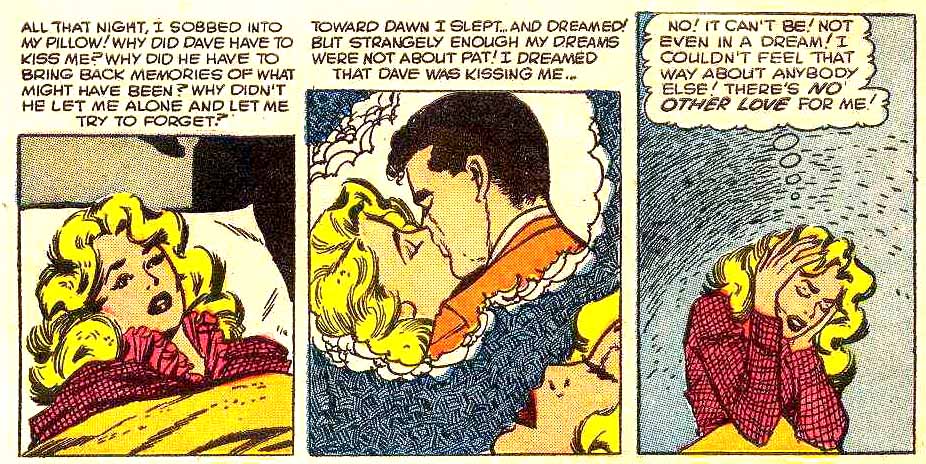 "All that night I sobbed into my pillow!"  Jeez.  These girls need a hobby or something.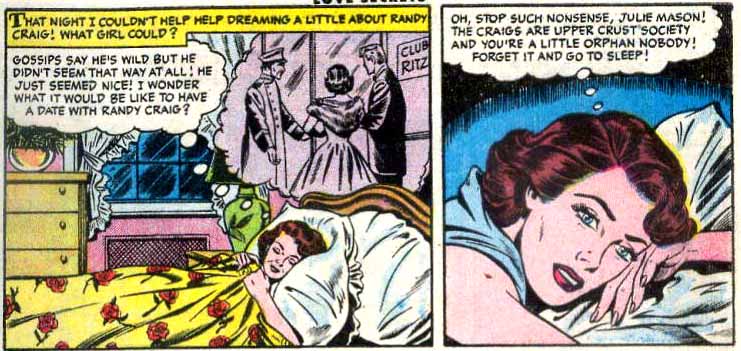 I take that back – these girls did have hobbies: some like to wallow in their own inferiority, while others enjoy passing the time partaking in soul-crushing self-doubt.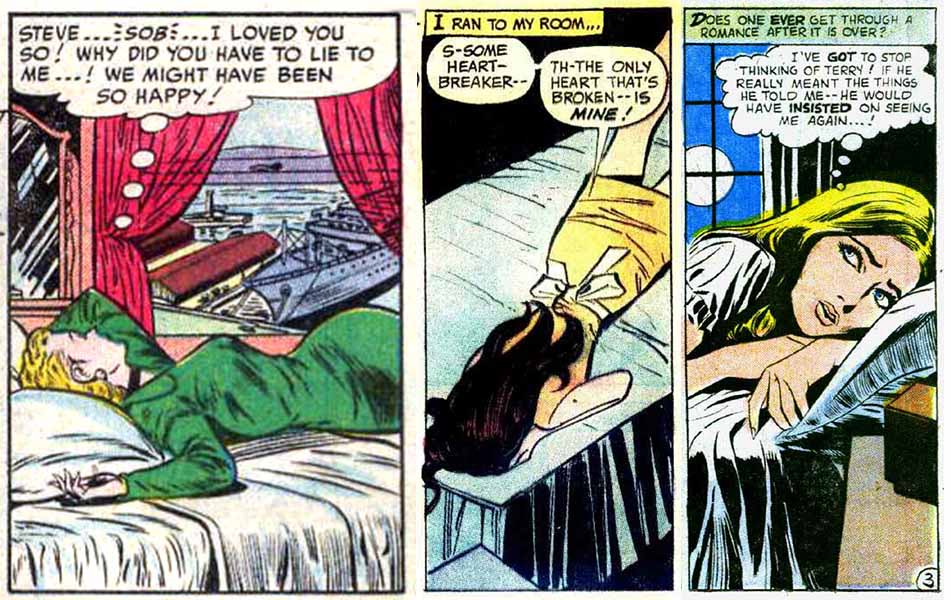 Three different ladies from three different comics, united in their lonely bedroom sorrows.  Yes, the beds of vintage romance comics were never the site of lovemaking; rather, the site of despair and regret…. I'm sure there's something there that Freud could explain.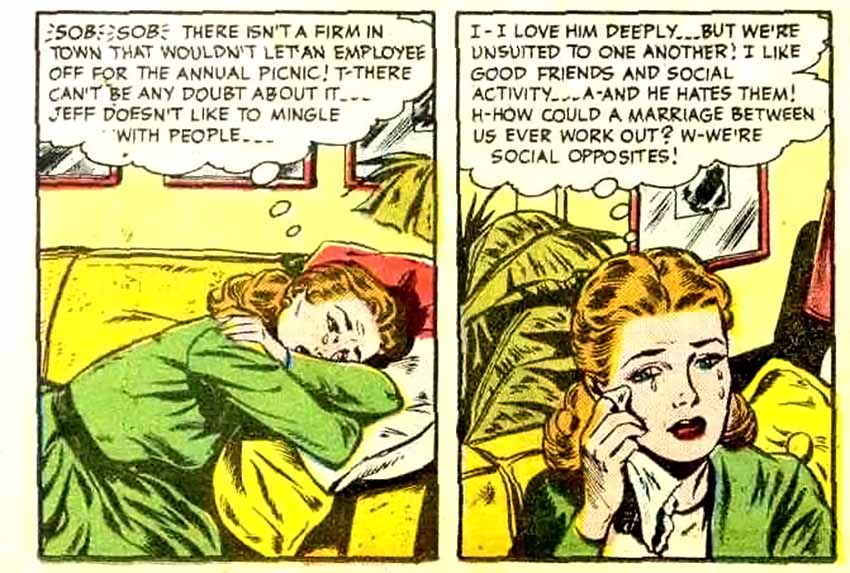 She loves Jeff.. but he doesn't like to mingle.  A terrifying dark night of the soul in every respect.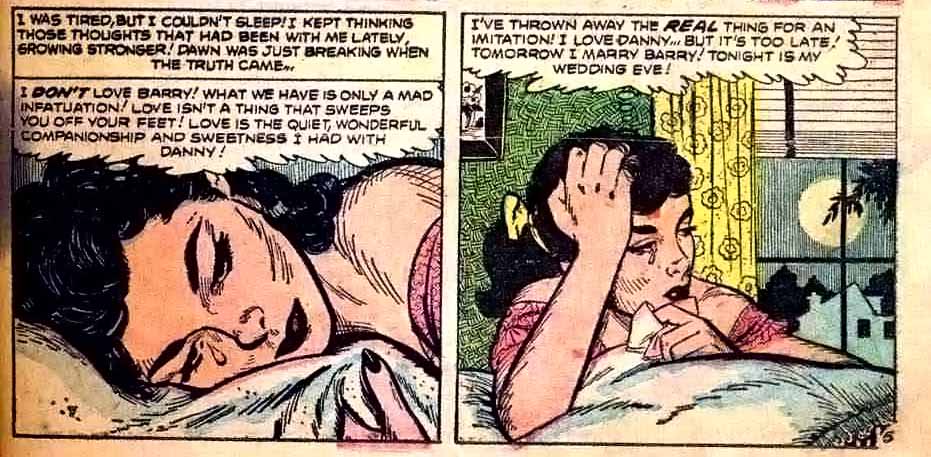 She's marrying Barry.. but she loves Danny.  With Barry it's all about the sex, but with Danny, it's "companionship and sweetness".  What should she do?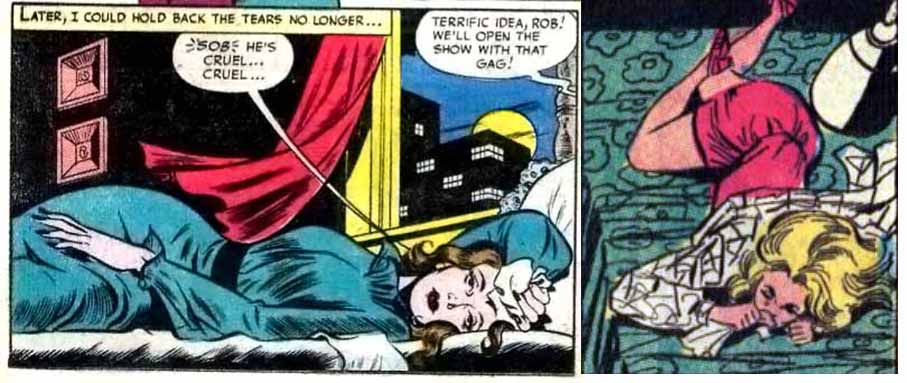 For the romance comic girl, life was a cruel joke.

"What's wrong with me?", "Doesn't anybody want me?" – suffice it to say, the self image of romance comic gals was a bit poor.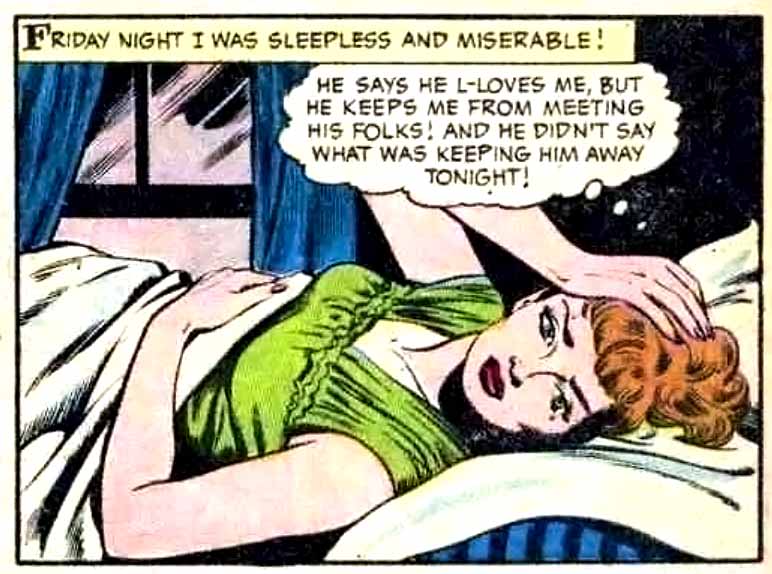 The best thing to do is spend all night dwelling on your bad qualities and thinking of why you are so clearly unlovable.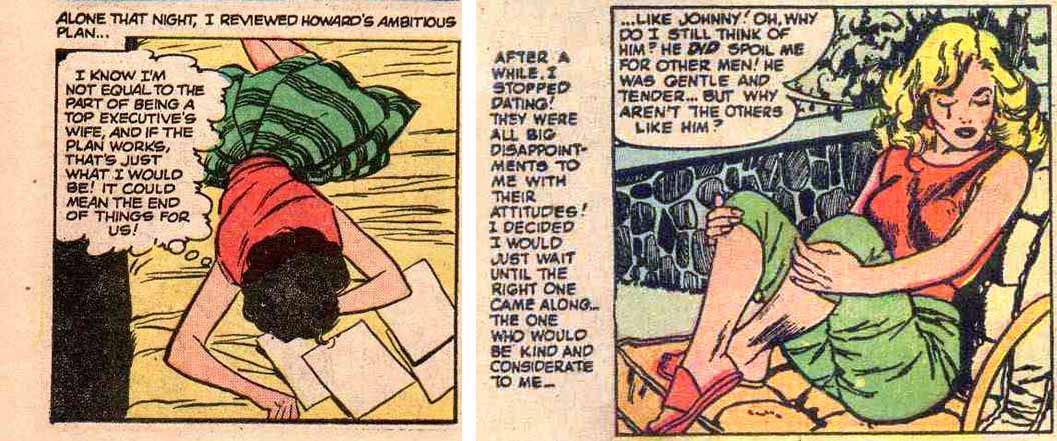 Misery, thy name is Romance Comic Girl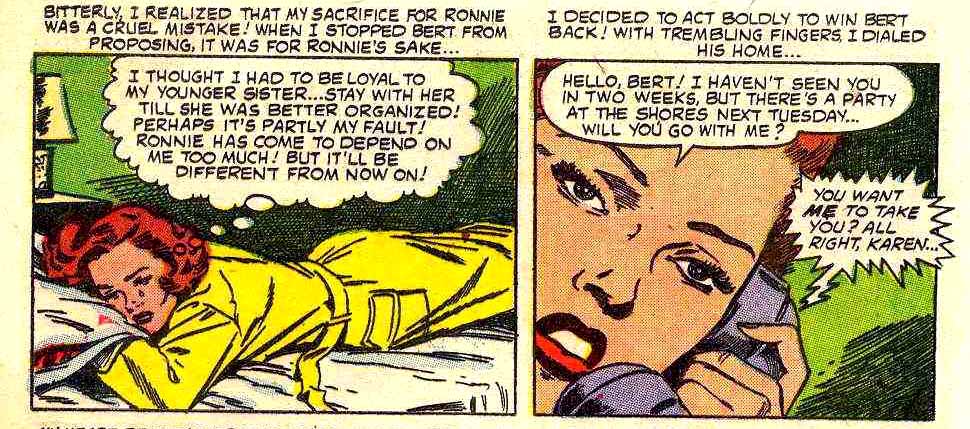 "Perhaps it's partly my fault"  – Um.  Karen. It's not partly your fault – it's all your fault.  Now, be a good little romance comic girl and marinate in self-hate and misery for the next couple weeks.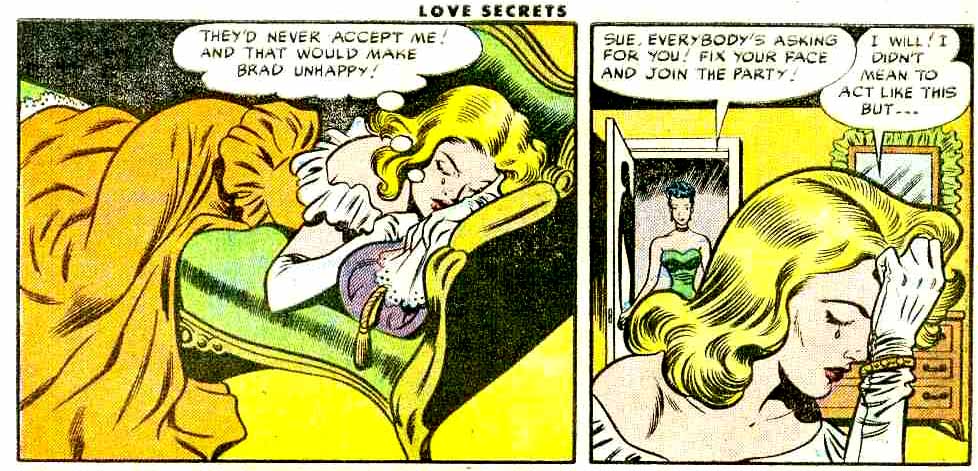 We wouldn't want to make Brad unhappy, now would we?

The first girl pines for Peter, the next for Paul, the next for Rob…you'll notice it's always a standard white name.  They're never weeping over Juan, Eli or Wei Zhang.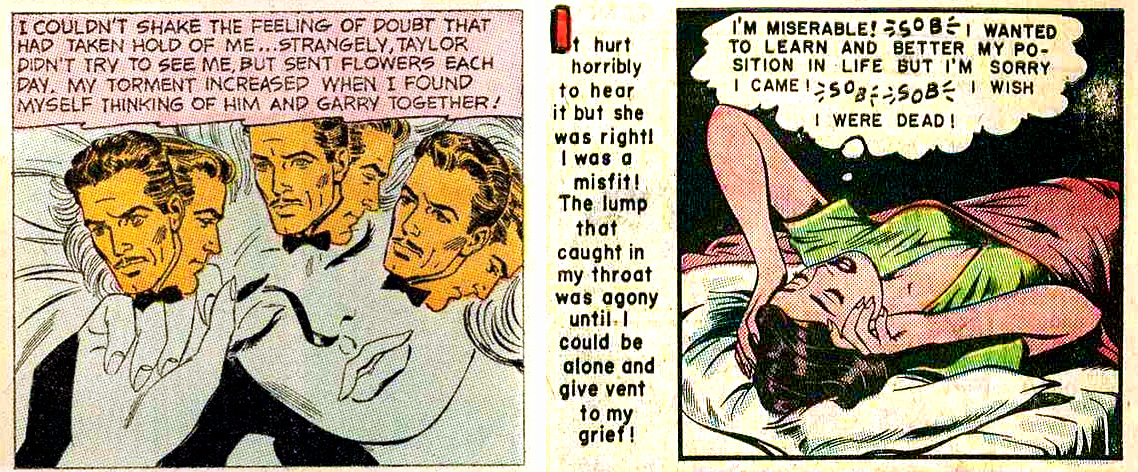 The girl on the right straight up wishes she were dead.  Romance comic ladies needed to be under constant suicide watch.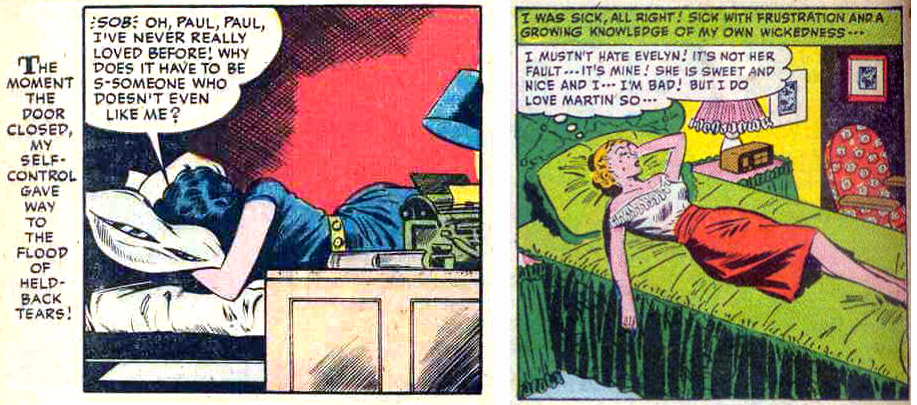 Well, I think I've had enough self-hating, co-dependent misery for one day.  Until next time.