These great drawings are from Tod Browning's West of Zanzibar (1928) and were made by revered photographer William Mortensen (1897–1965), who created the masks used during filming. The masks in these pictures are worn by models.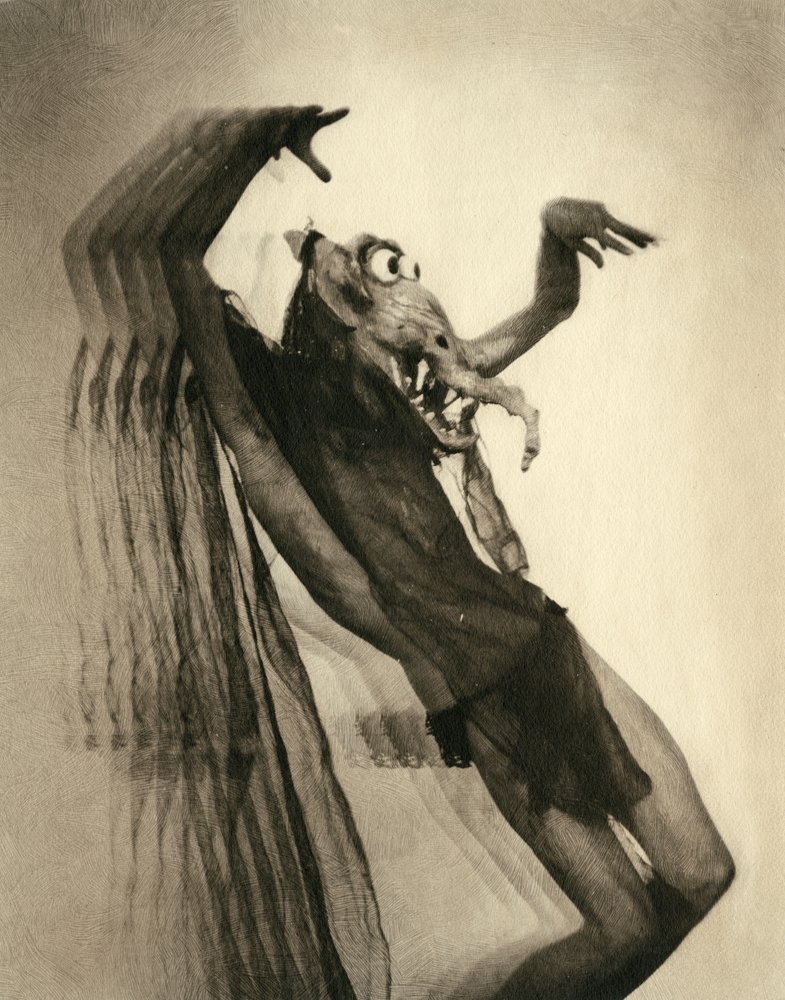 William Mortensen arrived in Hollywood in 1921 accompanied by 14-year-old Fay Wray [then known as Willow Fay. She was the younger sister of Mortensen's then fiancée]. At the time, Mortensen was an accomplished artist who had studied art in New York after a brief stint in the U.S. Army. He was born in Utah and returned there in 1921 where he became acquainted with young Fay Wray and her family. And although accounts vary, Mortensen reportedly was engaged to Fay's older sister Willow and in 1921 he agreed to accompany her young sibling to Hollywood in attempt to jump start Fay's acting career and secure himself work there…

Mortensen continued to act as Fay Wray's guardian by providing her with a home, signing her school report cards, encouraging her to take dance lessons and securing her some small bit parts in a number of silent films. He also took a series of risqué photos of the young actress for publicity purposes that eventually found their way back to Utah and into the hands of Fay's mother, Vina. Soon afterward, Vina Fay reportedly raced to Hollywood in an attempt to rescue her daughter from Mortensen's (assumed) advances…

She accused Mortensen of "having his way" with her young daughter and in a rage attempted to destroy all the photographs that Mortensen had taken of Fay along with the negatives. The parting between the Wray family and William Mortensen was ugly and unfortunate but the photographer insisted that he was innocent of any wrong doing and had simply been providing Fay with a good home.
"There was a person in those pictures I hadn't seen before," Wray wrote in her 1989 memoir, "even if I had suspected she could be there."
After Fay Wray's departure in 1922, Mortensen began earning a name for himself in Hollywood as a portrait photographer.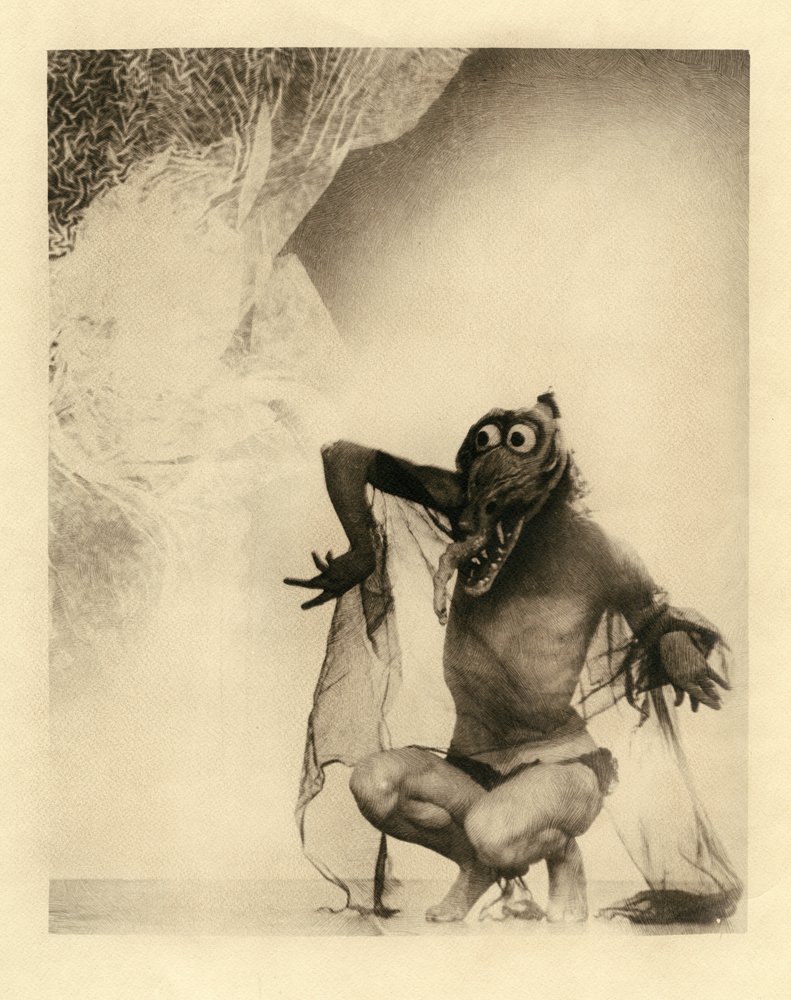 In Hollywood, Mortensen worked with Cecil B. DeMille — he was the first photographer to shoot still photos on set rather than posed in a studio. He went on to photograph Jean Harlow, Lon Chaney Sr., John Barrymore, Rudolf Valentino and Norma Shearer, and he created a series of disturbing masks for Chaney's star turn as a wheelchair-bound stage magician in "West of Zanzibar," a lurid film directed by Tod Browning, later notorious for "Freaks."

From the outset, Mortensen's subject matter was unabashedly theatrical, bizarre and often louche. He was an ardent admirer of Goya and Daumier, and with his Hollywood access to costumes, sets, makeup and masks, would create elaborate tableaux vivants in his studio.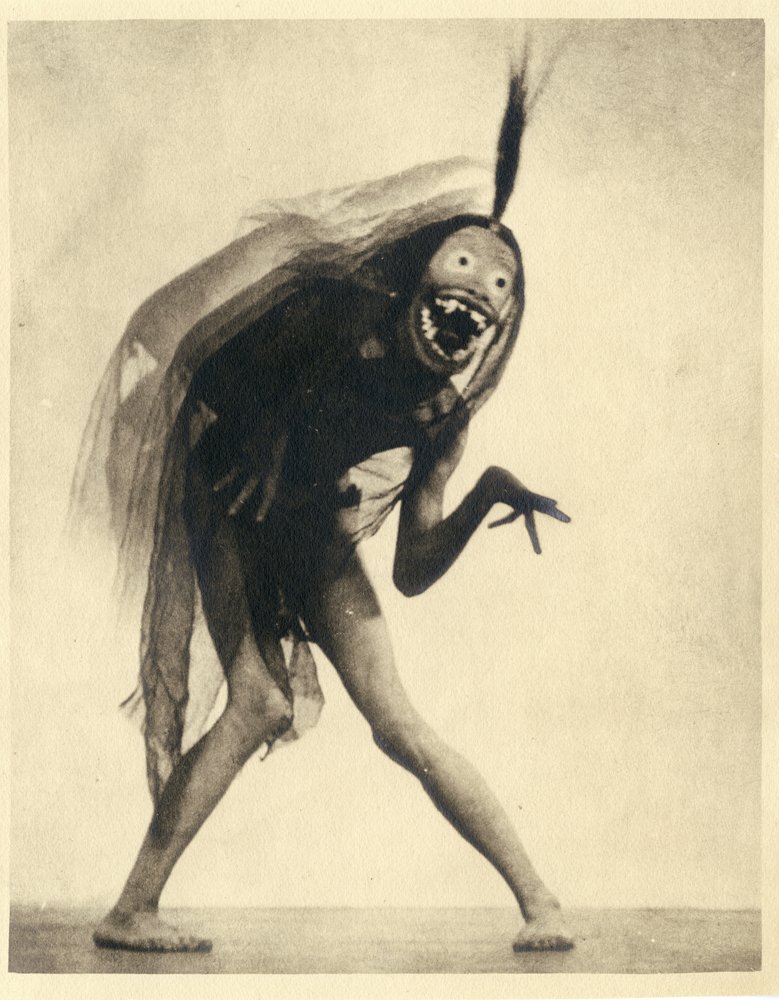 Mortensen also made batik, costume jewellery and papiermâché masks. He produced a number of alien-looking tribal masks for the Tod Browning movie West of Zanzibar, which starred Lon Chaney as a paraplegic magician living in an African village who takes to dressing as a god to maintain control over the tribe. Mortensen learned much from Chaney's extraordinary use of special-effects makeup. He was also employed as a photographer by the Western Costume Company, who supplied clothing and props to all major Hollywood productions. In his 11th floor studio, Mortensen shot costume tests and it is this that brought him into contact with many stars. All the techniques he had learnt – matte painting, costuming, props, special effects makeup – fed into his working methods for making a picture.