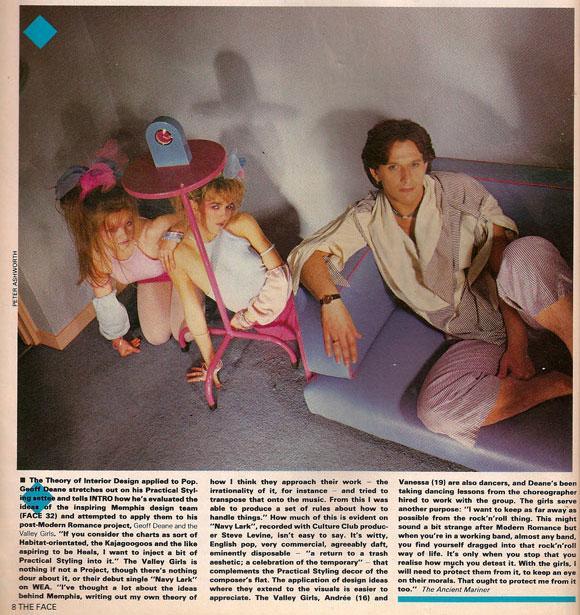 Such was the shadow Tommy Roberts cast over popular music that even Practical Styling, the 80s central London furniture, office and homewares outlet he ran with partner Paul Jones, was cited as an influence by performer Geoff Deane.
These days a prominent screen and script writer – his credits include such British TV hits as Birds Of A Feather and the 2005 movie Kinky Boots – Deane took to the pages of The Face (to which he was an early contributor) in April 1983 to espouse integrating the PS aesthetic (and that of Italian design collective Memphis) to his pop music career.
Deane was interviewed for the magazine in his PS decked-out apartment and photographed on one of the retailer's ur-80s piping-edged sofas, while backing singers Andree and Vanessa crouched under the most PoMo of tables.
"Tommy's a one-off, a legend," says Deane, who made his name in pop with the salsa-drenched Modern Romance. "People say Tommy simply had his finger on the pulse. Wrong. He was a part of that pulse.
"I had too many insane nights out with him to recall, and had to give them up in the end because they would invariably both start and end with a dinner somewhere and my waistline couldn't take the strain. I let him do up that flat in pink and blue. It looked amazing. The vinyl sofa would overturn when people leaned forward and toss them onto the floor. I also had a triangular chest of drawers which was good for nothing much at all, but looked very nice."
Deane was well-acquainted with Roberts' exuberant work by this stage. For his first Top Of The Pops appearance, with the Leyton Buzzards in 1979, he sported a blue pair of pegs bought at Roberts' groundbreaking Covent Garden boutique City Lights Studio several years earlier. See here (the jacket is Wendy Dagworthy btw):
Read all about City Lights Studio, Practical Styling and the rest of Roberts' adventures as the country's most audacious design entrepreneur in my book Mr Freedom. Signed copies available here.