Andrew Bush takes photographs of people motoring along Los Angeles freeways. To create what he calls Vector Portraits, Bush drives along side with a camera attached to his passenger window.
Through his images we get to keep our cool and aloofness whilst peeping at the drivers and passengers shrouded in their private metal and chrome worlds long after they've past. We're rubber necking after the fleeting event at each elegant, onward pressing stranger of interest, identified only by car, speed and road. These are moments of movement to savour.
Says Andrew Bush:
Driving is as much about going out into the world and going from point A to B and getting the thing you want as it is about circulating one's image and being seen. Even though our car shelters us like a room, it seems it is the speed we choose to drive and the direction we chose to go that really determine the space we own and the privacy we associate with driving. I was interested in moving at the same speed as the driver beside me as a way to look into their world, to show them motionless…

In cities like Los Angeles the urban environment is constructed around the car—we are in close proximity but mute to one another. Driving actually eliminates the possibility of public discourse and community—it is like walking around with headsets. Also, driving, speed, make it difficult to take in visual details. We might drive 30 miles on the freeway and reach our destination with only a few slivers of memory of who we passed or what we saw along the way. Maybe this is the result of habit as much as it is the need to drive safely and pay attention to what is ahead of us.
Making photographs of people as they moved—as I was driving next to them, frequently at speeds of up to 75 mph—who were dangerously close, was every bit as much about portraiture and assigning narratives and identities to multiple anonymous encounters as it was about questioning the driving situation that structures our perceptions and ideas of privacy.

The act of making the photographs was a performance—as is everything done in public. Either before, during, or after the drivers were aware of being photographed. I used a flash which in the bright of day was perceived as no more than a glint of sun but was enough to "celebratize" the encounter. In many ways this was an attempt to connect to those with whom it seemed impossible to connect. There were silent negotiations or imposed agreements, or a chase—sometimes by me, sometimes by the other driver which didn't always eliminate the possibility of a misunderstanding.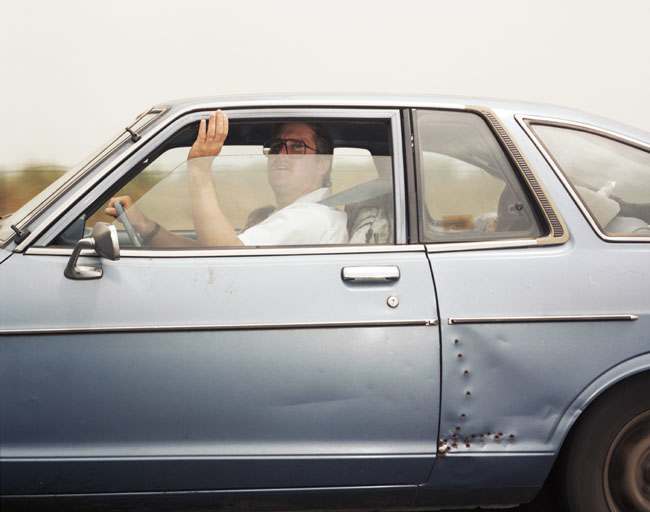 You can take home Andrew's work in Drive.