In 1964, Sister Rosetta Tharpe delivered a sensational live performance of Didn't It Rain? in Manchester, England. Tharpe was part of the touring American Folk-Blues festival, which included such notable black American musicians as Muddy Waters, Howlin' Wolf, Sonny Boy Williamson, Lonnie Johnson, Otis Spann, Big Mama Thornton, Bukka White, Big Joe Williams, Lightnin' Hopkins, Sugar Pie DeSanto and Big Joe Turner.
The tour was the idea of Joachim-Ernst Berendt, who transmitted jazz to Germany via his radio show Jazztime Baden-Baden. With jazz and rock 'n' roll to the fore, Berendt reasoned that European audiences would want to see the American stars who'd been at the foundation of the new sounds. He took the idea to promoters Horst Lippmann and Fritz Rau. They contacted the composer Willie Dixon in Chicago, who set about recruiting a line-up.
The festival ran from 1962 until 1972. In 1980 it was revived. The final show was in 1985.
Some of the early performances were filmed for British TV.
The recording below features a stellar line-up:
Opening: Sonny Boy Williamson: Keep It to Yourself
4:50 Muddy Waters: Mojo Workin'
8:36 Lonnie Johnson: Too Late to Cry
13:42 Big Joe Williams: Baby Please Don't Go (playing his 9 string guitar)
16:55 Sonny Boy Williamson: Bye Bye Bird; Getting Out of Town
25:32 Lightnin' Hopkins: Come Go Home with Me; Lightnins' Blues
33:46 Sugar Pie DeSanto: Baby What You Want Me To Do; Rock Me Baby
39:47 Howlin' Wolf: Smokestack Lightning; Don't Laugh at Me
49:34 Big Joe Turner: Oh Well , Oh Well
59:53 Junior Wells – What I'd Say
Did these great acts influence British music? To watch the tour's 1963 Manchester show – that year it was their only stop in Britain – Mick Jagger, Keith Richards, Brian Jones, Jimmy Page, Eric Clapton and Jeff Beck had driven up from London in a minibus. These godless, white British males would repackage the authentic sound of American music and take it back to the States as The British Invasion.
As for god-fearing, black female Rosetta Tharpe from Cotton Plant, Arkansas, a daughter of cotton pickers, raised by her mother, Madame Katie Belle Nubin, a travelling evangelist with the Church of God in Christ… Well, she'd sung in public for years before at age 49 she belted out Didn't it Rain? on a very wet day in Manchester. This wasn't her big break into showbiz. Tharpe was the first gospel singer to appear at Carnegie Hall and Harlem's Apollo Theatre. In 1945, her recording of Strange Things Happening Every Day became the first gospel record to reach the R&B top 10.
Her 1940s recording of Up Above My Head – a rousing duet with her friend and lover Marie Knight – was immensely popular. (It provided the template for a 1964 interpretation by Long John Baldry and Rod Stewart (the latter making his recording debut)), as Richard Williams notes. Tharpe's 1944 hit Down By The Riverside was a soul-stirring tour de force. It still is.
In 1951, 27,000 fans paid to attend Tharpe's wedding to her third husband, Russell Morrison, at Washington DC's Griffith Stadium. But then, "she had returned to near obscurity when the English trombonist Chris Barber invited her to tour the UK with his band in 1957."
Fast-forward to 7 May 1964. Sister Rosetta Tharpe is in south Manchester. It's starting to rain.
Tharpe arrived at the al fresco venue by horse-drawn carriage. She stood on a platform at Whalley Range's disused Wilbraham Road station. The place was decked out to look like America's deep South. Across the tracks of 'Chorltonville', the fans, some of whom had travelled for free aboard the Blues and Gospel Train from central Manchester, took their seats.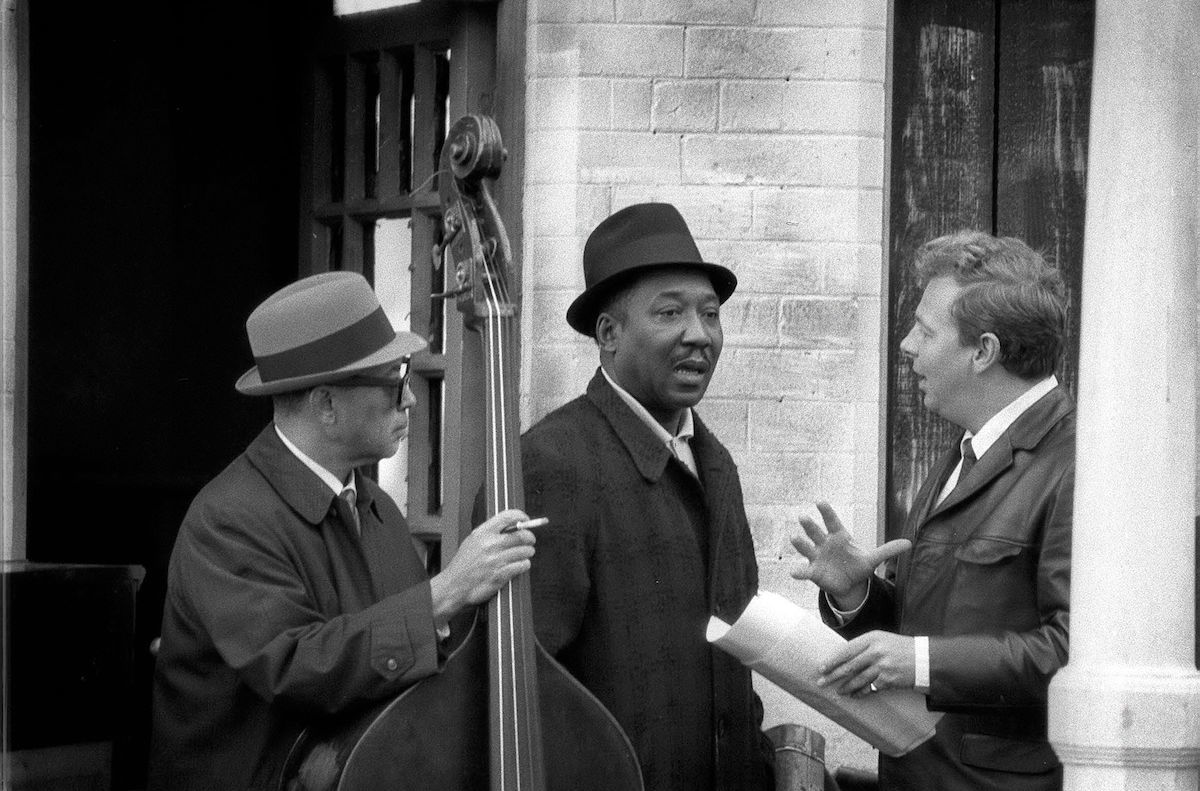 Johnnie Hamp, a producer with the local Granada TV, had booked the tour. The idea for the station was rooted in an earlier show, in which he hired three trains as a backdrop for Little Eva's The Loco-motion. "Hiring them meant I had a relationship with the railways, so when we decided to do the second blues show outside of a studio, they tipped me off to the derelict station," he told the BBC. "I asked if they could throw in a train as well, which we dressed with a cow-catcher and such like, and everything fell into place. Of course, the imagery of the trains, the whistle blowing in the distance, is one that is long associated with the blues."
Less associated with the blues is Manchester drizzle. The Heaven's opened. The rain fell.
"Sister Rosetta came to me and asked if she could change her opening number to Didn't It Rain?," added Hamp. He agreed. "When she strapped on her guitar, it was astounding."
Mr Hamp said there was another reason for the performers to be keen to play Europe. "In America, their major popularity had passed, as the young audience moved on to Motown and the like. Europe was a chance to reignite their popularity on the other side of the Atlantic."
America's loss was Britain's gain. Rosetta Tharpe was stupendous.