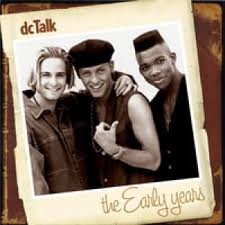 MOVE over Eli Porter, rap had bigger stars. DC Talk – that's Decent Christian Talk to you squares – were once ready to rock the ages with their "Explicit Christian Lyrics". Meet Toby McKeehan, Kevin Max and Michael Tait. Together they were the Holy Trinity. Rap. Rock. Soul. Hats. The Fresh Prince on VHS. A Beastie Boys cassette. And brogues. Hey wer putting the big C on Rap.
God is doing' a new thang. A brand nooo thang. 
In 2002, the Encyclopedia of Contemporary Christian Music went on the record to state that DC Talk are "the most popular overtly Christian act of all time".
Straight outta Lynchburg Virginia, land of ticks as big as your fist and sit-down mowers (I've been) are DC Talk.
In 1991, DC Talk appeared in a film. They uttered things about the thang and  wisdom on the lines of "I got the vanilla on the outside, but God has blessed me with that chocolate down deep in my soul."
This was "God's work…right up yo face":
Spotter: Dangerous Minds