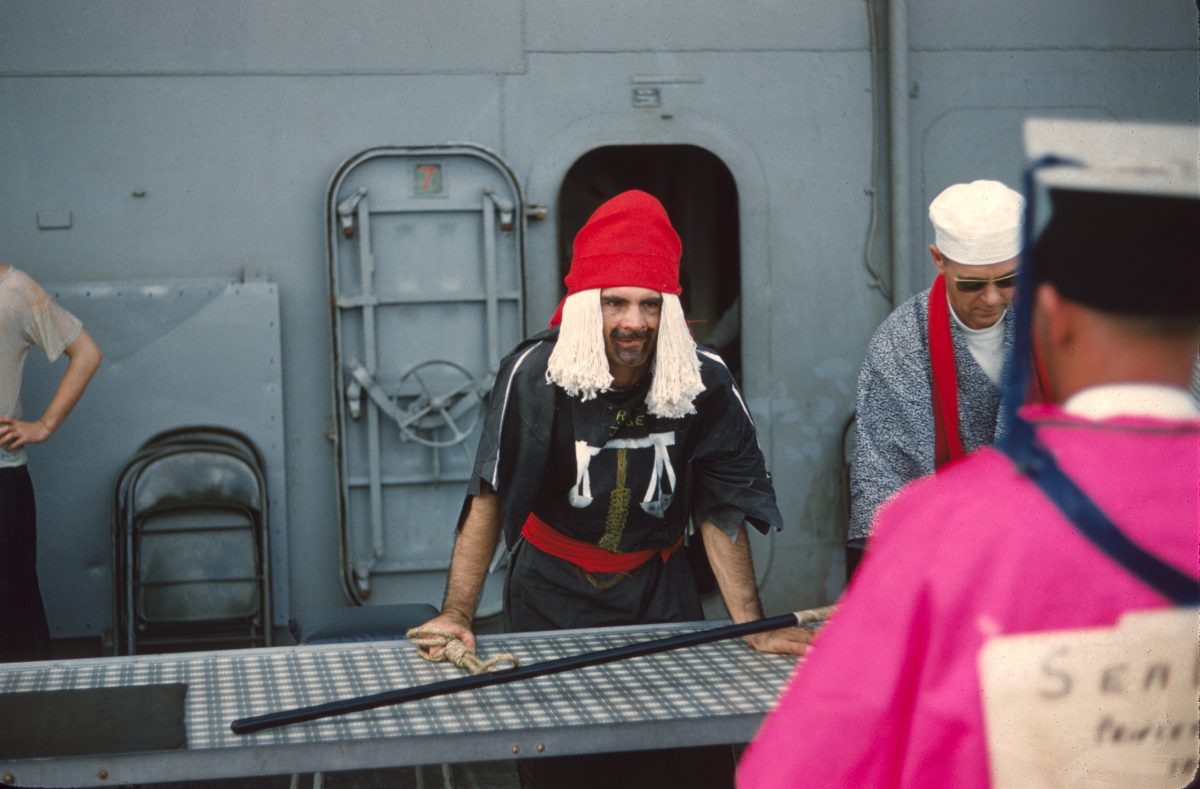 Shellbacks and Pollywogs
'This set of slides were taken by an unknown Officer aboard the USS Princeton, CV-37, in 1957-58. The Princeton carried anti-submarine warfare airplanes,' writes Doug Price. 'This metal box of slides was sadly found in a clear-out of an abandoned storage locker, so I have no way to find who this photographer was. A few of the slides are obviously his wife and children. Most of the slides were taken in Hong Kong, but others were taken in Sri Lanka (Ceylon), Singapore, and Japan.'
When USS Princeton crossed the Equator, the fun and games began. Sailors who have already crossed the Equator (Shellbacks) enacted King Neptune's "Royal Order of the Deep" on those who had not (Pollywogs – also an American English word for tadpole).
In One Man's War: Robert H Allison's Life in the US Navy, we read more:
This initiation was the process of a "Pollywog" becoming a "Shellback"…

First you were forced to lie down on your stomach in a gutter of salt water and endure a… strapping across the butt with strips of canvas about two feet long soaked in salt water. From there, you were herded into the royal court where you were obligated to kneel before the "Royal Bar", a metal rod that you had to grip with both hands and received a jolt of electricity that shook our eye teeth. Next, we had bow to King Neptune and his queen and then kiss the big fat belly of a big fat chief dressed in a diaper. This slob was the "Royal Baby".