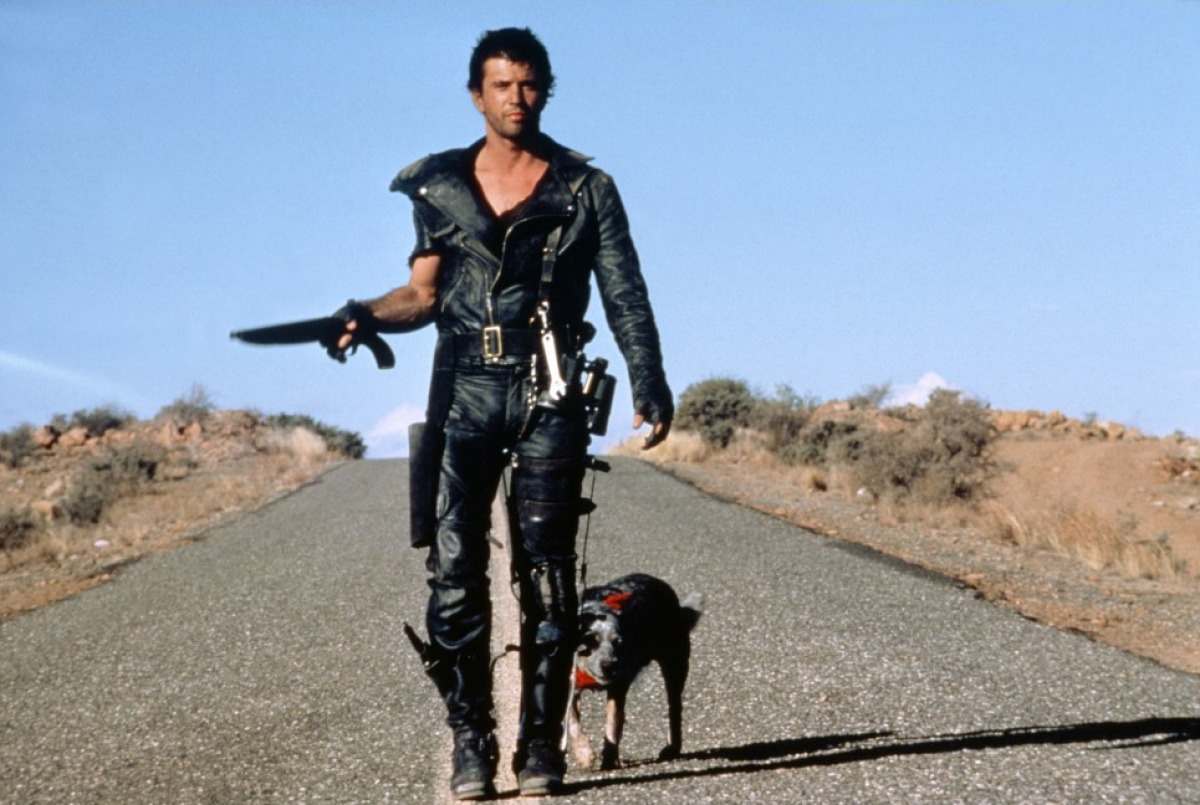 Thanks to George Miller, Mel Gibson and The Road Warrior (1982), the eighties represents the great era of post-apocalyptic movies.  After the film's release, movies set after the fall of civilization were a dime a dozen, and featured titles such Warlords of the 21st Century (1982), Warriors of the Wasteland (1983) and Steel Dawn (1987)
It wasn't just the success of The Road Warrior, either.
During the Reagan Era of politics, there was a pervasive "apocalyptic mentality" roiling the culture. This may have been in part because of Cold War escalation. The president even once joked (on August 11, 1984) about outlawing The Soviet Union, noting that bombing would commence in "five minutes."
Or the zeitgeist of apocalypse might also have arisen because of President Reagan and his Secretary of the Interior, James Watt both spoke in public more than once about the possibility that the End Days were nigh.
Reagan did so in an interview in People Magazine in December of 1983 — as commander-in-chief — stating that the 1980s was the first time in history that so many Biblical prophecies were coming together. He had also said, on the campaign trail in 1980 — to televangelists Jim and Tammy Faye Baker — that "ours might be the generation that sees Armageddon."
Watt, on the other hand, testified before the U.S. Congress on February 5, 1981 that there was no need to preserve America's national resources for future generations because he did not know "how many future generations" we could count on before "the Lord" would return.
As a tuned-in kid of that era, I paid attention to such terrifying words from our leadership, as did many filmmakers, musicians and writers.
Accordingly, the artwork of the 1980s imagined all kinds of apocalypses (nuclear, comet-based, and even zombie-oriented) but also provided us a strategy for surviving it: creating a brand of sturdy hero who could adapt to the world after the fall of civilization.
Here are five of the greatest heroes of 1980s post-apocalyptic cinema.
I have not included Kyle Reese (Michael Biehn) — a character from a post-apocalyptic future — only because he does all his fighting in The Terminator in the 1980s, not in the new, dangerous landscape of the post-apocalypse.
Gibson Rickenbacker (Jean Claude Van Damme) in Cyborg (1989)
In this action film, civilization has collapsed, and a deadly plague has all-but-ruined the human race. Savage gangs rule the cities but there is a new hope: a female cyborg from Atlanta named Pearl (Dayle Haddon), has discovered a cure to the plague, but a vicious gang leader covets it.
Before long, a "slinger" (mercenary) named Gibson steps up to fight Tremolo, the gang leader.   He lost his family to Tremolo, and has been living as an outsider ever since.  But he gets back into the fight, particularly after being hung on a cross and crucified by his enemies.
Cue the Jesus Christ imagery!
In the end, Gibson embraces humanity, and delivers the cyborg to the CDC in Atlanta, paving the way for humanity — and civilization's — second chance. He also defeats Tremolo, mano-e-mano, in a pounding (but cleansing, cathartic…) rain.
A Jesus surrogate who can kick-box the hell out of his enemies?  That description explains Gibson's unique qualities perfectly.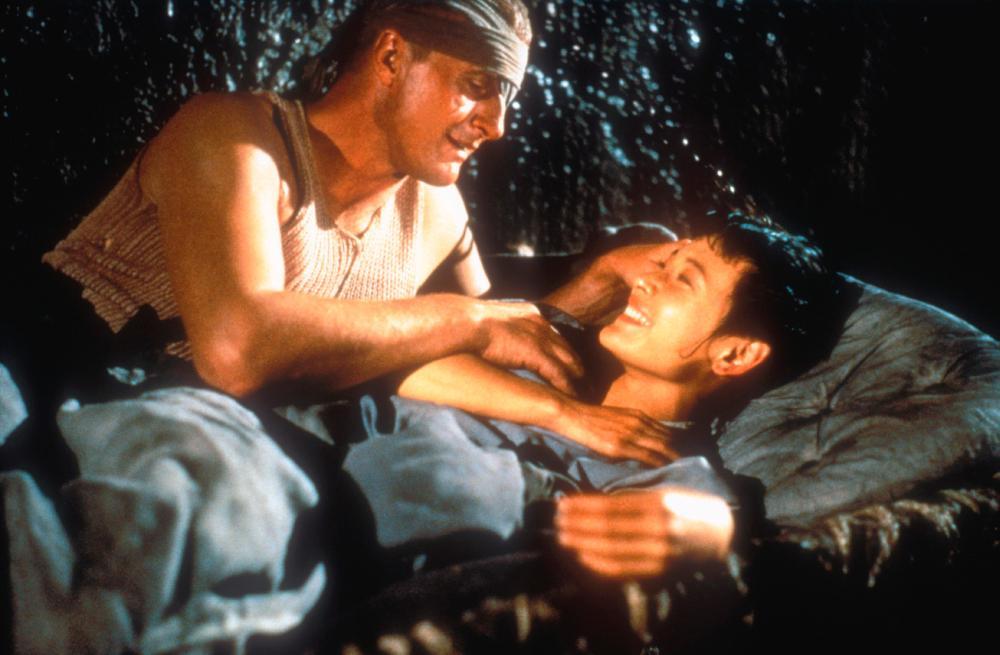 Tie: Sallow (Rutger Hauer) and Kidda (Joan Chen) in The Blood of Heroes (1989)
In this great post-apocalyptic film, also from 1989, our infrastructure has collapsed following a series of wars, and the survivors no longer remember the "Golden Age of the 20th century" or "the miraculous technology or cruel wars that followed."
Instead, there's a new bread-and-circus to distract the masses: a brutal game called Jugger.  Here, a team consisting of several players — a "qwik," a "chain," an "enforcer" and a "slicer" — battles an opposing team.  The match is bloody and violent, and doesn't end until the winning team slams a dog skull on a pike, or stake.
In The Blood of Heroes, we meet a former champion of the game, Sallow (Hauer) who now lives in exile, playing Jugger matches in the outlands. .  His team comes upon a farming community where a skilled young woman, Kidda (Chen) desires to join the team as "qwik."  Kidda is new and fresh, and Sallow is old and jaded.  Together, as learner and master, they represent a perfect post-apocalyptic team.
With Kidda's skills augmenting his own, Sallow now has an opportunity to fight the "League" that ousted him from society, and destroy his enemy, the aptly-named Lord Vile.  The team makes it all the way back to the city to take on the entitled elites who live there, while others suffer in squalor and starvation.
Together, Kidd and Sallow mount one of the greatest come-from-behind victories in post-apocalyptic film history.  Their spilled "blood" strikes a blow for the common man.
Sarah (Lori Cardille) in Day of the Dead (1985)
Some years after the zombie apocalypse, a scientist named Sarah works in an underground military base with several other scientists, hoping to find a way to restore humanity by ending the plague.  Significantly, Sarah is a hands-on leader, taking a helicopter expedition to Miami in an attempt to rescue survivors.
She is also a quick-thinker. When her lover, a soldier named Miguel (Antone DeLeo), is bitten by a zombie, Sarah moves with purpose and determination, cutting off his arm with a machete and cauterizing the wound before the infection can reach his vitals.  She saves his life.
Sarah is also a hero because, finally, she accepts the inevitable and showcase her adaptability.  The zombie plague represents a changing of the guard or social order, and the military goons like Rhodes (Joe Pilato) are inhuman, and beyond redemption.
Realizing there is no point in dying for nothing, Sarah flees the bunker as it is overrun with zombies, and starts a new life on a distant island with two like-minded friends.
Regina (Catherine Mary Stewart) in Night of the Comet (1984)
In this great post-apocalyptic movie from director Thom Eberhardt, a comet passes close to Earth for the first time in 65 billion years (since the age of dinosaurs…) and proceeds to wipe out the vast majority of human beings.
Some individuals survive, but as monstrous, amoral ghouls.  One normal survivor is a young adult named Regina, a movie projectionist and video game expert (and high-scorer) who can ride a motorcycle and kick-ass.
While protecting her younger sister, Samantha (Kelli Maroney), from danger, Regina fights the zombies with Uzis, and successfully tangles with scientists hoping to use their uninfected blood to restore themselves to normal.
Regina is a determined, sardonic hero, quick with a witticism, and even quicker with a resourceful plan to survive any crisis.  If she is to be the mother of a new human race (as the film's final sequence suggests…), we're all going to be just fine.
Regina reminds us you don't have to be grim, anti-social or compromised to survive in the post-apocalypse.  Instead, you must be smart, nimble, and passionate.  In truth, Regina is a great missing link between the horror genre's "Final Girl" trope and Joss Whedon's Buffy the Vampire Slayer.
Max (Mel Gibson) in The Road Warrior (1982) and Mad Max: Beyond Thunderdome (1985)
Audiences first met Max in a dystopian — not post-apocalyptic — film, 1979's Mad Max. There, we watched as Max lost his beloved family to a savage gang leader called Toecutter, and then embark upon on a campaign of vengeance that was righteous, but also, anti-social.  Ultimately, Max lost his humanity in his sadistic pursuit of justice/revenge.
The follow-up apocalyptic films of the 1980s take up the challenge of leading Max back from the precipice, so that he can be redeemed; so that he can reclaim his sense of humanity.
In both sequels, Max comes to the aid — somewhat reluctantly, admittedly — of outposts of civilization.  Both of those civilizations have children living there and those kids, feral or otherwise, represent the future; tomorrow.  But they remind Max of his human past too; of the life he wanted for his child, but which was denied.
Although Mel Gibson's reputation has certainly gone downhill in the thirty years since these films premiered, the character he so memorably played — a warrior of the wasteland and post-apocalyptic man with no name – has become the absolute standard-bearer in terms of the post-apocalyptic milieu.
Max boasts great survival skills, and his past — as a dedicated law enforcer — means that he can still connect to his (sometimes buried) sense of morality.  Mel Gibson once termed Max (in Starlog Magazine) a killer with "a code of ethics."
And in the savage post-apocalyptic world he inhabits, that quality makes Max stand out.