"I have never been part of the London literary scene. My time has been passed with painters, antique dealers, musicians, booksellers, journalists, actors, and film people. I find it natural to collaborate with others on such things as posters, songs, films, shows. This is unusual in literary London" – Christopher Logue (1993)
In 1958 Christopher Logue wrote To My Fellow Artists. This anti-nuclear poem was published in the The New Statesman and Nation. He was invited to recite the poem between films at the second Free Cinema Festival at the National Theatre.
An idea struck him. Putting the poem on a poster would bring it to a wider audience. As he writes in Manifesto: "Posters call you. So do poems… A poem unable to live on a poster / Is no poem." He contacted designer Germano Facetti. They got to work, spreading the word by leaving a stack of the posters in the lobby at the Royal Court Theatre. 
Facetti introduced Logue to Peter Cook's Establishment Club. There Logue met more artists with whom he'd collaborate: Derek Boshier, Pauline Boty and Colin Self among others. He'd also write songs for Annie Ross to perform at the satirical nightspot and the True Stories column for Private Eye, the satirical magazine Cook funded.
As Clive James put it: "As its name satirically suggested, The Establishment was an anti-Establishment establishment."
Logue believed in the power of poetry as a form of experience independent of other knowledge – " Shakespeare never went to Venice, Homer never went to Troy, Dante never went to Hell."
Logue would return to the Royal Court for his show Trials by Logue, consisting of two of this plays, Antigone and The Trial of Cob and Leach. The plays starred Mary Ure and George Rose and opened at the Royal Court Theatre on 23 November 1960.
Tom Salter published and sold the posers in his Carnaby Street Shop, Gear.
And they sold well. Logue's 1966's poster poem I Shall Vote Labour sold over 30,000 copies.
…at the prompting of Soho bookseller Bernard Stone, Logue created I Shall Vote Labour to coincide with Britain's 1964 general election. In his highly readable memoir Prince Charming, Logue – who died in 2011 – relates that he was among several writers approached by the left-wing weekly Tribune to compose 200 words on why they were going to vote for the Labour Party.

"I settled down to do as requested, giving the usual (correct) answers," wrote Logue. "Suddenly I was sick of the irritating pleasure this list of wants gave me. To replace it, I wrote the poem consisting of some silly, some sarcastic, reasons for doing so."
An extract:
I shall vote Labour because if I don't somebody else will …

I shall vote Labour because if I do not vote Labour my balls will drop off …

I shall vote Labour because I am a hopeless drug addict …

I shall vote Labour because Labour will build more maximum security prisons …

I shall vote Labour because deep in my heart I am a Conservative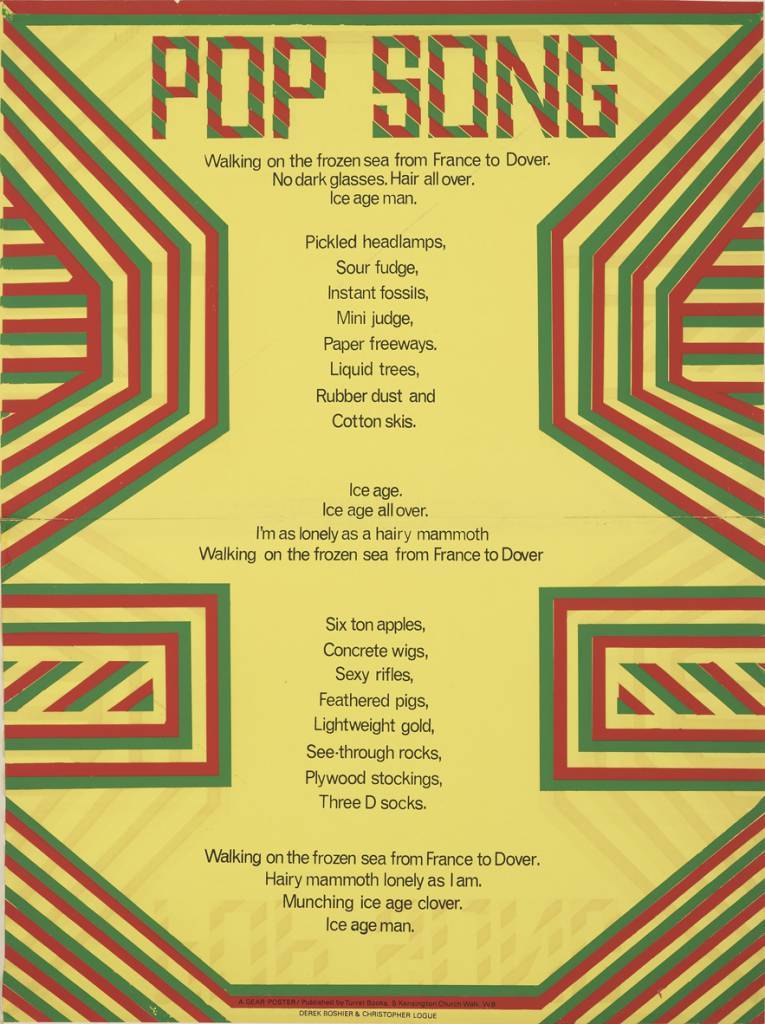 Logue's  posters are displayed at Rob Tufnell Gallery, London, through November 7 2015.
Christopher Logue, poet, born 23 November 1926; died 2 December 2011
Via: Paris Review