"My pix, mostly developed by me in my Boro Park darkroom in the 70's. Remember the snow storm of '78?"
– Anthony Catalano, Brooklyn, New York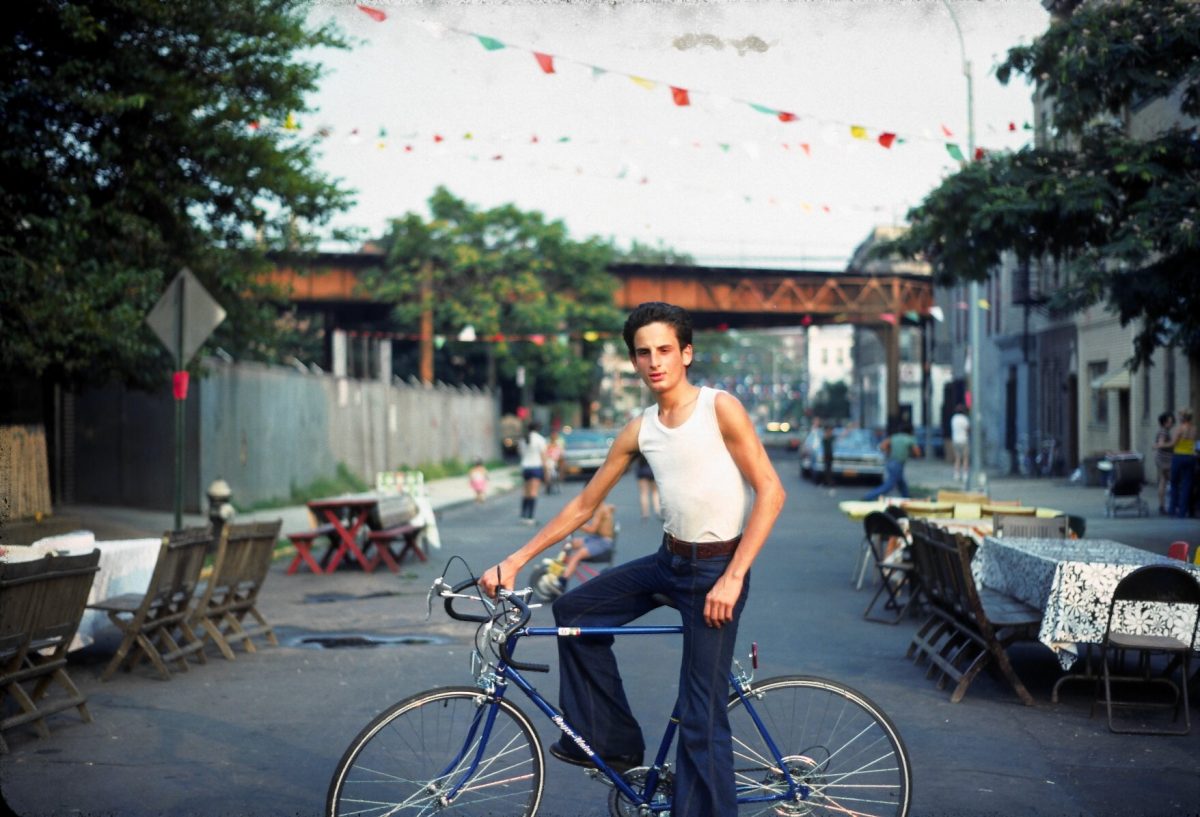 Born and raised in Brooklyn, New York, Anthony Catalano passed away suddenly on March 1st, 2014. He was 54. Thanks to his surviving brother, John Catalano, we can see Anthony's terrific photographs and Kodachromes of what life was like for the boys in the 1970s.
Of "Sicilian descent", Anthony graduated from Kingsborough Community College, Brooklyn, with an AAS in Graphic Arts in 1981. He qualified as a dental technician at The New York Cambridge Training Collaboration in 1983.
He had a passion for photography and a terrific eye. He captioned his pictures in no small detail, telling us the locations, something of the  place's history and often an image's technical pluses and flaws (at least seen as errors by him, not us). His voice is both compelling and authentic. For these reasons the captions are reproduced in his own words beneath each photograph.
There are three extra images in this album. One was taken when Anthony was on a day out in Manhattan, another on a trip to Coney Island. At the end of this great album, there's a third. It shows a very young Anthony on the streets in his native Brooklyn. I was a "photobug since birth like Mom and Dad" says Anthony. His dad took the picture. It's fabulous.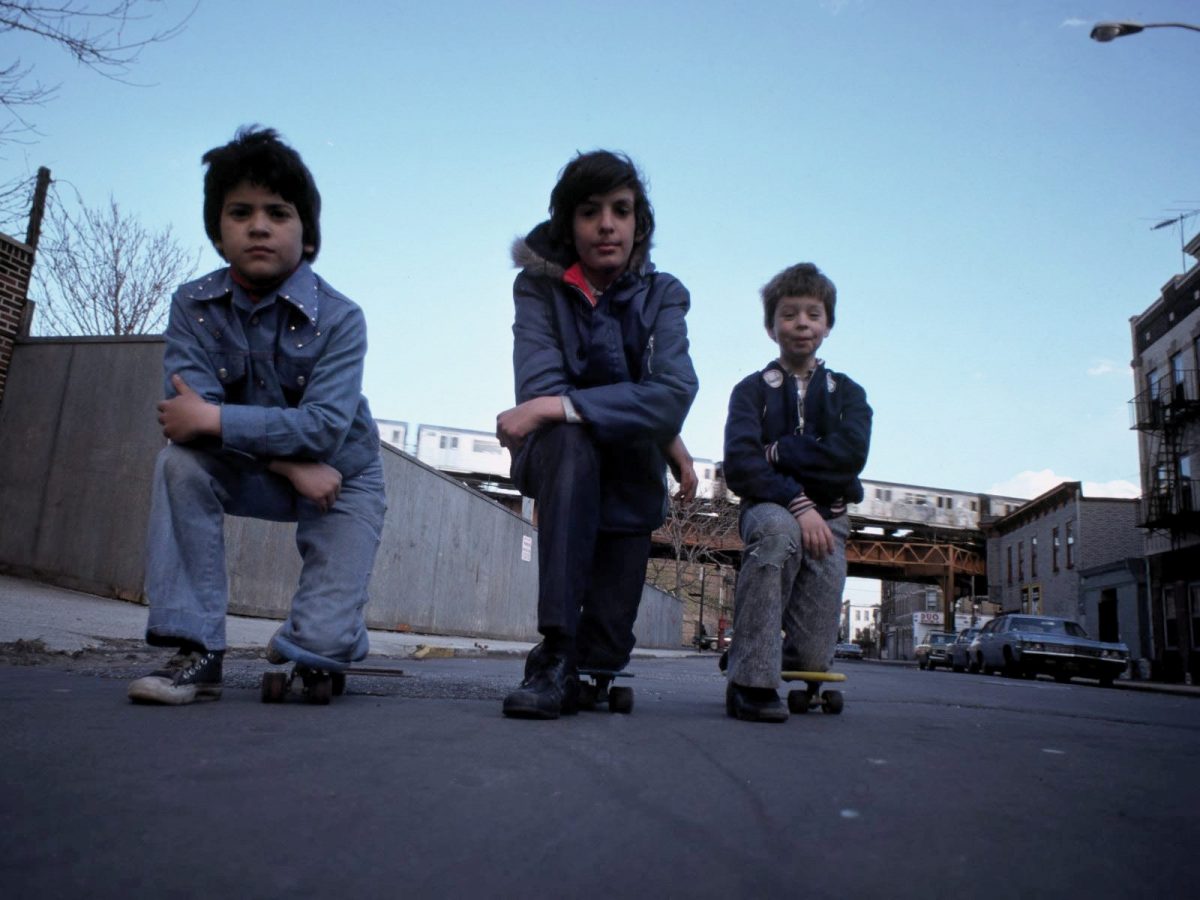 CAPTION: 1976 Brooklyn – Skateboards Old School Boys – 1976. Graffiti El Train. 1976 Old School Skateboard pose with Edgar, my brother John, and our tenant's kid Jerry. I had them wait for that train in the background while I was on the floor with my Minolta SRT-102 w/20mm Vivitar 2.8 [rectilinear wide angle] Ektachrome home-developed.  Popeye Doyle and the French Connection were filmed on 60th street, this is 57th ST! I watched Gene Hackman being filmed over and over at the station after I came out on my 7th grade class. In the film we Brooklynites laugh at the chase scene because they keep passing Savarese Bakery on 60th over and over! p.s. My Brother, John, will turn 47 in Dec 2011.. THAT'S how long ago this was! I finally found the next shot that goes with this one! :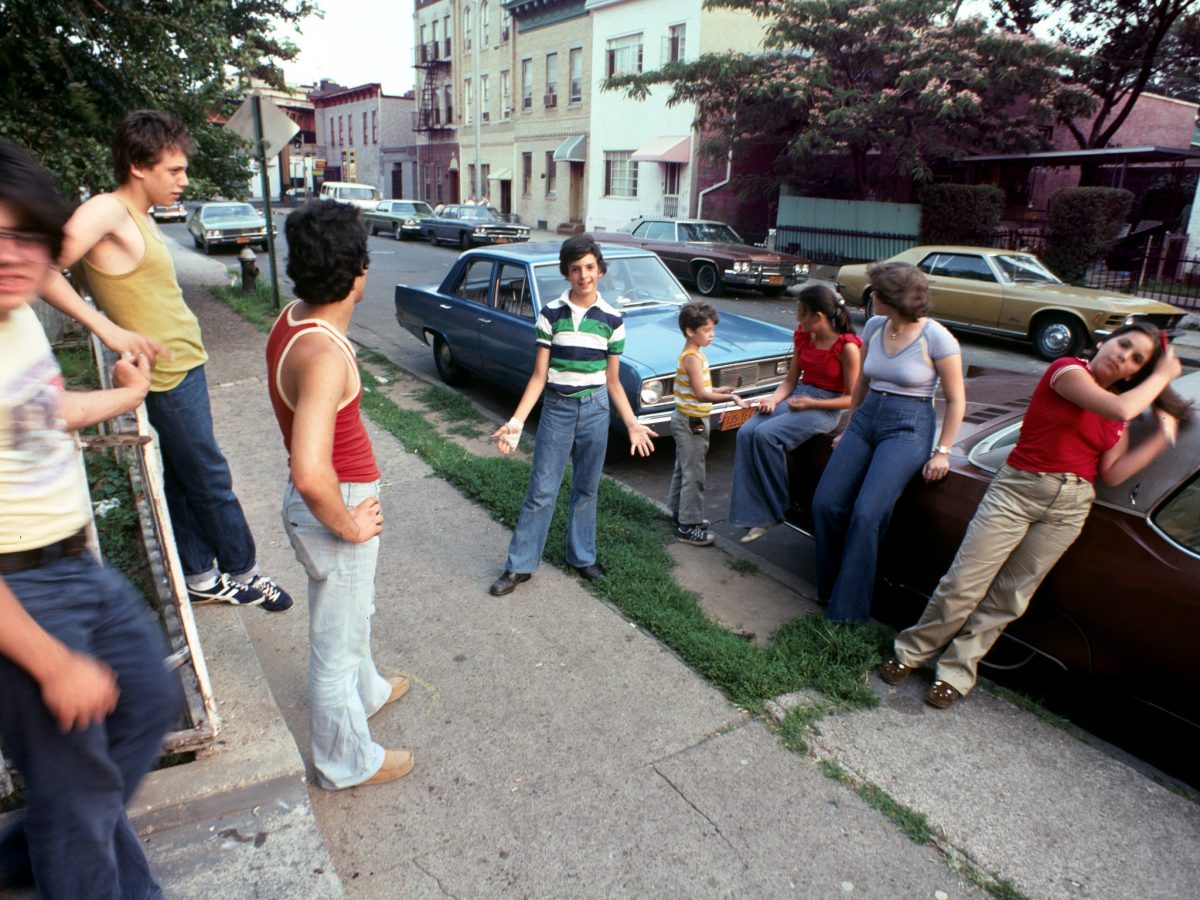 CAPTION: Hanging out, relaxing in front of my porch steps in Brooklyn 1977. L-R: Steve Bencivenga, Marty Fischetti, Dom, John Catalano (my bro), Jerry Sozio, Noele Caruso, Paula Fischetti, Wanda Caruso. Sunny afternoon on a late afternoon weekend. Dig those cars !!! My uncle left me that Mustard Mustang, but after 5 kids using it for school, by the time I got it, I could see the street under the pedals and the engine was shot to hell. The "kid" in the middle is John, my brother. It was no big deal to hang out and to sit on people's used cars. They didn't freak out. People today don't know how to chill out. (they also didn't cave in like aluminum foil!) Kodacolor Slide. Minolta XE-7 with a 20mm Vivitar wide-angle lens.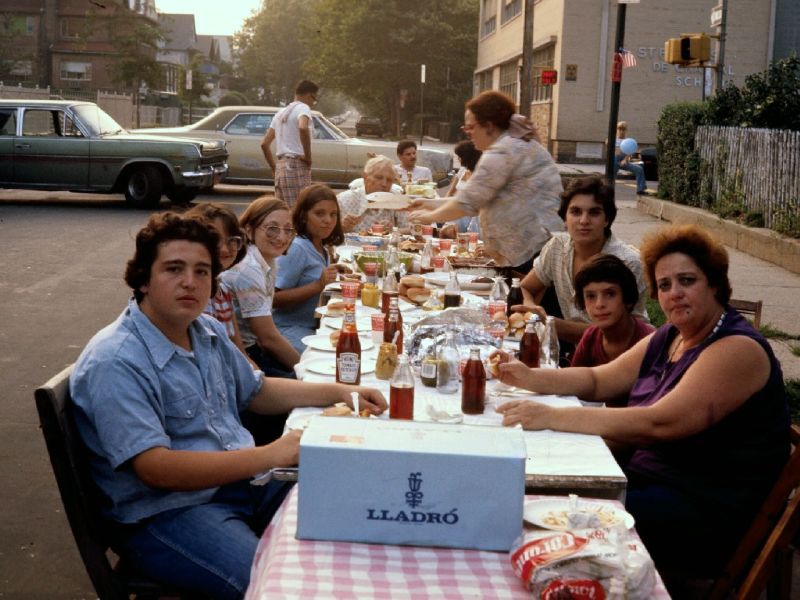 CAPTION: 57th st block party, 1977 – Boro Park, Brooklyn NYC. In the front Anthony "B" and Mom with Johnny. The guys block off even the street exits with their cars to keep the kids from wandering out into the active 13th Avenue. Minolta SRT-102 50mm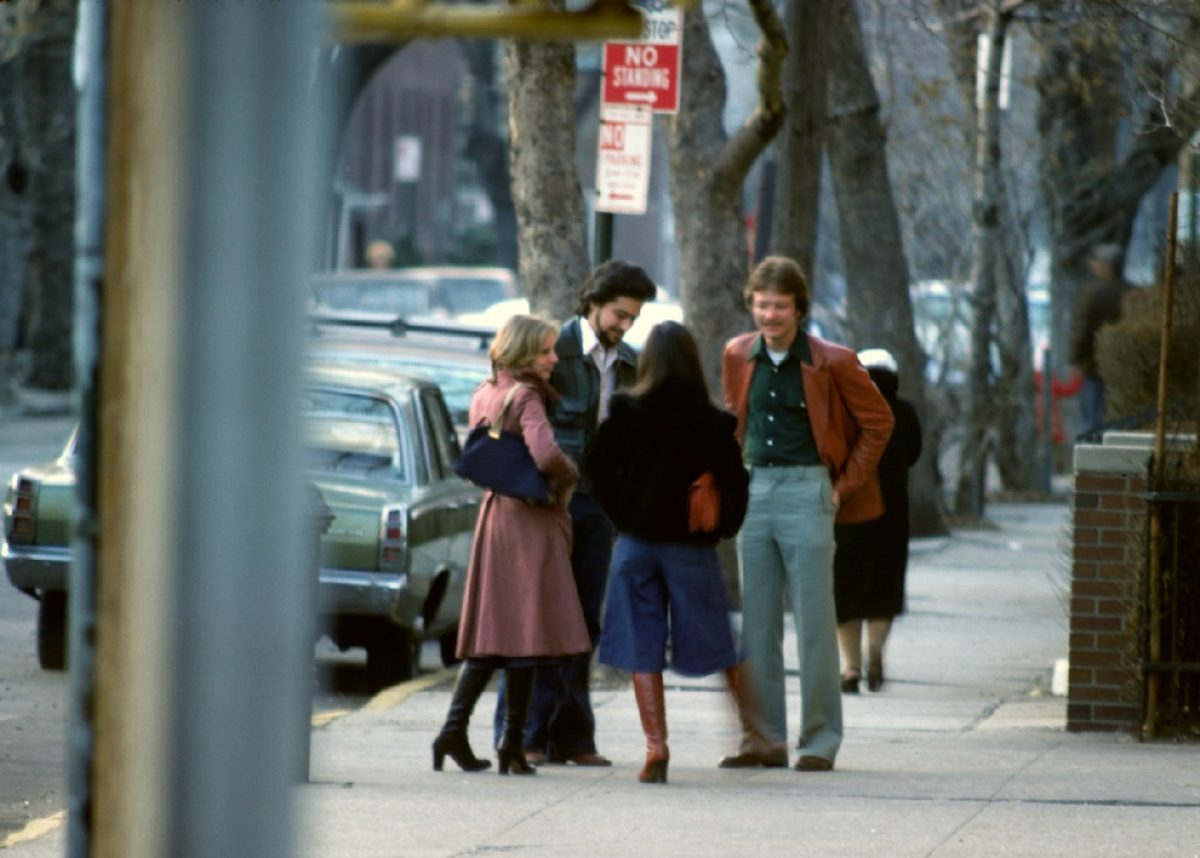 CAPTION: 1976 Style Brooklyn, NYC ,Kodachrome – Minolta SRT-102 w/400mm telephoto lens.
57th St Bus stop across the street from St Frances de Chantal Church in Boro Park on 13th ave. Are these styles dated a bit or what? It looks a bit "ABBA" to me. They looked perfectly normal at the time. How silly will we look to ourselves in 35 years? Uh… I'll be 85: You take it from there. I did my job here. I think it is ISO/ASA 25 speed. See the blurred leg in sunlight and some unsteadiness on my part? I bet I shot it at 1/60th – My 400mm f6.3 threshold: The very heavy lens helps.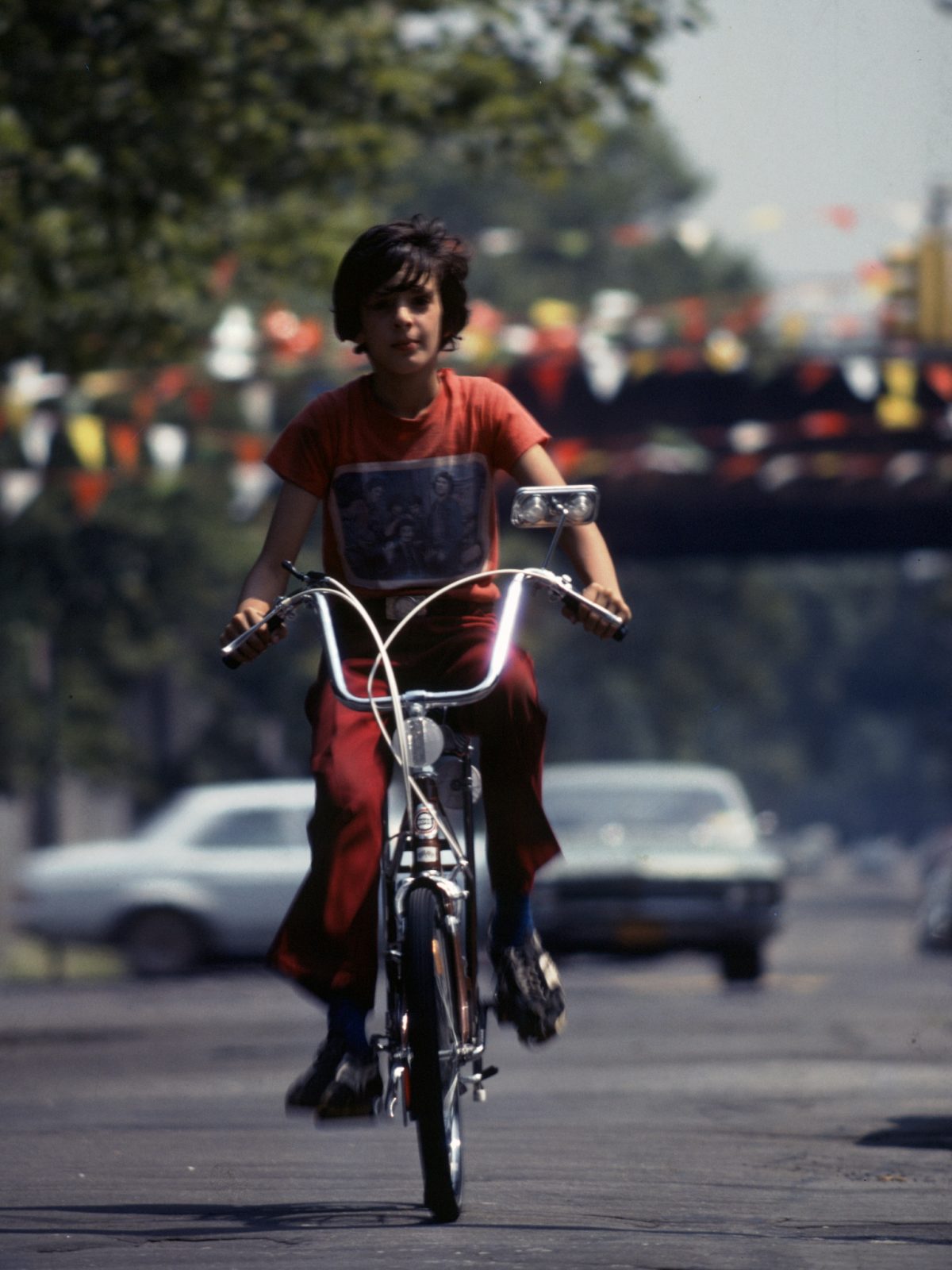 CAPTION: Brother Johnny on another fine example of the classic 70s banana seat bike. Total original 70s. Note cars and the "Welcome Back Kotter" T-Shirt. The streets are blocked off with cars to prepare for the evening's block party festivities. Summer 1976 Minolta SRT-102 400mm pre-set f6.3 lens. Kodachrome Film I like the narrow DOF AND the motion blurring here. I saw this slide projected once onto a screen. It was unnervingly real. Not to be compared to anything digital for at least 20 years out, sorry. I recommend using an ND filter on your camera to simulate the narrow DOF of a slow-speed film such as Kodachrome. Then use a large aperture, a low ISO [ ASA 😉 ] and set the chroma to high.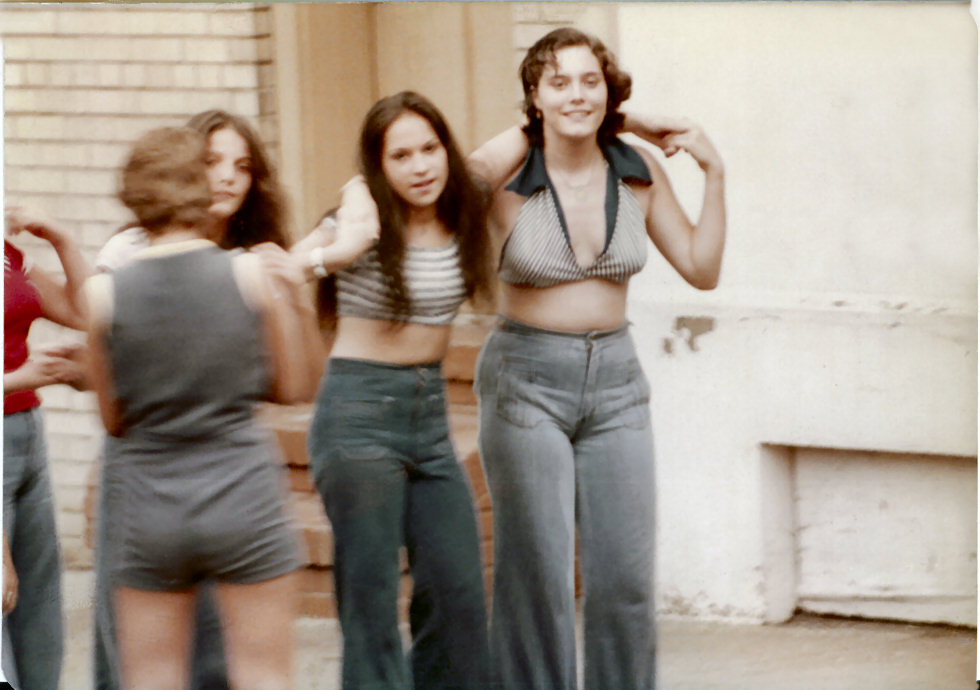 CAPTION: 57th ST Block Party – Dancing The Hustle in Brooklyn 1977. Block Party 57th St Brooklyn – Summer 1977 ** Cousin Noele's face peeking, Christine Sperlazzo doing the hustle with Paula Fischetti in front of Chris' house.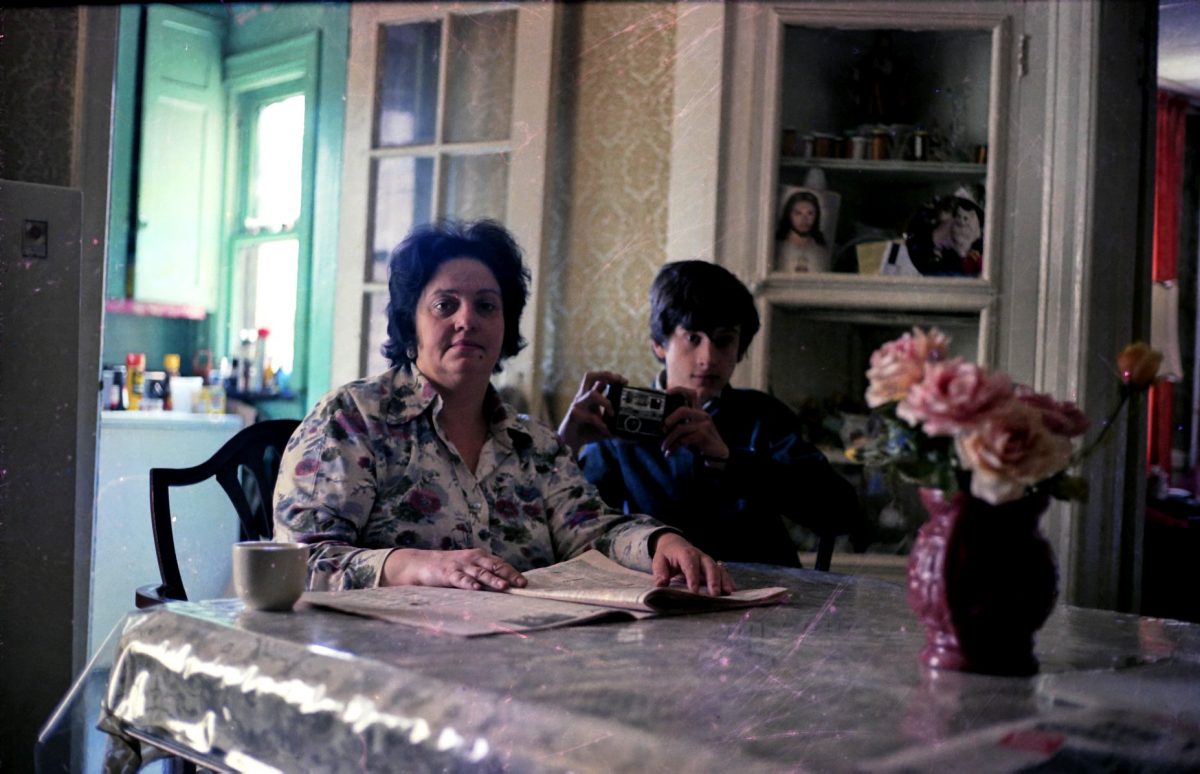 CAPTION: Mom, Anthony & Instamatic Spring of 1975, probably a Saturday otherwise she'd be getting ready for her job as a teacher. From the light it is definitely in the morning: Mom and I [age 15.5 – 53 today!!!] at the dining room table in the old house in Boro Park, Brooklyn. I am using my dad's Yashica Rangefinder mounted on a Bogen tripod a few months before getting my Minolta SRT-102: My very first SLR. The camera I am holding is a Kodak 127 Instamatic camera – a trusty family favorite during the "Age of Aquarius". BTW: My Aunt Rose made that center pottery piece in the 50s. Grandpa used to say his morning prayers facing that picture of the Sacred heart Jesus in the built-in corner cabinet. It feels strange to say that I am now 10 years older now than my Mom is in this picture [43 1/2 here] she is sitting in "grandpa's chair" He is likely asleep or already in the yard. In the summer he would get up and roam around in the yard before anyone opened an eye because he was a farmer long, long ago. 1890s-WW1*1916, but once a farmer always a farmer of course……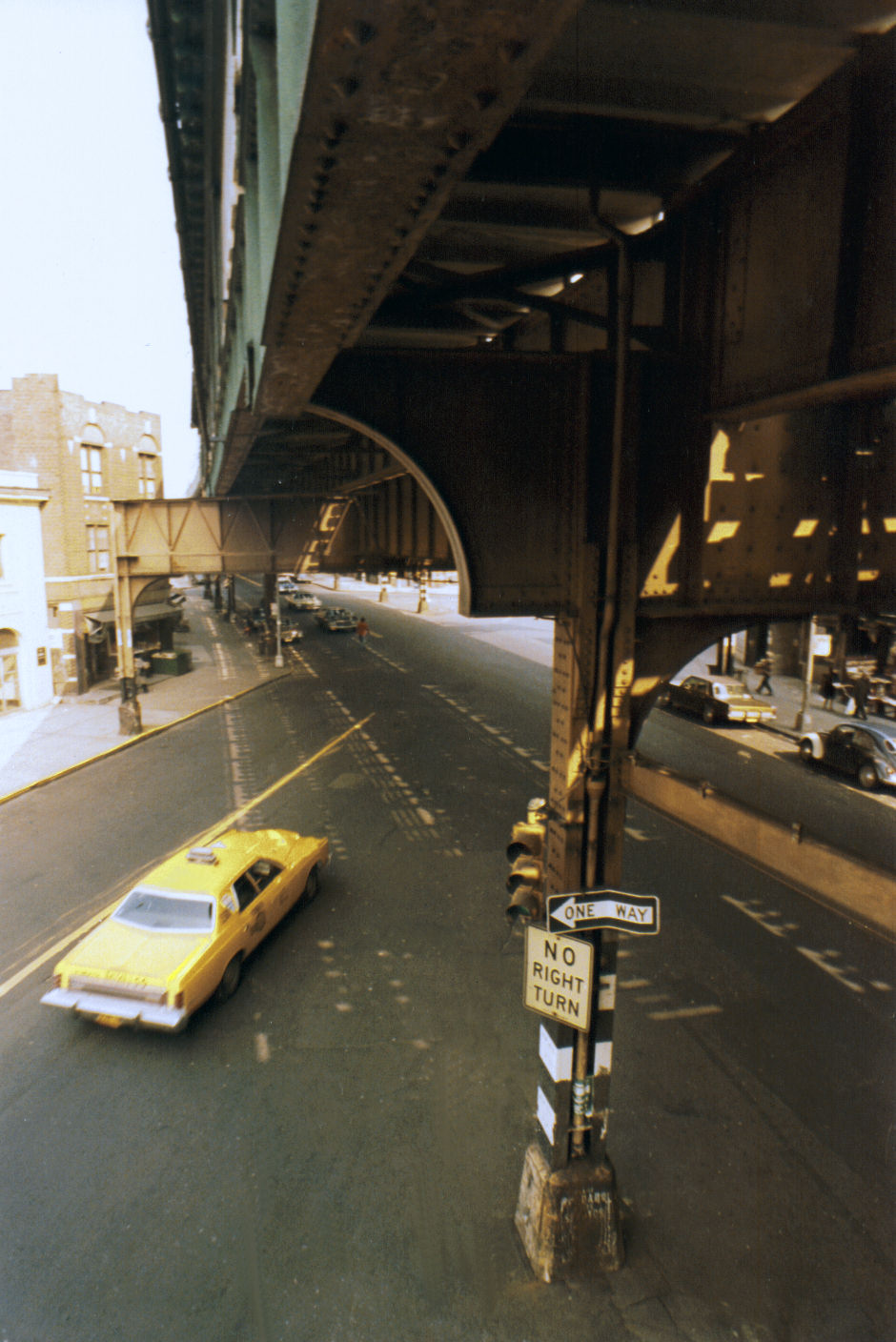 CAPTION: Taxi @ New Utrecht Ave & 55th Station B Train 1977. New Utrecht Avenue at the 55th Street Station Brooklyn in Boro Park. This was "our" station. 1977 70s seventies. Minolta XE-7 w 20mm Vivitar – note rectilinear wide-angle effect.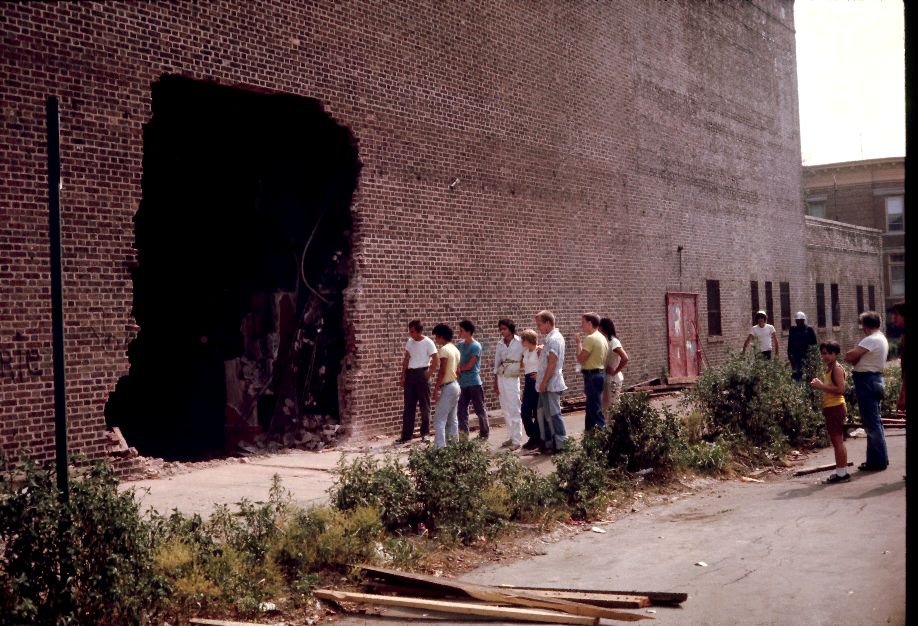 CAPTION: The 1975 Demolition of the Boro Park Theater 1975 – There had been a serious fire. On the other side were a small string of stores. One was a club called The Intermission. The theater at the time was not in operation at all for quite some time. As seen from the 12th ave side. This was a Vaudeville era Theater and was quite a historical loss. The is nothing like it left. I just remembered: I was riding my 10sdp Raleigh Chopper armed with a Yashica Rangefinder 45mm and I was on my way to take photos in Prospect Park. (Obviously aching to get mugged) I took slides of the lake.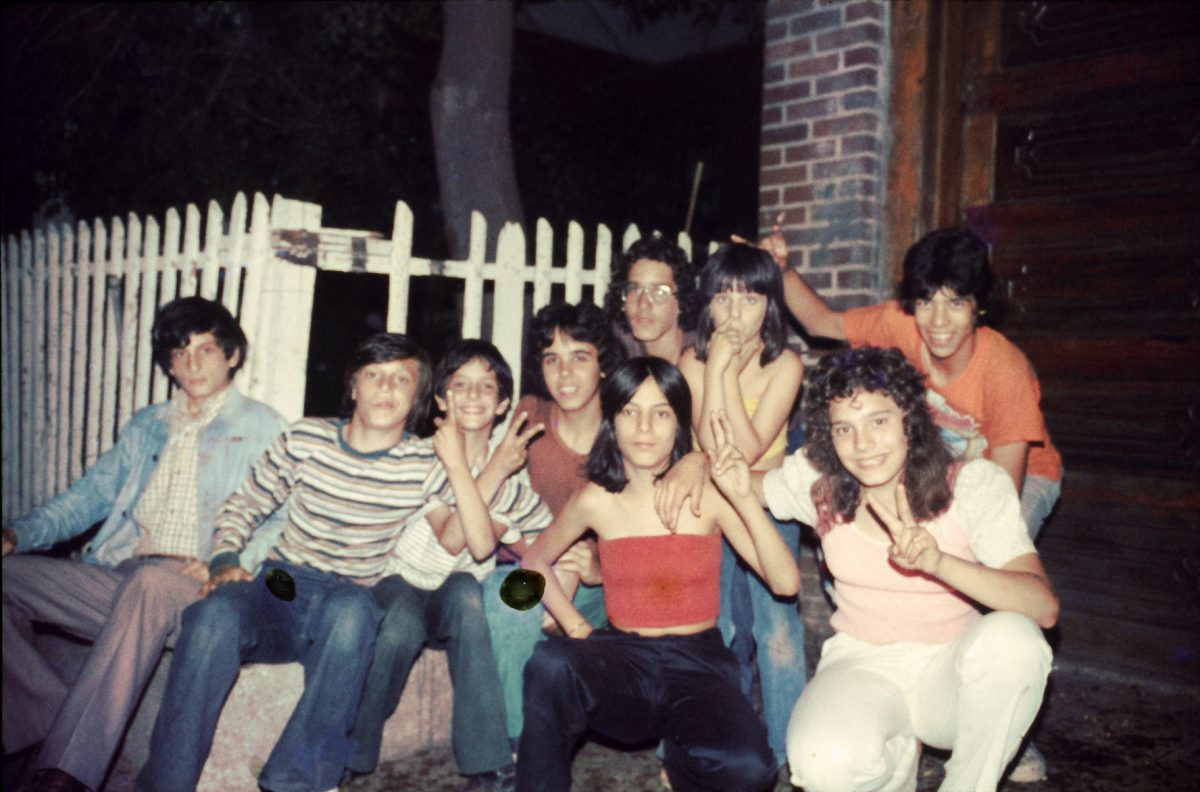 CAPTION: Brooklyn Hangout by The Garage 1975.
The ole' Gang at it again. Let me explain: This is when a camera meant more. People were 'speaking" to the future by acting like a fool. Today they speak to 20 seconds into the future into a swamp of megapixels and 1200 pix on a "roll".
This slide had some water-funga damage. I will digitally repair it and upload/replace this one when i get a chance. Sorry. Oh, and Peace Man.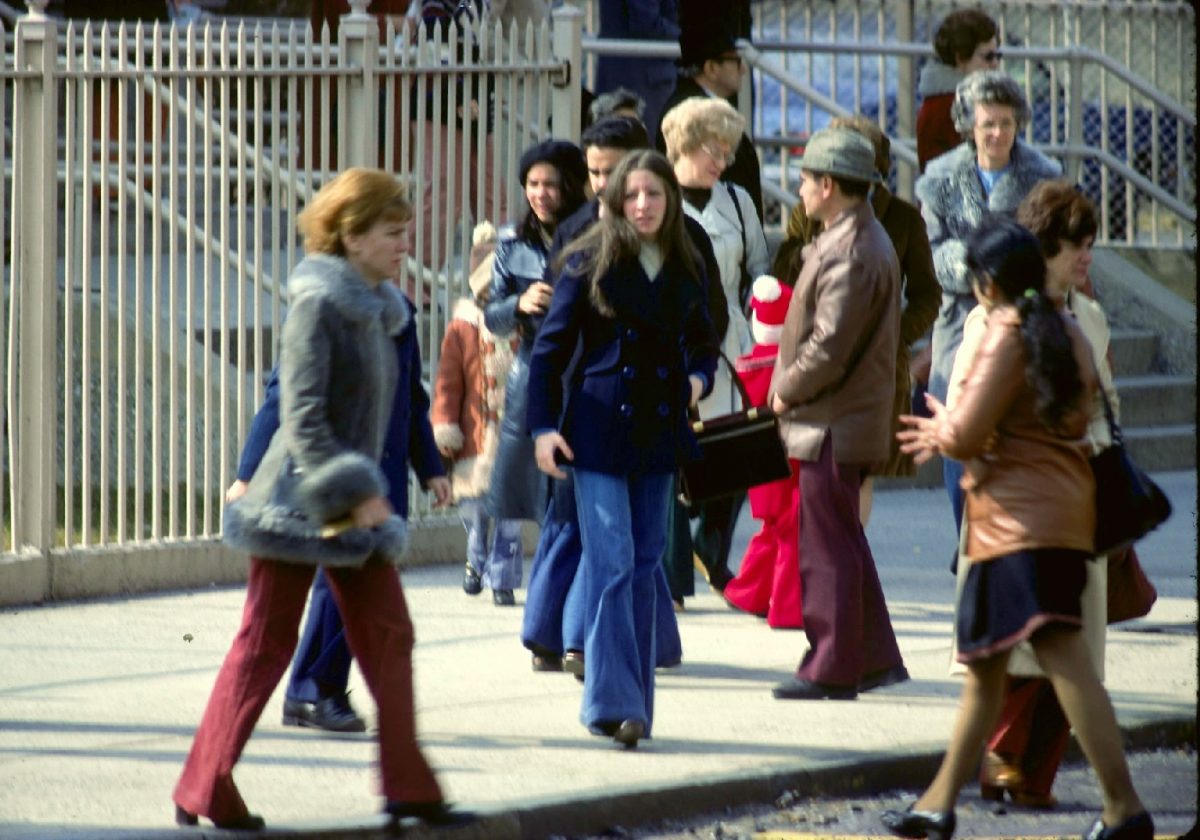 CAPTION: 1976 Style Brooklyn NYC – Kodachrome  -Minolta SRT-102 w/400mm telephoto lens. 57th St the corner of St Frances de Chantal Church in Boro Park on 13th ave. Are these styles dated a bit or what? They looked perfectly normal at the time. How silly will we look to ourselves in 35 years? Uh… I'll be 85: You take it from there. I did my job here. See the blurred leg in sunlight and some unsteadiness on my part? I bet I shot it at 1/60th – My 400mm threshold: The very heavy lens helps. Even when SCANNED, you can tell it's a Kodachrome. Amazing!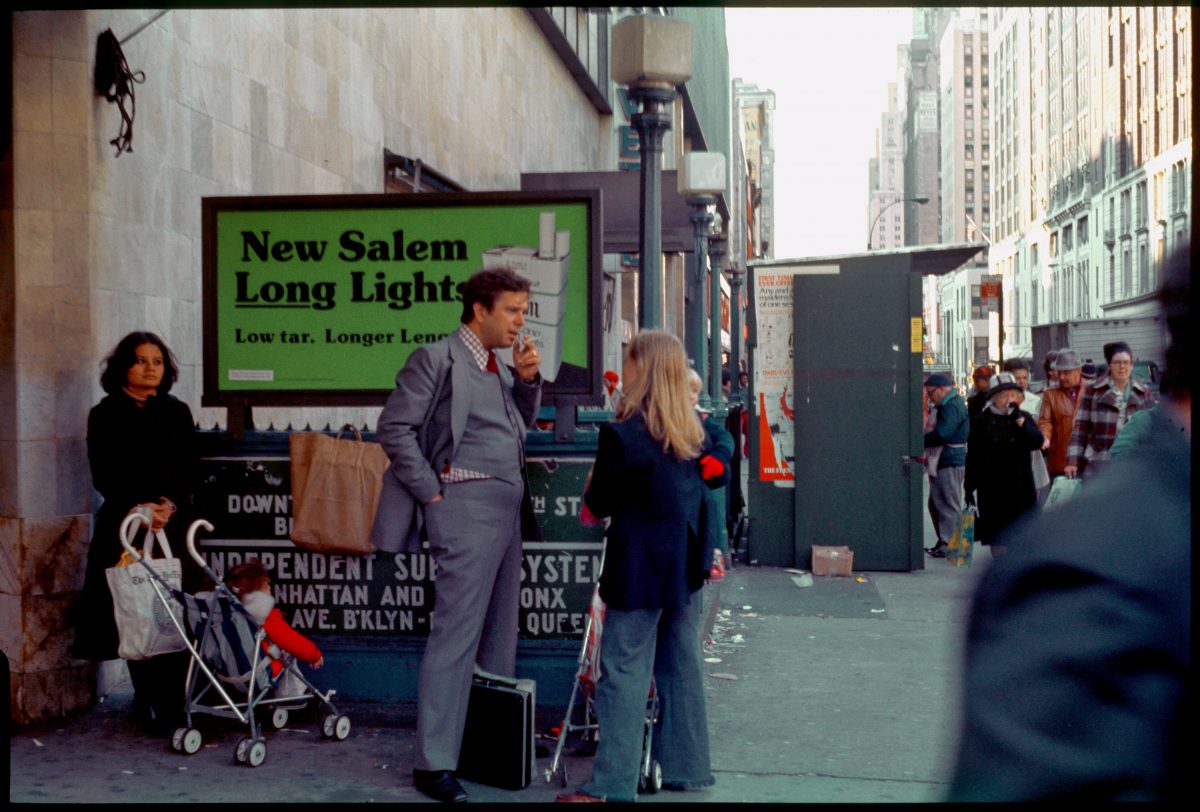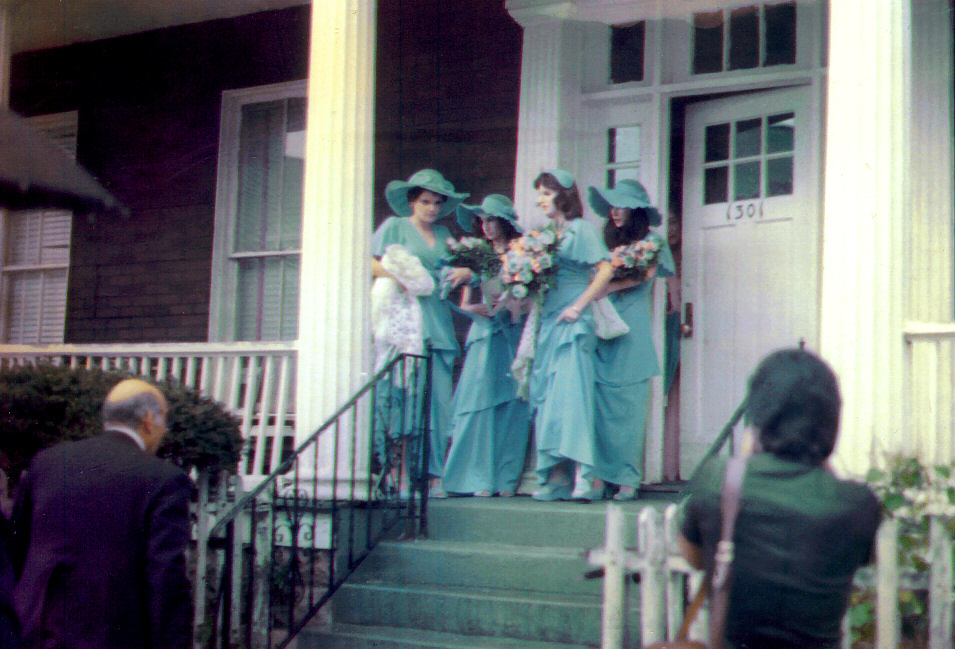 CAPTION: Maryanne Wedding 1301-57st – Brooklyn 1976. Bridal Party for Maryanne Russo emerging from our old house's porch. Maryanne's family lived on our 3rd floor. A Bicentennial Wedding.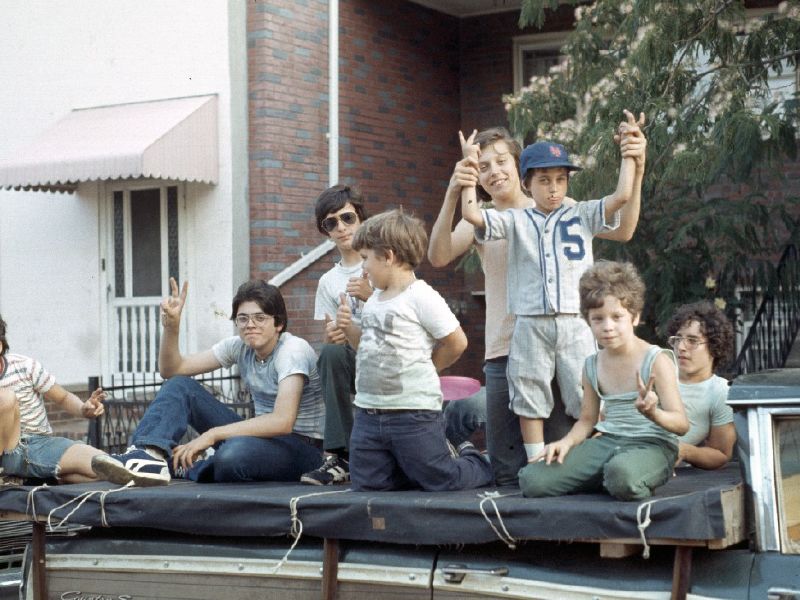 CAPTION: 57th St Bunch hanging out on Freddie's Flatbed Truck 1975 Brooklyn. Nowadays if you sit on someone's car you can get shot because they all crumple in like a cheap, thin canoli. Minolta SRT-102 50mm Kodachrome.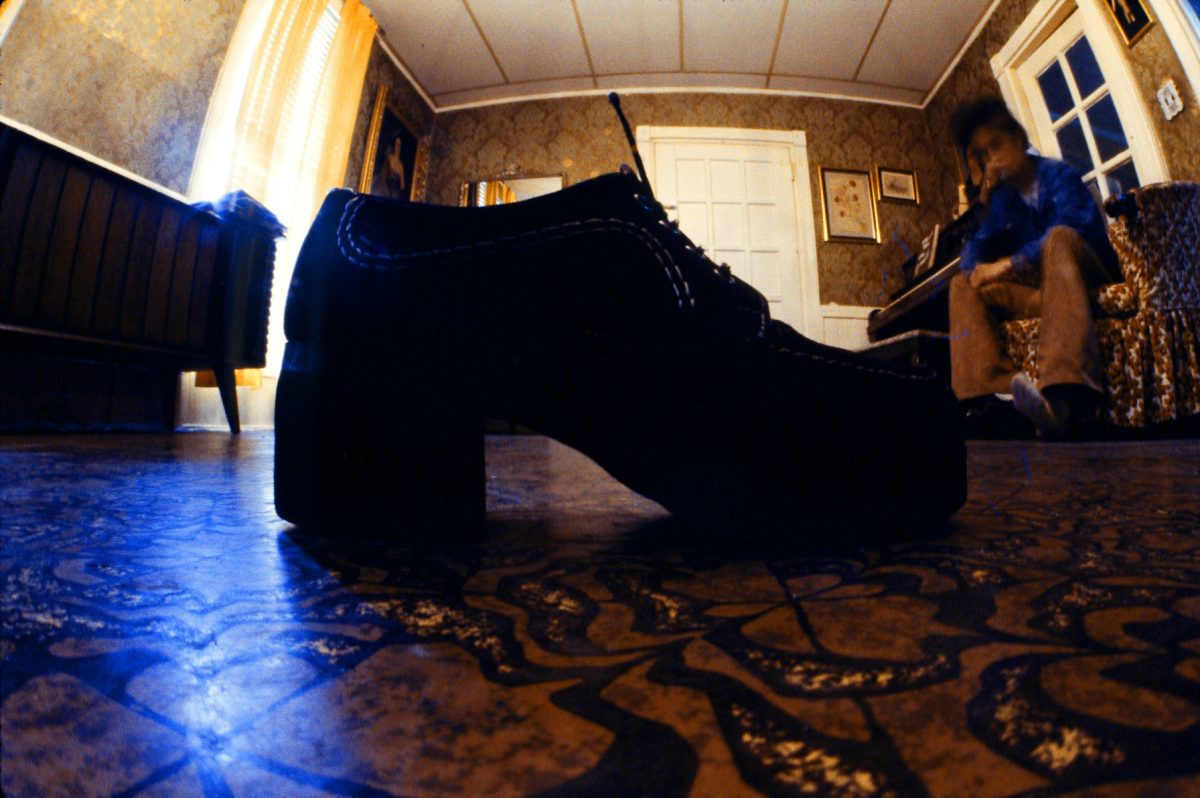 CAPTION: Tony's Platform Shoe 1977 1978 Brooklyn NY.
Confession: My [Tony's] Platform Shoe 1977 1978. Does it get more Brooklyn than this? Sure, I did The Hustle in these only when drunk at a party for a few moments, okay? Guy's bell-bottoms would hide about half the full size of the heel effectively.
I became 5ft 11.5inches from 5-9. Dig that "Age of Aquarius" linoleum with gold sparkles laid down in 1971. On the left is what was called a "Stereo Console or a Hi-Fi" a 1959 Zenith AM/FM Stereo w-AFC!!!/ LP/45/78 Record Player-changer. This cost my Dad $439 new. He bought it in Radio Row where the WTC was.
Minolta XE-7 with a Sigma 16mm f2.8 fisheye lens. Stopped down quite a bit judging from the extreme DOF and my movement. See large size to boogie woogie oogie till you can't boogie woogie oogie no more.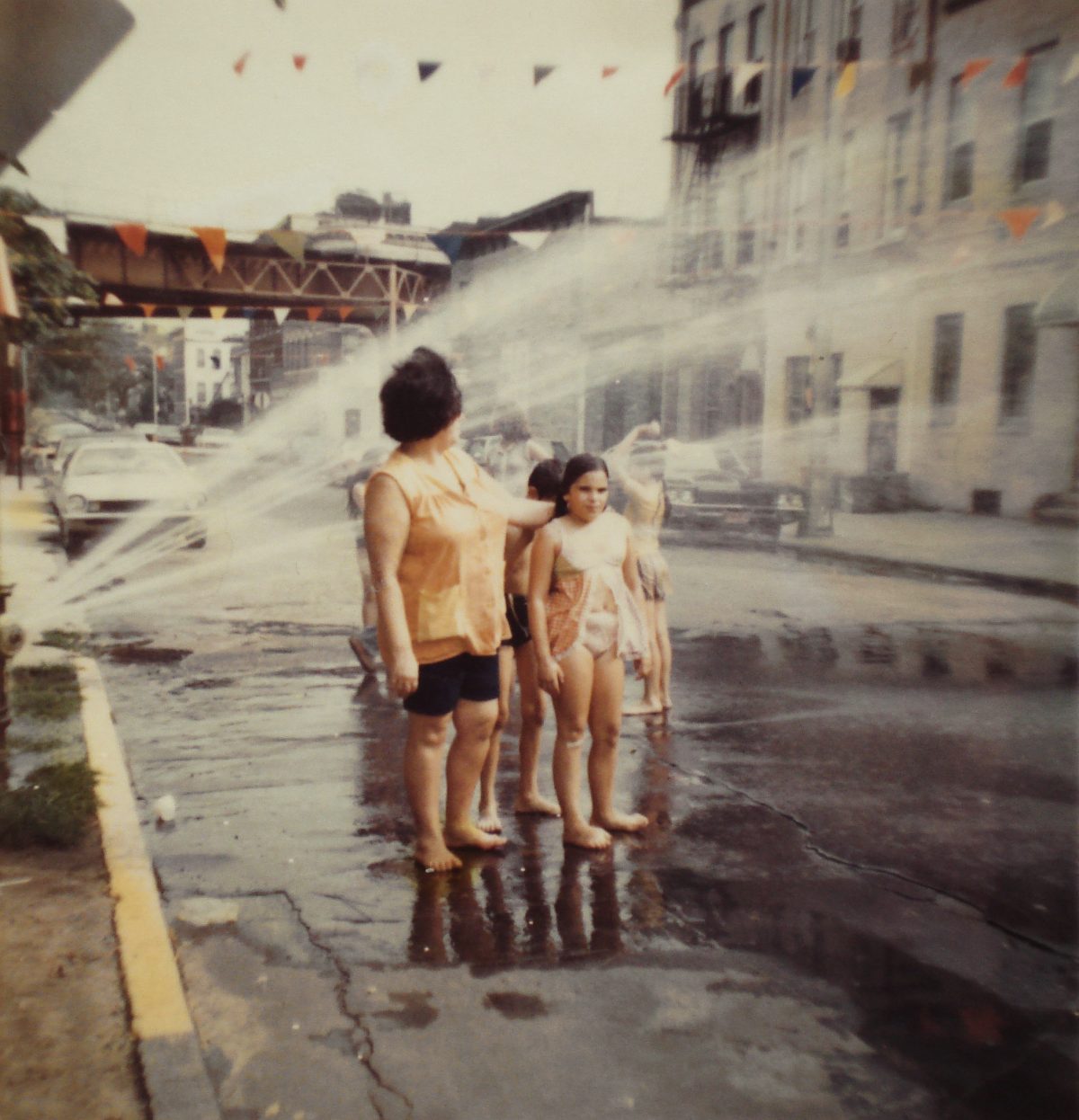 CAPTION: Johnny Pump w/ Sprinkler Cap – Mom & Wanda.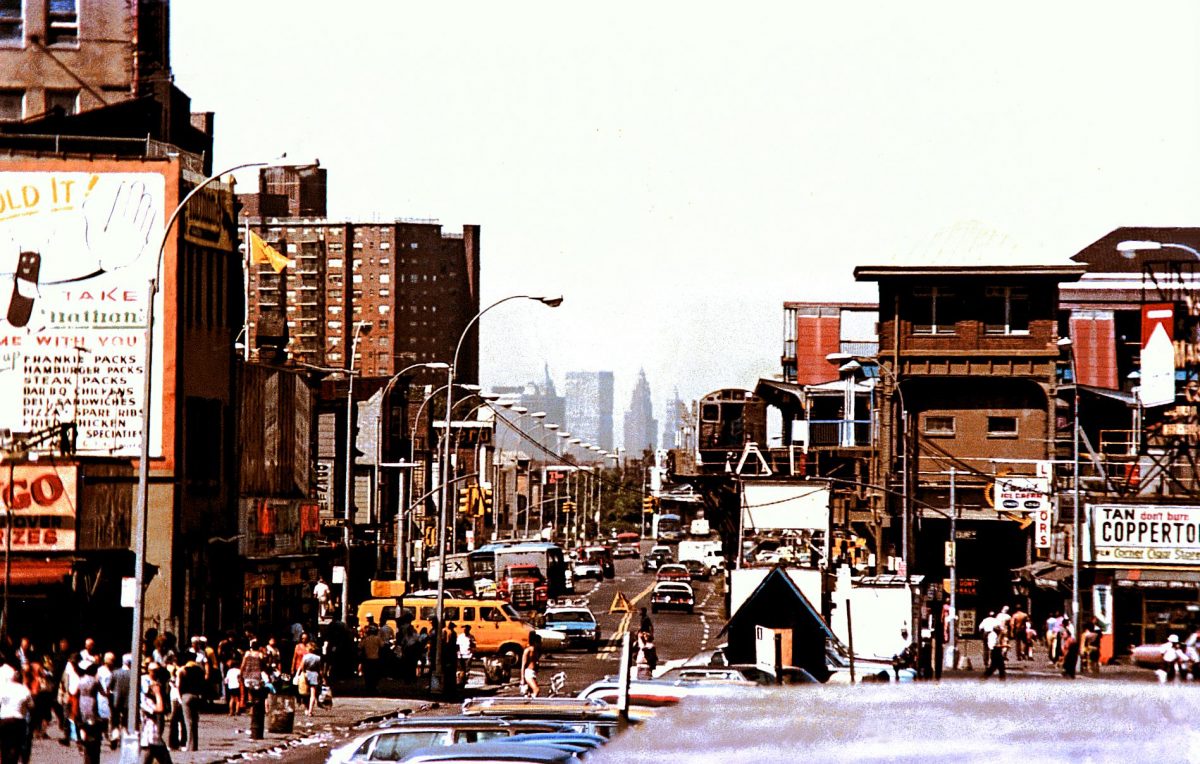 CAPTION: Coney Island :The Last Stop 1976 – 1977 Minolta SRT-102 400mm telephoto.
Coney Island's Stillwell Ave last stop. Minolta SRT-102 400mm f6.3 preset-type lens taken from the Boardwalk 1976. Kodacolor 100 – Station now replaced with ultra-modern but retro-designed one with solar power panels along roof. My pal,, "Howard N2GOT", has the new station uploaded on this site. Darn, I missed the little Girl on the Coppertone Sign with the little Doggie tugging her Bathing bottoms down revealing her tanline. It was there for as long as I can remember. The should have put it back up. It just ain't the same. The humidity had to be pretty low that day to get such low atmospheric degradation within the miles of depth of compression represented here. You are looking at at least 10 miles of depth into lower Midtown Manhattan.
Answer: That is the B train. It no longer stops there. At least 4 to 5 other trains stopped there on other tracks but the F train never stopped at this outer track. Its hard to relate the track layout to the completely new station now in it's place. See 2008 map at: www.mta.nyc.ny.us/nyct/maps/submap.htm
p.s. Kodacolor 100 actually has nice resolution. The negative has micro-scratches but it still holds up nicely at maximum resolution. Using PSP to automatically kill the scratches will also soften it up too much. I have to do it manually, which takes more time than I have right now. Sorry.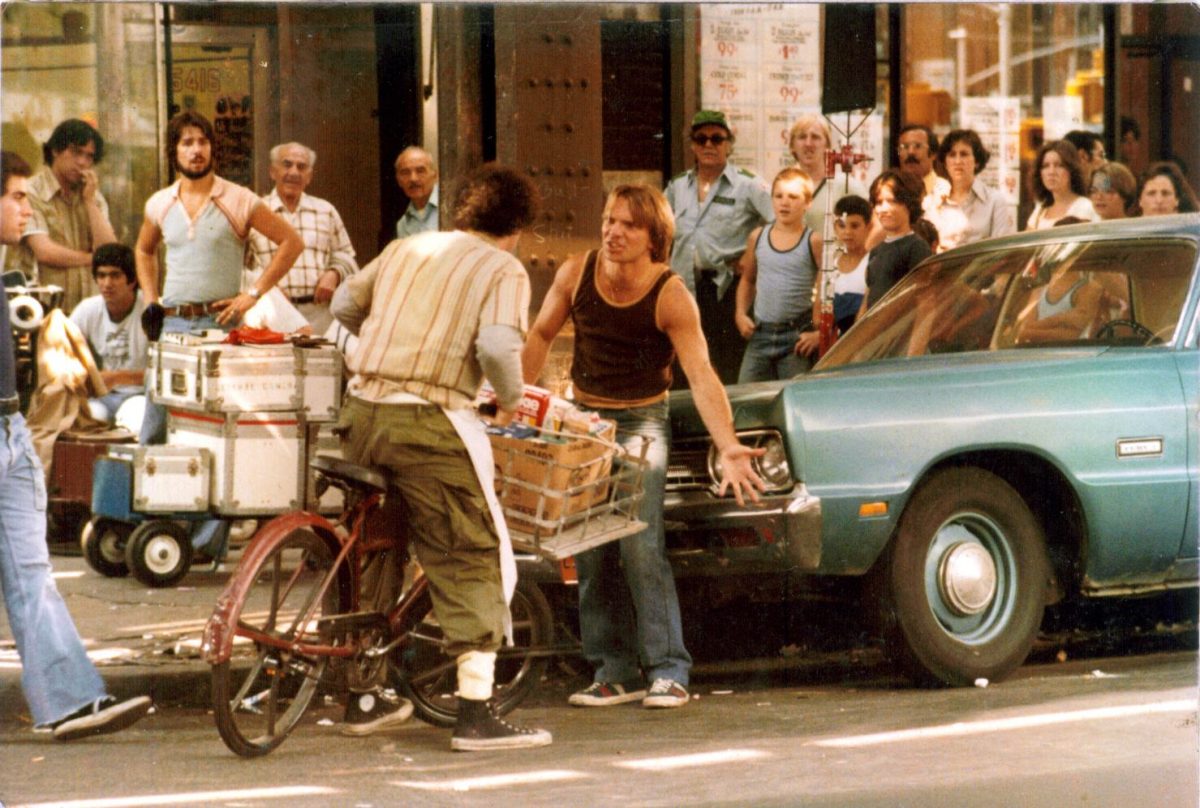 CAPTION: Nunzio The Movie – Filming in Boro Park 55th-54th Street 1978.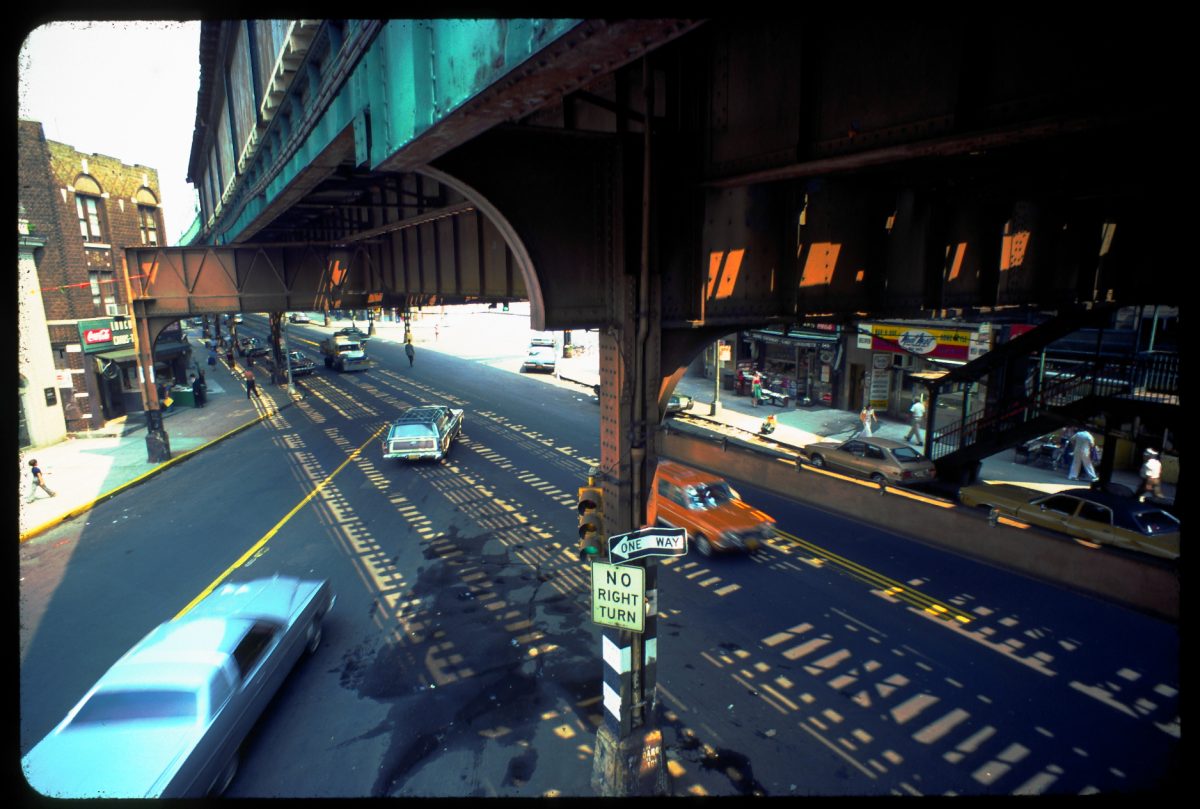 CAPTION: Boro Park Brooklyn 55th St Station Intersection 1976 Kodachrome.
Boro Park Brooklyn 55th St Station Intersection 1976 Kodachrome – 25 Minolta SRT-102 w/ 20mm Vivitar. I did mid-range orange-tweak this one to "pop" the car in the center and the sunlit girder. Did you ever look at a well-projected Kodachrome slide. No? You poor bastards! Your HD TV sucks! I love the gargantuan, unintentionally "stretched" mid 70s "tank" at the corner of the 20mm corner and the "1915 tech" of the girders. I only cropped to just outside of the slide border as it would be projected. Funny how many old style slide mounts had rounded borders. It does soften it up and imparts a "portal effect" view to the vista presented, no? A nearby MTA line, called the culver line, was demolished in 1975. The removal of an EL is the most obscene thing that can ever be done to a street [[short of trenching it out via the fiat of Eminent Domain to make a bridge approach. (happened where I live now – in 60-63 to approach the Verazanno Br)]] It renders the street unrecognizable as all the lightplay is gone and there is no quarter from the Sun along a venue where you had once chosen walk: Under a cooling, comforting, stippled umbra. See the Culver line as Italian men once played Baci. Such serendipitously perfect design as to make one cry at the ingenuity in the taking advantage of the perfect storm of it's shade, tiny window of disuse and dimension: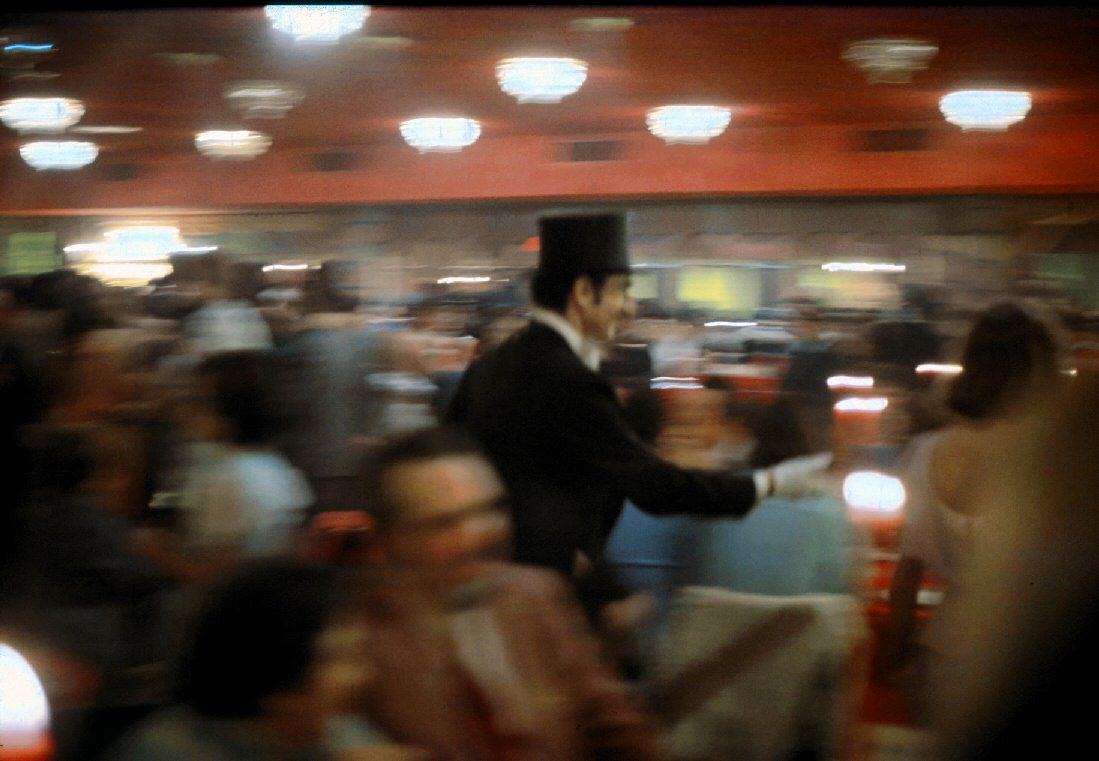 CAPTION: Joe Genco Tophat 1977 pan shot.
Joe Genco Tophat 1977 pan shot using Outdoor Kodachrome had to be heavily color-corrected. No correction filter was used. Victor & Mela's wedding. The very slow speed of the Kodachrome film made it possible to pan through the shot. I was looking for this. His kids and relatives seem to enjoy and are greatly amused by the shot. One reason is that I am sure to push up daisies before I ever see Joe in a tophat again! Note to family: that is Norma & Sonny in the foreground!! Remember them?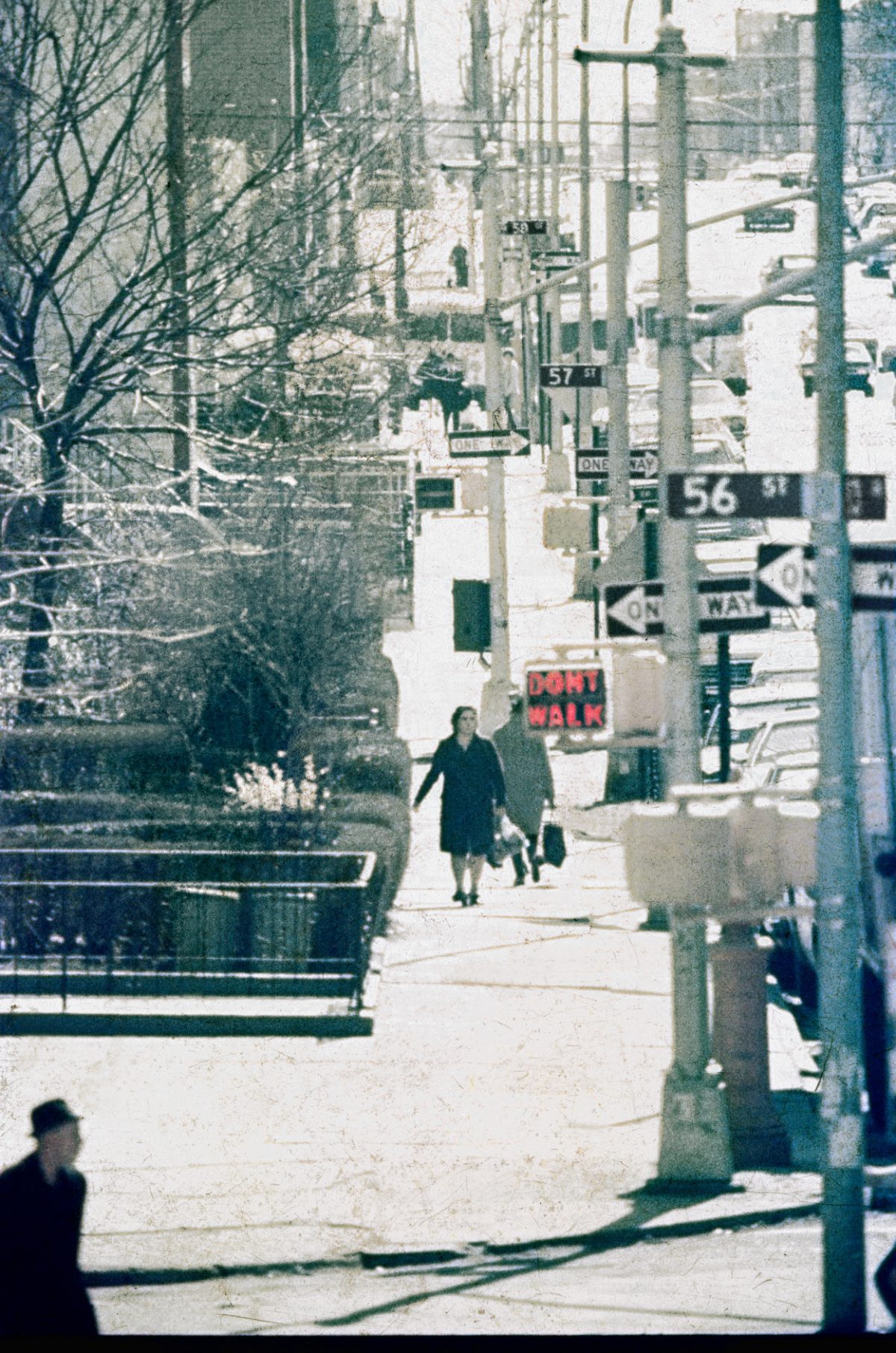 CAPTION: 1975 Brooklyn – Boro Park – 56, 57, 58st & 13th Ave 400mm Lens GAF 200ASA
Brooklyn Boro Park 1975 Minolta SRT-102 400mm Preset lens GAF 500 Anscochrome slide film Scanned Konica-Minolta Dimage 5000II Taken from the booth level outdoor platform of the 55th street station. 400m foreshortening very obvious here. Spent 2 hours restoring. Removing at least 800-100 clone-removed dust speck and scratched. I made all the signs almost gray and enhanced them. The people's faces were marred. The yard had a yellow stain. Photoshop lessons by the thumbscrew method. Aaagh!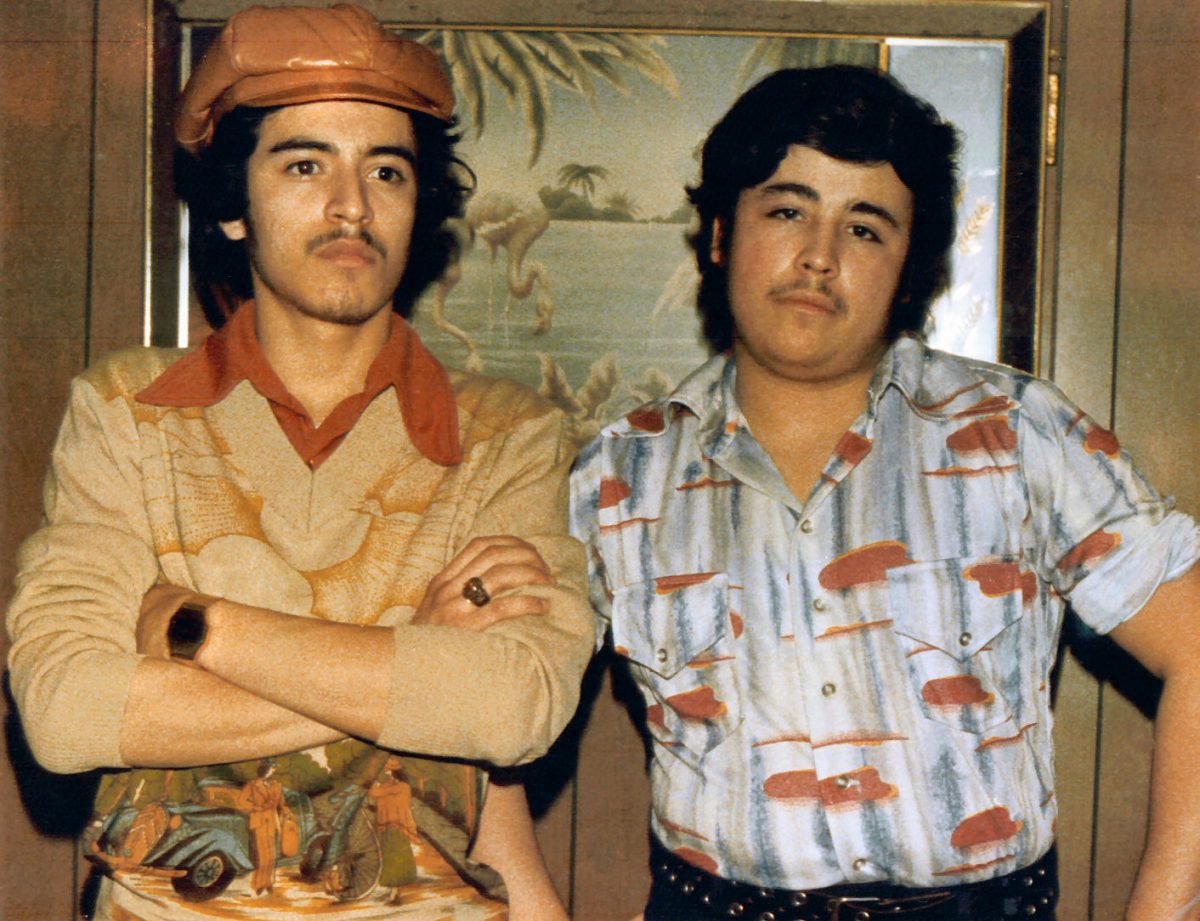 CAPTION: Nelson Calix & Cousin Pompillio with cool hat 1977.
Nelson was my pal in FDR HS. We were in Graphic Arts Printing shop all 4 years. We were part of the school photographer team. Pompillio is his cousin. The had a band named "Lempira" All of their family was from Honduras. Nelson and I would go to KISS, Black Sabbath, RUSH and Led Zeppelin concerts along with his brother Milton. When Nelson often visited me when my father happen to be there, they both spoke Spanish. I do not speak Spanish. [My father lived in Argentina for 15 years] I just found Nelson's brother Milton on facebook! I have not seen them since 1983! This was taken in Nelson's family home on 41st St & New Utrecht Ave in Boro Park in 1977 0r 1978. Minolta XE-7 c-41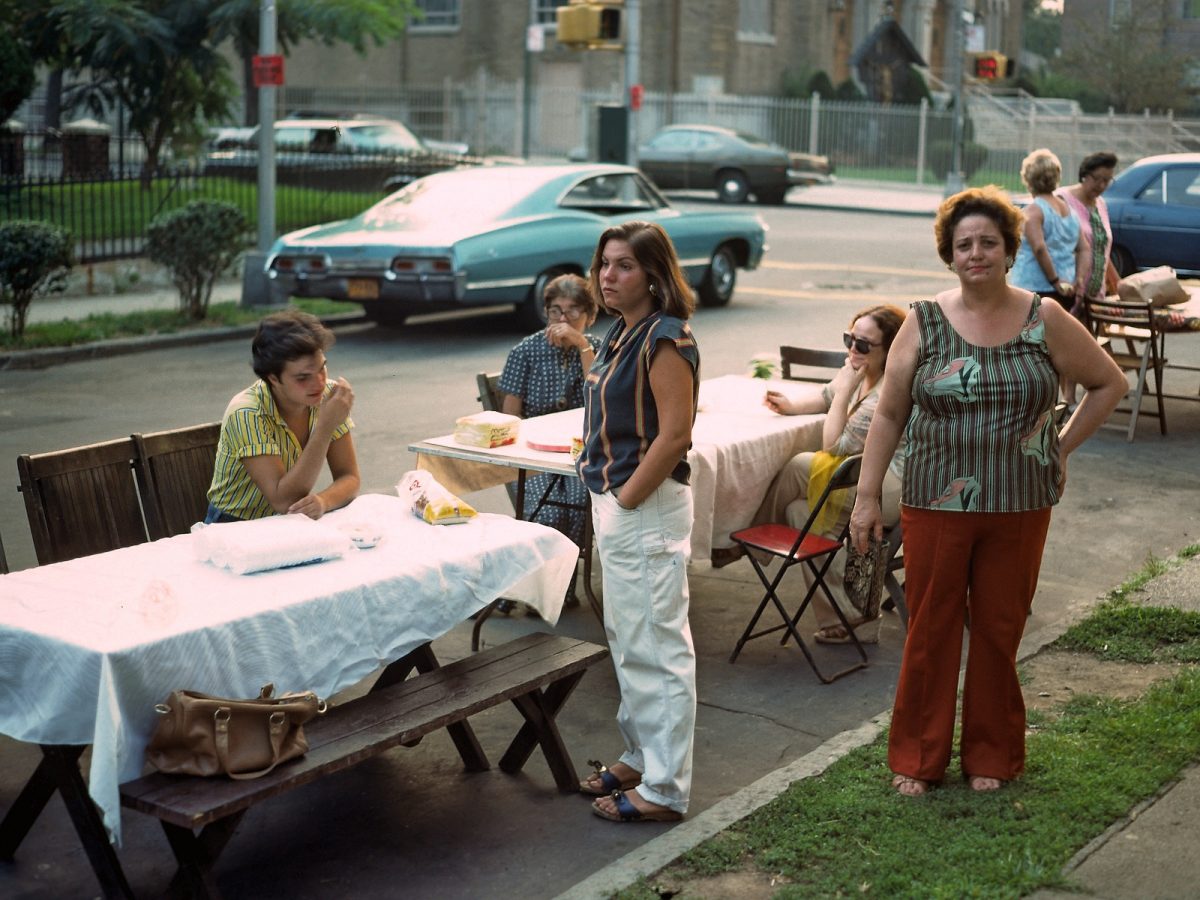 CAPTION: Brooklyn Block Party Setting up in 1977 – In Kodachrome 64.
Peter, Vicky Rose [seated] & Mom. Evelyn, our attic tenant is in the background with glasses. ** I am now 7 years older than my mother in this photo. THAT is a very strange realization: To have thought of her as an old lady at the time. She is soooo young here! Mom passed away at the age of 84 in 2014. I am 54, thirty years younger. Life goes by fast.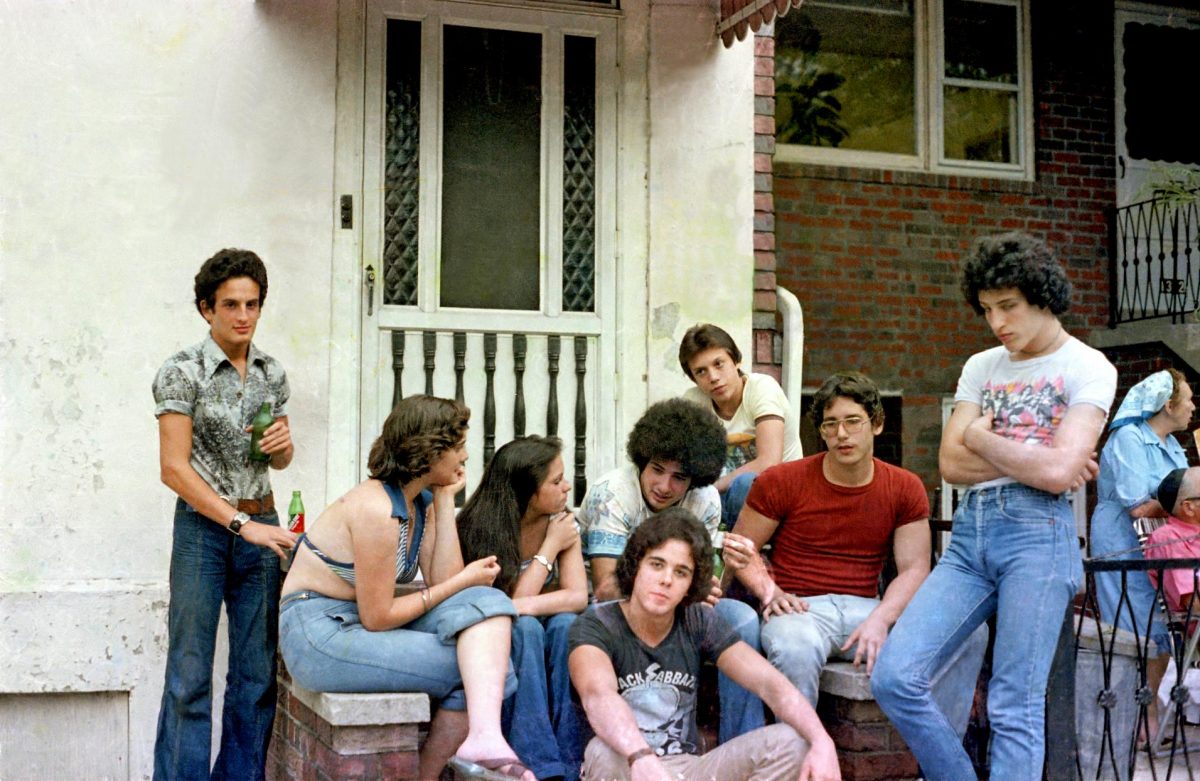 CAPTION: Boro Park Brooklyn 1977 – Stoop 57st.
Minolta XE-7 50mm Kodacolor 100 on Bogen tripod.
Note my teen pals (long ago) wearing the Black Sabbath (Chris) and the KISS (Dom) T-Shirts. Oh and me with the Hynie – It was a Saturday and we were having a block party. I don't think it was this weekend but just a tad of advise: Don't keep replenishing your Bud can with Southern Comfort. They told me that I was eating fried chicken along with the aluminum foil it was wrapped in.
Ah, the 70s. The Jewish people at the extreme right, Joe and Ester had The Number tattoos on their arms. I think the numbers were from Treblinka (if I remember correctly). They were among the 00.7% survivors of that camp. You don't see people like this anymore as a reminder in daily life. The guy with the afro, Rob DeRosa I found again about 2 yrs ago. He is a ham radio guy. Chris used to be one. (passed away 18 yrs ago) All graduated from SFdC except Rob & Dom from B'hurst. Chris Cavalieri and I are from the class of '73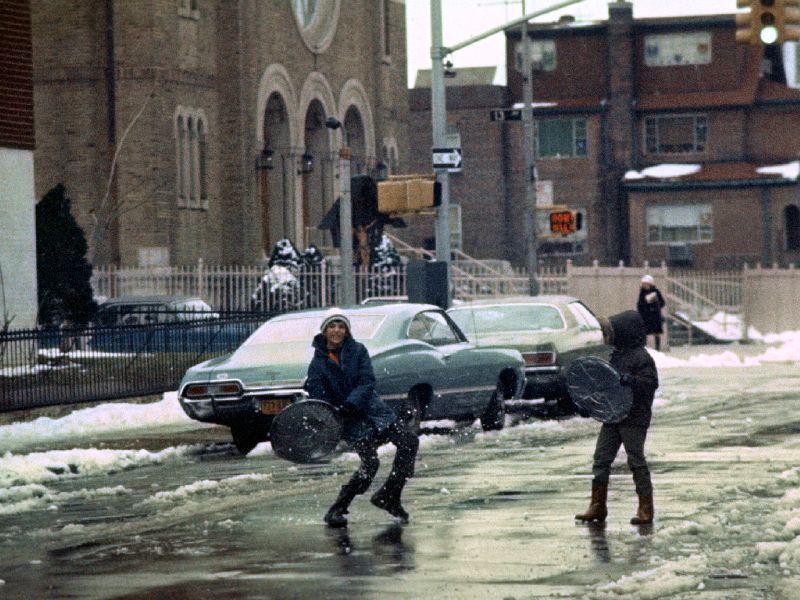 CAPTION: Snowball fight with garbage cover shields. John and Edgar vs The unknown! A to-the-death ICE-ball fight requiring the adept usage of galvanized garbage can covers. Today's plastic, when cold, hit by an iceball would shatter. these are the real McCoy. Minolta SRT-102 135mm GAF 500 Asncochrome Slide Film home-processed. Boro Park, Brooklyn 1976.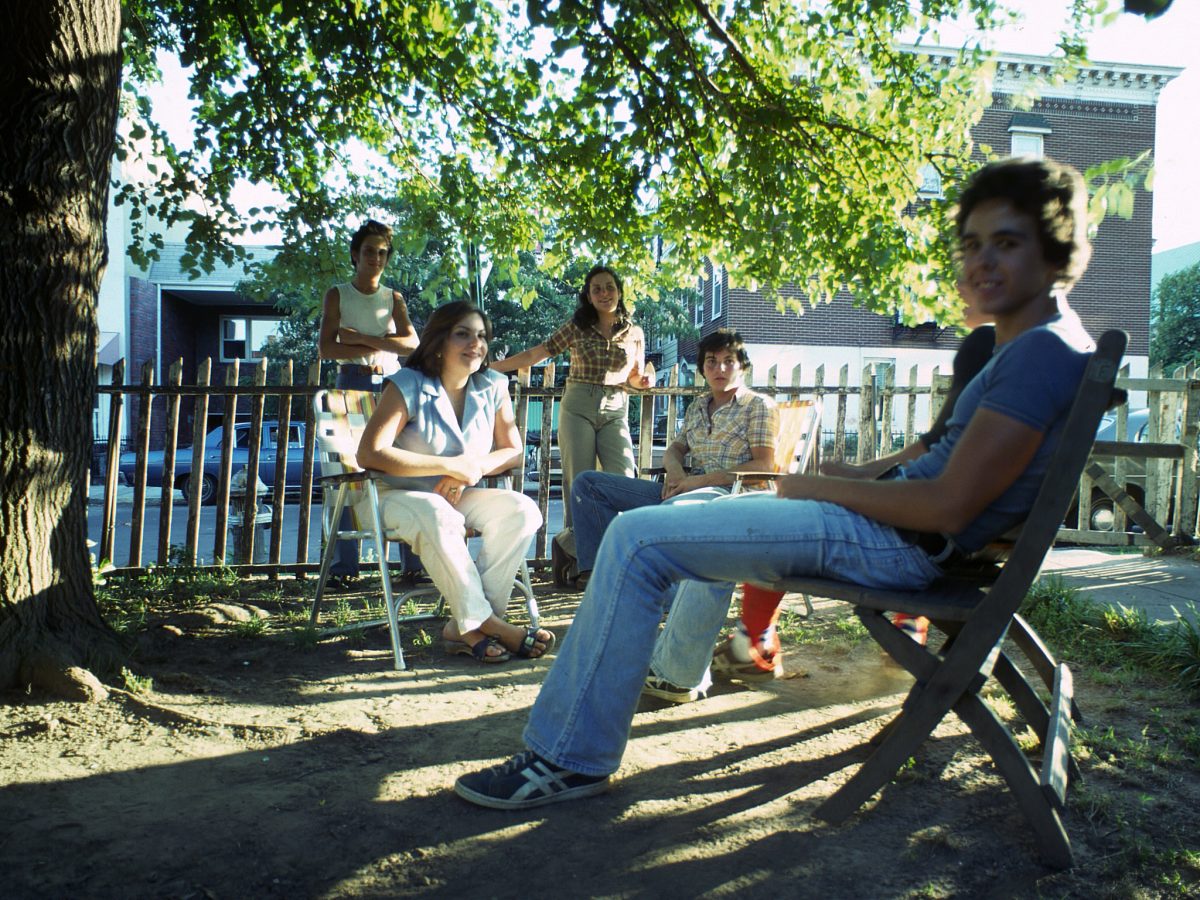 CAPTION: Hanging out, relaxing in my back yard in Brooklyn 1977. L-R:
Me, [Vicky, Letty, Peter – my cousins], Chris with maybe randy hidden from view. Sunny afternoon on a late afternoon weekend under our berry tree.. Nowaday people hang out like this during block parties – for those of you who even know what that is. Kodacolor Slide. Minolta XE-7 with a 20mm Vivitar wide-angle lens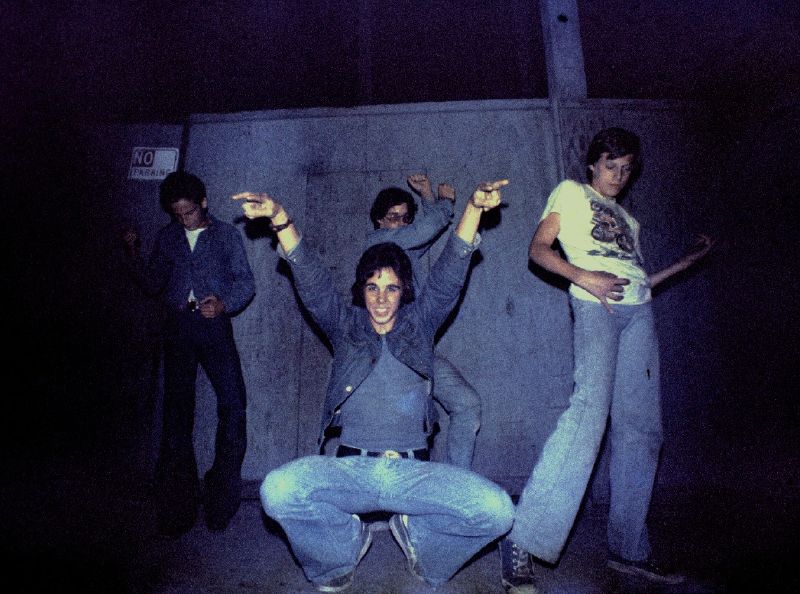 CAPTION: 1976 Brooklyn Air Band – Hanging Out & Clowning around Brooklyn style *** Tony [me on Bass] Chris [vocals?], Randy [on drums], Marty [lead G] Fall of 1976 Minolta SRT-102 w/35mm & Sunpak 500 flash unit <<< correction a tiny crappy flash unit with lousy coverage. my Sunpack, which I still have working, would have blitzed the vista. GAF 500 Anscochrome Slide home-developed.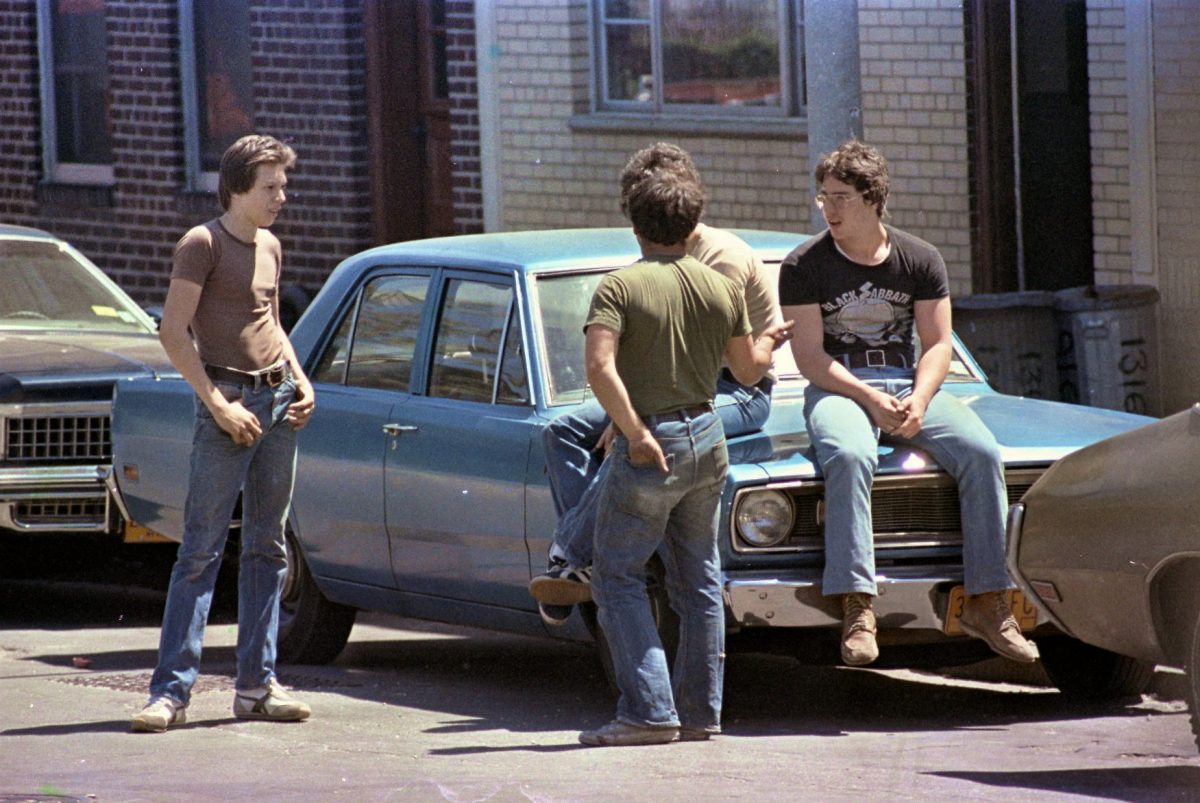 CAPTION: Boro Park Brooklyn – Just Hangin' Out 1978.
Cousins Marty Fischetti & Randy Randazzo [Black Sabbath], my pals in the fall of 1978. Hanging out across the street a bit down from my house on 57th st between New Utrecht and 13th ave in Boro Park, Brooklyn NY. The guys you can't see are likely Chris Cavelieri [on car's side] and Anthony Esposito [green T-shirt visiting from S.I.]. I like the way Tony has one hand in his back pocket and is gesturing with the other one. Now that's Italian! They are sitting on Randy's Dad's car. See large size and you will feel like hanging out with them man. I gotta give Randy a call. He is in NJ with 2 boys in their early teens now. How time flies! Marty and Chris are both gone. I can't get into it, it's just too sad. Also as somebody pointed out to me: Those days it was no big deal to sit on lean on someone's car. It just feels like a Sunday afternoon in the fall – Don't ask how I know. I just do. p.s I'm calling from 2009 to 1978 and I want your Sabbath T-Shirt Rand'. Minolta XE-7 – 135mm C41 Negative Film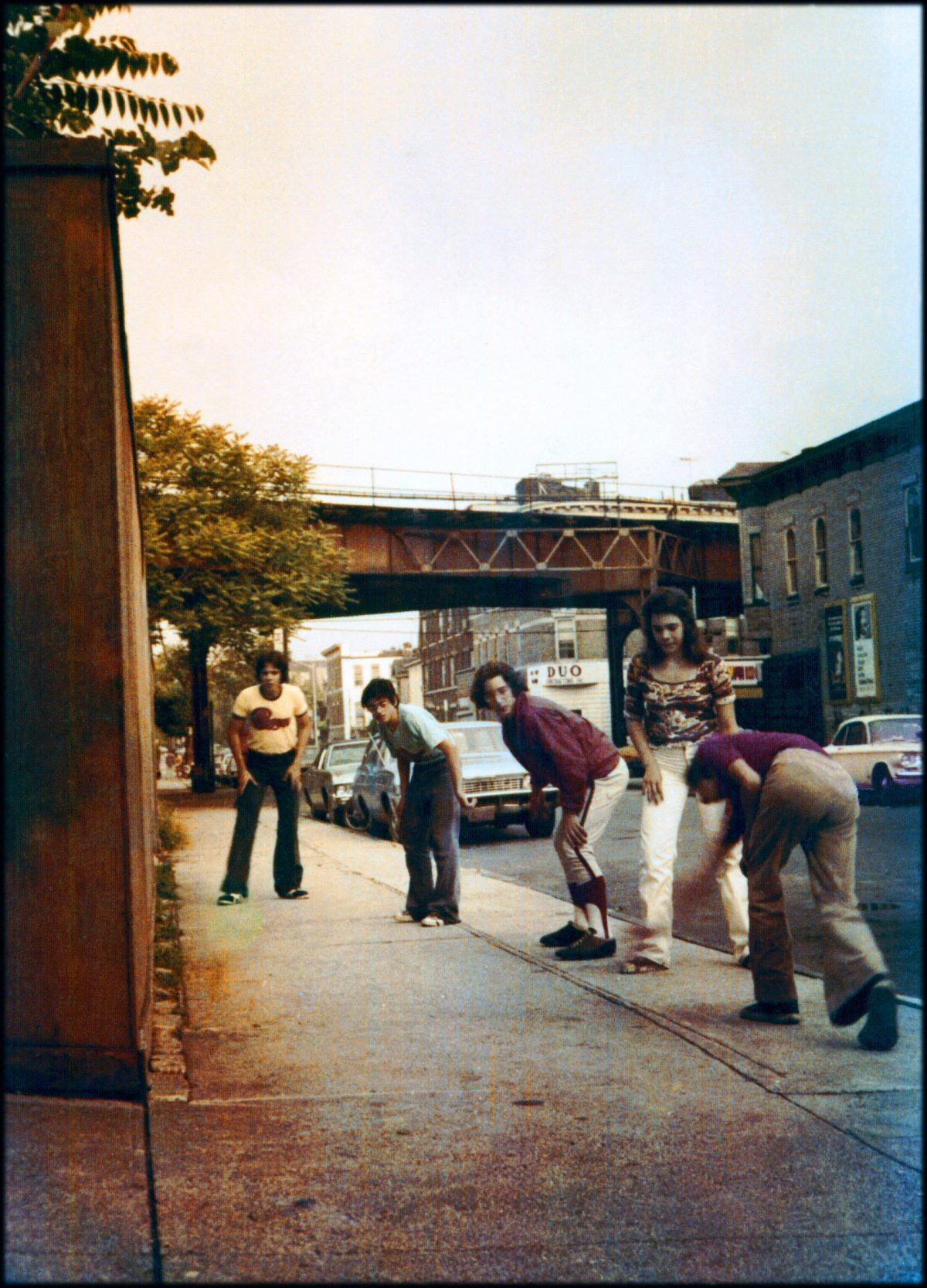 CAPTION: Playing Kings 1975 – Brooklyn Street & sidewalk games – play using a Spaldeen ball. Chris [in yellow Chicago shirt], Steven, Randy [in his Gill Hodges League uniform], Paula & her brother Marty. Like it was yesterday, yet so long ago at the same time. This was scanned from a bad color test print. It took hours to "revive it" with discolorations, gouges and shifts that would make you cry. It did it to me.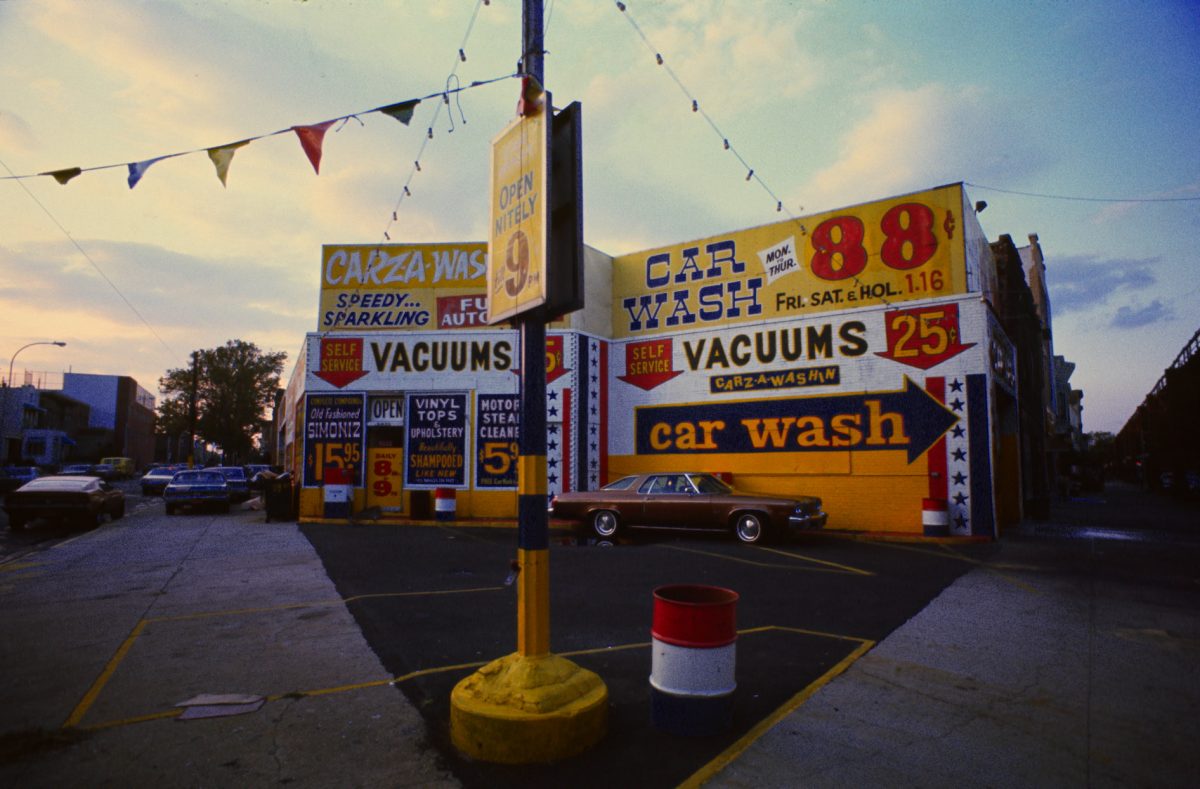 CAPTION: Brooklyn Boro Park Carza Washin, Car Wash. 1978 Brooklyn, NY – Neighborhood of Boro Park New Utrecht Ave & 59st – "Carza Washin" 30+ long gone. 88c Mon to Thurs. $1.16 other times !!! *** Minolta XE-7 w/ 20mm f2.8 Vivitar & Tripod likely very slow shutter speed @ dusk using Kodachrome 64 Fast forward: Slide Ironically scanned in 2010 by a Minolta-Konica Dimage 500. Somehow, it still looks like a Kodachrome….I could never figure out totally why. The building is still there, but it is something else with trucks in front of it.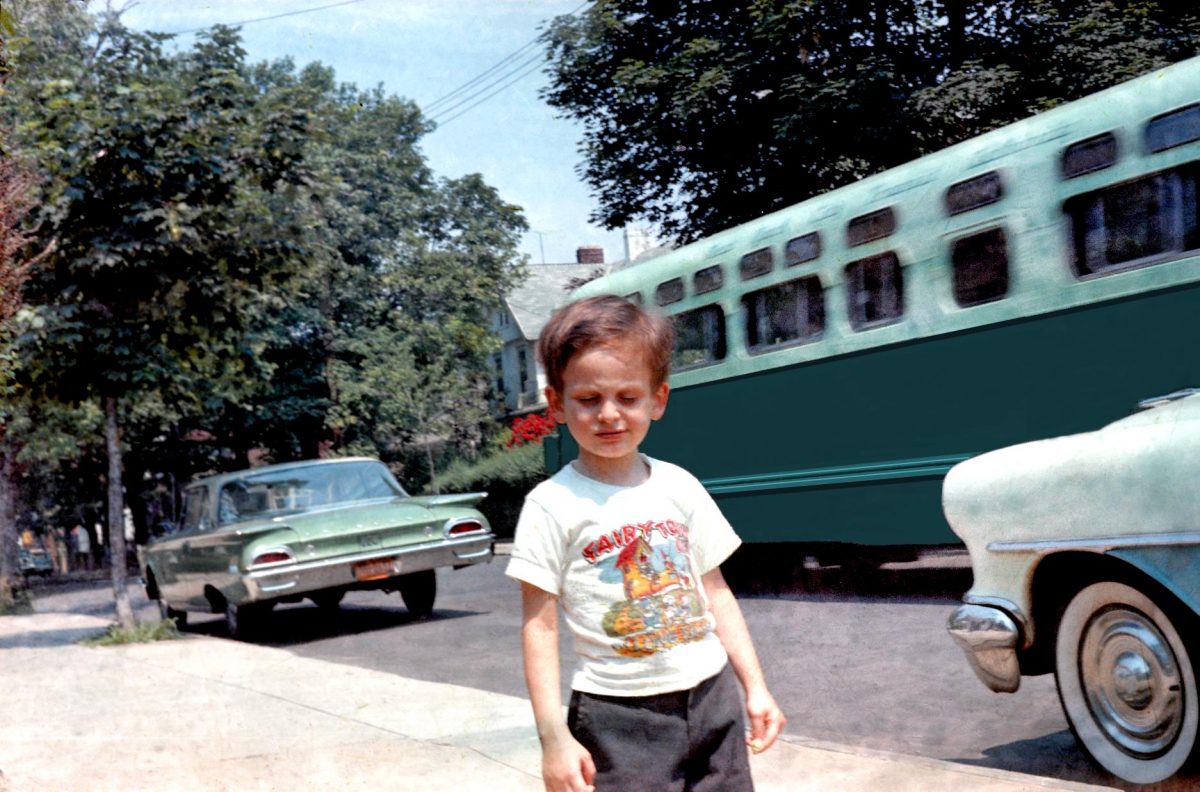 CAPTION: ME!! Anthony in 1963 Boro Park Brooklyn. I love old color photos but not so much my "Fairy Town" T-Shirt. (A magical place I'm sure.) That's The B-16 bus: Ralph Kramden style. (I painted it rather that fixing about 500 scratches – sue me – there were NO ads BTW.) My dad used his new Zeiss Ikon 35mm SLR that he bought from Olden's in NYC in 1960. PS: Fairytown was a small little area for kiddie rides in Coney Island. I think it was just a title given to an area in one of the few major parks left in the early 60s. So the could sell t-shirts and have the kids scream for a place to go to.
Lead image: "Bicycle 10 speed & Bell Bottoms Brooklyn Block Party 1976 Kodachrome. My Bikes 10sp at one of our block parties in 1976. How those flare bell bottoms didn't get caught is a mystery to me."