WITH the renovated Maracanã stadium reduced to well under half its previous capacity, and finally ruled safe for England's match against Brazil – and with the record standing at 11 wins for Brazil, four for England, and nine draws – we look back at ten of the most interesting encounters…
1956: England 4-2 Brazil
Hungary may have thrashed England 6-3 and 7-1 a few years earlier, and England may have been unceremoniously dumped out of the 1954 World cup by the USA, but as far as most people were concerned, the Empire Stadium at Wembley was still the home of football.
This was Stanley Matthews's day, and his domination of the legendary full-back Nilton Santos was probably the deciding factor in winning him the first Ballon d'Or. A notable achievement in itself, and even more so when one considers that he was 41 years old.
1959: Brazil 2-0 England
England's first ever match in Brazil was against the reigning world champions. England, who included a young Bobby Charlton (centre) wilted in the heat and the game was over by half-time. The crowd is thought to have been around 160,000.
1962: Brazil 3 – 1 England
When the two countries met in this World Cup quarter-final, Brazil were now reigning world champions, and looking good to retain their crown. It would be untrue to say that they pissed all over England on the day. It would, however be true that this match is remembered best for the dog that pissed all over Jimmy Greaves. England's greatest striker (and renowned animal lover) got down on all fours to coax the dog over, then grabbed it – whereupon it soiled his shirt.
The dog was raffled off by the Brazilian squad, and won by Garrincha, who named it Bi. The little winger amazed the British journalists with his performance, which was rounded off with what was known then as a 'banana shot' for Brazil's third goal.
1964: Brazil 5-1 England
One of England's forgotten games, from a mini-tournament to celebrate the Brazilian FA's half-centenary. Some of the top England players didn't appear to take things all that seriously, and it showed on the pitch. Pele ran the show, and would have been happy with England's relaxed attitude, given that during the next game he was kicked to bits by Argentina in a crude but affective attempt to stop him. Pele's frustration eventually led to him to head-butt Messiano. Sadly, the Argentinian tactic would be adopted by others in the next World Cup, eventually forcing him off the field altogether.
1969: Brazil 2-1 England
The two front-runners for the following year's World Cup played out this drama in front of a Maracanã crowd estimated at over 130,000. England played excellently and could have won, and the game set them up perfectly for the following year's encounter.
1970: Brazil 1-0 England
Although the scoreline records that Brazil won, in the memory the game seems like a draw. The result of the World Cup group match didn't matter, and it was widely expected that these two outstanding sides – probably the best ever teams ever to represent their countries – would go on to meet in the final. The relaxed mood is reflected in the famous picture of Pele and Bobby Moore embracing at the final whistle. Brazil's goal was a magnificent effort by Jairzinho, but England played superbly and had the better chances. Then there was THAT tackle by Moore, and THAT save by Banks. Unquestionably one of the great World Cup contests.
1978 Brazil 1-1 England
A half-decent performance by England, hot on the heels of an away draw in Rio the previous year. All academic though, as England had failed to qualify for that year's World Cup.
1984: Brazil 0-2 England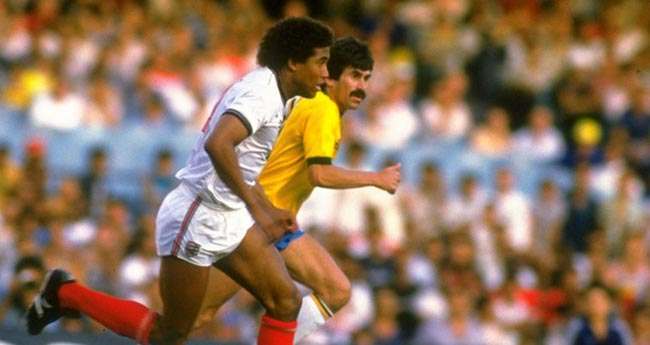 John Barnes' finest hour, as he single-handedly destroyed the Brazilian defence. Mark Hately completed a memorable away victory.

1992: England 1-1 Brazil
Remembered chiefly for Gary Lineker's penalty – the only one Mr Reliable ever missed for his country. As it was a friendly, it didn't matter too much, but it had an unforeseen consequence. Had Lineker scored, he would have drawn level with Bobby Charlton as England's all-time leading marksman. Sadly for him, he never scored for England again.
2002: Brazil 2-1 England
Michael Owen gave England the lead in this World Cup quarter-final, yet there was a certain inevitability about Brazil's fight-back. Ronaldinho was sent off, but England proved completely inadequate to the task and made little impression against ten men.