BAD blood, insults, pre-match scraps and warnings of crowd trouble have all helped stoke the flames and shift tickets for Saturday's showdown between David Haye and Dereck Chisora at Upton Park.
They have already had run-ins outside the ring…
…but such incidents are commonplace, reminding us as they do of incidents between Michael Bentt and Herbie Hide…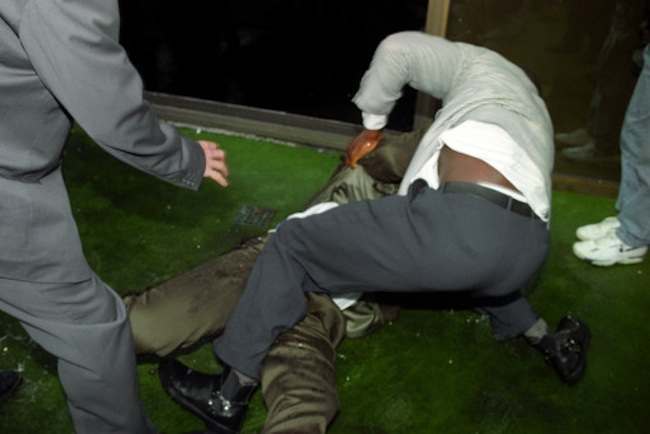 …Mark Kaylor and Errol Christie…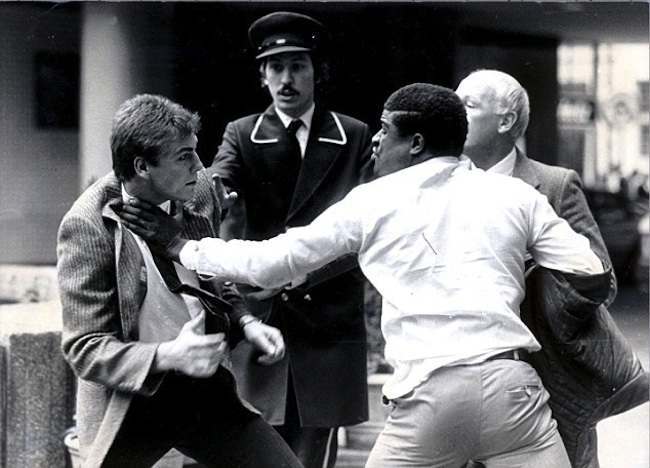 …And of course Ali and Frazier…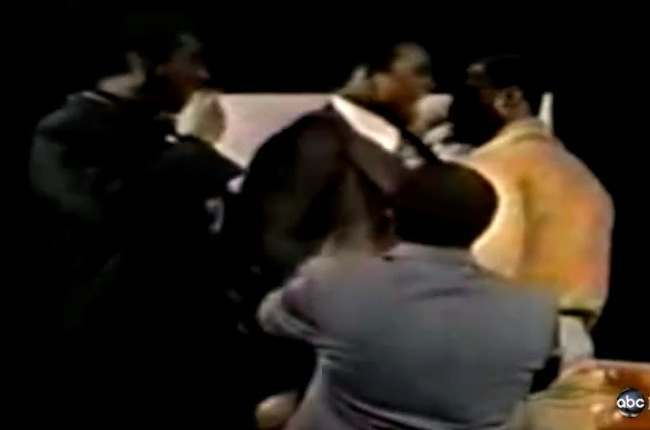 Grudge matches are ten-a-penny in boxing, and pre-match brawling hardly a rarity. The real drama, however, occurs on those rare occasions when the fighting extends outside the ring and way beyond the Marquis of Queensbury's rules…
1910: Jack Johnson v Jim Jeffries
Former champion Jim Jeffries was coaxed out of retirement in an attempt to end the reign of Jack Johnson, the first black heavyweight champ, and the phrase 'Great White Hope' was coined in his honour. So on the fourth of July, a febrile crowd descended on Reno baying for blood and singing racist songs. The band did their bit to stir the pot, playing 'All Coons Look Alike To Me'. Johnson's victory triggered black celebrations across the country, and also a wave of racist attacks and attempted lynchings. Hundreds were injured and more than 20 people died.
1980: Alan Minter v Marvin Hagler
The Wembley crowd contained a sizeable contingent of boozed-up racists, and Minter had already helped fan the flames by announcing that no black man would take his title. Hagler took the opposite view, and worked relentlessly on the cuts around the reigning champion's eyes. When the ref stopped the fight in the third round it was the cue for a hail of bottles and cans. Hagler was besieged as he left the ring and his car window was smashed as he drove off – without his world champion belts, which were never presented…
…and the American perspective: "British Bobbies two by two…"
1994: Nigel Benn v Juan Carlos Giminez
This world super-middleweight championship contest at the NEC was overshadowed by a bigger fight outside the ring, as Birmingham City hooligans following light-middleweight champion Robert McCracken clashed with Manchester fans supporting his upcoming opponent. Steve Foster. Fearing trouble, bars at the venue closed early, yet too late, as fighting continued throughout the evening…
1996: Andrew Galota v Riddick Bowe
Galota dominated Bowe from the start, yet amazingly managed to get himself disqualified for fouling – in particular, repeated low punching below the belt. At this point Bowe's team attacked Galota's trainer, and it kicked off big style. Galota's performance in this and the rematch – in which he was once again disqualified – earned him the soubriquet Foul Pole.
2012: Lazarte v Casimero
When Filipino Johnriel Casimero stopped Argentinian Louis Alberto Lazarte in Buenos Aires, it was the cue for carnage on a shocking scale, even by boxing standards. Lazarte went to Casimaero's dressing room to offer his apologies, which were accepted, but this wasn't enough for the Philippines, which instigated diplomatic measures against Argentina after the fight…