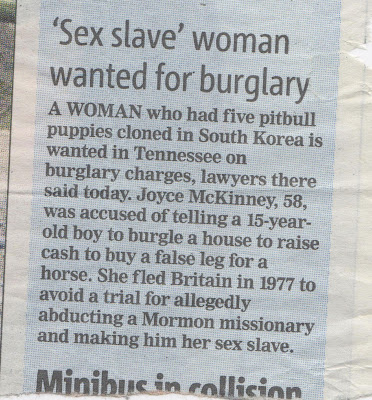 WAS this the best tabloid news story ever? Readers of a certain vintage will recall the name Joyce McKinney, a former Miss Wyoming. Errol Morris told her story of Mormons, cloned dogs, sex, a false leg for a horse, The Osmonds and an escape from justice in Tabloid.
Her name came to the fore on September 14, 1977. Kirk Anderson had gone missing close to Epsom, Surrey. He'd been kidnapped at gunpoint.
Enter McKinney. In 1973, having converted to Mormonism, and been romantically linked to Wayne Osmond, McKinney began dating Kirk Anderson soon after they'd met in drama class at Brigham Young University in Utah. McKinney was 25. Anderson was 19.
News of their sex outside of marriage upset their Mormon church. Anderson was shipped out of Utah. He was given the job of missionary to East Grinstead, Reading and Epsom. McKinney says she fell pregnant and suffered a miscarriage.
McKinney hired a detective and tracked Anderson down. Along with a Keith May, McKinney plotted to win Anderson back. The pair flew to England. They  kidnapped Anderson, taking him to a cottage in Devon. There, Anderson was tied to a bed and shagged by McKinney. She wanted to get pregnant by him. After three days of alleged rape  – she said it was bondage sex – Anderson were released. May and McKinney were arrested.
In 1977, the matter reached Epsom magistrates court. McKinney loved the media attention. She spoke freely about herself and life-enhancing joy of oral sex.

In court, Anderson's barrister read out his client's ordeal:
"She grabbed my pyjamas from just around my neck and tore them from my body. The chains were tight and I could not move. She proceeded to have intercourse. I did not want it to happen. I was very upset."
McKinney then spoke:
"I think I should explain sexual bondage and Kirk's sexual hang-ups. Kirk was raised by a very dominant mother. He has a lot of guilt about sex because his mother has overprotected him all his life… He has to be tied up to have an orgasm…I loved Kirk so much that I would have skied down Mount Everest in the nude with a carnation up my nose."
The case was referred to trial at the Old Bailey. McKinney was granted bail. She stayed with her parents, who were by now renting rooms in London. McKinney told the press that for £50,000 she would tells all, exposing the Mormon church and the Osmond family.
The Daily Mirror tracked down one of McKinney's former lovers, Steve Moskowitz. The ex-lover has lots of photographs of McKinney in the buff. He also said McKinney had worked as an escort. But McKinney had a plan. Days after she attended the premiere of Joan Collins' The Stud, McKinney and May adopted the identities of two dead Mormons – both deaf mutes – and returned to the US.
From there she called the Daily Express, who agreed to pay £40,000 for her story. On 22 May 1978, the Express published "My Undying Love". On the same day the Daily Mirror led with McKinney on its front page: "The Real McKinney." The Express painted her as an apple-pie innocent. The Mirror billed as a worldly vice girl. The Express said McKinney had never posed nude. The Mirror published aphoto of her sat naked on a horse. Anderson was not the only organ to have been shafted.
The case died. But she was sentenced to a year's jail in absentia for failing to face the court.
But McKinney would brush with the law once again. In 1985, McKinney was arrested at Salt Lake City airport, where Anderson worked. Police searched her car. They found handcuffs, some rope and notes on Anderson's movements.
During 2004, she, now living in Minneapolis  was charged with telling a 15-year-old boy to break into a house in Tennessee, allegedly to raise money to buy a false leg for a horse.
She maintains that she never raped Anderson. She says it was lies.
"We went out on picnics and made out, but nothing more, and were close to being engaged when the Mormon elders, who did not trust me, sent him away.

"I read lots of books about de-programming cult members and employed a private detective to find him. That took 18 months and all my savings.

"I found Kirk and persuaded him to come away with me to the Devon cottage where, following tips from a Californian manual for young newlyweds, we finally made love. And it was wonderful, very romantic, true love.

"The Mormons got back into his head and pressured him into making up all those lies about me. My heart is still broken because I lost him twice to the Mormons."
American born Joyce McKinney lives in California with her five cloned pitbull dogs. She became the first person to clone her pet dog, paying $100,000 for a South Korean company for five copies of her pet named Booger.
[imagebrowser id=4963]