NAME: Jah Wobble (real name: John Wardle)
RESIDES: Cheshire
OCCUPATION: Musician
It's well documented that, in his teenage years, Jah Wobble was a member of the Four Johns, the gang of youths who gravitated to each other while at Kingsway College Of Further Education on the fringes of the City Of London in the mid-70s.
The other members included John Beverley, aka Sid Vicious, John Lydon – later Johnny Rotten of the Sex Pistols – and Lydon's friend, John Gray.  Knocking around east and north London, the quartet followed football and voraciously consumed music from Bowie to Can to Hawkwind to Big Youth and beyond.
In 1975, the Johns paid a collective visit to hairdresser to the rock elite Keith Wainwright at his Knightsbridge salon Smile and adopted matching short spiky haircuts dyed in various colours.
"Round about that period me and my mate Ronny were wearing pleated Army trousers from Laurence Corner, the ones American GIs would wear," says Wobble.
"It was a soul-boy look, very smart with cap sleeve t-shirts and those half sandals/half shoes, not the horrible plastic beach sandals which some people wore."
As The Great Gatsby influence merged with the Glenn Miller revival, the teenager scoured the Brick Lane second hand clothes shops, picking up drape-jacketed 30s and 40s suits.
Although he was at the epicentre of the punk storm, Wobble by and large avoided adopting the fashions of the era. "It just wasn't my cup of tea," he says. "I'm from the East End. It's in our DNA to sport the Terry Venables look: smart grey jackets with black polos, loafers and well-pressed trousers."
When he was recruited into PiL, the original line-up jibbed at the punk uniform with an absurdist appearance. Lydon, for example, wore hand-painted Anarchy-style shirts supplied by Mark Gray.
For the sleeve of debut album First Issue, photographer Dennis Morris – who also created the band's logo and was responsible for the packaging for second album Metal Box – conceived a plan to present the four members as cover stars of various magazines. Wobble was depicted as a Ronald Coleman-moustached matinee idol in a Vogue pastiche, wearing a blue pinstripe suit he'd had made for himself the previous year.
"You didn't get many 18-year-olds doing that," he says. "It was perfect for that shoot. Dennis was very important to PiL. He understood the humour and chemistry of the band and bought in Terry Jones from Vogue to help style it, which made it proper."
The retailer Kenny MacDonald – from whom I bought a suit and some clothes at his shop Marx in the back of the Great Gear Market – was another integral figure, producing tailored traditional-style menswear with a twist long before it became the High Street norm. He was introduced into the circle by sometime PiL member Jeanette Lee, who had managed King's Road store Acme Attractions with her then-boyfriend Don Letts.
"Kenny was very quietly spoken and thoughtful, a real London bloke," says Wobble. "You would not get someone like him anywhere else in the world at that time. He was absolutely London." MacDonald was such a fan of classic movies that he  arranged private screenings of noir films at Kings Cross cinema The Scala.
"It was interesting because he was a black bloke into the public school look, making fake Jockey Club ties and talking in an upper-class accent," says Wobble. "That was strange and somehow great. And he'd always do the unexpected. When everyone else was producing pegged trousers, he did a straight-legged, conservative cut. When everyone was wearing low, long thin lapels down to one button, quite 50s, he made a higher cut jacket, slightly uptight, very English."
MacDonald's flamboyant masterstroke may well have been the giant and brightly coloured Teddy Bear fur coats he made for the band; John Lydon sported the red version for a performance on The Old Grey Whistle Test.
Wobble's was in green and yellow "like something worn by Flanagan & Allen. Oh man. I wore it with a Homburg from a local Jewish outfitter and a Daniel Hechter suit and walked into The Globe public house; they all started singing Underneath The Arches…"
Through the 80s Wobble checked for Daniel Hechter, buying suits two at a time from his Bond street shop, and into the 90s had a wide variety of suits made in the Far East, one in Versace logo material.
"It had a Roman element, with the beautiful dark blues and gold," he says. "And it was mixed with the East, which is very sensual; I love silk." These days Wobble still has bespoke suits made in the Far East but persists in hunting down quality second hand clothes.
"I'm like those older guys who chase young women: I play the percentage game. They'll keep knocking on the door until they get one, though of course the law of diminishing returns kicks in.
"I keep going into second-hand shops and about one in every hundred visits pays off: you come across a fantastic, hardly-worn Armani suit or something."
He is also a great fan of Missoni. "I have quite a few jackets; there's something wonderful about their interwoven material, it's kind of like the stuff Kenny was doing. Not predictable grey and black."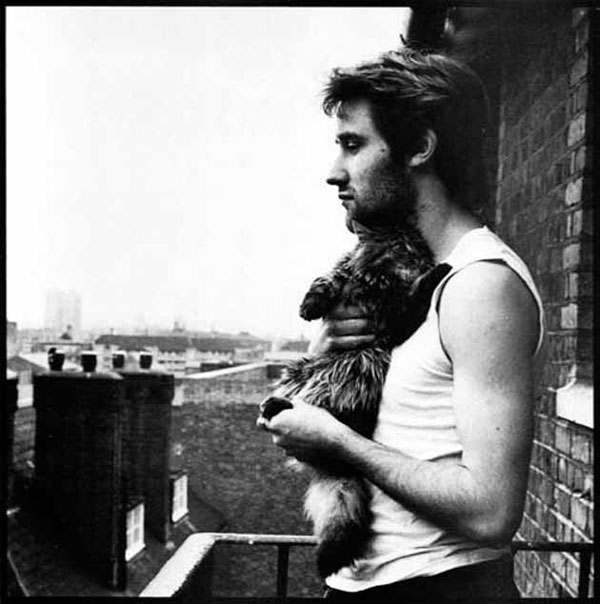 And what about the stubble? Some might argue that Wobble's refusal to shave was his most radical visual contribution of the post-punk era, given the unspoken "no facial hair" shibboleth.
By doing so he predicted the 80s designer stubble fad by a good few years. "Initially it came about through laziness, but then I started to use a trimmer," he says. "In those days it was akin to luxuriant prairie grass. Now it's like bramble. If you try and carry it off you look like old man Steptoe…"
Jah Wobble's book is Memoirs Of A Geezer.