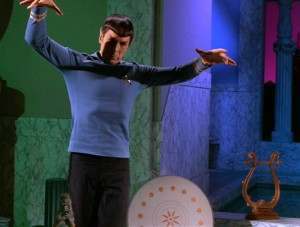 Inside every actor is an aspiring singer yearning to perform…or something like that.
This truism has been put to the test several times in science fiction television history, with beloved characters from favorite shows breaking out suddenly — and often horrifyingly — into song.
Below are six unforgettable examples of this trend.
Will Robinson (Bill Mumy) sings Greensleeves on Lost in Space, in the episode "There Were Giants in the Earth."  In a later episode, Will sung another tune, "Sloop John B" with Judy Robinson (Marta Kristen).
Mr. Spock (Leonard Nimoy) sings "Bitter Dregs" in the Star Trek episode "Plato's Stepchildren."  Spock also jammed with the space hippies in "The Way to Eden," and followed Lt. Uhura's (Nichelle Nichols') lead in this regard.  Uhura sang in both "Charlie X" and "Conscience of the King."
Steve Austin (Lee Majors) sing "Sweet Jaime" — in a romantic montage – from The Six Million Dollar Man.
Jaime Sommers (Lindsay Wagner) sings "Good to be Alive in the Country" in The Bionic Woman.
Will Marshall (Wesley Eure) sings in Land of the Lost: "Ancient Guardian."  Alas, this one is not available for embedding, but here's the link.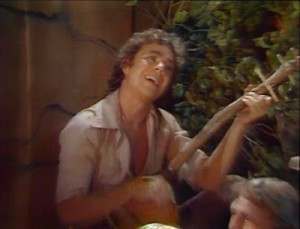 Diana Prince/Wonder Woman (Lynda Carter) sings in Wonder Woman: "Amazon Hot Wax"