On August 1, 1914, the German Army invaded Belgium. The Germans wanted an easy passage to France. The Belgians would not agree. The King declared: "I have faith in our destinies. A country defending itself earns the respect of all. Such a country does not perish. God will be with us in this just cause. Long live independent Belgium."
The Belgians did fight back, notably at The Battle of Liege, the first battle of WWI. They never stood a chance. In what would become The Rape of Belgium, the Germans sacked cities, and raped and murdered the civilian population. Many Belgians fled. The German invaders allowed some women and children to evacuate to neutral Holland but kept the men, who were put to forced labour. For the uprooted victims who could escape the onslaught reach the coast, Britain offered safety. The Belgians came in their thousands. In all as many as 250,000 escaped to Britain. On October 14 1914 alone, 16,000 Belgians arrived at Folkestone, Kent.
The War Refugees Committee appealed for accommodation for the new arrivals. Over 100,000 offers flooded in to help the "plucky" Belgians. Not everyone was selfless. In 1914, Sir Winston Churchill, First Lord of the Admiralty, said Belgians "ought to stay there and eat up continental food and occupy German policy attention […] This is no time for charity".
In his posthumous contribution to the Times Literary Supplement on 23 March 1916 Henry James wrote in Refugees in Chelsea: (Via):
"This is not a Report on our so interesting and inspiring Chelsea work, since November last, in aid of the Belgians driven thither from their country by a violence of unprovoked invasion and ravage more appalling than has ever before overtaken a peaceful and industrious people; it is the simple statement of a neighbour and an observer deeply affected by the most tragic exhibition of national and civil prosperity and felicity suddenly subjected to bewildering outrage that it would have been possible to conceive. The case […] has had no analogue in the experience of our modern generations, no matter how far back we go; it has been recognised, in surpassing practical ways, as virtually the greatest public horror of our age, or of all the preceding[…]"
The war dragged on. There was tensions between refugees and the locals. As the BBC notes, "Housing and jobs became an issue. Belgians in the purpose-built villages [Elisabethville was a sovereign Belgian enclave in Birtley, Tyne and Wear] had running water and electricity while their British neighbours didn't. More affluent refugees could afford to buy their own properties."
…in Kent, the Farningham War Refugee Committee criticised 'individuals who tended to take [charitable donations] as a right and expect a higher standard of living than we felt justified in providing'.
The Daily Dispatch noted on 22 April 1915 that one refugee "won't work but goes about as if he was a duke".
The Belgians did work. The British Government saw them as low-cost workers. Many went into business for themselves. 
In 1915, Belgian diamond merchant Jacque Kryn, his brother George and a colleague, Raoul Lahy, arrived in Letchworth, Hertfordshire. They helped build a munitions factory. By the end of 1916, around 2000 Belgians were living in Letchworth. The streets around Westbury Area became known as "Little Belgium".
More than 60,000 Belgians worked in Britain during World War One and around 500 Belgian companies were established. The largest was the Pelabon Works, a hand-grenade factory, in Richmond.
It wasn't all about war. Belgians settled in County Monaghan introduced embroidery skills which brought about the Belbroid lingerie factory.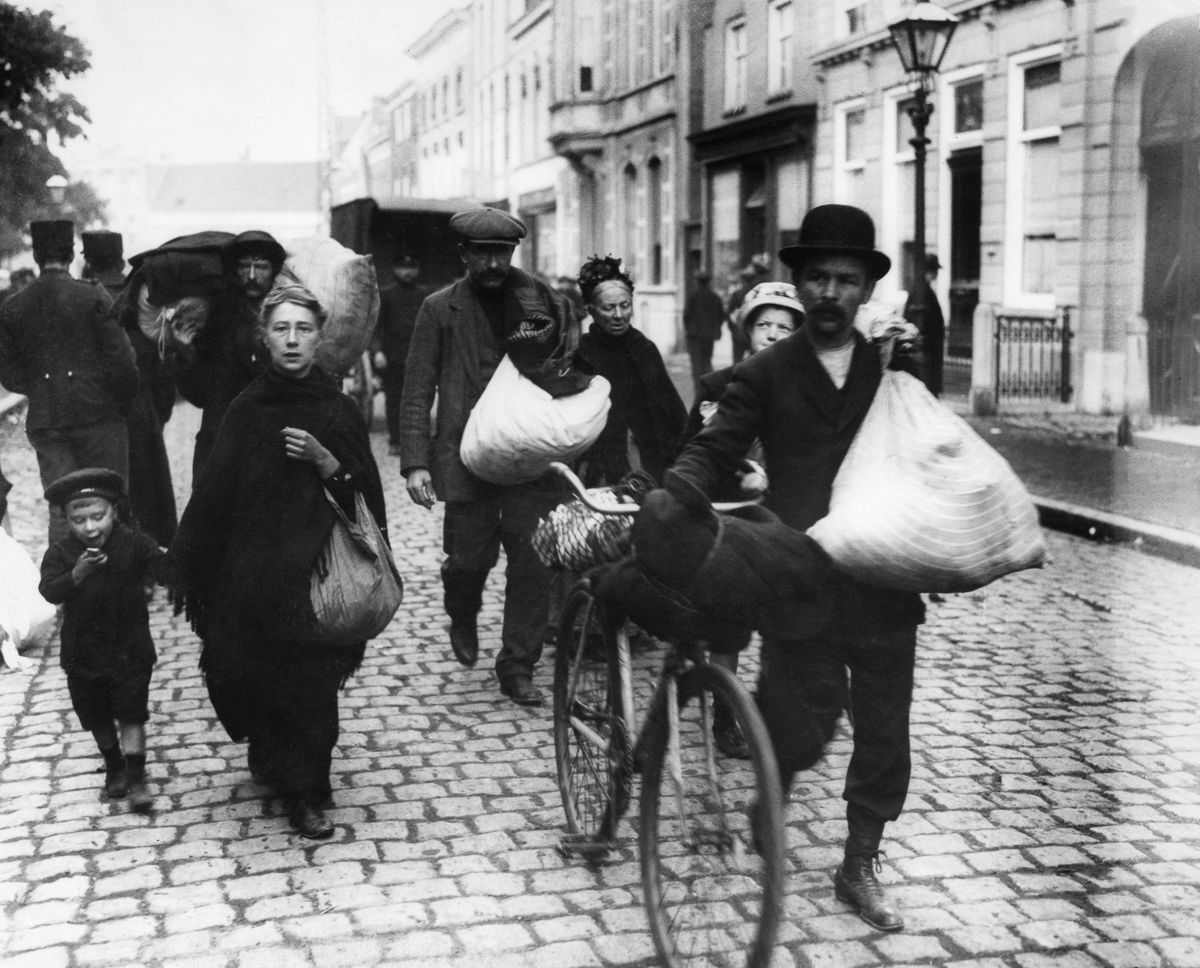 In 1917 the British government set up a repatriation committee to expedite the Belgians return home. By 1921 more than 90% of the refugees had returned to a country ravaged by war. The British Government wanted them out. It withdrew employment contracts and, for a time, offered one-way trips for free.
The Belgians' legacy can be seen in books – Agatha Christies, who had worked with Belgian refugees in Tor, Torquay, Devon, was inspired to create the detective Hercule Poirot – in buildings – Glasgow's Trade House features ornate carvings made by Belgian refugees as do churches at Llanwenog and Llanfihangel-y-Creuddyn, Ceredigion, and the Belgian Pier on Anglesey – and in art – the Black Chair was awarded posthumously to Hedd Wyn at the 1917 National Eisteddfod in Birkenhead, following his death at the Battle of Passchendaele in 1917.