"In about the middle of 1947, a suggestion was made to me that I might watch an operation in a hospital. I expected that I should dislike it; but from the moment when I entered the operating theatre I became completely absorbed by two things: first, the extraordinary beauty of purpose and co-ordination between human beings all dedicated to the saving of life, and the way that unity of idea and purpose dictated a perfection of concentration, movement, and gesture, and secondly by the way this special grace (grace of mind and body) induced a spontaneous space composition, an articulated and animated kind of abstract sculpture very close to what I had been seeking in my own work."

– Barbara Hepworth ((10 January 1903 – 20 May 1975) 
In 1947, English sculptor Barbara Hepworth accepted an invitation to visit a hospital operating theatre and study surgeons at work. Her interest in surgeons' work had been triggered by seeing her daughter Sarah hospitalised for the bone infection osteomyelitis. As Sarah lay swaddled "in plaster of Paris from head to toe", Hepworth realised that "the moulding of plaster jackets… was very near to my own profession." So began a study that would result in around 70 drawings. What surgeon Norman Capener initially termed "a grim idea" – a little like a courtroom artist live drawing brutal crime scenes – is now a revered body of work.
Enthralled by the hushed and attentive atmosphere in the operating theatre, Hepworth views the surgeons as mysterious figures engaged in complex, elaborate performances. At moments, their bleached uniforms lend them an almost ghostly air. They seem haunted by their roles in life-or-death dramas, and they can appear on the verge of vanishing in the luminous chamber. Hepworth accentuates their vulnerability by using a razor-blade to scratch the surfaces she has prepared with a mixture of gesso, pastel and oil paint…

Physically close to each other, the participants in these operations are all co-operating with a single goal in view. Tense and suspenseful, one drawing shows a small, focused light attached to a man's head as he pursues an especially delicate goal. Another surgeon stares through the barrel of an optical device to obtain a close-up view of a minuscule body-part.

– Richard Cork, author of The Healing Presence of Art: A History of Western Art in Hospitals
The Hospital Drawings offer a unique insight into Barbara Hepworth's skill as a draughts person – revealing how drawing was an important means of exploring forms that influenced her practice as a sculptor. In contrast to the pure abstract work for which Hepworth (1903 –1975) is celebrated, the drawings also reveal Hepworth's aptitude for narrative realism.Like Henry Moore's Underground shelter drawings from the Second World War , the works in this series function as invaluable social documents, rendered with extraordinary emotional intensity.Coinciding with the launch of Britain's pioneering National Health Service in 1948, Hepworth embarked on a series of studies of operating theatres and surgeons and medical staff at work at the invitation of her friend, the surgeon Norman Capener.

– Simon Martin , from the website of Pallant House Gallery, Chichester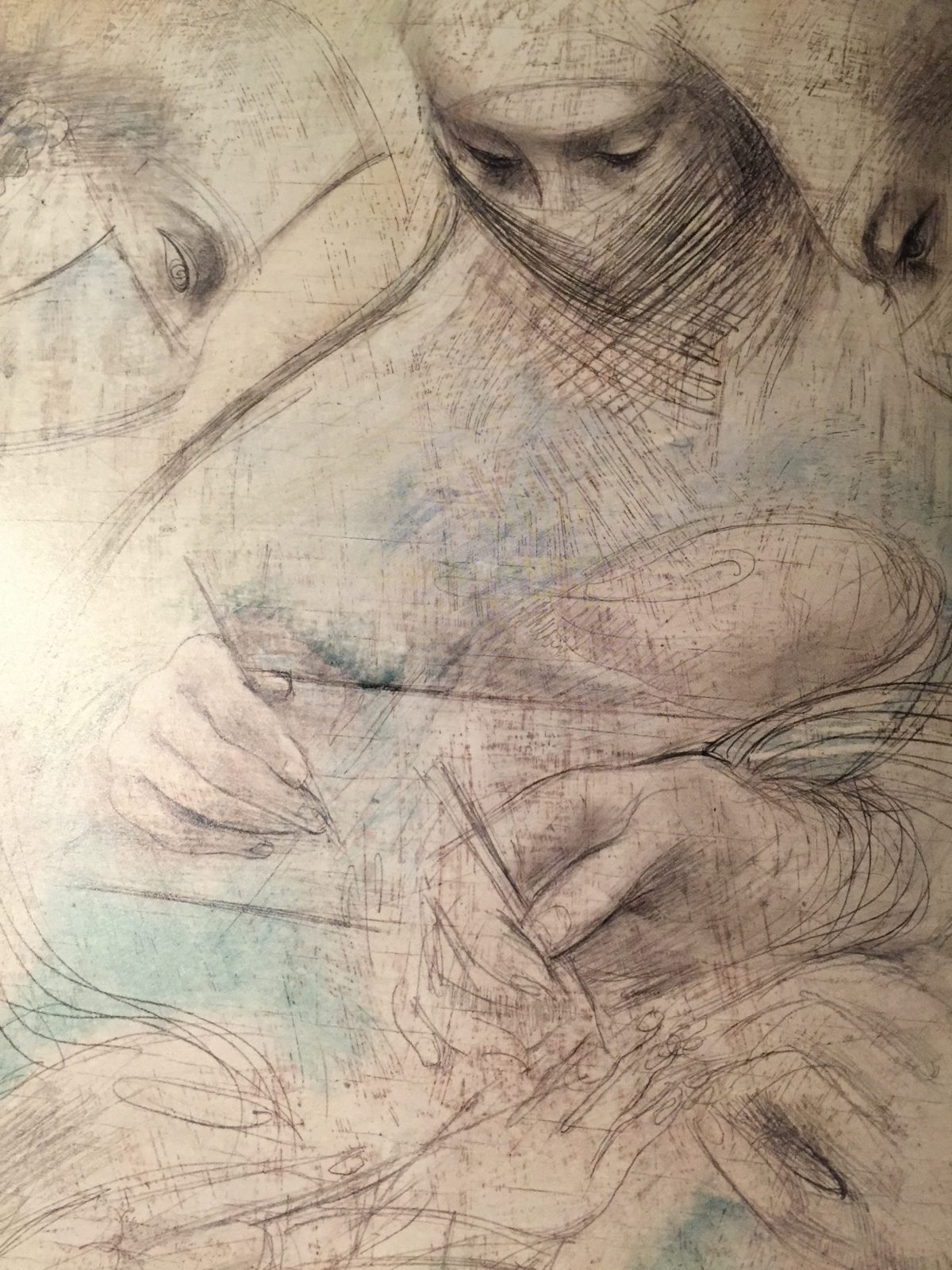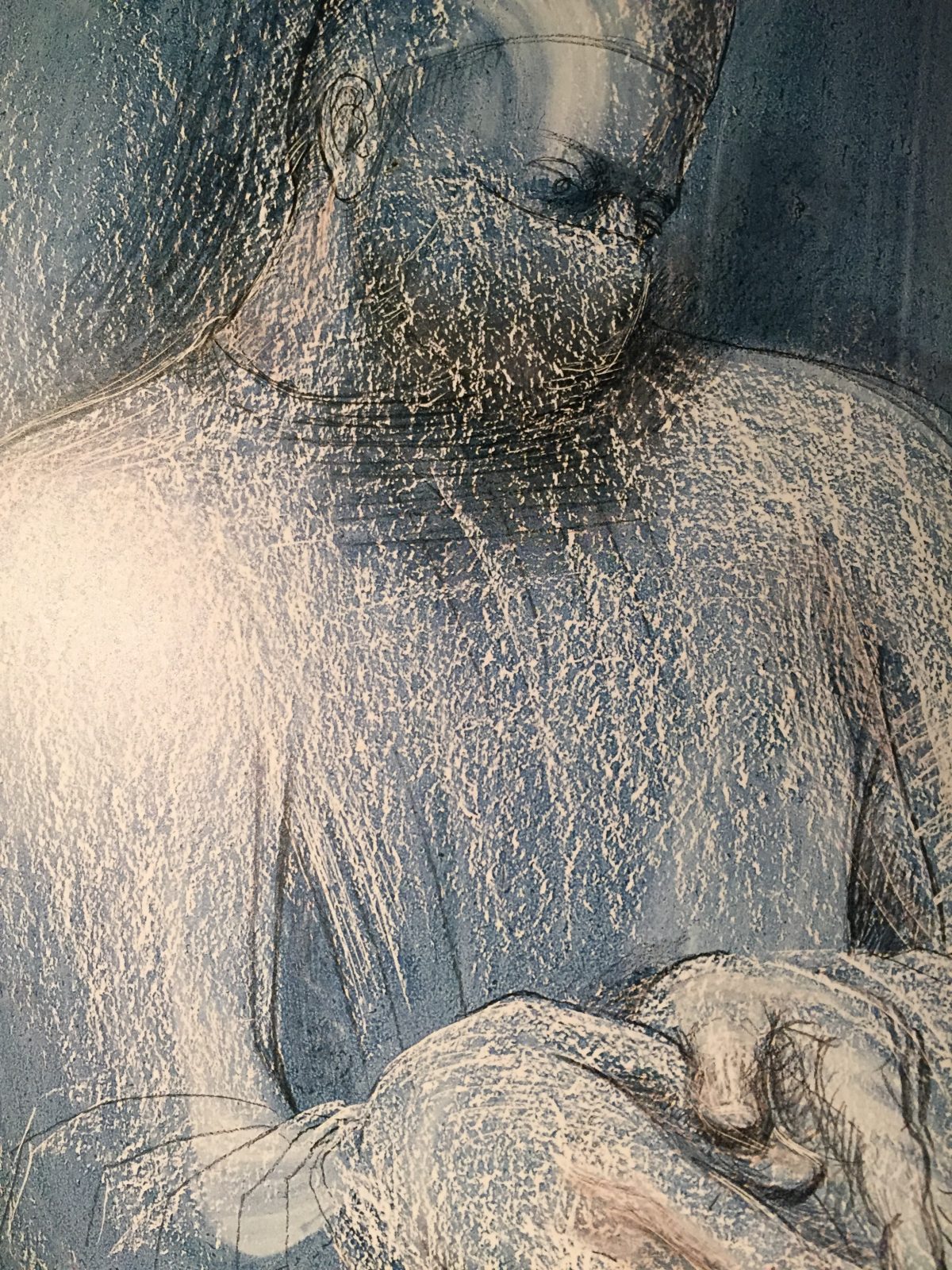 Via: Stephen Ellcock, Hepworth