This site has inspired the creation of yet another t-shirt series A few years back Japanese label Peel + Lift used one of my posts as the launchpad for a contemporary design.
And now US T-shirt company Rock Roll Repeat has produced a new range inspired by my 2011 piece on rockin' Miriam Linna's legendary JD-zine Bad Seed.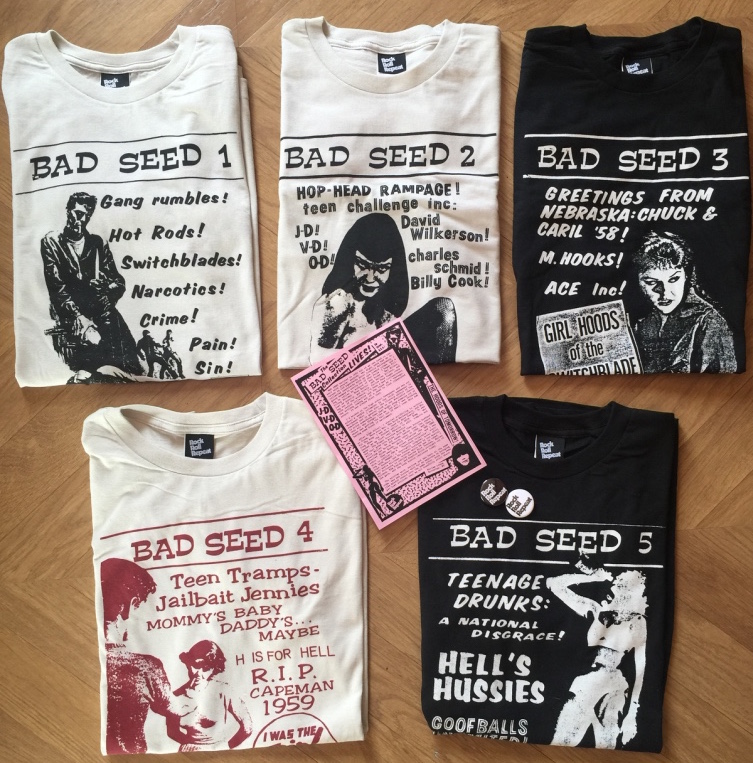 Published 1984-85, Bad Seed was Miriam Linna's celebration of Juvenile Delinquency, the "overnight plunge into general degeneracy" among US teens in the 50s.
At the time the JD scare prompted a media frenzy which was accompanied by an explosion of books, music, flicks and fashions.
All of these aspects of JD are sampled in the pages of this 8.5″ x 5.5″ stapled zine produced by one-time Cramps drummer Linna, whose work with partner Billy Miller has manifested itself in such ventures as garage band The A-Bones, enduring reissue label Norton and, imho, the greatest music magazine of all time, Kicks.
This is where the notion of teenagers as a threat to society was minted, and via a variety of archives, Linna explores all the angles, from dope and STDs ("JD!! VD!! OD!!") to the pulp fiction of Harlan Ellison, lyrics for JD classics, promiscuity, gang violence and the exploits of teen murderers Charles Schmid and Charlie Starkweather (whose Nebraskan killing spree with girlfriend Caril Ann Fugate inspired Terence Malick's Badlands).
Linna isn't a fan of Badlands, which she believes romanticised the pretty abject behaviour of Starkweather + Fugate. With Bad Seed she provides an unblinking insight into the symbiosis at the heart of JD: serious derangement and sensationalised reportage.
After reading the post last year, Rock Roll Repeat's Joshua Shame contacted Linna and their discussions resulted in the new collection of five fine shirts each showing a Bad Seed cover.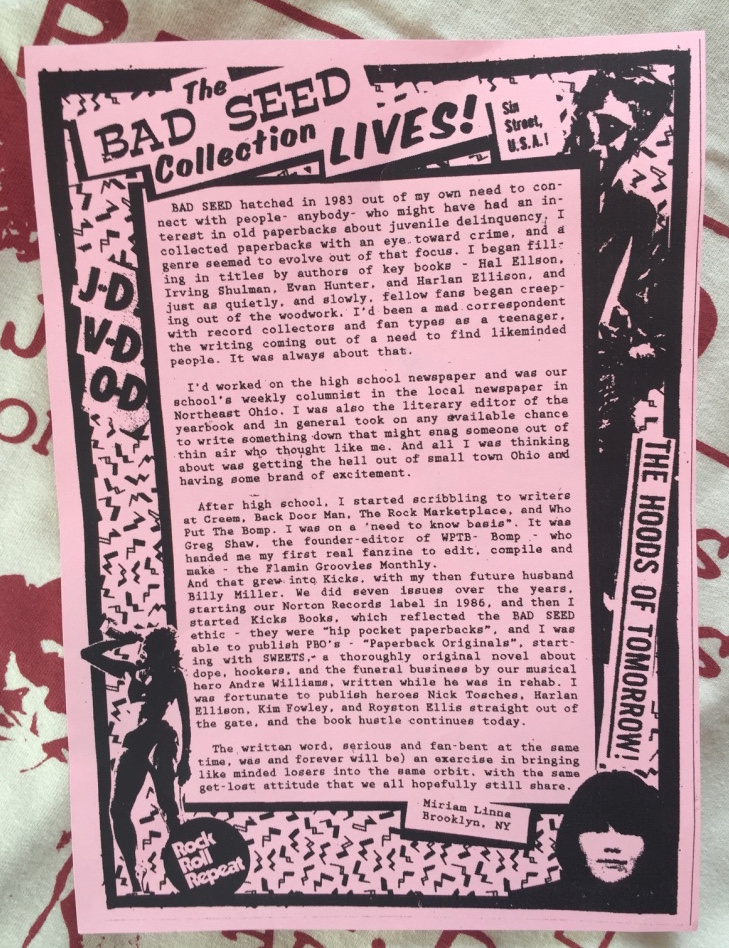 In white on black and black or crimson on stone, the shirts are packaged with a history of Bad Seed and its links to Linna's other activities on her own and with her husband, the late and very much lamented Billy Miller.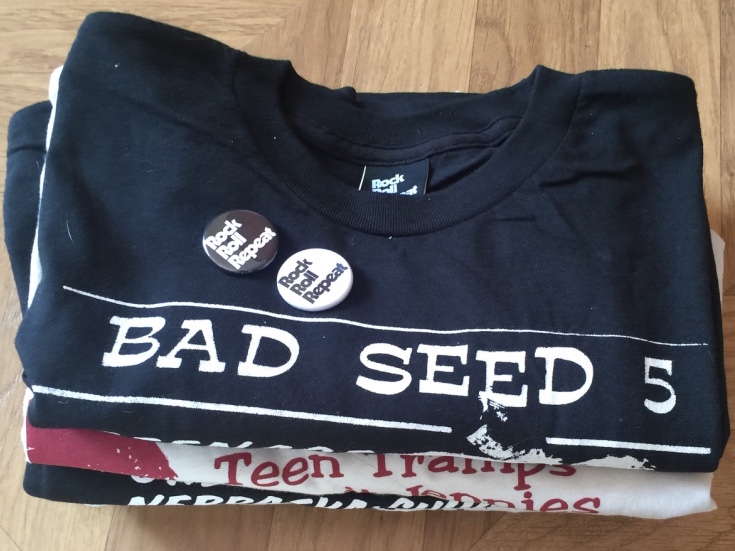 Rock Roll Repeat has done a bang up job with the tees; check out The Bad Seed Collection at the label's online shop here.
Linna and Miller's label Norton Records, the world's wildest record company, continues to thrive. Visit the Norton website here.
I'll finish as I did with the original Bad Seed post eight – eek! – years ago, with a blast of Chico's Girl, as recommended by Bad Seed 2: