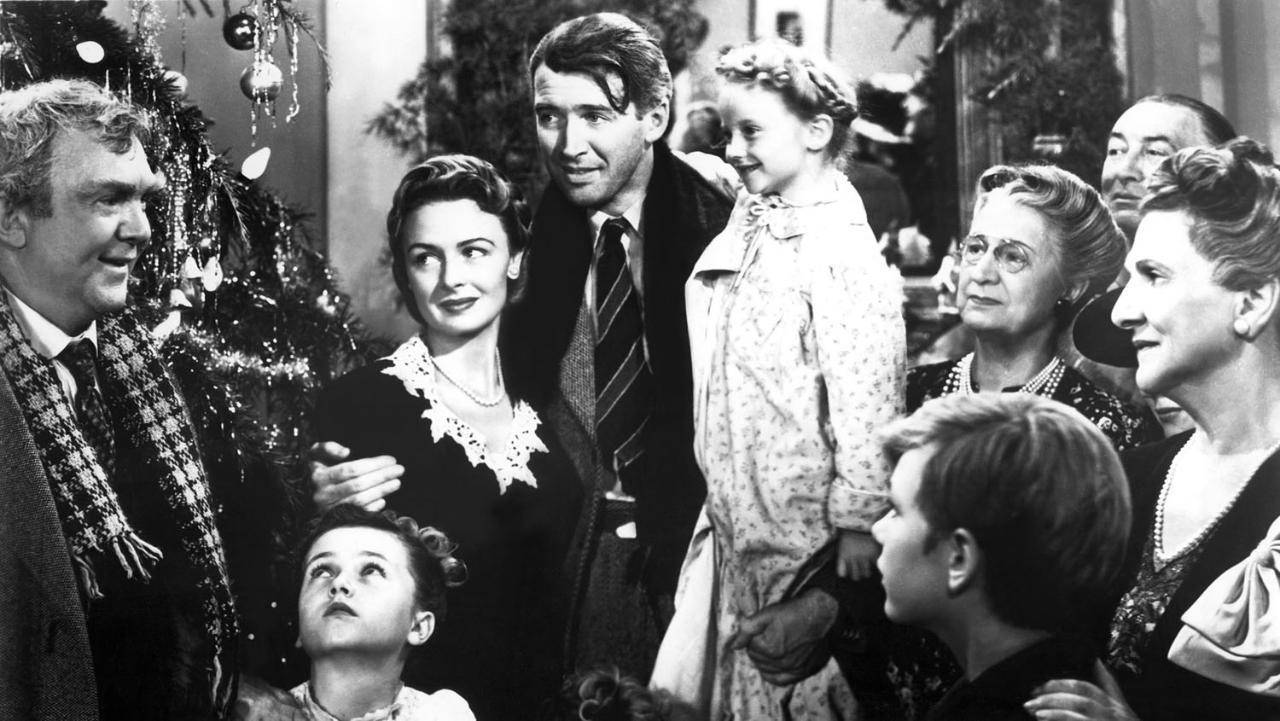 Frank Capra's 1946 movie It's a Wonderful Life, a mainstay of the holiday season in the United States, was once viewed as a threat to the American way of life, charged with "attempting to instigate class warfare".
How that came to be is part of the evolution of human freedom.
From 1946 to 1956, It's A Wonderful Life was on the Federal Bureau of Investigation's list of suspected Communist propaganda. The FBI sought to root out "ideological termites" in the American film industry, a hotbed of scheming Reds using techniques to manipulate the pliable American mind.
Consider the FBI report on the film's character Mr. Potter, who "represented a rather obvious attempt to discredit bankers by casting Lionel Barrymore as 'scrooge-type' so that he would be the most hated man in the picture." Selfish Potter was the embodiment of a "a common trick used by Communists." The movie "deliberately maligned the upper class."
It's A Wonderful Life isn't the best film on capitalism and skewering the entitled elite. It lacks the wit, zip and snap of Trading Places (1983), surely the best lampooning of the money-market rich on film ("In this building, it's either kill or be killed. You make no friends in the pits and you take no prisoners. One minute you're up half a million in soybeans and the next, boom, your kids don't go to college and they've repossessed your Bentley."), or the incision of Wall Street (1987), which taught us "greed is good".
The film's hero is suicidal George Bailey, a middling building society manager in financial peril, cheated of his cash by the despicable Potter. George is blessed with more homespun, folksy charm than Sleeping Beauty in cloggs, albeit with less financial nous and charisma. Get a load of this zinger: "You're 18!" he exclaims. "Why, it was only last year you were 17!"
Defeated by the big City banker, George, champion of small-time capitalism, intends to kill himself on Christmas Eve. But via a thought experiment George comes to learn the meaning of what it is to be good. A guardian angel intercedes, showing George his one-horse hometown of Bedford Fall as if he had never been born.
Without George, Bedford Falls is edgy, raucous, kind of exciting, violent, nasty and essentially lacking in dull, common goals, decency, control and cohesion. Distressed by this dystopian vision and empowered by his true worth, George is saved. He becomes good – really good – sacrificing his own plans and ambitions for societal have-nots and his family.
Those who feared Communist infiltration were unimpressed.
J. Edgar Hoover, the FBI's leader, was sniffing out enemies of the State in the big Red Scare. In 1947, the House of Un-American Activities Committee (HUAC) investigated the hidden messages and codes in Capra's flick.  On October 21, John Charles Moffitt presented his film review to the HUAC defenders. "I think Mr. Capra's picture, though it had a banker as villain, could not be properly called a Communist picture," he said. "It showed that the power of money can be used oppressively, and it can be used benevolently."
Capra was in the clear. He never was a Communist. The Los Angeles Times quoted him thus: "There are just two things that are important. One is to strengthen the individual's belief in himself, and the other, even more important right now, is to combat a modern trend toward atheism."
So how could this film ever come to be viewed as un-American, pernicious to the "rock" of Americanism? Aphelis says the HUAC hearings led to "the systematic blacklisting of Hollywood artists." One contributor to the FBI's report "Communist Infiltration of the Motion Picture Industry" was Russian-born writer Ayn Rand, the creator of Objectivism, which she called "a philosophy for living on earth". Other witnesses considered "friendly" to capitalism were Gary Cooper, and Walt Disney.
Josh Jones notes:
Rand – in vogue after the success of her novel The Fountainhead – appeared before HUAC and re-iterated many of the general claims made in the report. During her testimony, she focused on a 1944 film called Song of Russia. She chiefly critiques the film for its idealized portrait of life in the Soviet Union, hence her enumeration of the many evils of actual life there.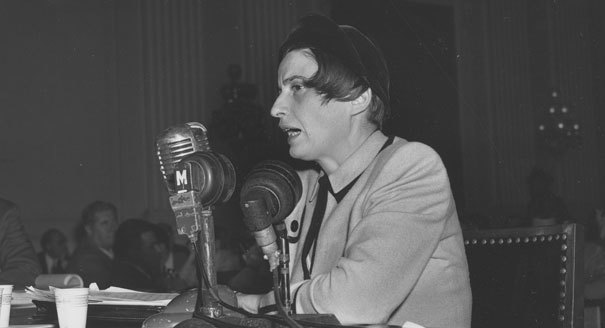 Said Rand:
Nobody has stated just what they mean by propaganda. Now, I use the term to mean that Communist propaganda is anything which gives a good impression of communism as a way of life. Anything that sells people the idea that life in Russia is good and that people are free and happy would be Communist propaganda. Am I not correct? I mean, would that be a fair statement to make—that that would be Communist propaganda?

Now, here is what the picture "Song of Russia" contains. It starts with an American conductor, played by Robert Taylor, giving a concert in America for Russian war relief. He starts playing the American national anthem and the national anthem dissolves into a Russian mob, with the sickle and hammer on a red flag very prominent above their heads. I am sorry, but that made me sick. That is something which I do not see how native Americans permit, and I am only a naturalized American. That was a terrible touch of propaganda. As a writer, I can tell you just exactly what it suggests to the people. It suggests literally and technically that it is quite all right for the American national anthem to dissolve into the Soviet. The term here is more than just technical. It really was symbolically intended, and it worked out that way. The anthem continues, played by a Soviet band. That is the beginning of the picture.
…

Now, here is the life in the Soviet village as presented in "Song of Russia." You see the happy peasants. You see they are meeting the hero at the station with bands, with beautiful blouses and shoes, such as they never wore anywhere. You see children with operetta costumes on them and with a brass band which they could never afford. You see the manicured starlets driving tractors and the happy women who come from work singing. You see a peasant at home with a close-up of food for which anyone there would have been murdered. If anybody had such food in Russia in that time he couldn't remain alive, because he would have been torn apart by neighbors trying to get food. But here is a close-up of it and a line where Robert Taylor comments on the food and the peasant answers, "This is just a simple country table and the food we eat ourselves." . . .

Now, here comes the crucial point of the picture. In the midst of this concert, when the heroine is playing, you see a scene on the border of the U.S.S.R. You have a very lovely modernistic sign saying "U.S.S.R." I would just like to remind you that that is the border where probably thousands of people have died trying to escape out of this lovely paradise.

…

My whole point about the picture is this: I fully believe Mr. Mayer when he says that he did not make a Communist picture. To do him justice, I can tell you I noticed, by watching the picture, where there was an effort to cut propaganda out. I believe he tried to cut propaganda out of the picture, but the terrible thing is the carelessness with ideas, not realizing that the mere presentation of that kind of happy existence in a country of slavery and horror is terrible because it is propaganda. You are telling people that it is all right to live in a totalitarian state…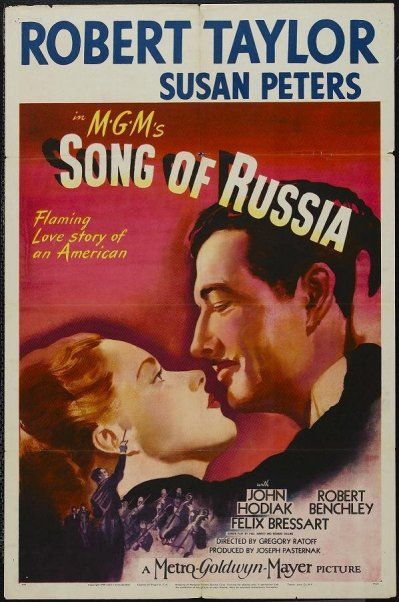 The report quoted from Rand's pamphlet distributed to producers and publishers. It stated:
The purpose of the Communists in Hollywood is not the production of political movies openly advocating Communism. Their purpose is to corrupt non-political movies — by introducing small, casual bits of propaganda into innocent stories and to make people absorb the basic principles of Collectivism by indirection and implication. Few people would take Communism straight, but a constant stream of hints, lines, touches and suggestions battering the public from the screen will act like drops of water that split a rock if continued long enough. The rock that they are trying to split is Americanism.
The FBI had a file on Rand, of course, extracts from which can be seen hereunder:
This is the FBI's letter to Capra (via Wisebread):
To: The Director

D.M. Ladd

COMMUNIST INFILTRATION OF THE MOTION PICTURE INDUSTRY

(RUNNING MEMORANDUM)

There is submitted herewith the running memorandum concerning Communist infiltration of the motion picture industry which has been brought up to date as of May 26, 1947….

With regard to the picture "It's a Wonderful Life", [redacted] stated in substance that the film represented rather obvious attempts to discredit bankers by casting Lionel Barrymore as a "scrooge-type" so that he would be the most hated man in the picture. This, according to these sources, is a common trick used by Communists.

In addition, [redacted] stated that, in his opinion, this picture deliberately maligned the upper class, attempting to show the people who had money were mean and despicable characters. [redacted] related that if he made this picture portraying the banker, he would have shown this individual to have been following the rules as laid down by the State Bank Examiner in connection with making loans. Further, [redacted] stated that the scene wouldn't have "suffered at all" in portraying the banker as a man who was protecting funds put in his care by private individuals and adhering to the rules governing the loan of that money rather than portraying the part as it was shown. In summary, [redacted] stated that it was not necessary to make the banker such a mean character and "I would never have done it that way."

[redacted] recalled that approximately 15 years ago, the picture entitled "The Letter" was made in Russia and was later shown in this country. He recalled that in this Russian picture, an individual who had lost his self-respect as well as that of his friends and neighbors because of drunkenness, was given one last chance to redeem himself by going to the bank to get some money to pay off a debt. The old man was a sympathetic character and was so pleased at his opportunity that he was extremely nervous, inferring he might lose the letter of credit or the money itself. In summary, the old man made the journey of several days duration to the bank and with no mishap until he fell asleep on the homeward journey because of his determination to succeed. On this occasion the package of money dropped out of his pocket. Upon arriving home, the old man was so chagrined he hung himself. The next day someone returned the package of money to his wife saying it had been found. [redacted] draws a parallel of this scene and that of the picture previously discussed, showing that Thomas Mitchell who played the part of the man losing the money in the Capra picture suffered the same consequences as the man in the Russian picture in that Mitchell was too old a man to go out and make money to pay off his debt to the banker.
Censorship inspired by paranoia might appear a relic from dark history, but it happens now, with no-platforming speakers at universities, mob-led bars on free speech and trigger warnings.