"We were convinced that we were in pursuit of a will-o'-the-wisp, ever receding, ever changing, ever beckoning"

– Donald Baxter MacMillan on his futile search for Crocker Island
Orphaned at a young age, Donald Baxter MacMillan (November 10, 1874 – July 9, 1970) moved from Provincetown Massachusetts to Freeport, Maine, to live with his sister Letitia. He taught Latin and PE at Swarthmore Preparatory School, in Pennsylvania, ran a camp on Bustin's Island in Casco Bay, Maine, studied geology and in 1901 saved the lives of nine people from drowning in two separate boating accidents. Reports of his bravery reached Robert Peary (May 6, 1856 – February 20, 1920), a resident on Eagle Island. In 1908, MacMillan accepted Peary's invitation to accompany him on an expedition to the geographic North Pole. MacMillan didn't make it to the intended destination, turning back. And neither did Peary, although he claimed that he did. As Rupert Taylor writes:
On September 7, 1909, The New York Times ran the headline on its front page "Peary Discovers the North Pole after Eight Trials in 23 Years."

A week later, The New York Herald had a different headline "The North Pole Is Discovered by Dr. Frederick A. Cook." The Smithsonian Magazine notes that "Cook, an American explorer who had seemingly returned from the dead after more than a year in the Arctic, claimed to have reached the pole in April 1908 – a full year before Peary."

…

In 1988, the National Geographic Society, which had sponsored some of Peary's expeditions, went over his records closely. It emerged that Peary did not reach the North Pole and that he knew it. Cook had the more legitimate claim although doubts exist about whether or not he reached the spot.
In 1906, Peary was on his way to the North Pole when he discovered Crocker Land, named in honour of one of his banker sponsors. He wrote of seeing valleys and mountains covering almost the entire horizon. Cook had never seen such a place. But Peary's book of his sensational discovery sold pretty well.
And so in 1913, MacMillan led a team to find Crocker Land:
"In June 1906, Commander Peary, from the summit of Cape Thomas Hubbard, at about latitude 83 degrees N, longitude 100 degrees W, reported seeing land glimmering in the northwest, approximately 130 miles [210 km] away across the Polar Sea. He did not go there, but he gave it a name in honor of the late George Crocker of the Peary Arctic Club. That is Crocker Land. Its boundaries and extent can only be guessed at, but I am certain that strange animals will be found there, and I hope to discover a new race of men."
You can read MacMillan's story in his 1918 book Four Years in The White North:
Far off in the northwest, beyond the heights of Axel Heiberg and Grant Lands, lay the largest unexplored white spot on the surface of the globe, one-half a million square miles in area. And at the very edge of this, with its white head beckoning to man, stood Crocker Land, reported and named by Peary in 1906 after one of his supporters, with the words: "I seem to see more distinctly the snow-clad summits of a distant land in the northwest above the ice horizon." Here was a goal worthy of ambition!
MacMillan found nothing during a trip that lasted four years. Crocker Land did not exist:
"We were convinced that we were in pursuit of a will-o'-the-wisp, ever receding, ever changing, ever beckoning. My dreams of the last four years were merely dreams; my hopes had ended in bitter disappointment."
MacMillan and the rest of the expedition members were stranded until 1917, when Captain Robert A. Bartlett of the ship Neptune finally rescued them. Not all adventurers returned. Navy Ensign Fitzhugh Green, serving as engineer and physicist, shot Inuit guide Piugaattoq in the back, killing him. He was never charged with any crime.
While looking for Crocker Land, MacMillan took many photographs, not least of all these sensational pictures of the sun rising and setting over the ice.
He also explored North Greenland and Ellesmere Island, sailed on the the schooner Bowdoin (1921-22), designed and built for his purposes and the namesake of MacMillan's alma mater, built the Moravian Mission School for Inuit in Nain, Labrador (1929), compiling a dictionary of the Inuktitut language. and in 1935 married Miriam Look, and went to live in Provincetown, Massachusetts.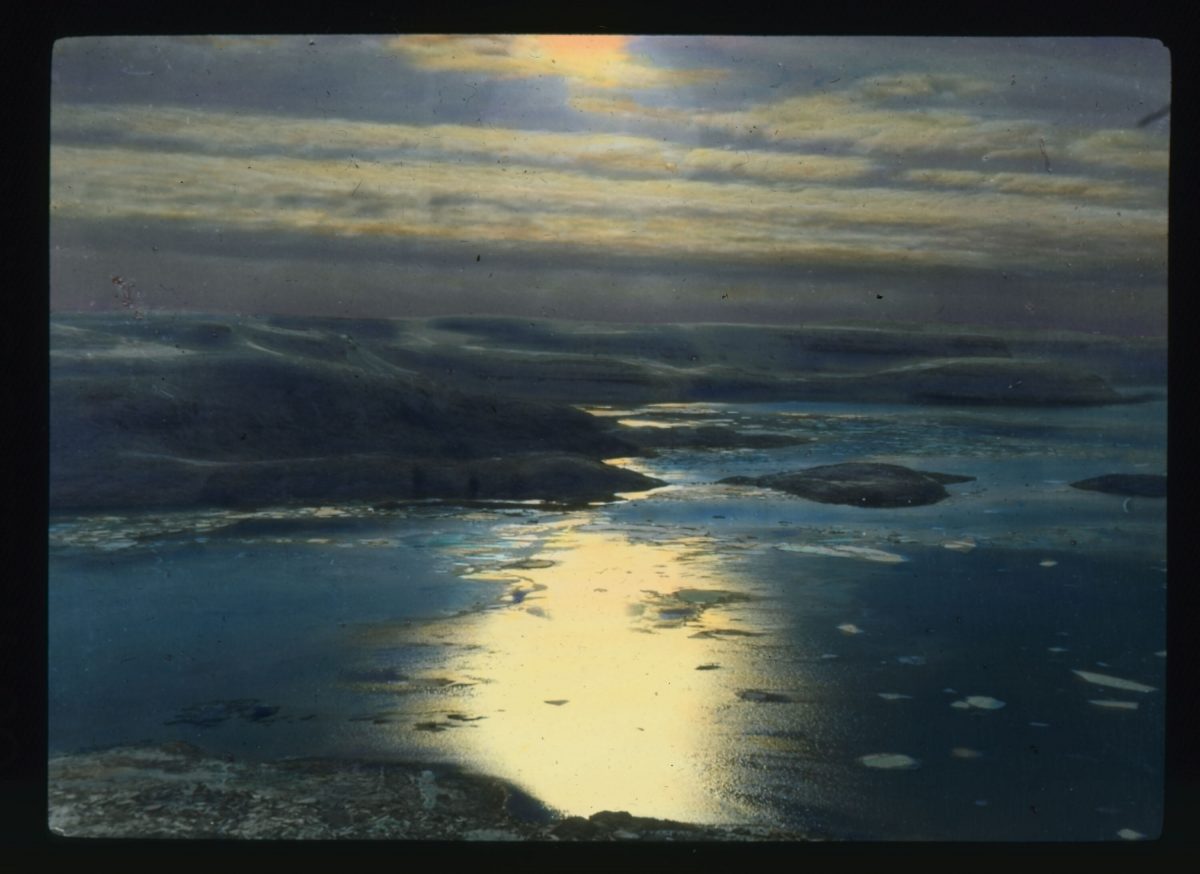 Via Bowdoin