Illustrator and writer Antonio Rubino (15 May 1880 – 1 July 1964) drew comic strips for Italy's Corriere dei Piccoli (1908 to 1995), a supplement for children of Corriere della Sera newspaper readers.
Rubino dealt with all the usual children's stuff:
Quadratino – a child with a huge square head, his grandmother Nonna Matematica ("Grandma Maths") and the tutor Trigonometria ("Trigonometry"). Whenever he misbehaves, Quadratino's unconventional noggin is transformed into a new geometric shape. When Little Square understands his problems, the head returns to something approaching the ordinary. In the panels below his head is being dissected by swordfish.
Italy's fascist youth outfit Opera Nazionale Balilla.
Italino – 'an interventionist young Trentino farmer who enjoys doing spites to his Austro-Hungarian rival Kartoffel Otto.'
Pino e Pina – a brother and sister who look not a lot unlike Chris Sievey's comic creation Frank Sidebottom and early Max Fleischer cartoons.
Piombino e Abetino – a soldier and his pet fly (or is it a fly and his pet soldier?)
Lio e Dado – The local Hitler Youth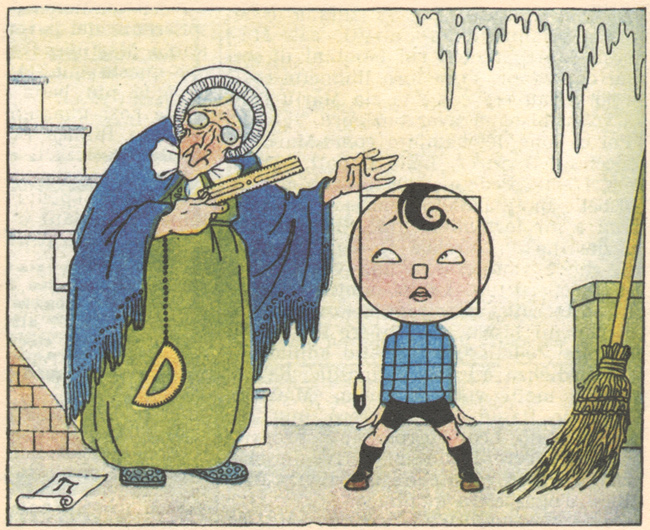 Writer Italo Calvino (15 October 1923 – 19 September 1985) enthused about the impact Rubino's work had on his own career. In Six Memos for the Next Millennium:
In my own development, I was already a child of the 'civilization of images,' even if this was still in its infancy and a far cry from the inflations of today. Let us say that I am a product of an intermediate period, when the colored illustrations that were our childhood companions, in books, weekly magazines, and toys, were very important to us. I think that being born during that period [Calvino was born in 1923] made a profound mark on my development. My imaginary world was first influenced by the illustrations in Corriere dei Piccoli, the most widely circulated weekly for children. I am speaking of my life between three and thirteen years of age, before a passion for the cinema became an absolute obsession, one that lasted all through my adolescence. In fact I believe that the really vital time was between three and six, before I learned to read.

In Italy in the twenties the Corriere dei piccoli used to publish the best-known American comic strips of the time: Happy Hooligan, the Katzenjammer Kids, Felix the Cat, Maggie and Jiggs, all of them rebaptized with Italian names. And there were also Italian comic strips, some of them of excellent quality, according to the graphic taste and style of the period…I used to live with this little magazine, which my mother had begun buying and collecting even before I was born and had bound into volumes year by year. I would spend hours following the cartoons of each series from one issue to another, while in my mind I told myself the stories, interpreting the scenes in different ways—I produced variants, put together the single episodes into a story of broader scope, thought out and isolated and then connected the recurring elements in each series, mixing up one series with another, and invented new series in which the secondary characters became protagonists. […] Reading the pictures without words was certainly a schooling in fable-making, in stylization, in the composition of the image.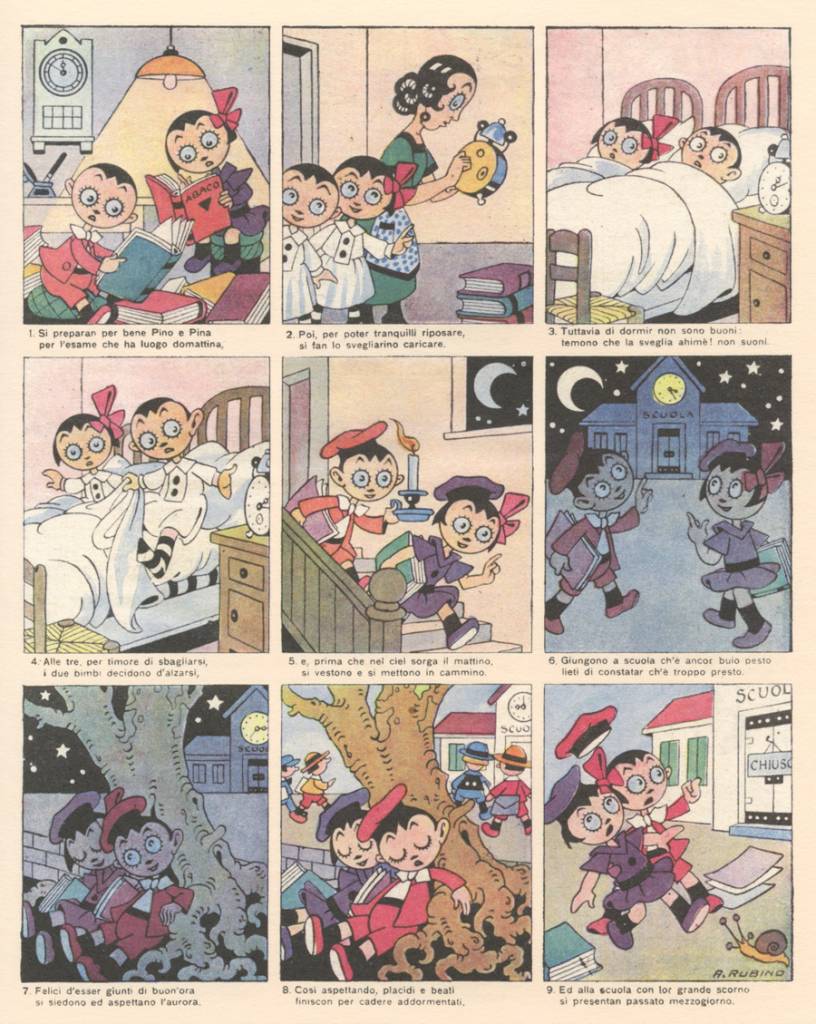 Via 50 Watts