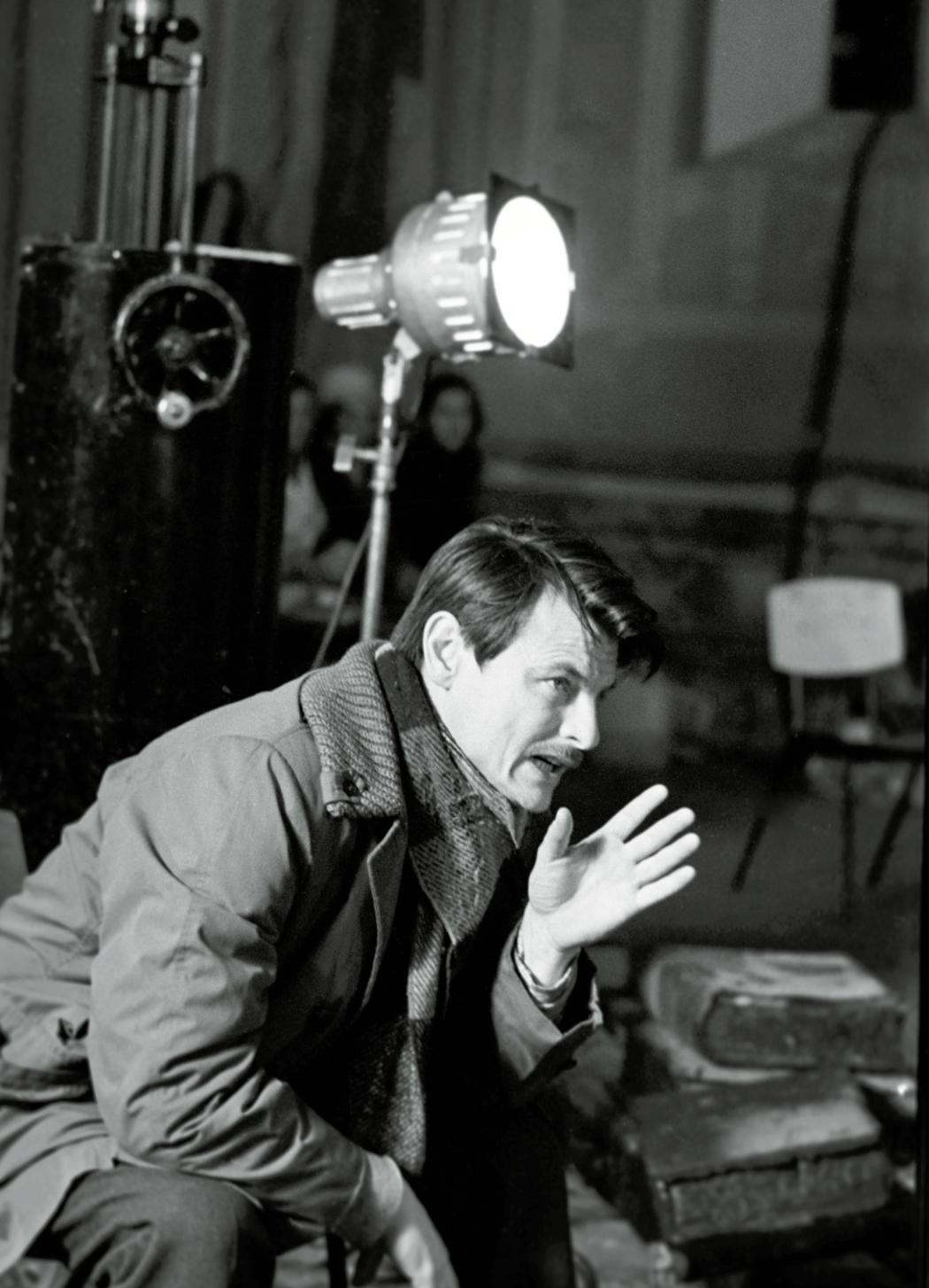 Andrei Tarkovsky (4 April 1932 – 29 December 1986), the Russian director whose poetic polaroids record an acute awareness of the world, listed his Top 10 films in conversation to critic Leonid Kozlov in the March 1993 issue of Sight & Sound magazine. What Tarkovsky valued most in cinema, the elements that inspired his films, like Ivan's Childhood, Andrey Rublyov, Solaris, The Mirror, Stalker, Nostalgia and The Sacrifice, he wrote about in his 1989 Sculpting in Time: Reflections on the Cinema :
"Why do people go to the cinema? What takes them into a darkened room where, for two hours, they watch the play of shadows on a sheet? The search for entertainment? The need for a kind of drug? All over the world there are, indeed, entertainment firms and organizations which exploit cinema and television and spectacles of many other kinds. Our starting-point, however, should not be there, but in the essential principles of cinema, which have to do with the human need to master and know the world. I think that what a person normally goes to the cinema for is time: time lost or spent or not yet had. He goes there for living experience; for cinema, like no other art, widens, enhances and concentrates a person's experience — and not only enhances it but makes it longer, significantly longer. That is the power of cinema: "stars," story-lines and entertainment have nothing to do with it.

…

"What is the essence of the director's work? We could define it as sculpting in time. Just as a sculptor takes a lump of marble, and, inwardly conscious of the features of his finished piece, removes everything that is not part of it — so the film-maker, from a "lump of time" made up of an enormous, solid cluster of living facts, cuts off and discards whatever he does not need, leaving only what is to be an element of the finished film, what will prove to be integral to the cinematic image."
His Top 10 should something special, films anyone looking for the essence of life distilled into a little under two hours should know.
"I remember that wet, grey day in April 1972 very well. We were sitting by an open window and talking about various things when the conversation turned to Otar Ioseliani's film Once Upon a Time There Lived a Singing Blackbird."

"It's a good film," said Tarkovsky and immediately added, drawing out his words, "though it's, well, a little bit too… too…" He fell silent with the sentence half finished, his eyes screwed up. After a moment of intense reflection, he bit his fingernails and continued decisively, "No! No, it's a very good film!"

It was at this point that I asked Tarkovsky if he would compile a list of his favorite ten or so films. He took my proposition very seriously and for a few minutes sat deep in thought with his head bent over a piece of paper. Then he began to write down a list of directors' names – Buñuel, Mizoguchi, Bergman, Bresson, Kurosawa, Antonioni, Vigo. One more, Dreyer, followed after a pause. Next he made a list of films and put them carefully in a numbered order. The list, it seemed, was ready, but suddenly and unexpectedly Tarkovsky added another title – City Lights.

This is the final version of the list he made:

Le Journal d'un curé de campagne
Winter Light
Nazarin
Wild Strawberries
City Lights
Ugetsu Monogatari
Seven Samurai
Persona
Mouchette
Woman of the Dunes (Teshigahara)

After the list had been typed and signed "16.4.72 A. Tarkovsky," we returned to our conversation, during which he quite naturally changed the subject and started with his gentle sense of humor to talk about something of no importance. Looking back at the list today, 20 years on, it strikes me how clearly his choices characterize Tarkovsky the artist.

…

For Tarkovsky, the question lay not in how beautiful a film-maker's art can be, but in the heights that Art can reach. The director of Andrei Rublov strove for the most profound spiritual tension and extreme existential self-exposure in all his work and was ready to reject anything and everything that was incompatible with this end. His list, which includes three films by Bergman, undoubtedly reflects his taste both as a director and as a viewer – but the latter is subordinate to the former.

As the way he began to compile his top ten shows, this is not only a list of Tarkovsky's favorite films, but equally one of his favorite directors. Tarkovsky's and Bergman's "elective affinity" was noted long time ago, well before Sacrifice. But Bresson's film does not come top of the list by chance: Tarkovsky considered him to be a supreme creative individual. "Robert Bresson is for me an example of a real and genuine film-maker… He obeys only certain higher, objective laws of Art…. Bresson is the only person who remained himself and survived all the pressures brought by fame."

It would seem to me that the unexpected appearance of City Lights in the list can be explained similarly. What mattered most to Tarkovsky was not so much the film's cinematographic achievements or any philosophical points it made, but rather the comprehensive nature of Chaplin's self-realization as a director. "Chaplin is the only person to have gone down into cinematic history without any shadow of a doubt. The films he left behind can never grow old."
Via: Nostalghia