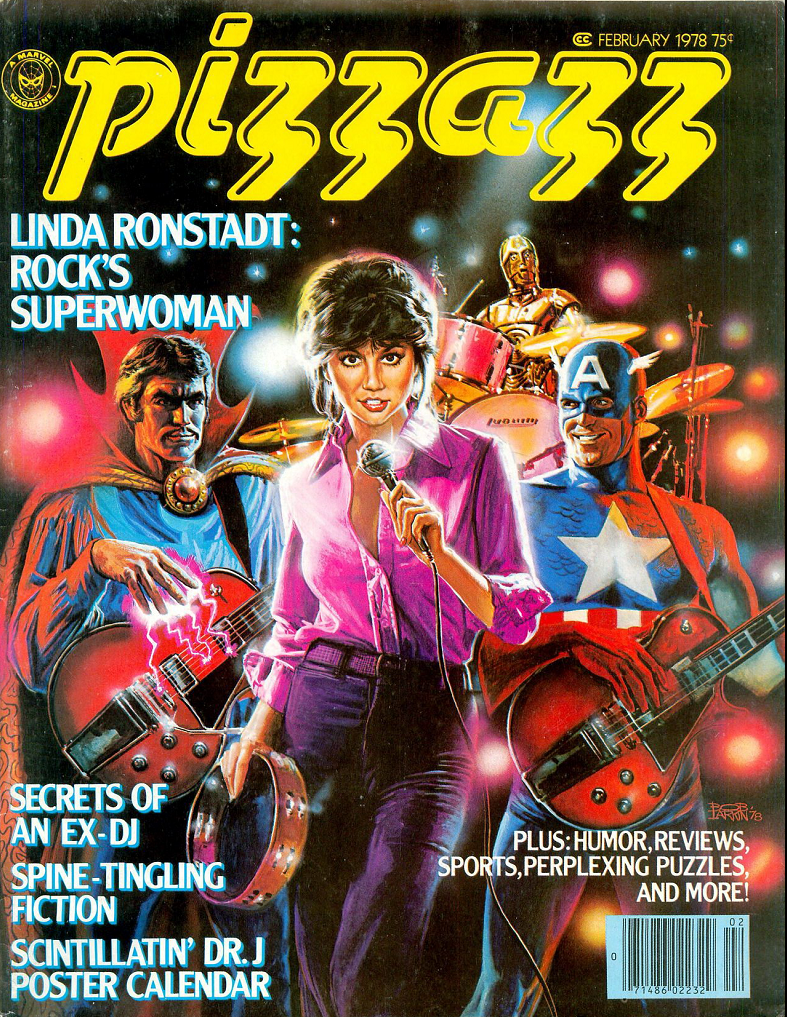 What kid growing up in the seventies didn't enjoy PIZZAZZ magazine? It was more a less a knock off of the popular Scholastic magazines Dynamite and, more closely, Bananas. However, this had the Marvel Comics badge, and so it was extra cool – Spidey and The Hulk were popping up everywhere on the pages of PIZZAZZ.
In the very first issue, Stan Lee himself gives a brief introduction to the magazine and its creation:
Here it is – the question all America is asking – the most urgent query of our time; namely, "Hey, guys, why are you publishing another new magazine?"

And here, in our fearlessly courageous style, is the gutsy, unvarnished answer: "Why not?"

But, if that reason's not erudite enough, we'll lay another one on you. After years of creating the world's best-selling comic books, we thougt it would be a blast to also produce a handsome, full-color, top quality magazine, printed on the very finest paper, with exciting features, puzzles, news and stories, as well as comics and cartoons. In other words, the kind of magazine we ourselves would eagerly look forward to each month. So we created – PIZZAZZ! And now, let's share the excitement of discovering PIZZAZZ! Today, you've found a brand new magazine. Tomorrow, we want you to call it an old and trusted friend. Go to it, O lucky one. The best lies just ahead!

Excelsior!

Stan Lee
The magazine operated on a tried and true formula to appeal to pre-teen boys of the 1970S: throw as much trendy cool shit together as possible with lots of pictures. Thus, you have a conglomeration of literally everything boys back then loved – from KISS to Star Wars, from Skateboarding to Dr. Strange – it was all here.
The magazine was a perfect time capsule of the average American pre-teen in the 70s. It regularly featured articles on the many popular music artists of the day (kinda like CREEM but less racey). PIZZAZZ featured stories on Meatloaf, Alice Cooper, Shaun Cassidy, Linda Ronstadt, and KISS…. lots and lots of KISS!
Considering it was a Marvel publication, it's not surprising that it featured several comic book pages: namely a Tarzan comic (which I was never much into) and a Star Wars comic. If memory serves, the comic wasn't that great despite the Star Wars frenzy going on back then.
And of course, you had to have a little gratuitous sex appeal for the young lads to enjoy. Nothing too extreme – just a few photos of Farrah, Suzanne Somers, Cheryl Teigs or Linda Ronstadt.
And if that weren't enough, there were cool magic tricks courtesy of Doctor Strange…. none of which ever seemed to work wen I tried to do them myself.
Here's a gallery of PIZZAZZ covers…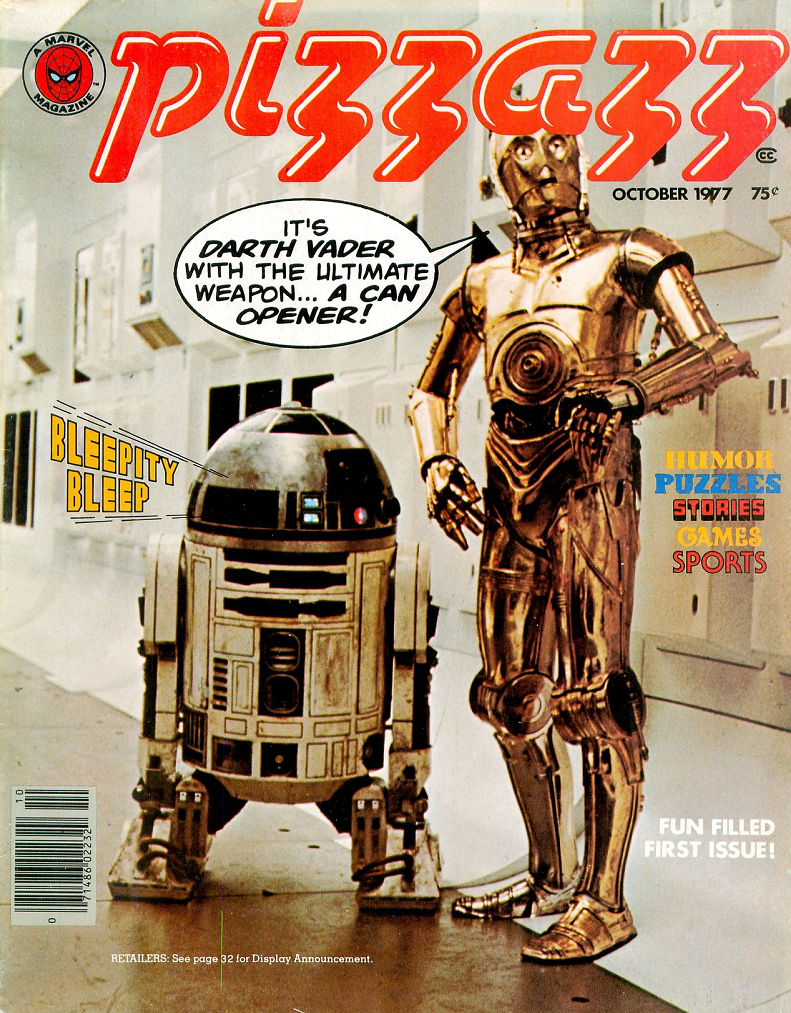 The very first issue.  It starts with the lamest joke ever, but great things were to come.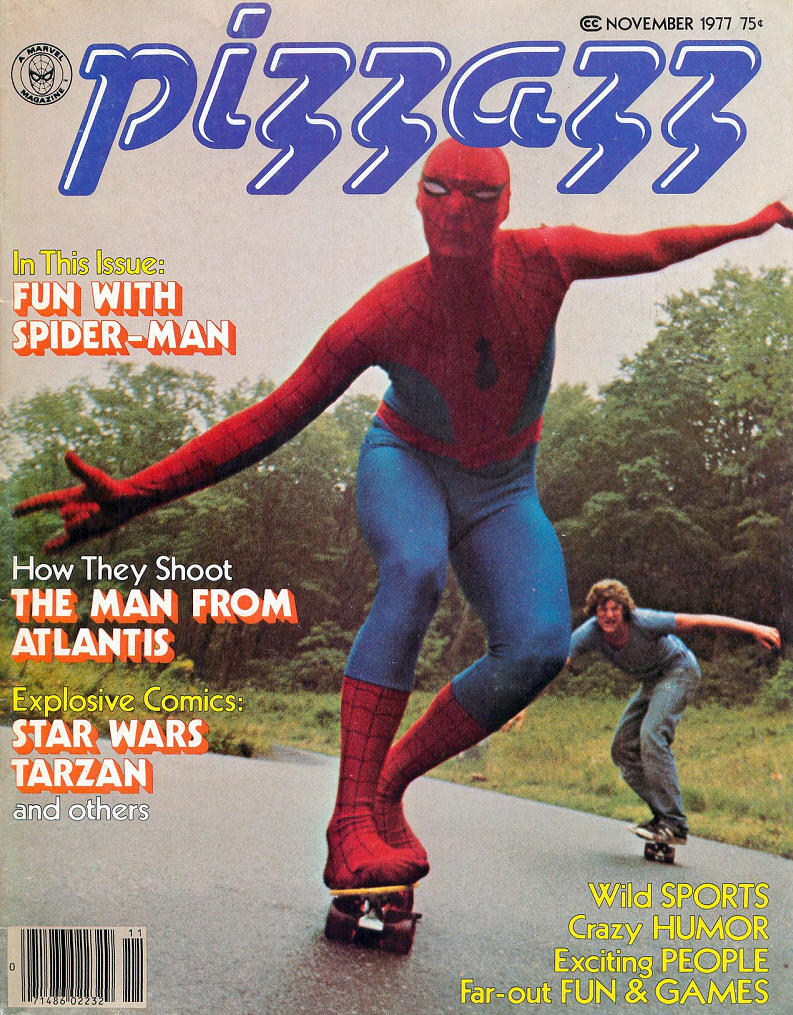 YES!! Look out Doc Oc, here comes Spidey on a 70s style skateboard!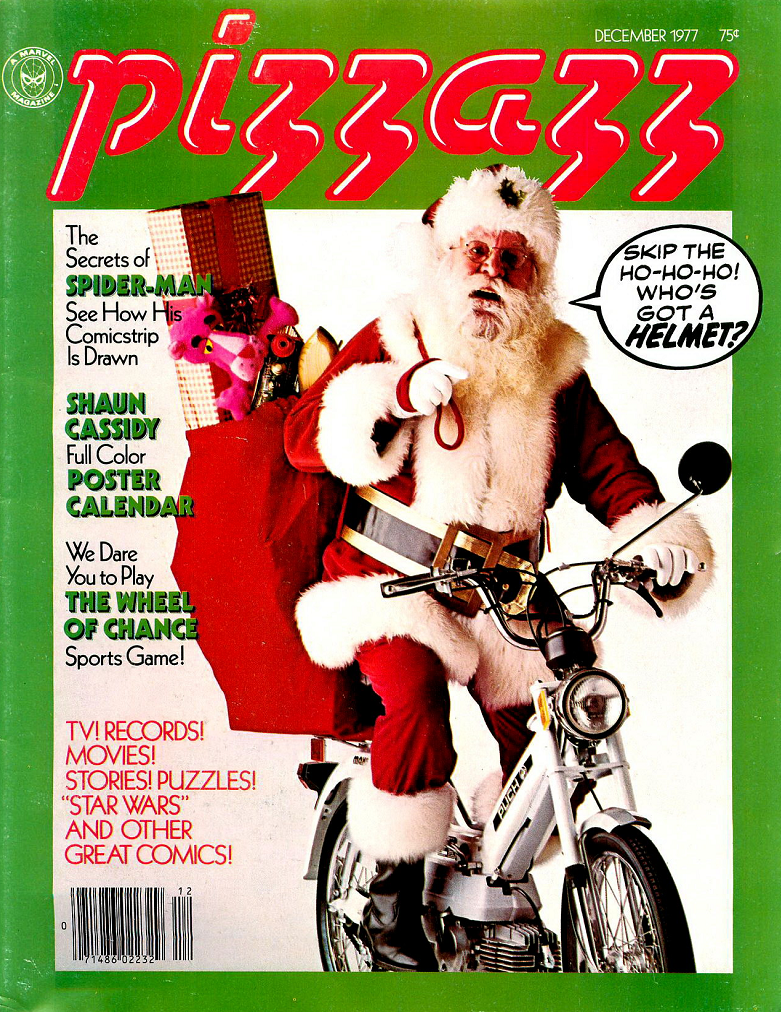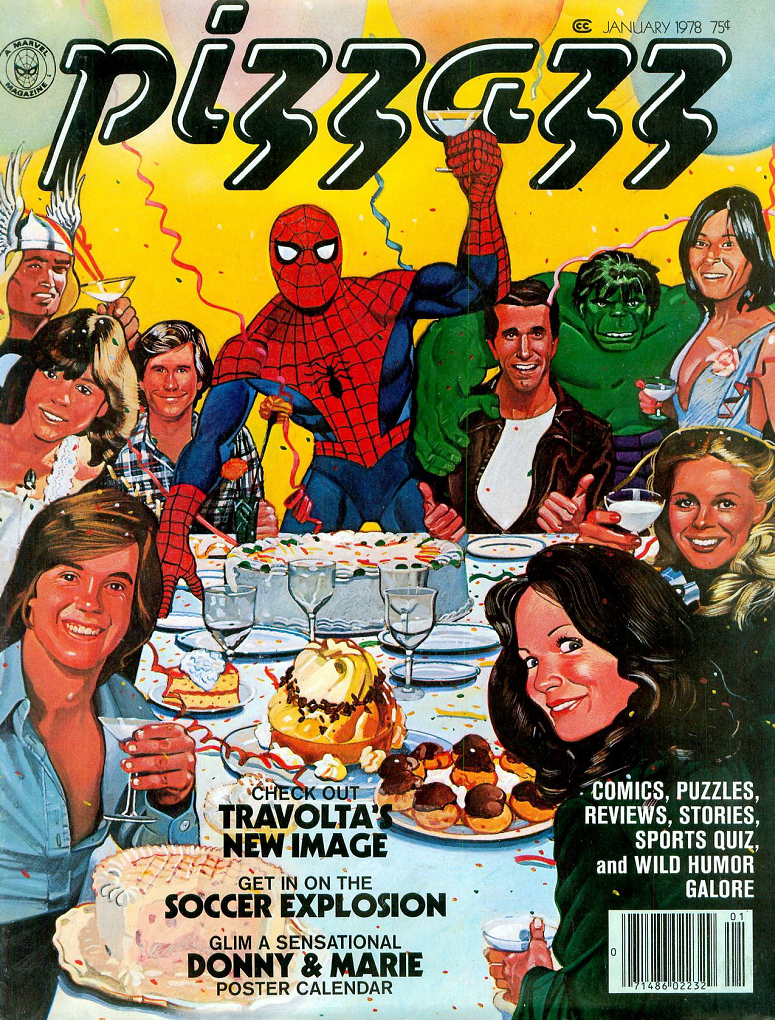 Can you identify everyone in this picture?
Answer: Spidey, The Fonz, Hulk, Kate Jackson, Cheryl Ladd, Jaclyn Smith, Shaun Cassidy, Kristy McNichol, Thor, and Parker Stevenson. Please, hold your applause.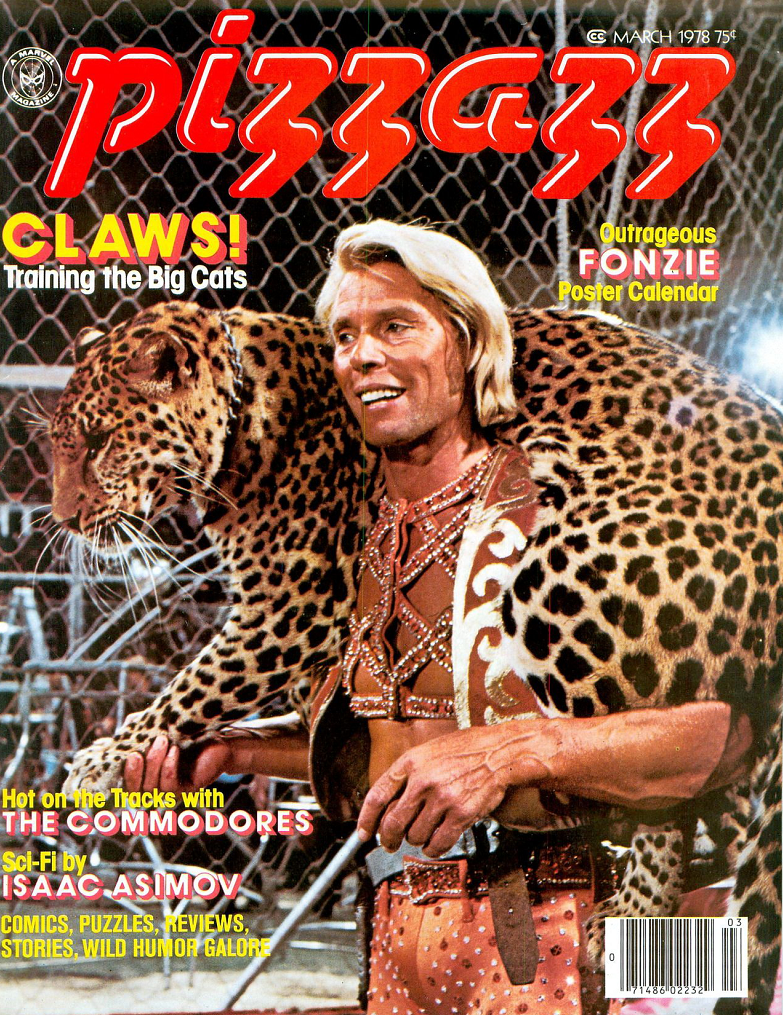 Eegad! It's Gunther from the Wringling Bros. Circu. Not exactly a cover that would appeal to 70s kids – at least there's references to Fonzie and The Commodores to lure kids in. But overall, not one of the better PIZZAZZ covers.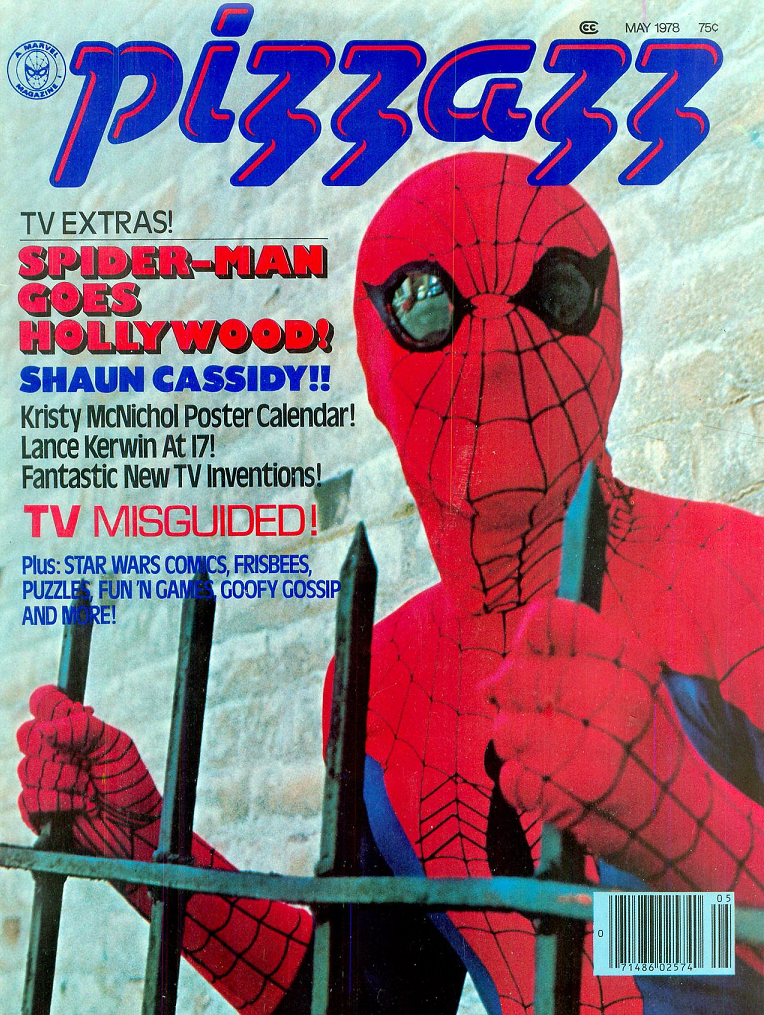 Spider Man again. He was everywhere back then; many of you may recall his appearances on the Electric Company.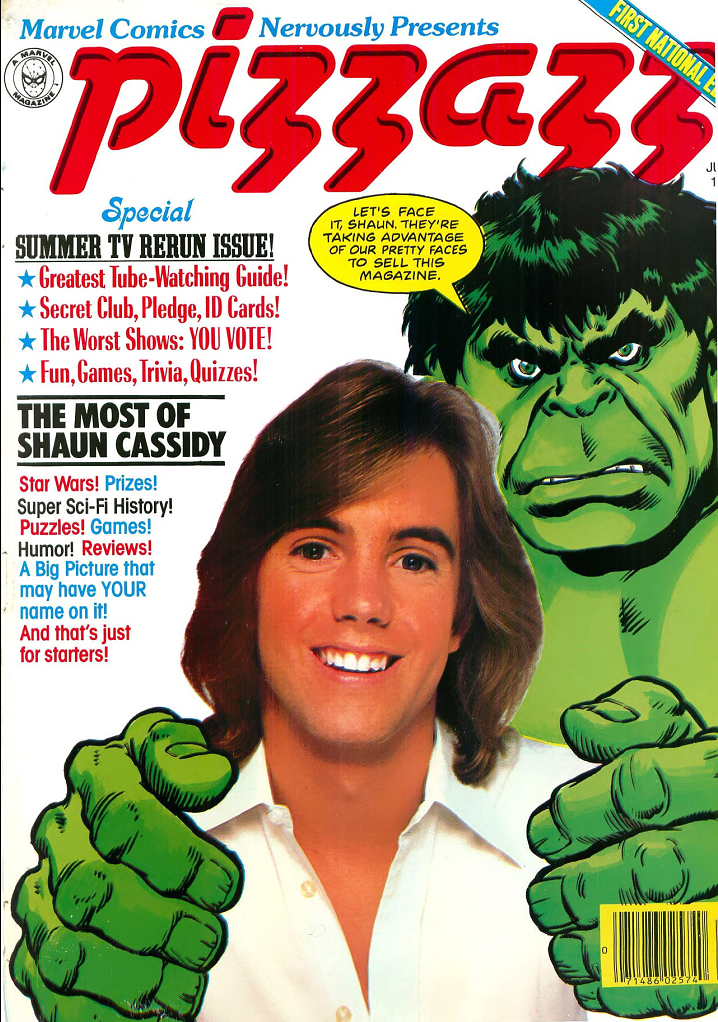 Even more omnipresent than Spider-Man, was Shaun Cassidy. For a couple years, you couldn't open your eyes and not see Shaun somewhere. His record was quite popular among the pre-teen crowd, his show (The Hardy Boys) was extremely popular, and his mug was plastered over every magazine on the rack – from CREEM to Tiger Beat. And then, sometime in 1979, POOF! he was gone…. and you never saw him again.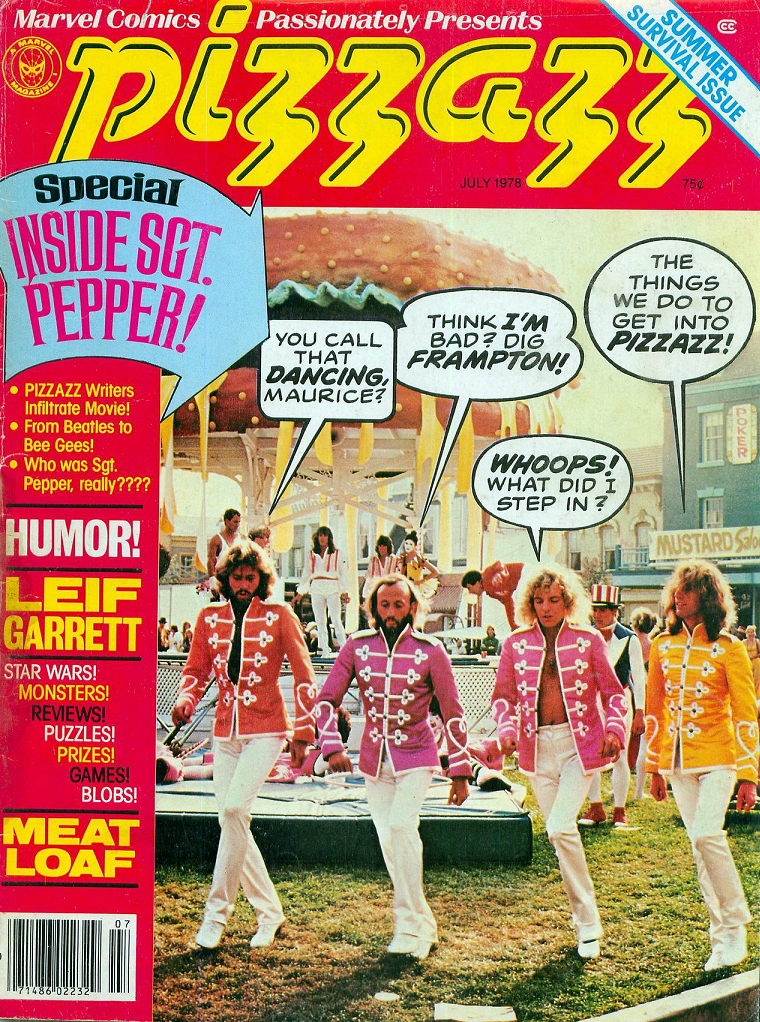 Frampton asks, "What did I step in?"  Answer: a career ending trainwreck of a movie.
God, what a disaster this was. It was so hyped up, and it did NOT deliver. Even with every major celeb and musical act popular at the time, it still couldn't get anyone to go see the movie or buy the record. I still remember the bargain bins at the record store overflowing with Sgt. Pepper double albums going for peanuts.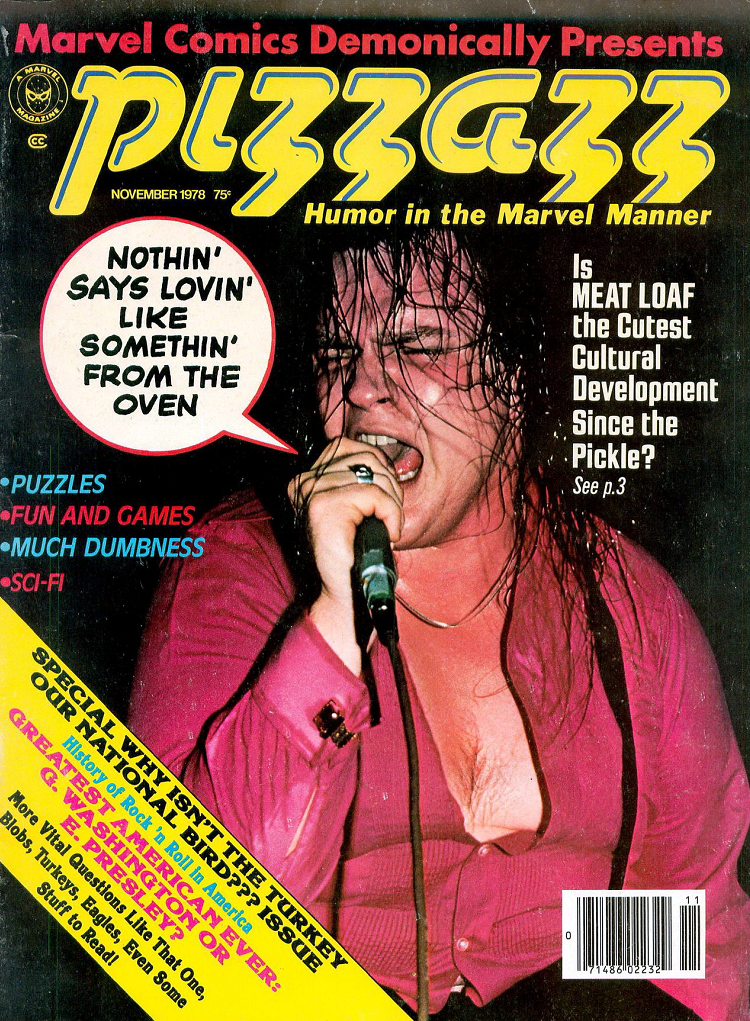 Never a pleasant sight.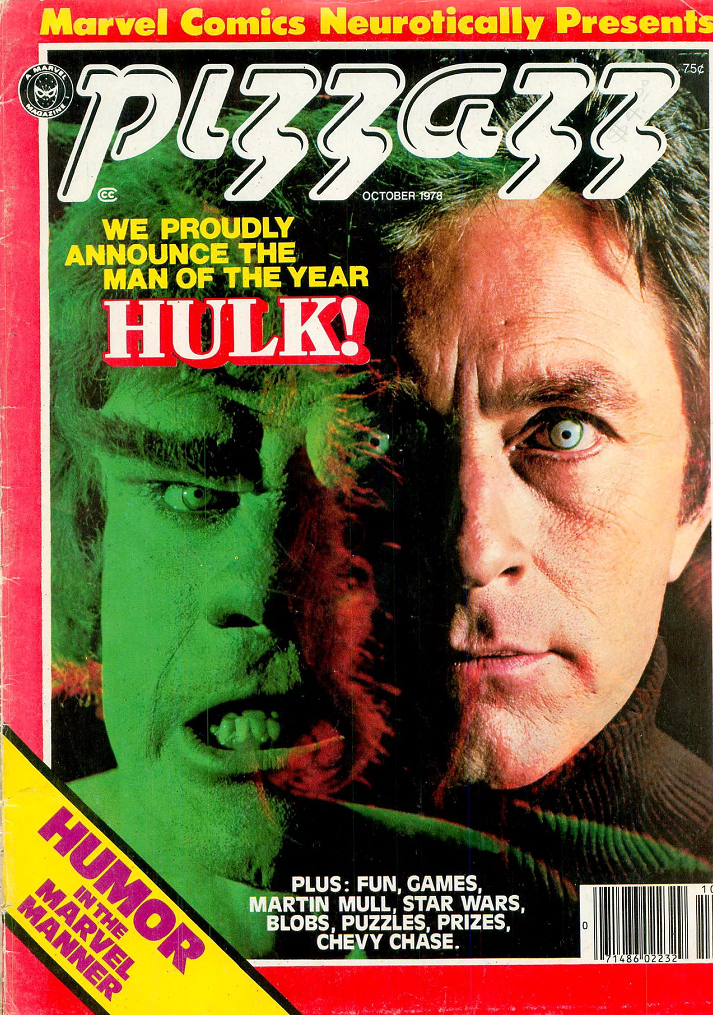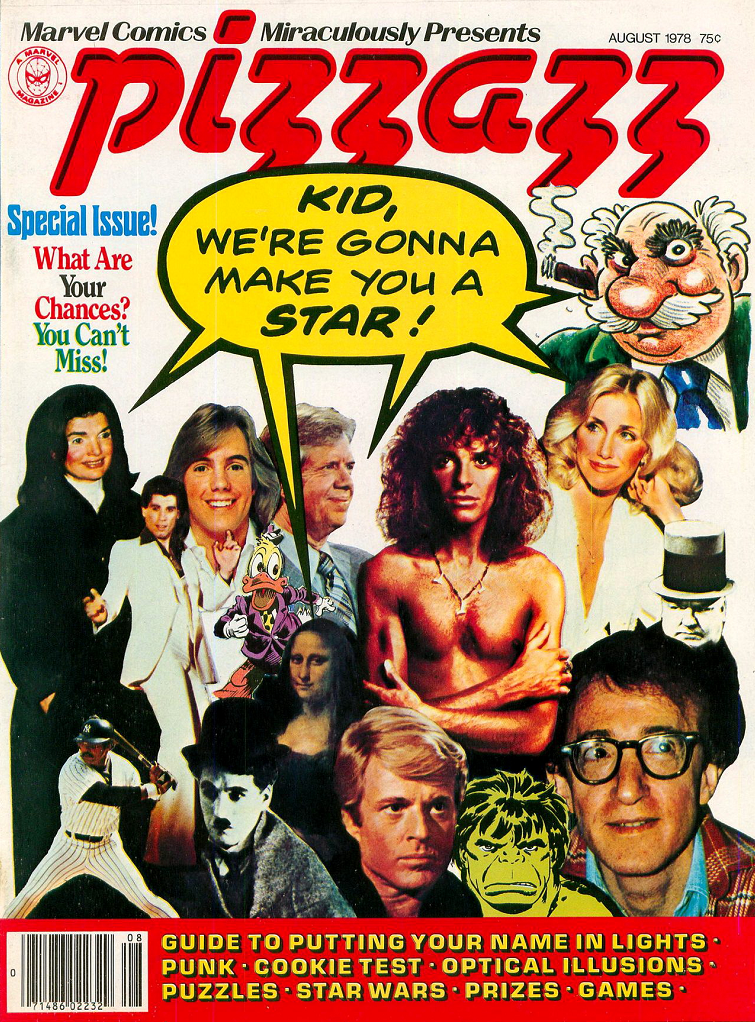 If you want a time capsule of the late Seventies pop culture, there's probably no better place to look than PIZZAZZ.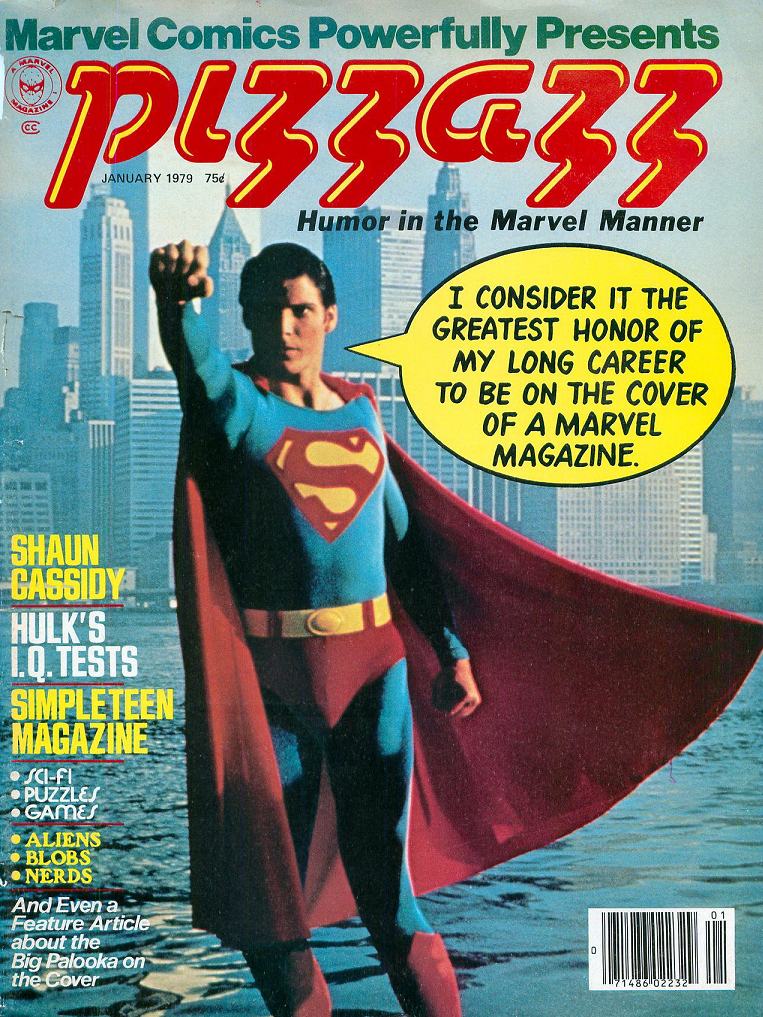 A little dig at DC from Marvel?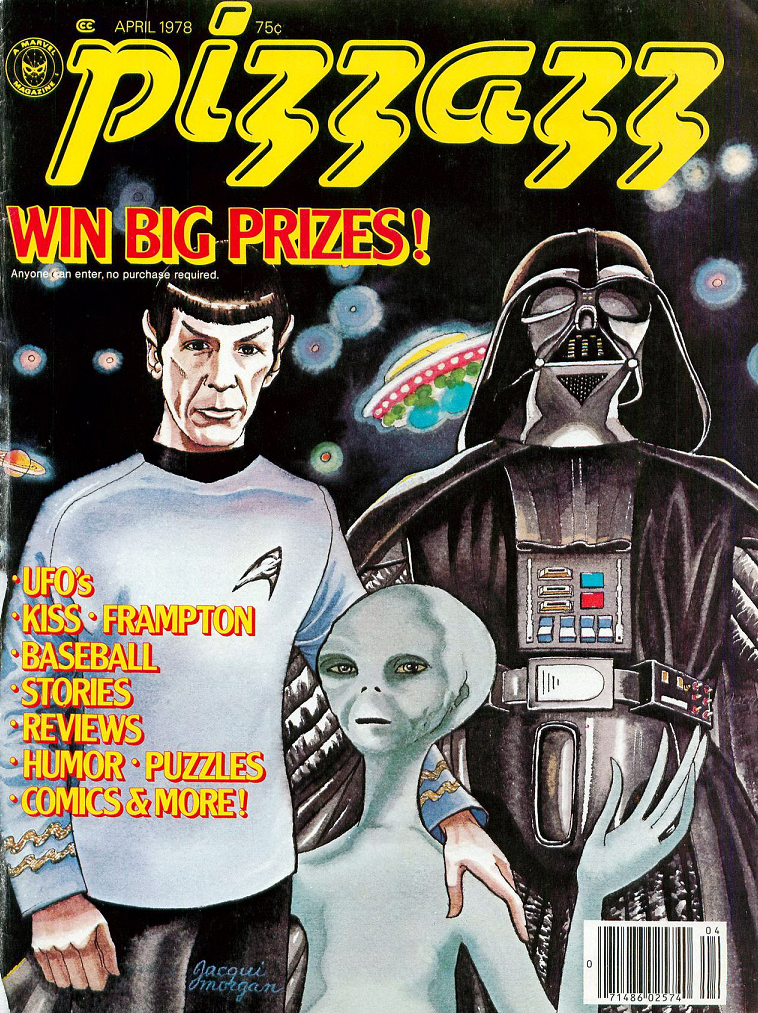 The mystery is what ended up killing off PIZZAZZ. Once upon a time, there were tons of magazines for young boys to consume: Dynamite, Bananas, PIZZAZZ, MAD, Cracked, Crazy, Creepy, Eerie, Conan, Sick, etc., etc. Where'd they go?
I don't have an answer for that, but at least I can say that I enjoyed them while they lasted.