A while back we took a look at the new shows coming on the scene in 1989: How Bad Was American TV in '89? Check Out The 1989 Fall Preview
What we found was a godawful TV wasteland of trite garbage filling the dial.  This time around we take a look at 1984's offerings, and I believe things are a lot better overall.  Let's have a look at each new show and see for yourself…
COVER UP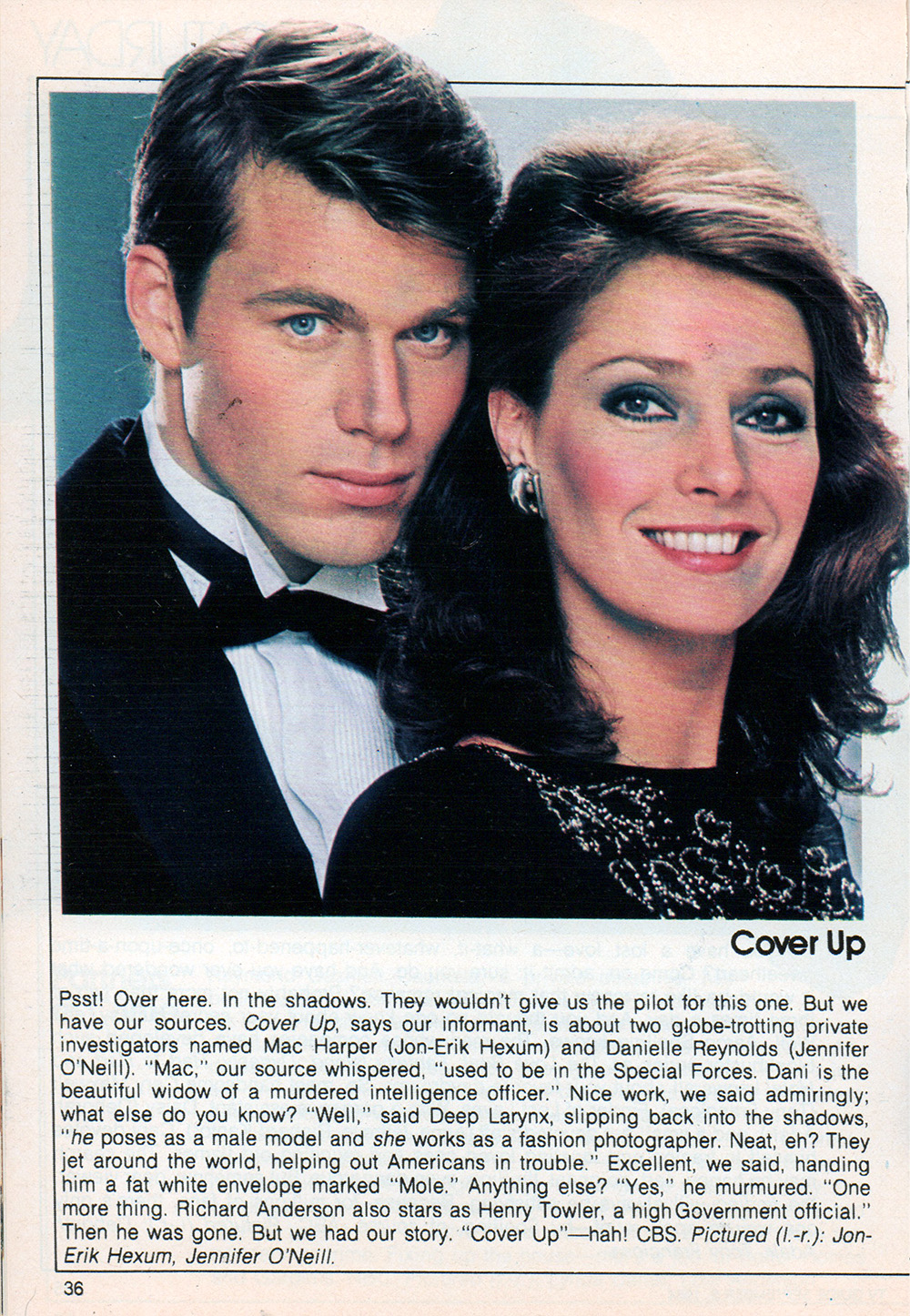 Cover-Up became infamous for the on-set death of star Jon-Erik Hexum (pictured above).  The actor was bored between scenes, so he stuck a gun containing blanks to his temple and pulled the trigger.  The blank cartridge caused a quarter-sized piece of bone to lodge into his brain.  He was rushed to the hospital and declared brain dead soon after.
HOT PURSUIT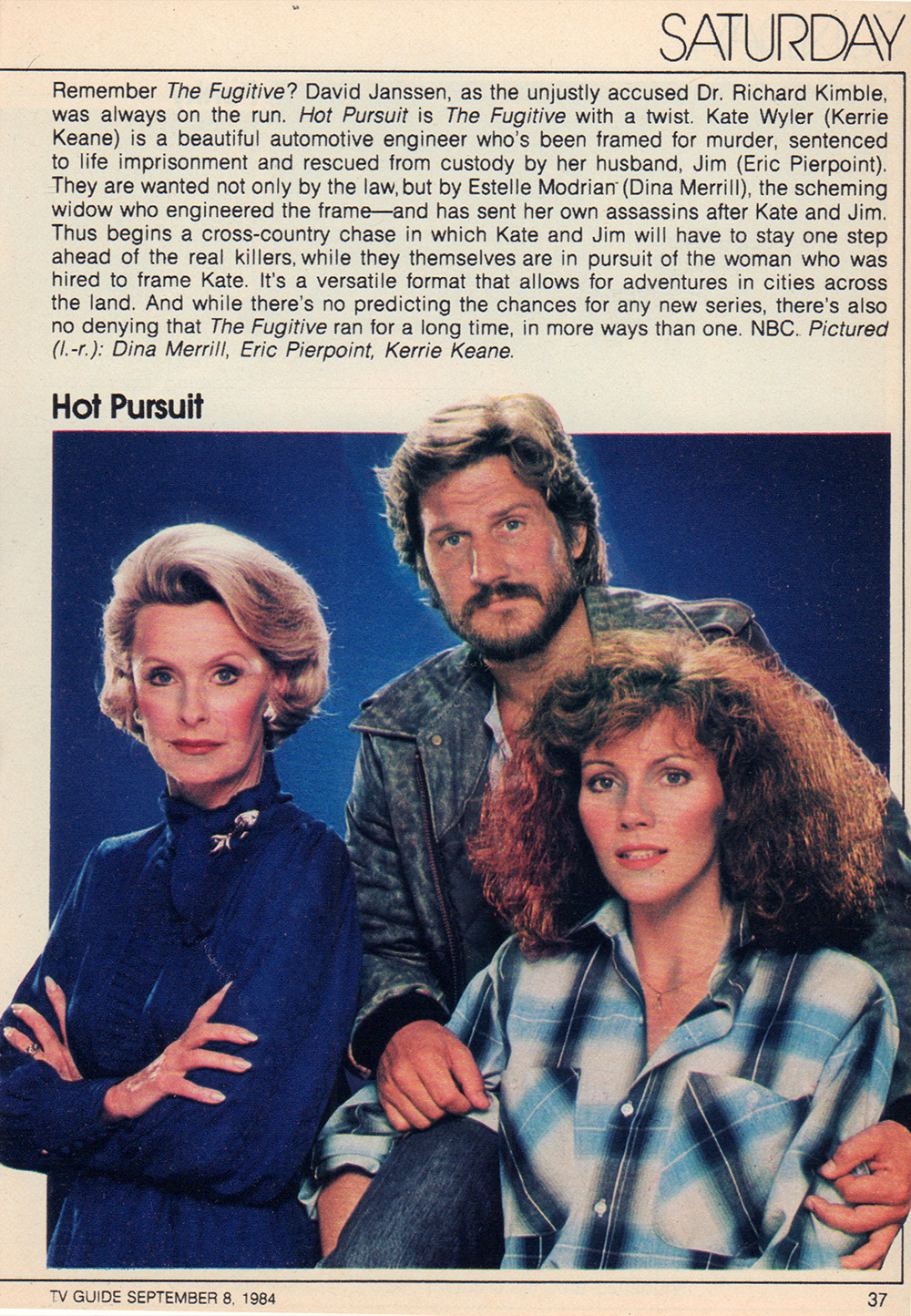 This show didn't even make it to 1985.  It sounds like it could have been decent: a man and woman search for the "real killer", her look-alike, in a similar vein as The Fugitive.  Evidently, the writing was on the wall by December and the show was given the boot.
PARTNERS IN CRIME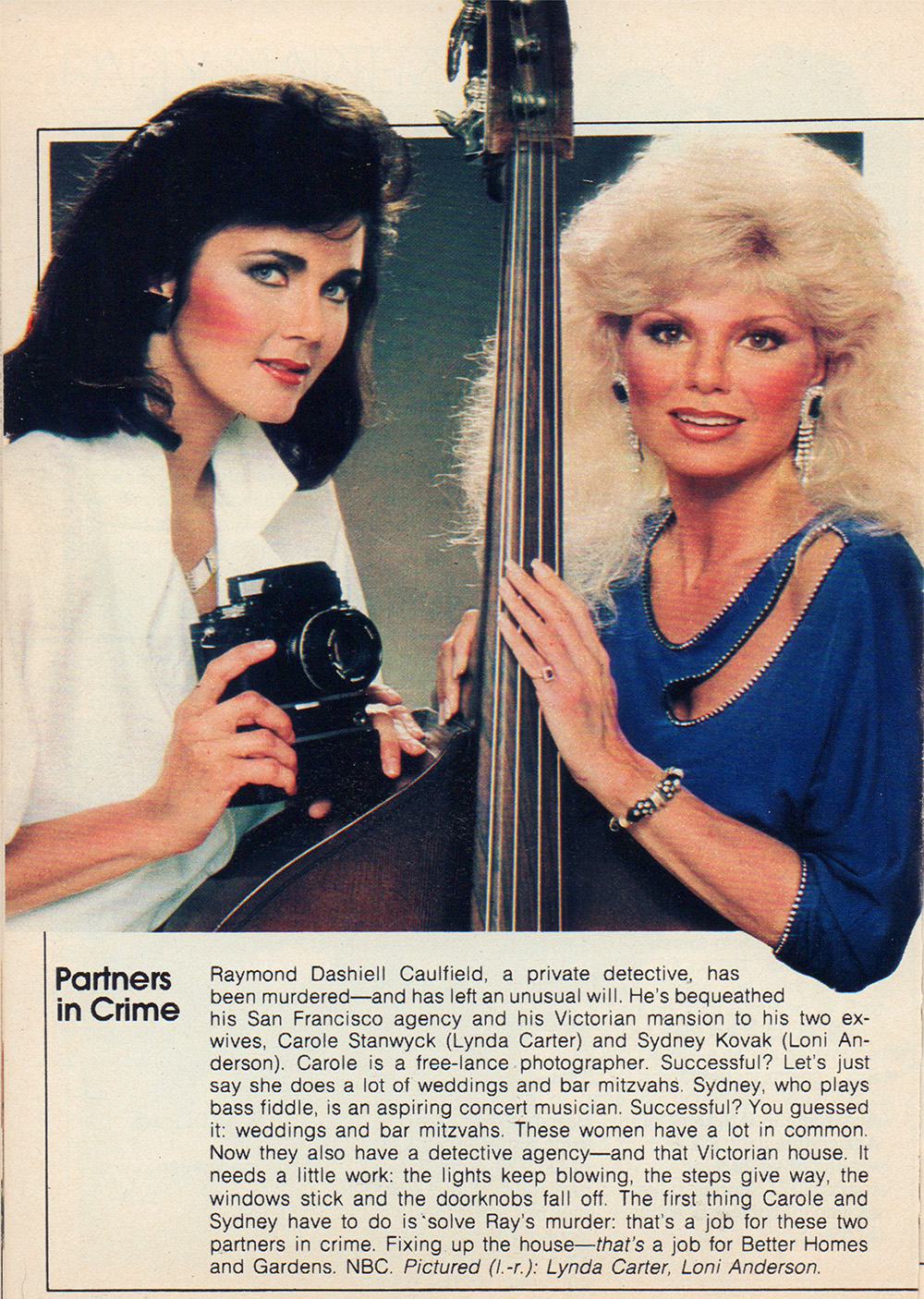 Two 1970s "jiggle TV" icons (Wonder Woman, and WKRP in Cincinnati) team up as private detectives.  Problem: without the jiggle, there wasn't much reason to watch these two, and the show was cancelled after just 13 episodes.
FINDER OF LOST LOVES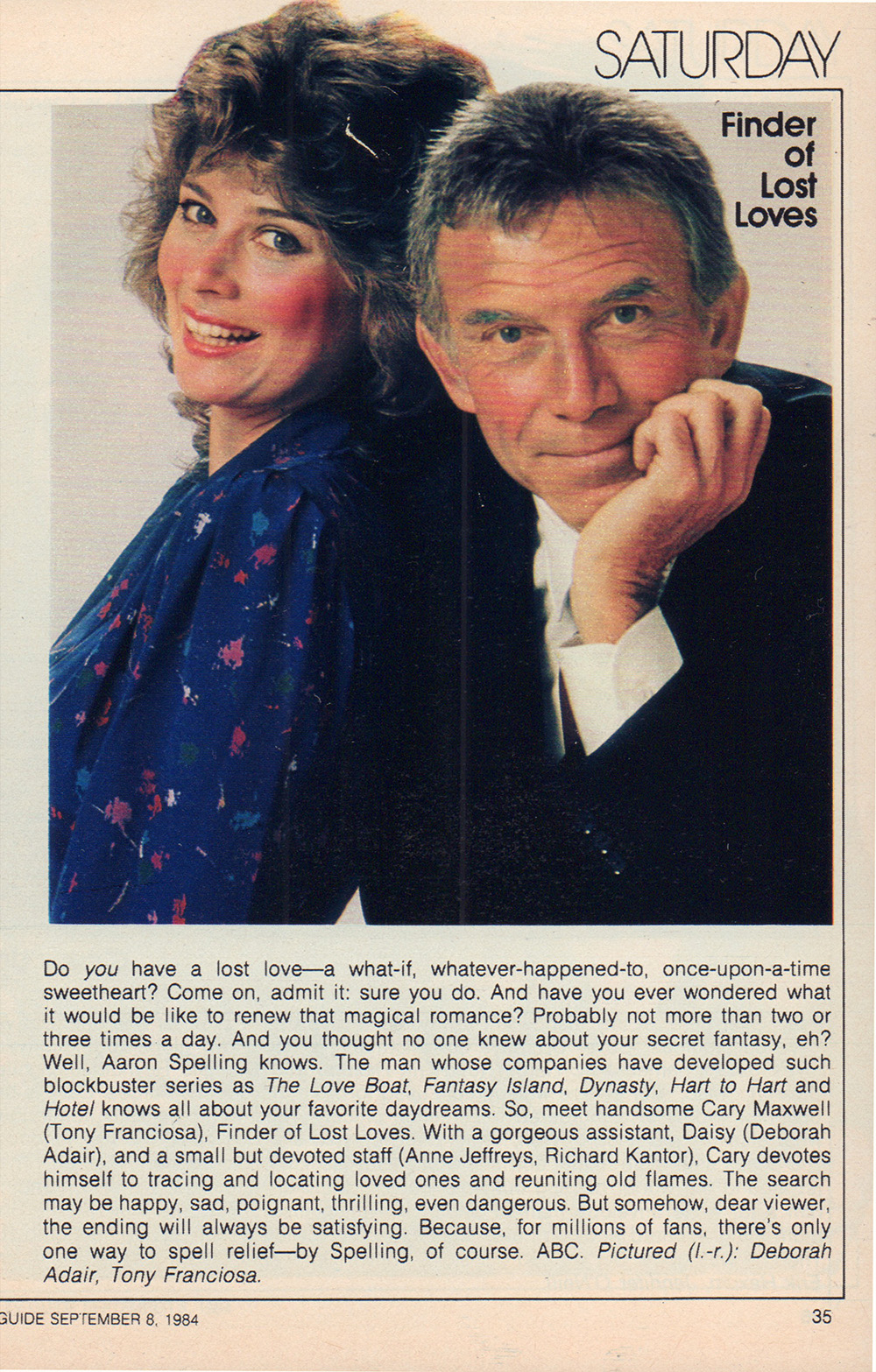 An Aaron Spelling show about a private detective who finds the lost loves of special guests, with each episode being like The Love Boat or Fantasy Island, featuring a different cast of Z-list washed up celebrities.
PUNKY BREWSTER/ MURDER SHE WROTE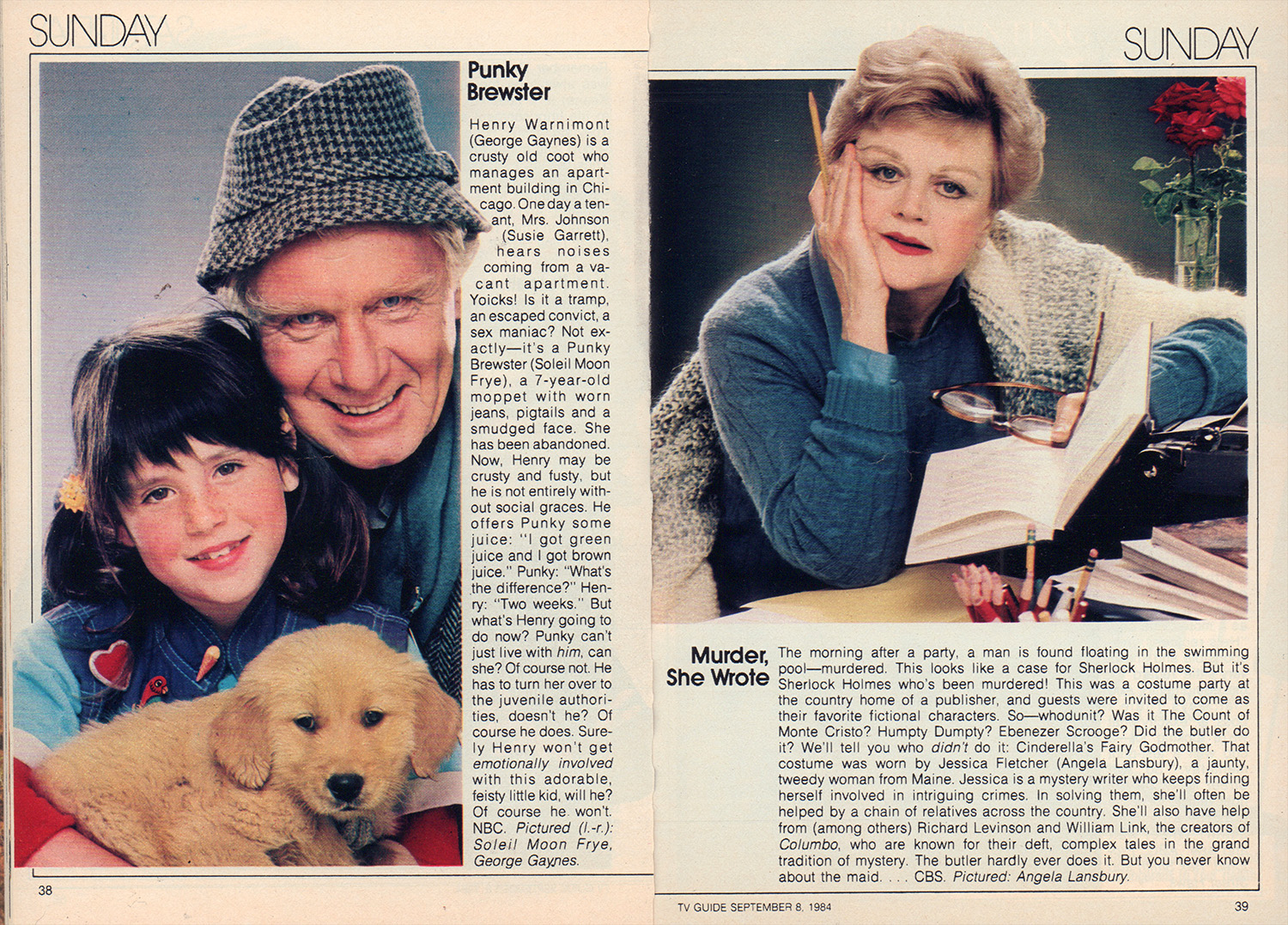 While neither of these Sunday shows were my cup of tea, they were successful; Murder She Wrote had some serious staying power.  Punky Brewster was yet another TV show featuring a "cute wise cracking kid" that seemed to dominate the airwaves around this time.
STREET HAWK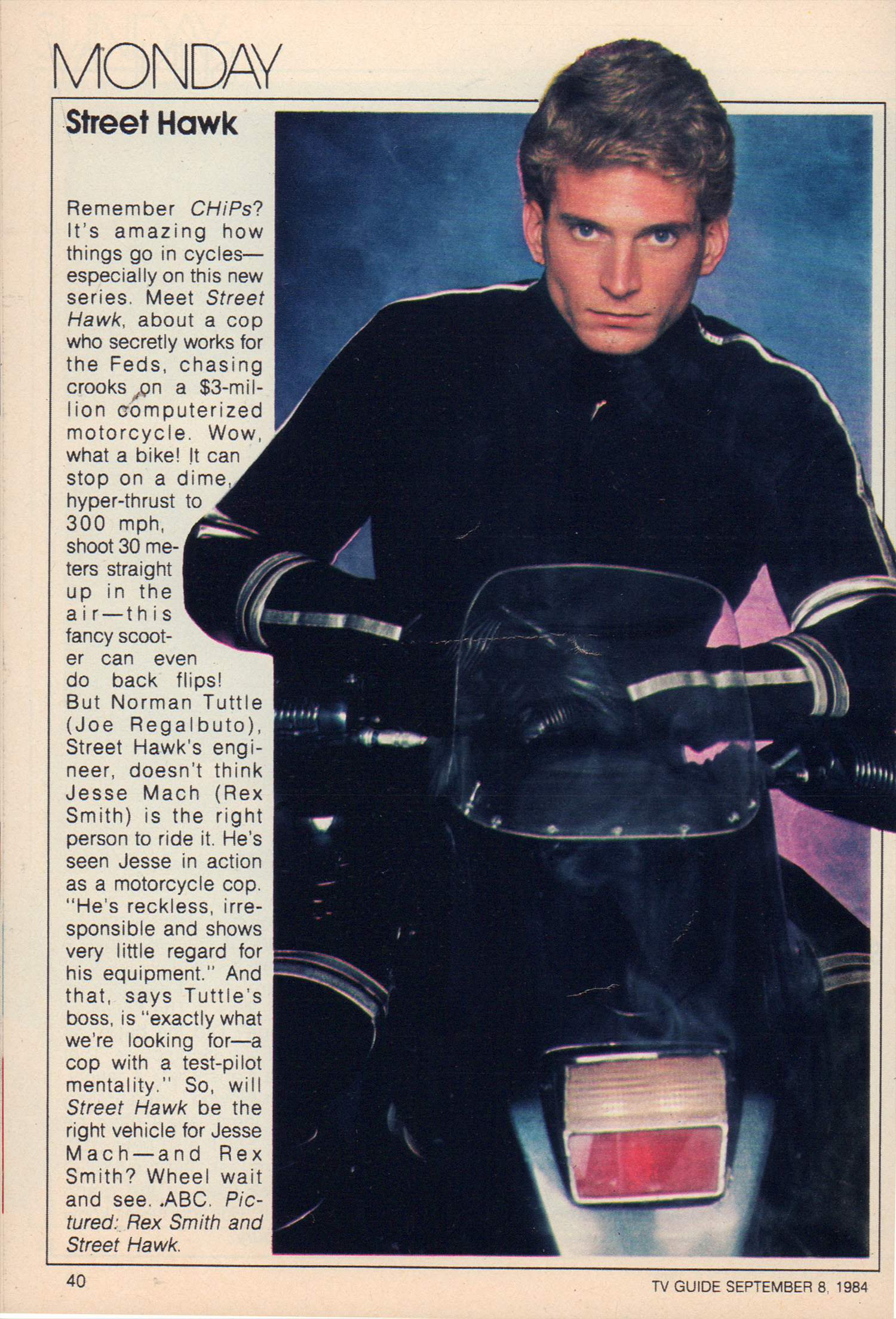 The main thing I remember is the intro, featuring music by Tangerine Dream and the narration:
This is Jesse Mach, an ex-motorcycle cop, injured in the line of duty. Now a police troubleshooter, he's been recruited for a top secret government mission to ride Street Hawk — an all-terrain attack motorcycle designed to fight urban crime, capable of incredible speeds up to three hundred miles an hour, and immense firepower. Only one man, federal agent Norman Tuttle, knows Jesse Mach's true identity. The man…the machine…Street Hawk.
ER/ THREE'S A CROWD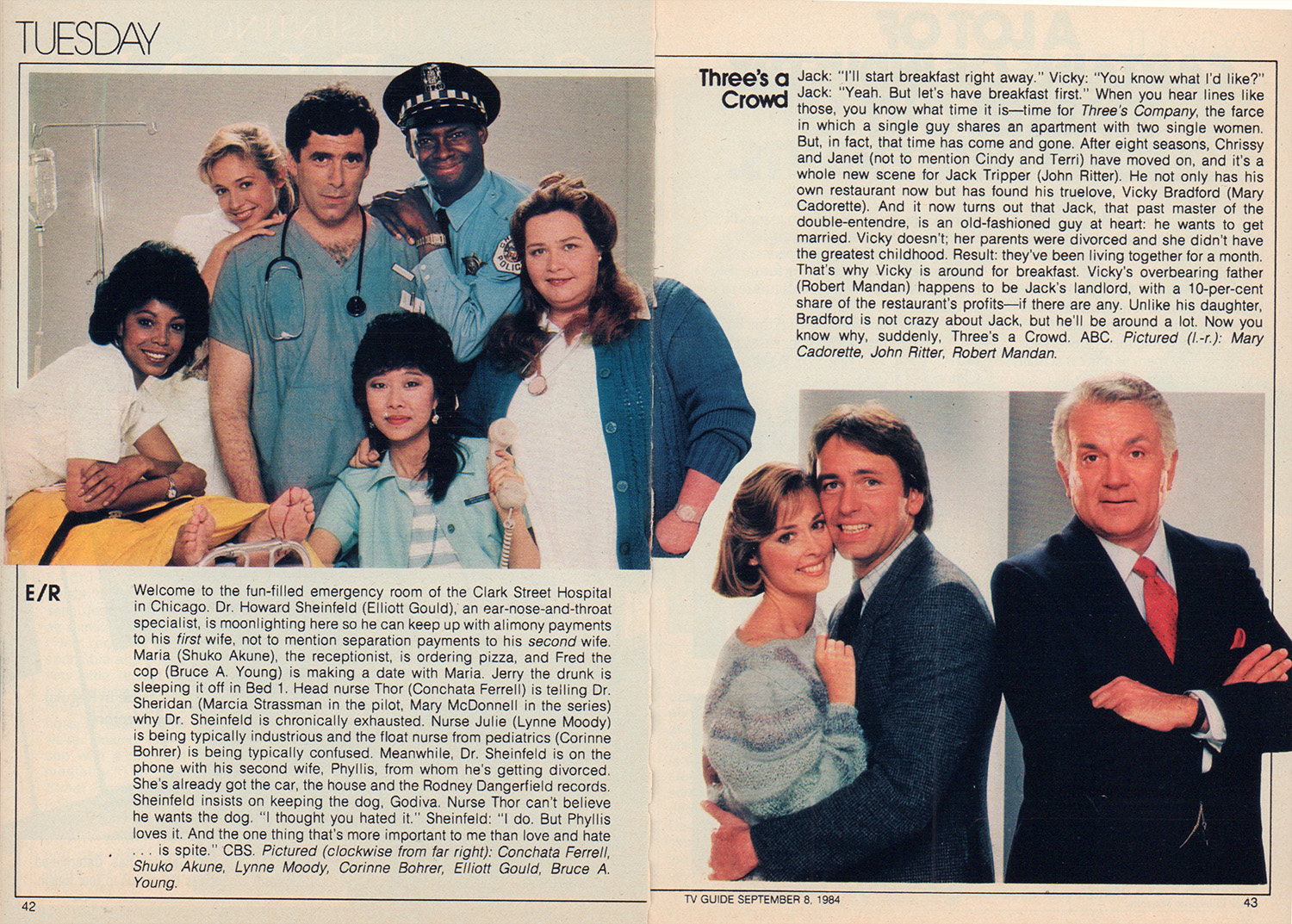 E/R was a short-lived sit-com starring Elliot Gould which had nothing to do with the mega-popular drama from the 1990s.  Interestingly enough, George Clooney starred in both of them.
Three's a Crowd had some magic moments thanks to the comic genius of John Ritter, but they just couldn't recapture the mojo of Three's Company.  The main problem (IMHO) is that Jack's love interest, Vicky, was never given any funny lines and wasn't a particularly interesting (or sexy) character as Janet and Chrissy/Terry had been.
PAPER DOLLS
Based on a popular TV movie starring Joan Collins and Daryl Hannah, Paper Dolls rode the wave of glossy, rich-people dramas (Dynasty, Dallas).  But the series just didn't click with audiences and the show didn't even make it to 1985.
JESSIE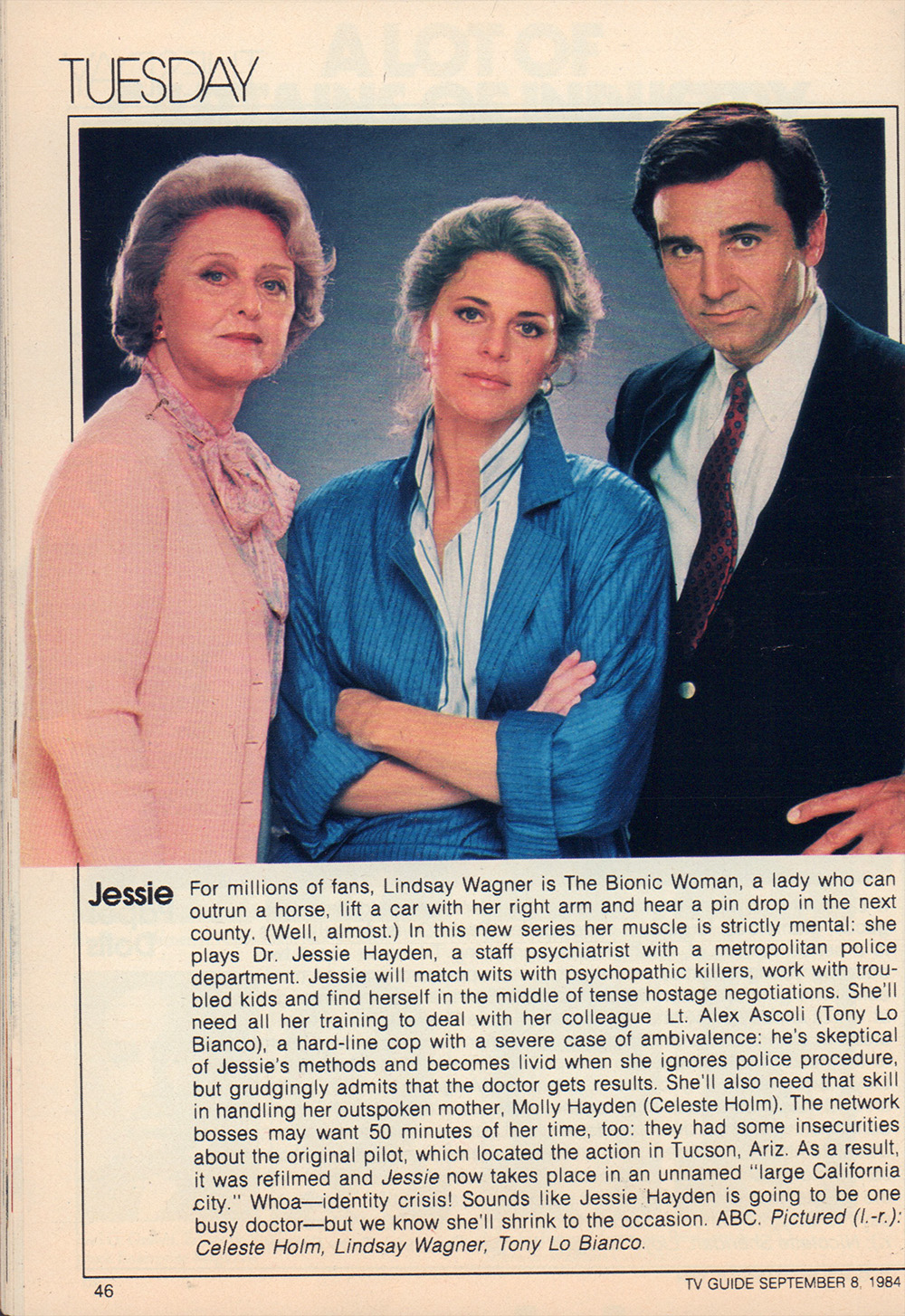 Lindsay Wagner, who we all loved in the seventies as The Bionic Woman,… is a police department staff psychiatrist?  Ugh.  No wonder no one watched.  Jessie only lasted 7 episodes (with 4 additional episodes filmed but never aired).
CHARLES IN CHARGE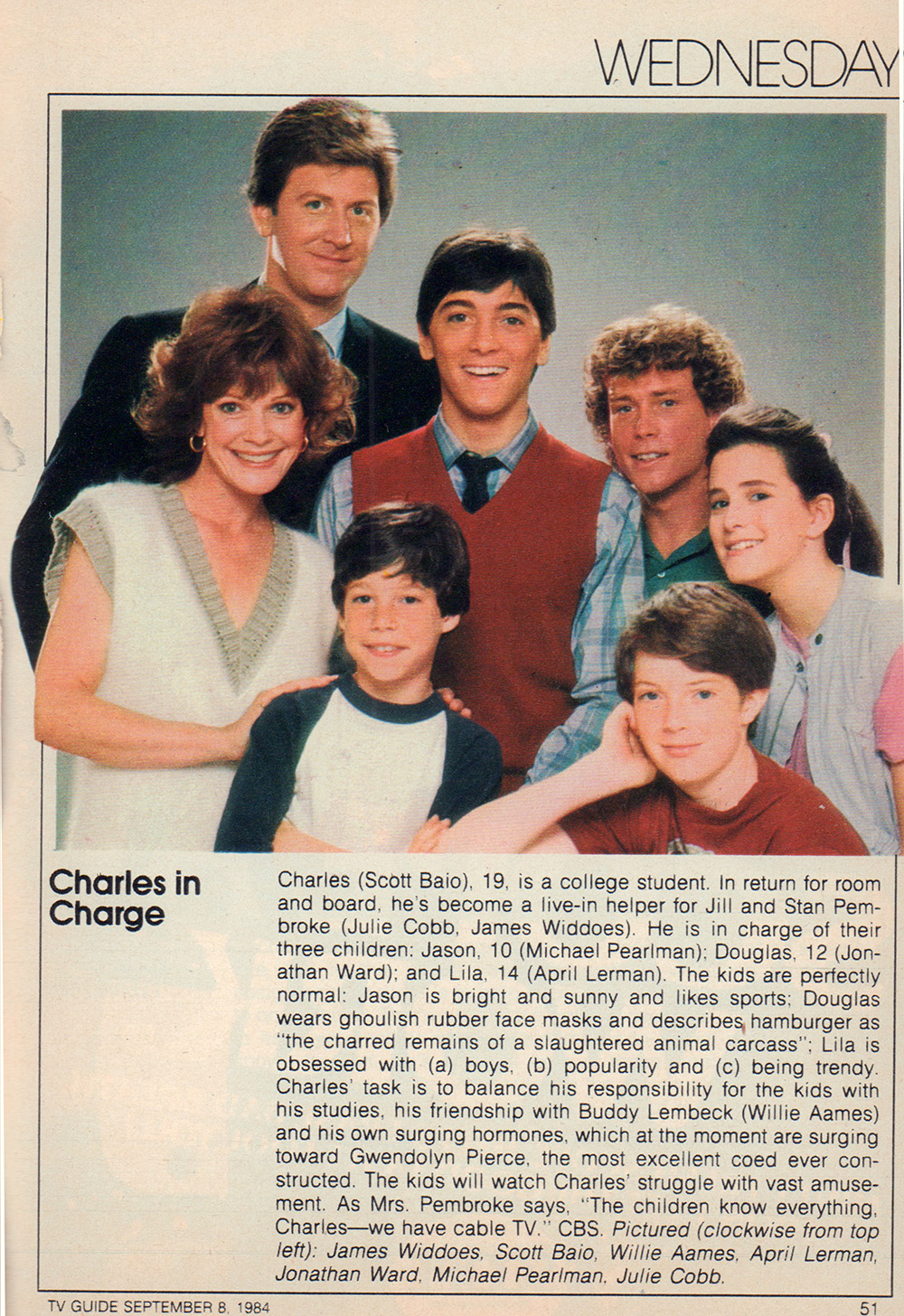 Charles in Charge was initially a failure; only making it to 1985 before cancellation.  BUT it was picked up by Universal under "first run syndication" and found success on air until 1990.
HIGHWAY TO HEAVEN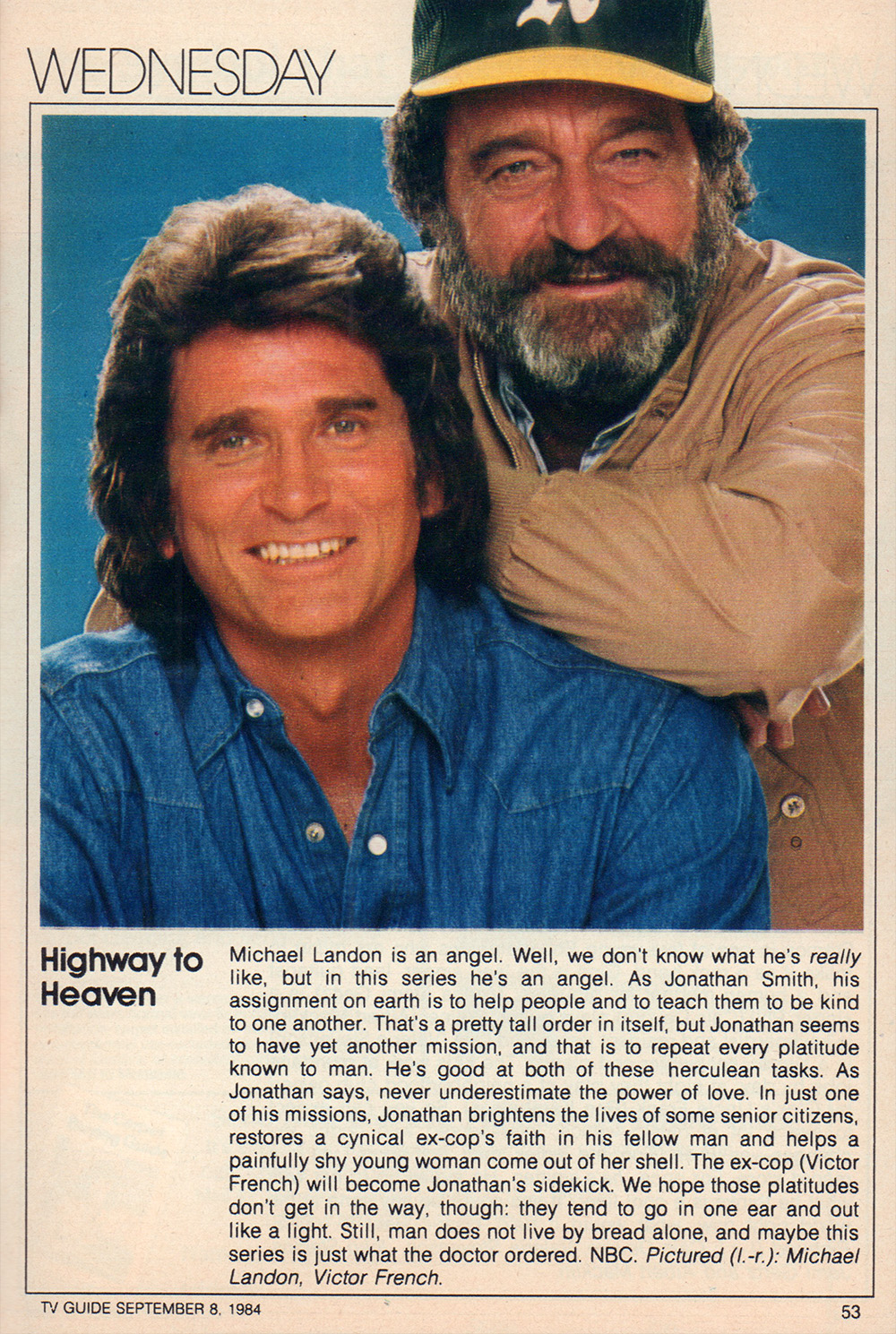 This show lasted 111 episodes.  Michael Landon had worked with NBC for over thirty years, starting with Bonanza, then Little House on the Prairie.  Co-star Victor French died almost immediately after the show was cancelled.
DREAMS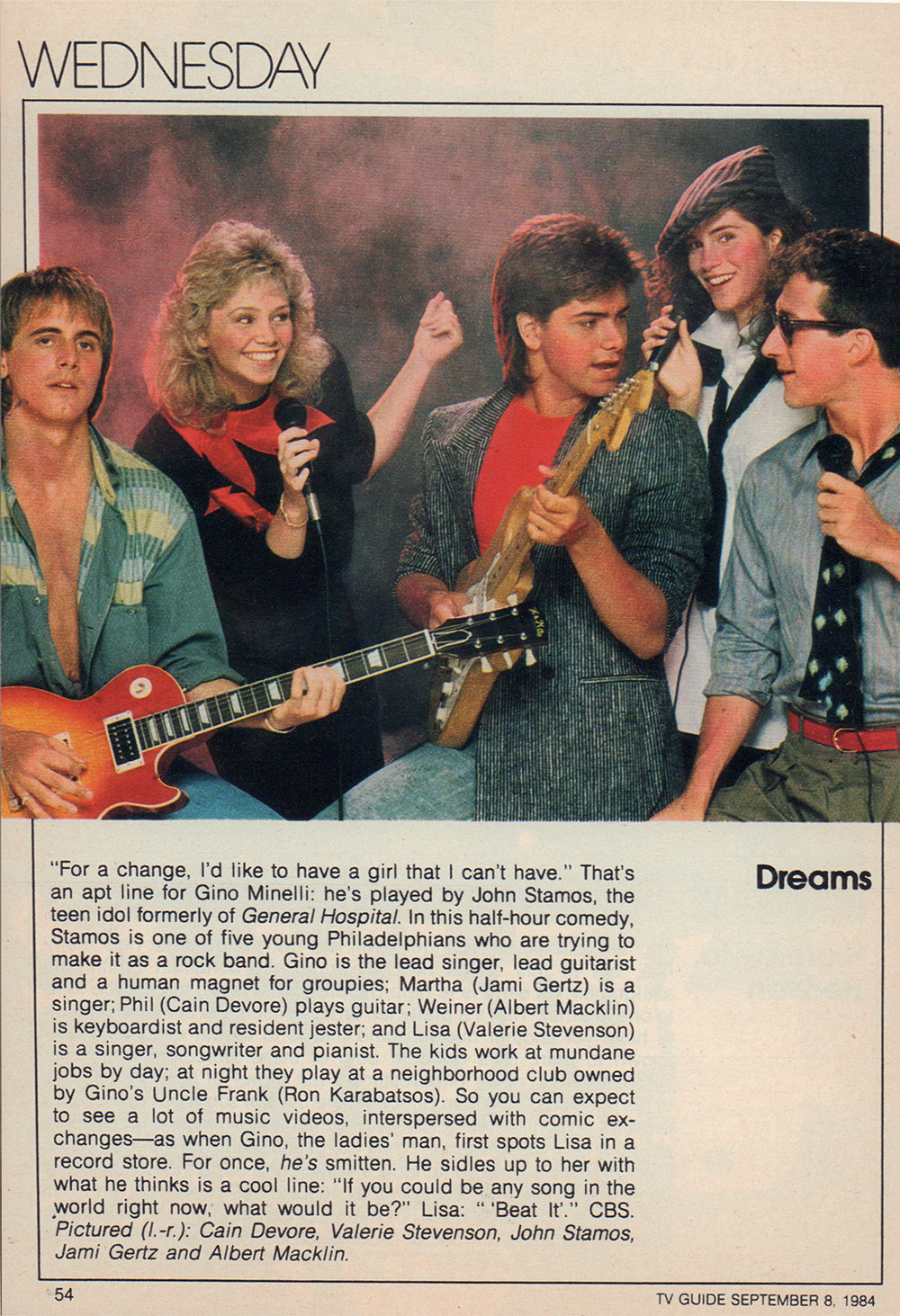 John Stamos and Jamie Gertz are in a rock band – this sounds like it would have been a lot of fun.  I'd love to see it now,  just to witness the mighty 80s vibe that I'm sure is in great abundance.
IT'S YOUR MOVE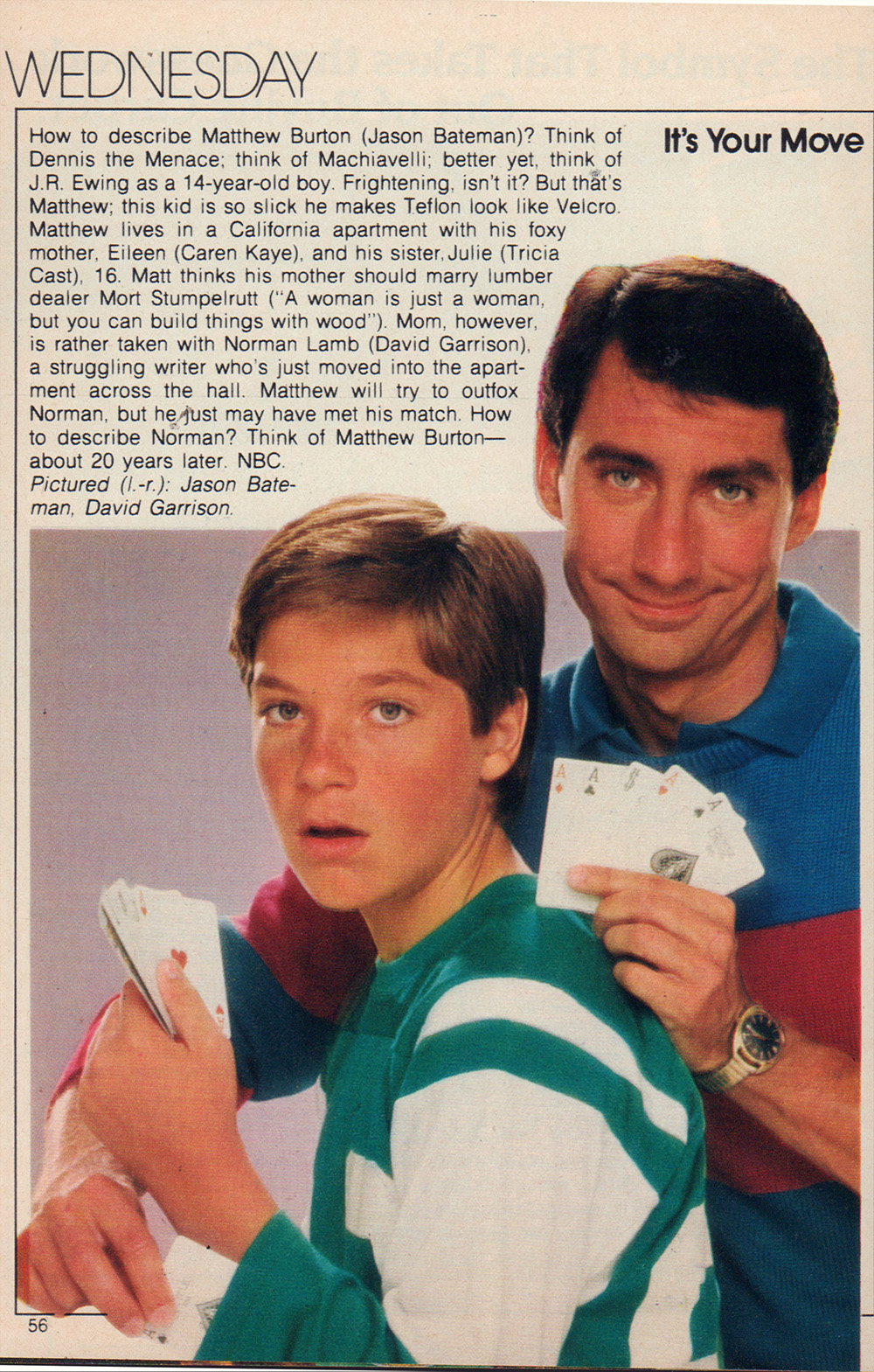 At last.  Now we come to one of my favorite shows of all time – or at least it was when I watched it back in the eighties.  Sadly, it wasn't given a chance to develop into Seinfeld level glory, and was cut down too soon; but at least we have 18 wonderful episodes.  The show's creators/producers would take this edgy comedy up another notch in a couple years with Married… with Children.
PEOPLE DO THE CRAZIEST THINGS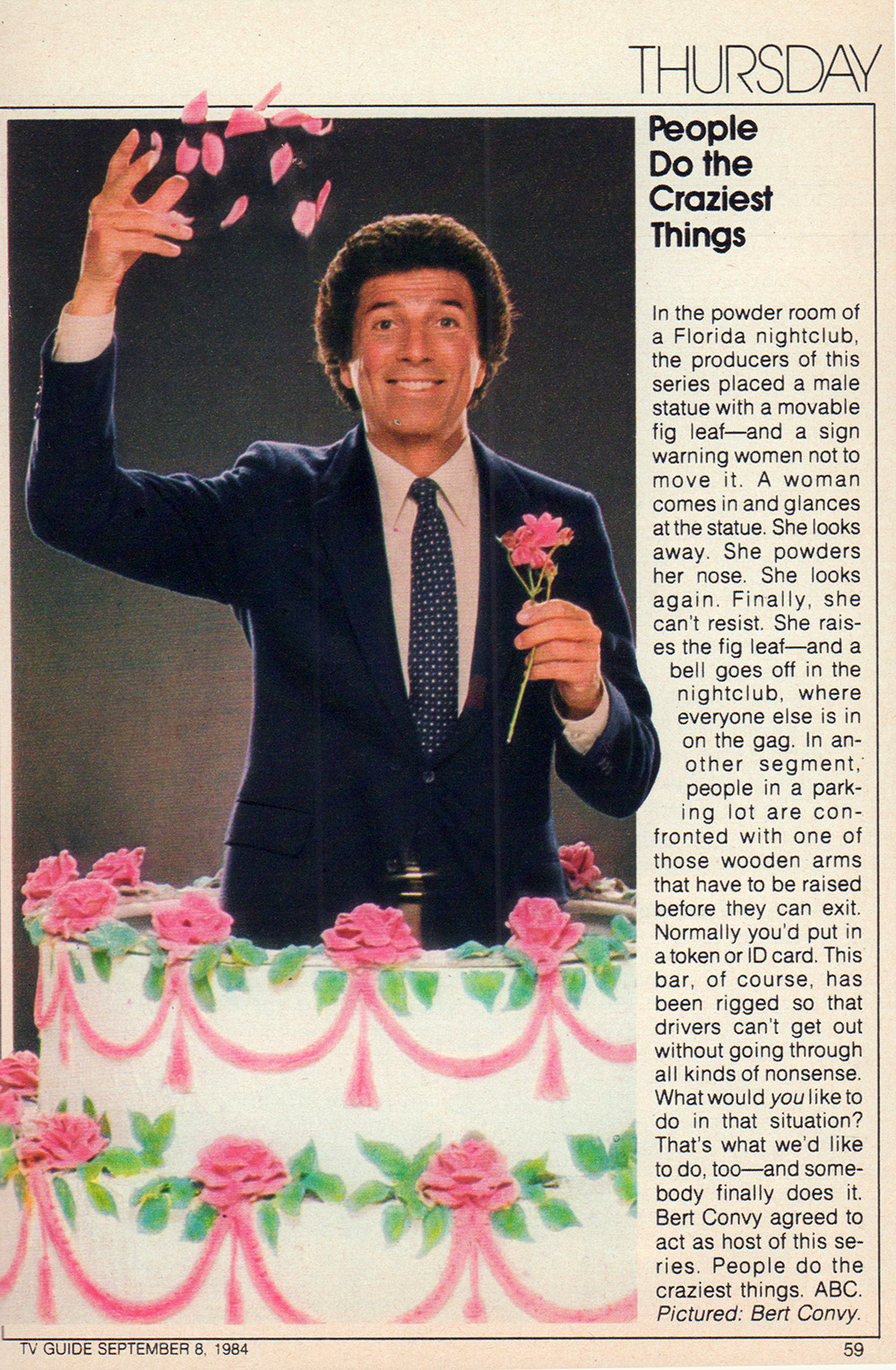 Supposedly, this was like Candid Camera, but mean spirited.  I have no memory of this, and it sounds like I didn't miss much.
THE COSBY SHOW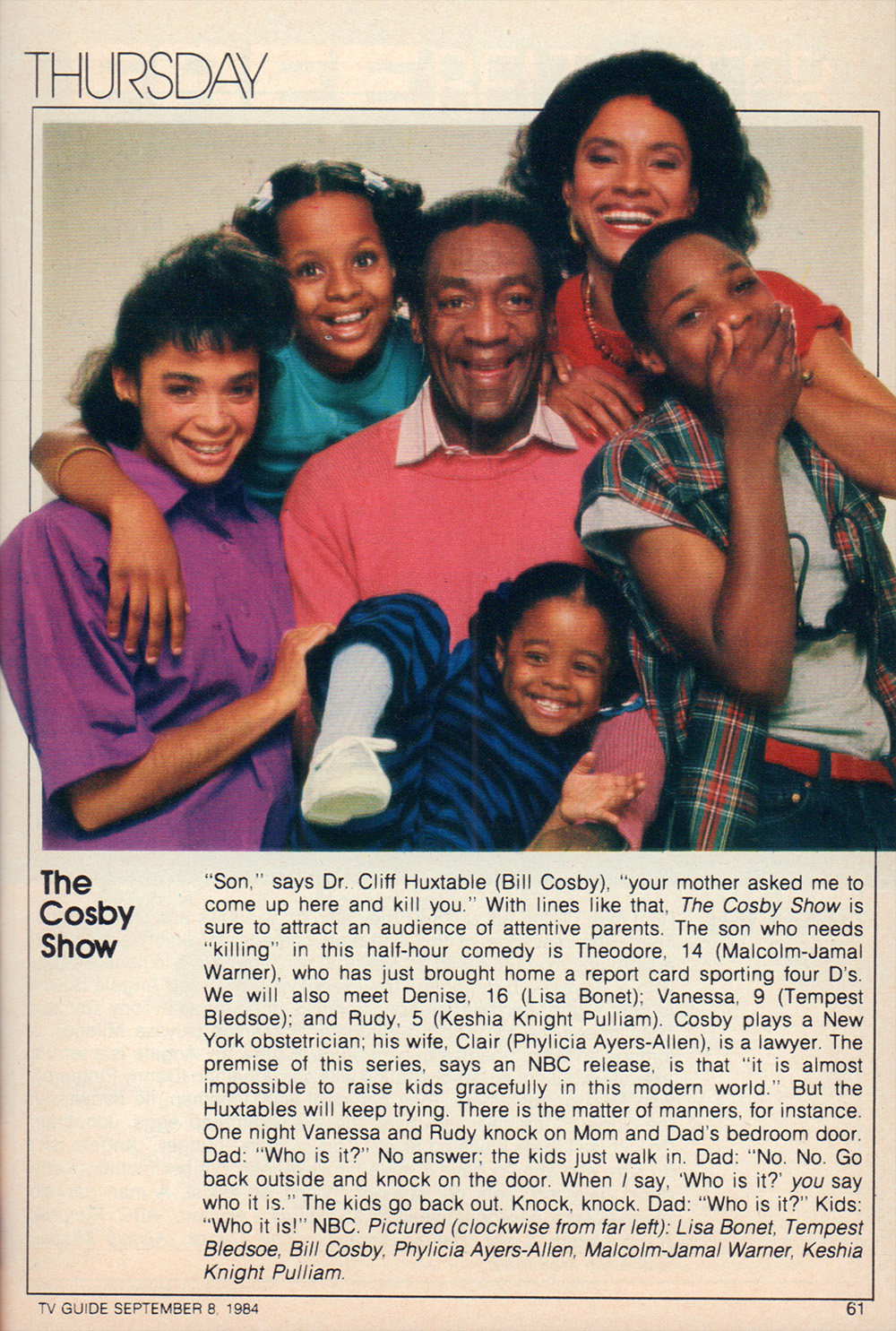 The clear winner for most successful show to premier this Fall.  The show saved the network financially – to say it was a success doesn't even come close to describing how popular it was and what an impact it had on pop culture.  What a shame that it's legacy is now tied up in Cosby's disturbing crimes against women.
WHO'S THE BOSS?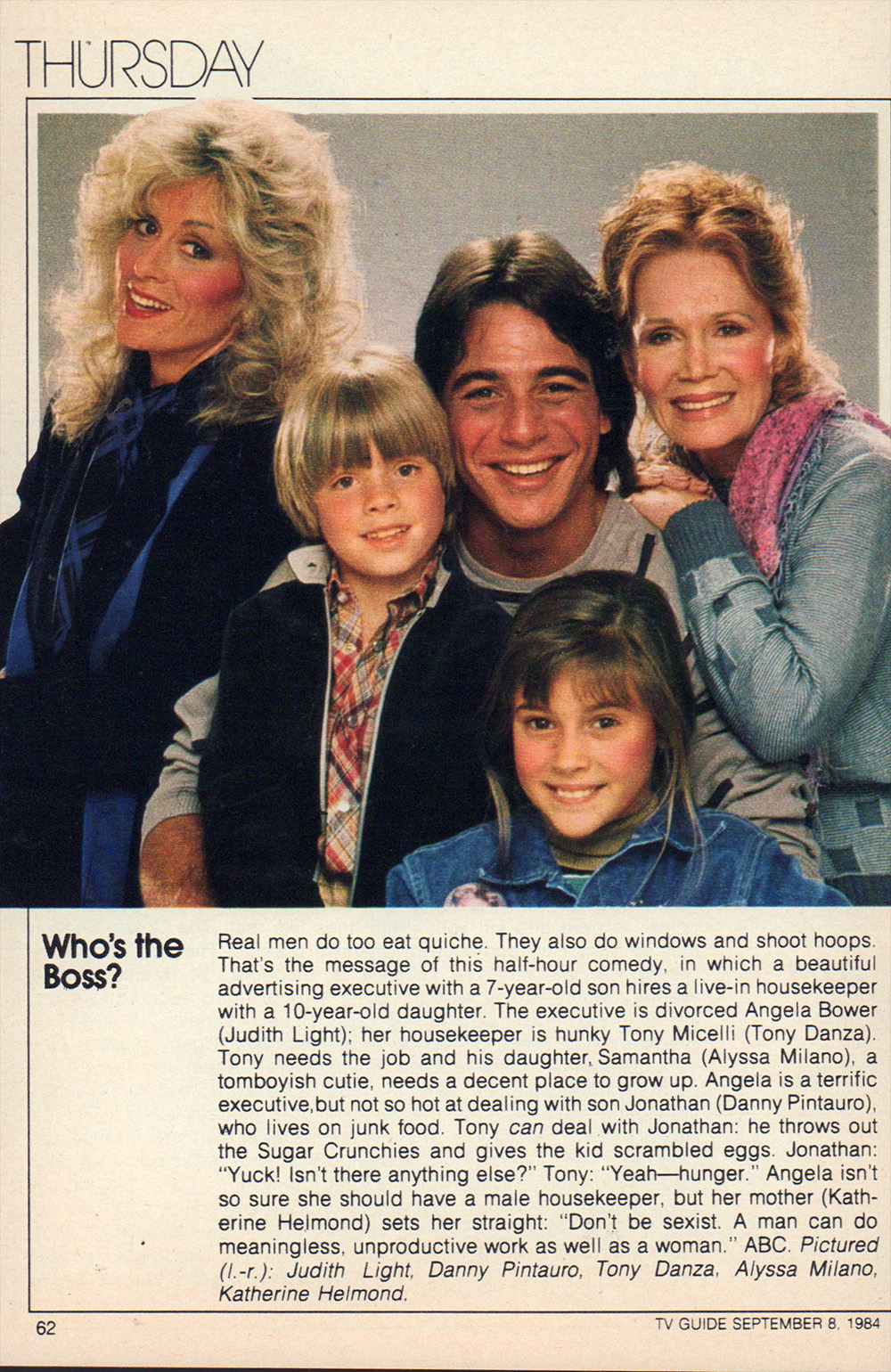 Yet another big sit-com hit premiering in the Fall of '84.  The show lasted for eight seasons, and had some epic guest stars including: Frank Sinatra, Mike Tyson and Leslie Nielson.
GLITTER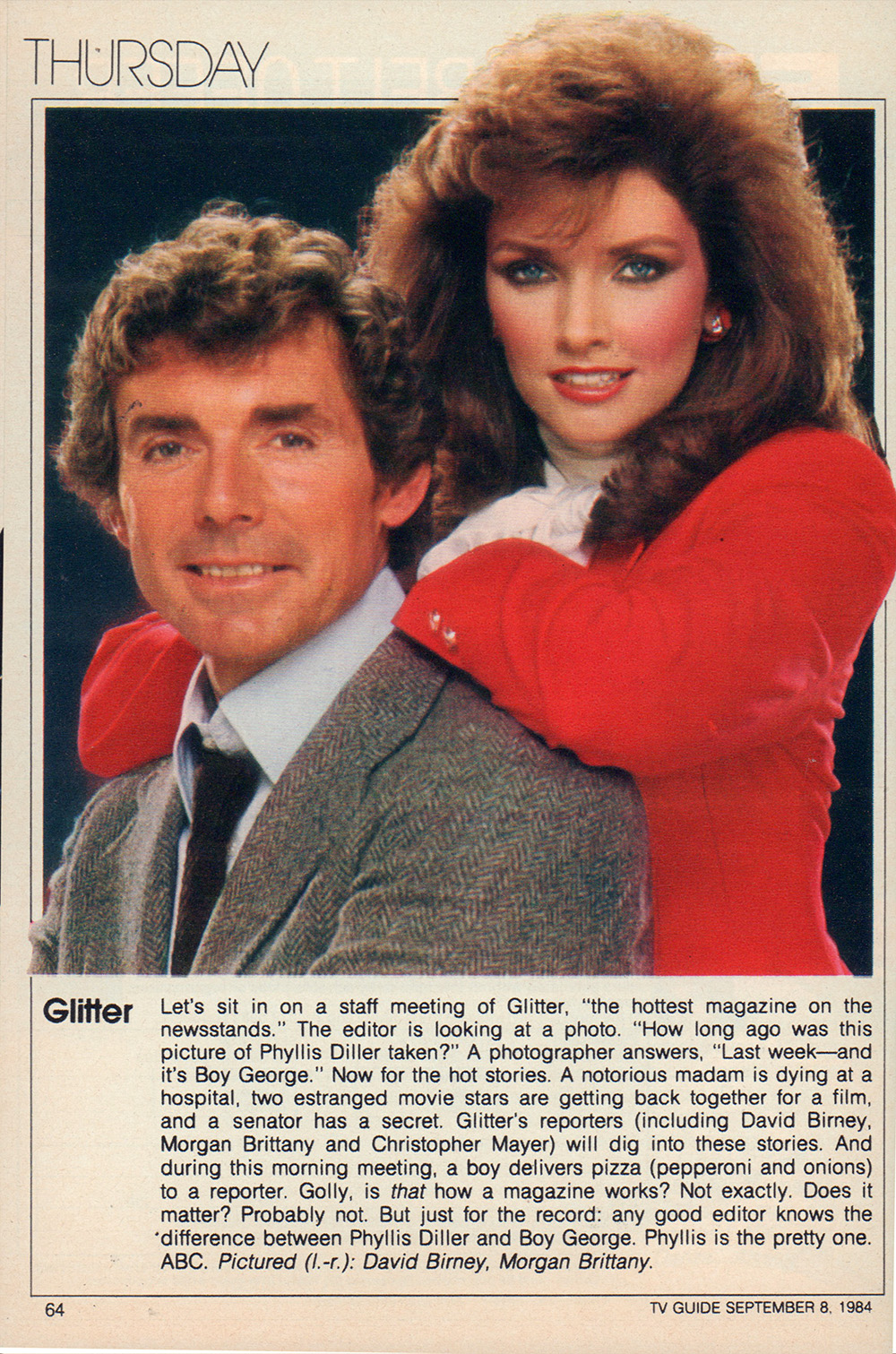 Yet another Aaron Spelling show in the vein of The Love Boat and Fantasy Island, where each week new washed-up celebrities were featured.  But the days where that appealed to audiences was over, and this show only lasted a whopping three episodes before being cancelled.
V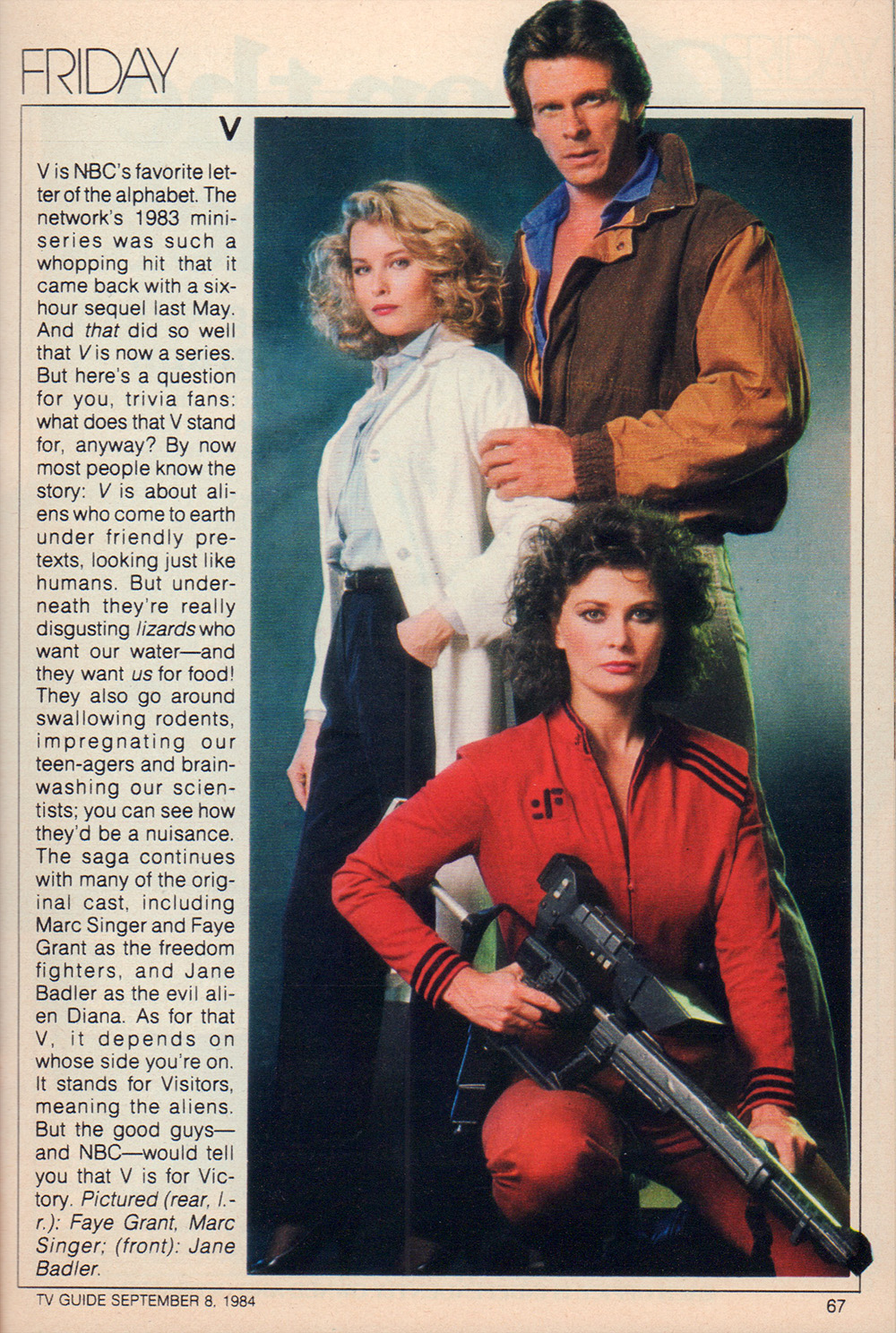 I remember loving this show, but looking back, maybe it wasn't so hot.  Critics hated it, and it only lasted 18 episodes.  At the time, it was the most expensive TV show ever produced, at $1 million per episode (a laughable sum by today's Game of Thrones standard).
HAWAIIAN HEAT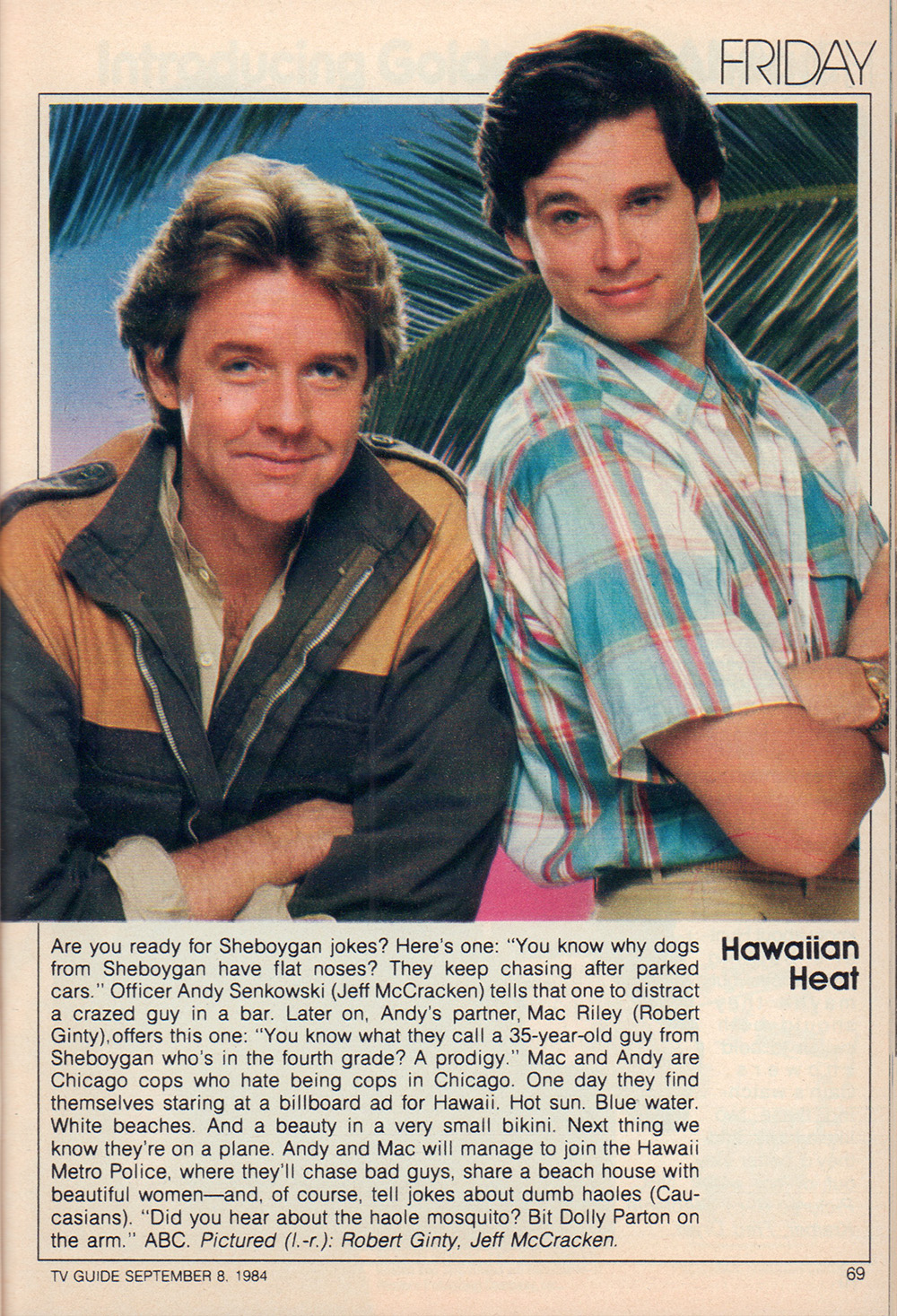 Featuring the mega-fox Tracy Scoggins – but even she wasn't enough to make this lame show make it to 1985.
HUNTER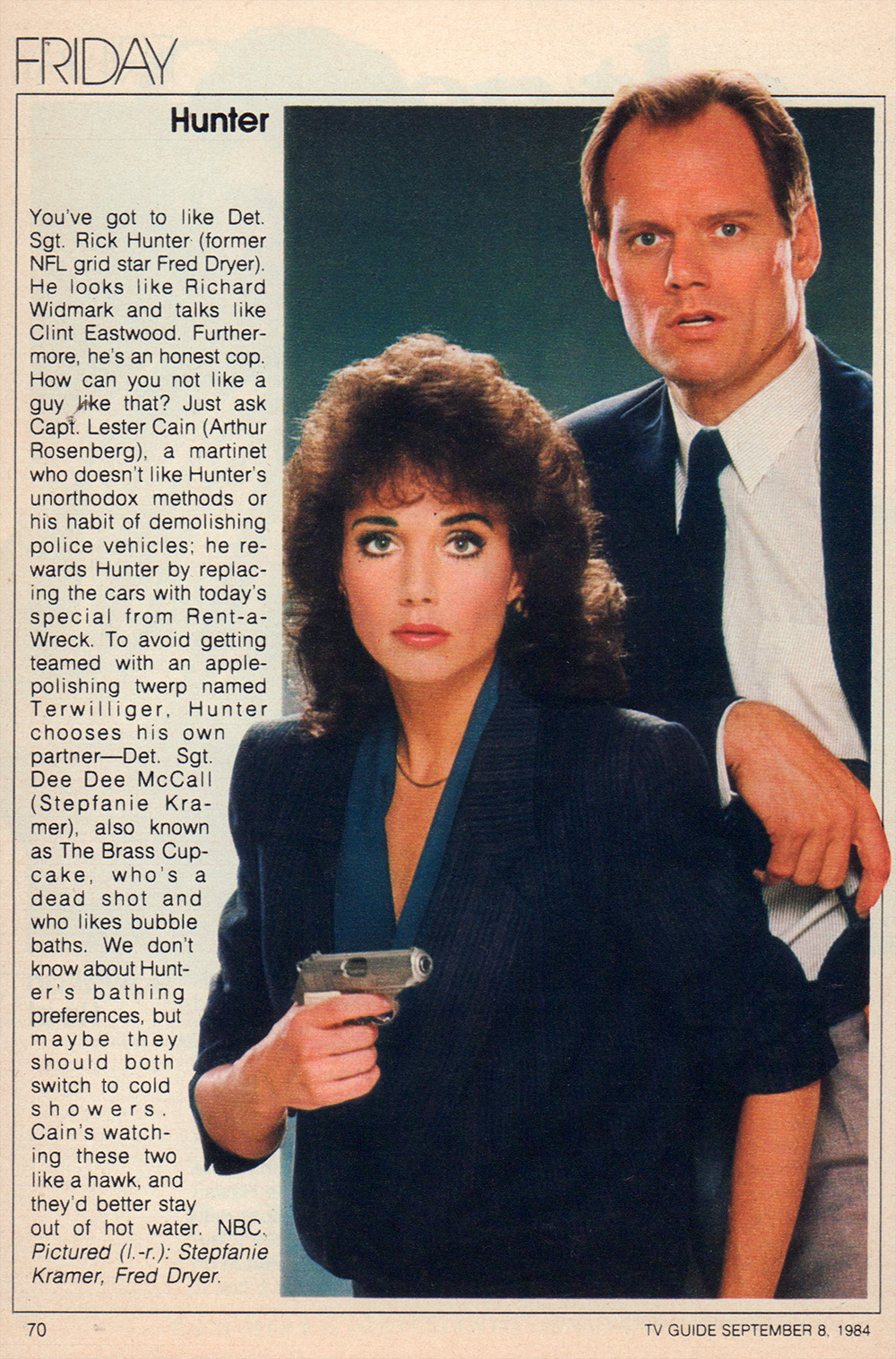 The show was a big hit in the US, but perhaps even more so in China.  Fred Dryer became one of the most recognizable US celebrities in China, the show was often quoted by Beijing Mayor Chen Xitong, and there was even plans to make a Hunter movie produced in China.
MIAMI VICE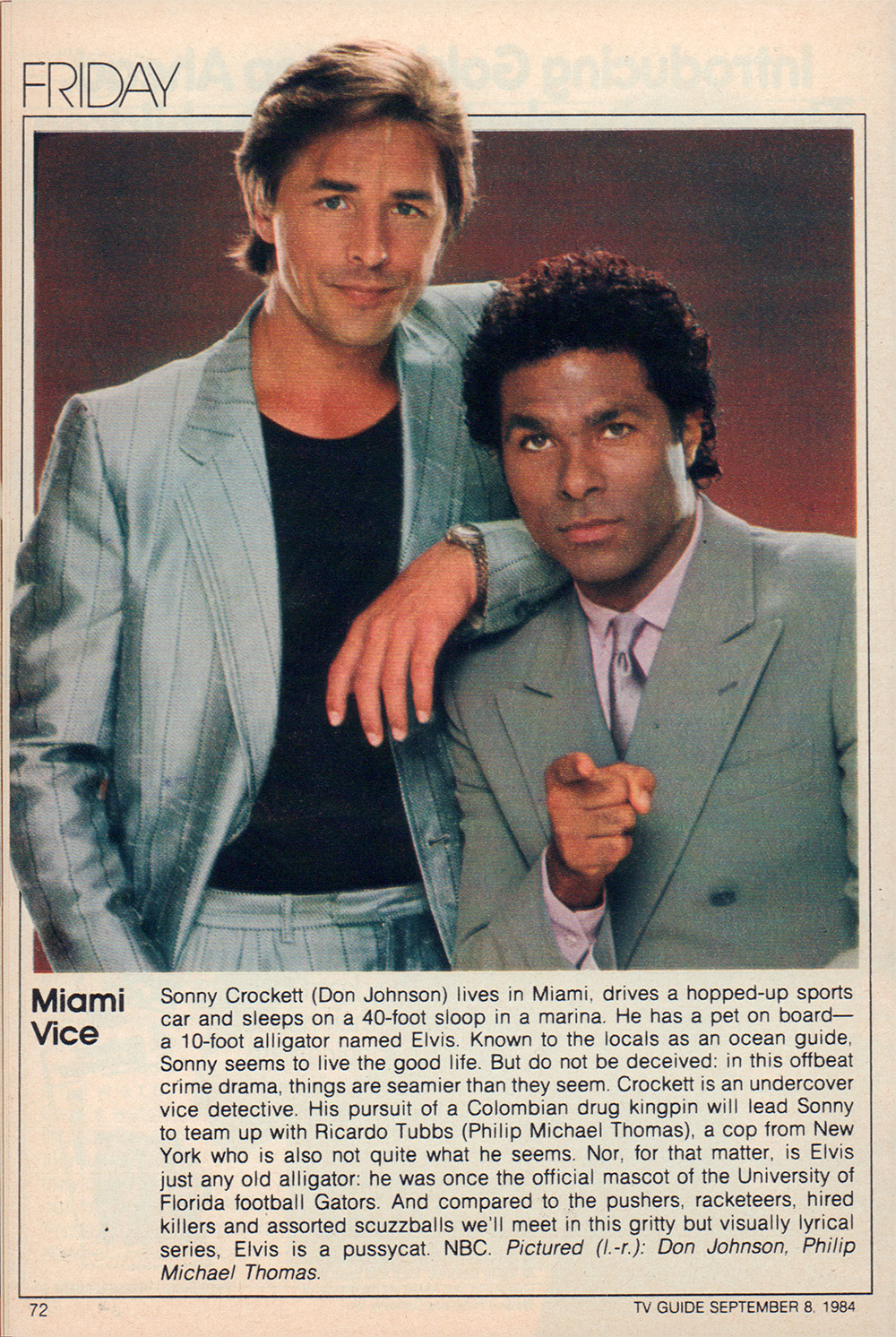 Ending with Miami Vice, I think it's pretty clear that the Fall of 1984 offered a much better selection of shows than 1989, featured in our last Fall Preview article.  Sure, there were some duds; but, with winners like Miami Vice, The Cosby Show, Who's the Boss?, It's Your Move and Murder She Wrote in the list of new shows, you can hardly call this a bad season.  In fact, I'd say it was the definitive season of the decade.