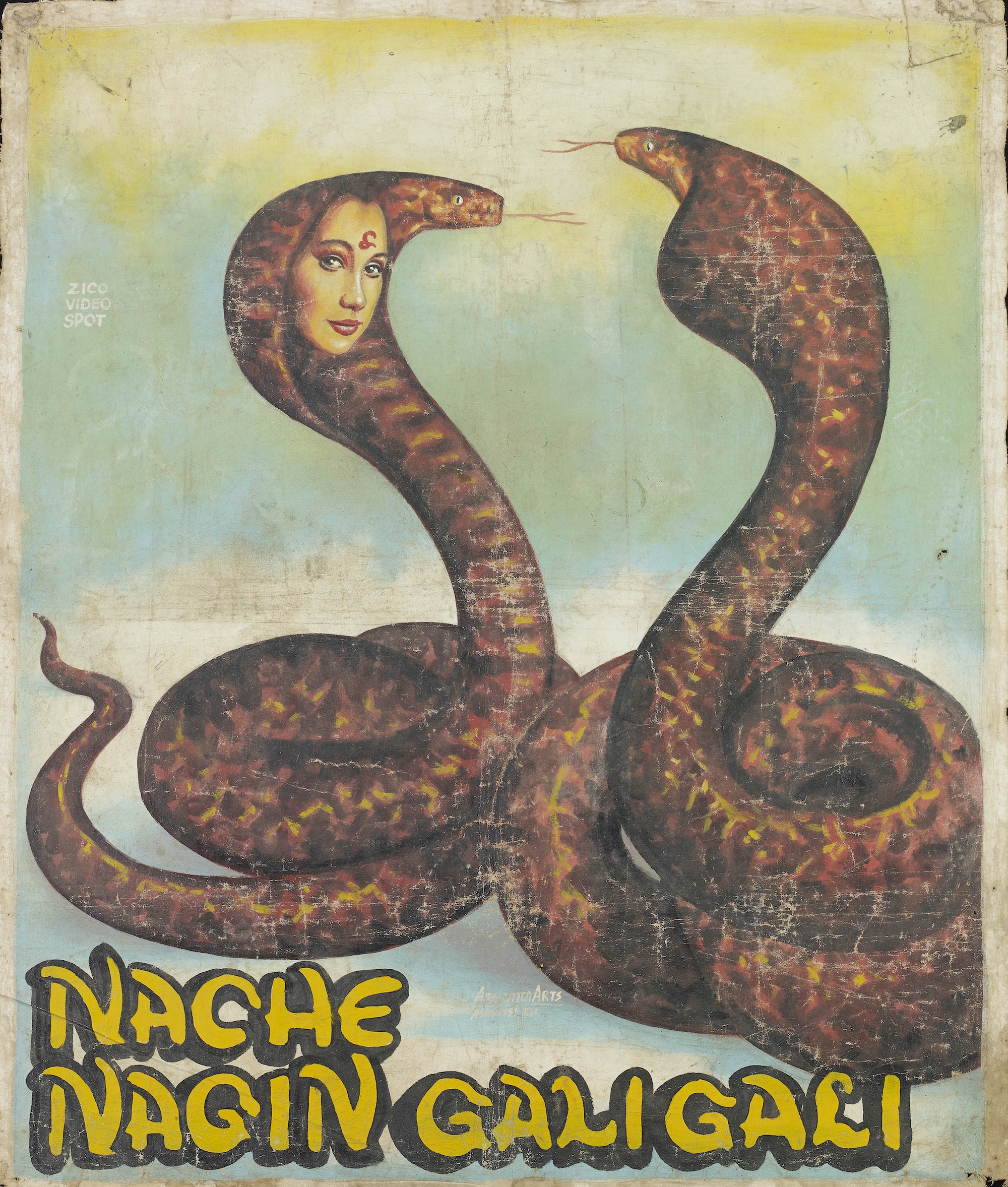 The late 1980s in Ghana saw the emergence of exuberant new visual modes of expression in a new local and innovative film industry (alongside that of Nigeria commonly referred to as Nollywood), especially in the ways films were promoted by vivid hand painted posters on sack or canvass, writes Karun Thakar.
Highly skilled artists emerged to create striking images with their surfaces co-ordinated in eye catching colour arrangements to command the attention of passers-by. These movie posters were commissioned by mobile local entrepreneurs taking the films to a range of communities and using the cloth posters that could be rolled up, unfurled and transported very easily as they criss-crossed the country. The intense competition between films enhanced the creativity and imaginative possibilities realised by the artists in the film posters and established their individual renown.
These dramatic and highly charged images, usually some six or seven feet high, were conspicuously displayed by the roadside or in prominent public positions to alert filmgoers to the release of new films. Many of these films were made locally in Ghana or imported from the Nollywood film industry of Nigeria. Their iconography emphasised the melodramatic, combining a blend of elements that drew on the local beliefs that intersected with the range of popular imported films, such as the imagery of America's Hollywood and India's Bollywood that were also shown in Ghana.
"I started collecting West African film posters with my late partner, Mark Shivas, the well-known TV and film producer. We spotted examples of these extraordinary artworks during our first trip to Accra in the late 1990s. During subsequent visits to Ghana in search of rare and historically significant textiles, I started buying posters. One of the most treasured and serendipitous discoveries I made during these trips is a poster for Nicholas Roeg's adaptation of Roald Dahl's 'The Witches' which Mark had co-produced in 1990.
"As our fascination and collection grew, we soon began to recognise and admire the work of certain outstanding artists, most notably Joe Mensah, Dan Nyenkumah, Leonardo and Muslim.
In recent years international interest in and demand for these vintage posters has increased dramatically, with examples regularly turning up for sale or auction on eBay and other online sites, many of which are inferior modern copies.
"These posters seem to exist in a category of vernacular art all of their own. Whilst the art clearly has its roots in, and shares similarities with traditional West African sign painting and advertising art, most notably the incredibly diverse, complex, witty and ingenious signs advertising hairdressers, barbers and beauty salons which appear everywhere throughout the region, film posters and the alternative, fictional universes they represent provide their artists with a unique opportunity to let their skill and imaginations run free.
"By turns provocative, startling, sexy, outrageous, lurid and playful, but always eye-catching and graphically inventive, these posters often seem to be both subverting and elevating the original posters, juxtaposing the symbols and archetypes of popular culture with their own complex iconography, creating a unique and anarchic art form which is pregnant with new meaning."
African Gaze: Hollywood; Bollywood and Nollywood film posters from Ghana from the the Collection of Karun Thakar and the late Mark Shivas is on show at The Brunei Gallery, S.O.A.S.(School of African and Oriental Studies) , The University of London , Bloomsbury (Russell Square) , London WC1H 0XG from Friday January 11th – Saturday 23rd March 2019.
All images © The Karun Thakar Collection