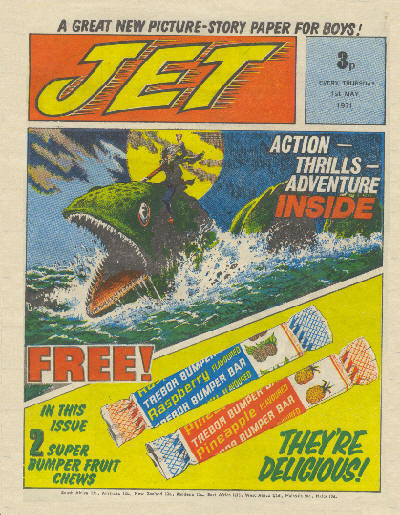 ENGLAND went to the 1970 World Cup as defending champions. They had a better team than in 1966, and were one of the favourites to win the tournament.
In the event they played very well in the group match against the eventual champions Brazil, and should have won. Then they threw away a 2-0 lead in the quarter-finals against West Germany, through a combination of uncharacteristic defending errors and misjudged substitutions.
Although the manner of their exit was disappointing, there was nothing at the time to suggest the decline that would follow. There was certainly no indication that England would not challenge strongly for the next World Cup.
So it was curious that a boy's comic launched in 1971 should carry a story whose whole premise was based on England failing to even qualify for the tournament. Yet that is precisely what Jet chose to do, with its entertainingly bizarre strip, Adare's Anglians.
The story begins with disaster (Daily Clarion: FREAK GOAL PUTS ENGLAND OUT). But help is at hand. In the Atlantic is "an almost forgotten island whose population had been founded by the British over 300 years before". The island is New Anglia.
New Anglia presumably contained no Scots ancestry, as none of its inhabitants is pleased by England's unfortunate and untimely exit. On the contrary; they are so are concerned that they hold an emergency meeting of the island's Council of Brethren. ("'Tis penned in our charter: England needs us and we are pledged to respond.") It is decided to "send tidings" of the decision to England, and Willy Morgan is instructed to sail at midnight. Why not telephone, you might ask. Because, for reasons that are never explained, New Anglia is stuck in the age of top hats and sailing ships.
Two weeks later, the ship arrives in the Thames and moors outside the House of Commons. Willie announces himself at the Prime Minister's office, where he gets down on one knee and delivers a written declaration of loyalty to the crown and a pledge to enter the World Cup and avenge the "mother country's" defeat.
An application is duly sent to the "World Cup authorities", who sportingly agree to allow the minnows to enter the competition.
The Clarion's sports reporter is sent to the island to investigate. He discovers that they play in Victorian kits, and with Victorian ruggedness. They also bow after scoring, instead of "kissing and hugging". He has a hunch that these fellows might spring a surprise.
Sickness, injuries, cheating foreigners, punch-ups with police, an earthquake… these are just some of the obstacles that await the plucky New Anglians.
To see if they can overcome them, read the complete story:
Ed Barrett