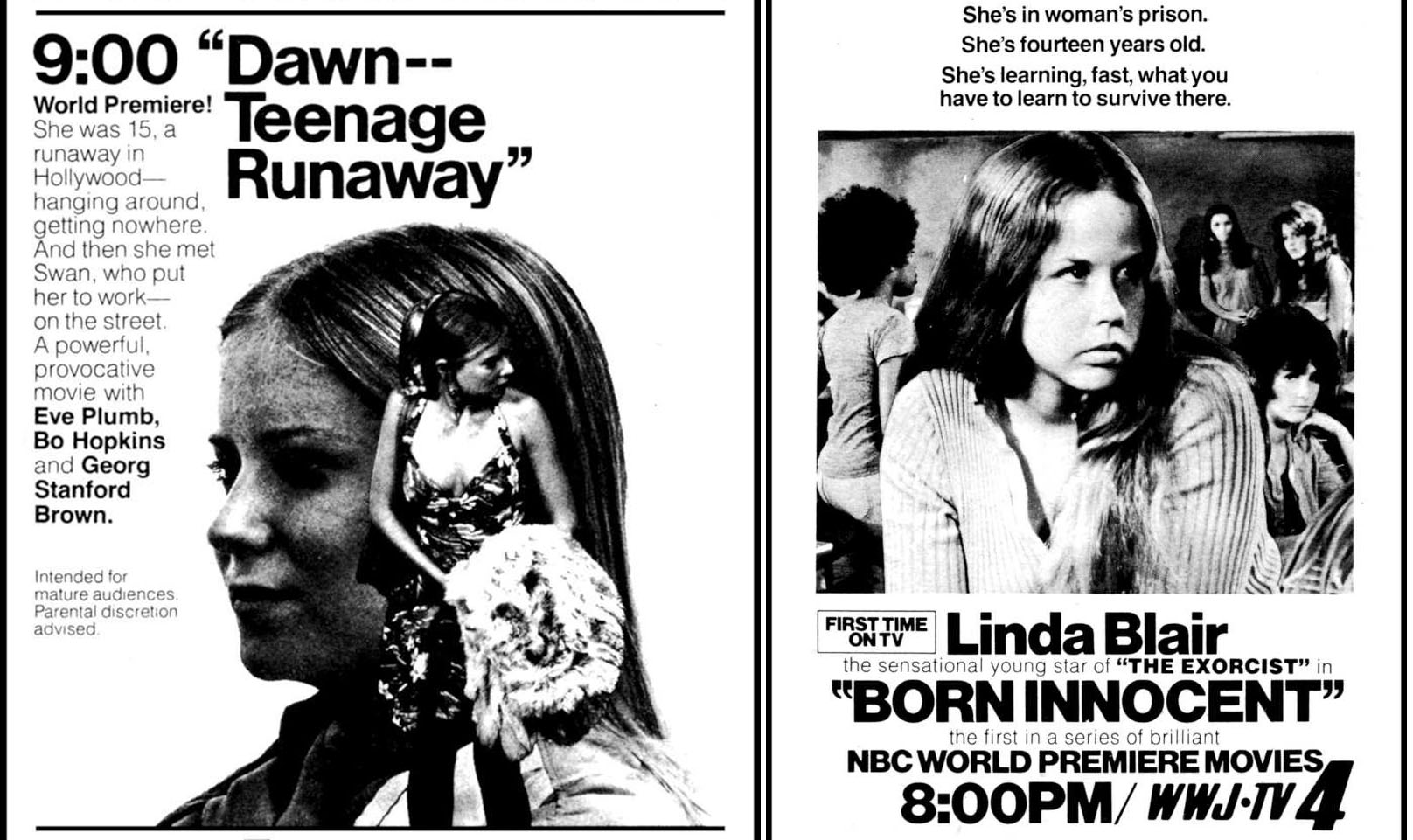 Before Netflix, before DVR, before premium movie channels, before even DVD and VHS, you had to actually go to the theater to see a movie.  That is, except for the beloved Movie of the Week.  Those old enough to remember the era of the TV Movie – movies produced for TV rather than the theater – will recall how big a deal they were. But as VHS and HBO hit the market, the TV movie gradually faded out.
Unlike cinematic releases of the 70s, the TV movie has never really developed a cult following, or interest even among cinephiles.  Indeed, although there were hundreds of TV movies released, only a handful have even made their way to DVD…. instead, they've ended up largely forgotten.
Well, not here.  Enjoy a healthy supply of TV Movie adverts from the 1970s and early 80s.
IN THE GLITTER PALACE (1977)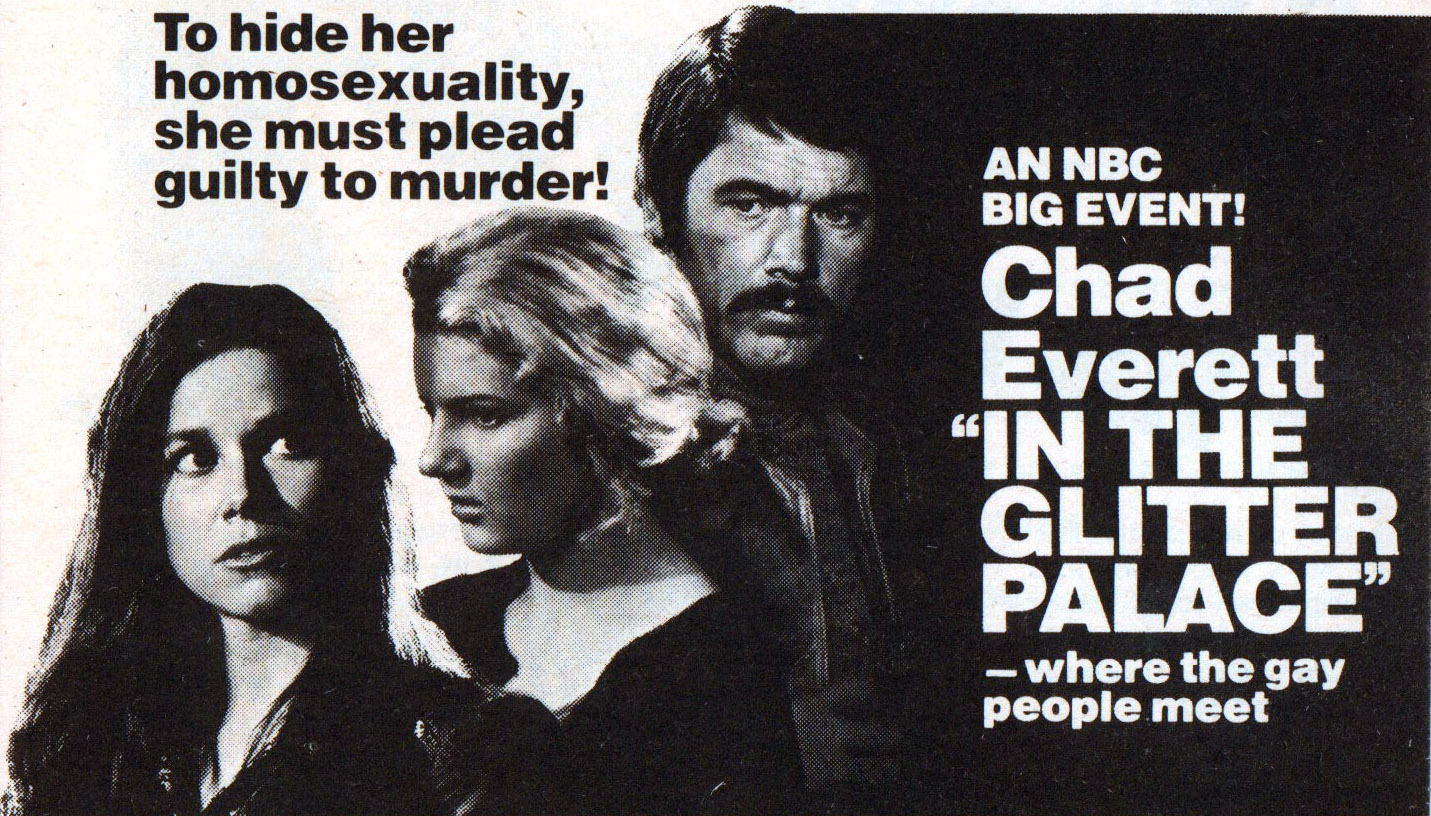 A triad of lesbian movies aired in the late 1970s: (1) The War Widow (1976), about a woman who falls for another gal while her spouse is off fighting in World War I. (2) This little gem from 1977 starring Barbara Hershey as a lesbian on trial for murdering her blackmailer. And, finally, (3) the 1978 drama A Question of Love which was hugely popular and paved the way for a tidal wave of lesbian TV flicks in the 1980s.
SHIRTS/SKINS (1973)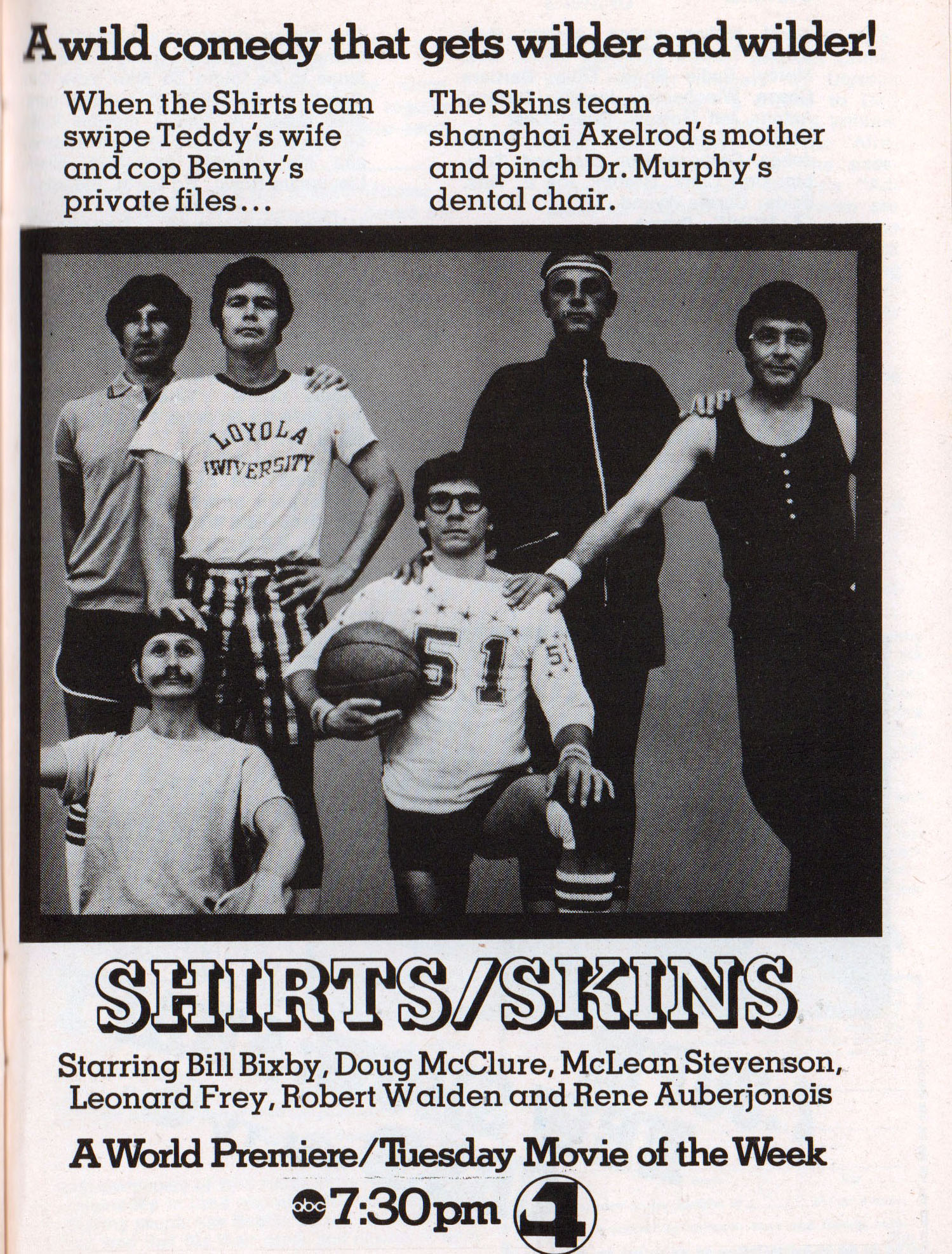 The basic plot involves two teams who have to hide their basketballs in plain sight; the winner finds them.  If you think this sounds stupid, you are absolutely correct.  Plus, the movie starred McLean Stevenson, who, as we all know, was the kiss of death for anything he appeared in after M*A*S*H*.
THE STRANGE POSSESSION OF MRS. OLIVER (1977)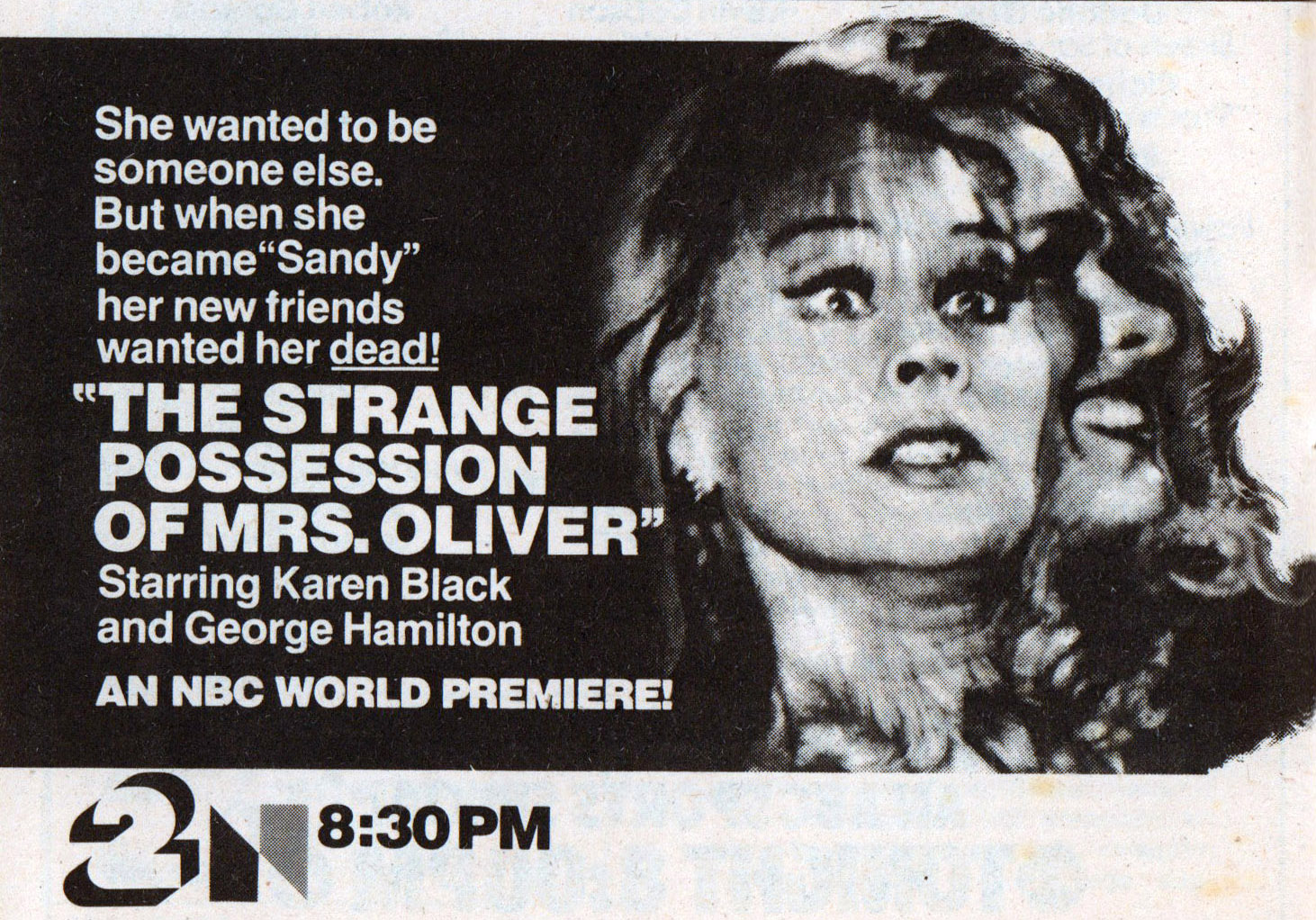 Nowhere near as good as Karen Black's other horror TV movie, the epic Trilogy of Terror (1975).
THE ALPHA CAPER (1973)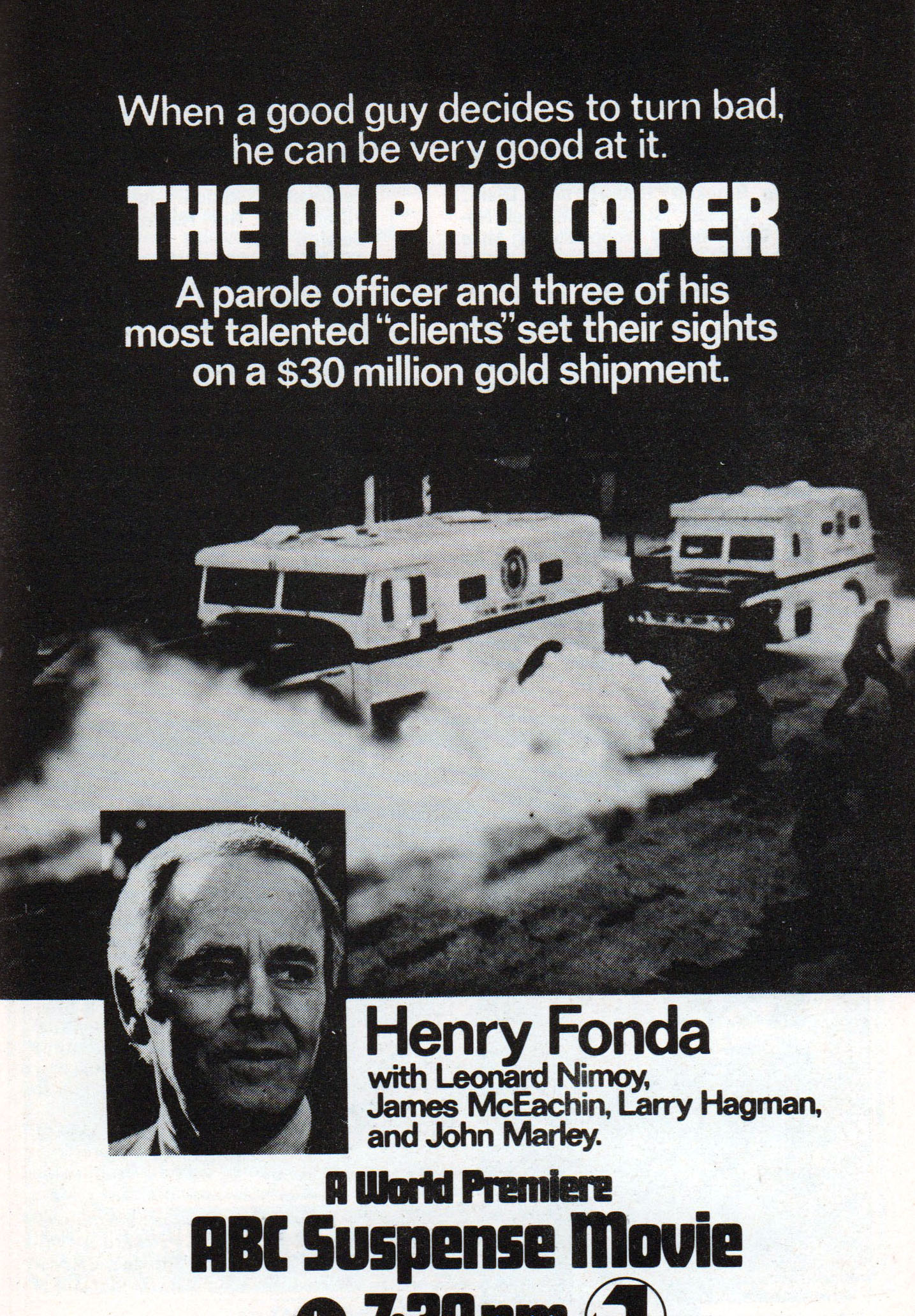 The beautiful thing about these TV movies were the "star studded" casts.  This one stars Henry Fonda alongside Spock and J.R. Ewing!
THE SPELL (1977)/ DIARY OF A TEENAGE HITCHHIKER (1979)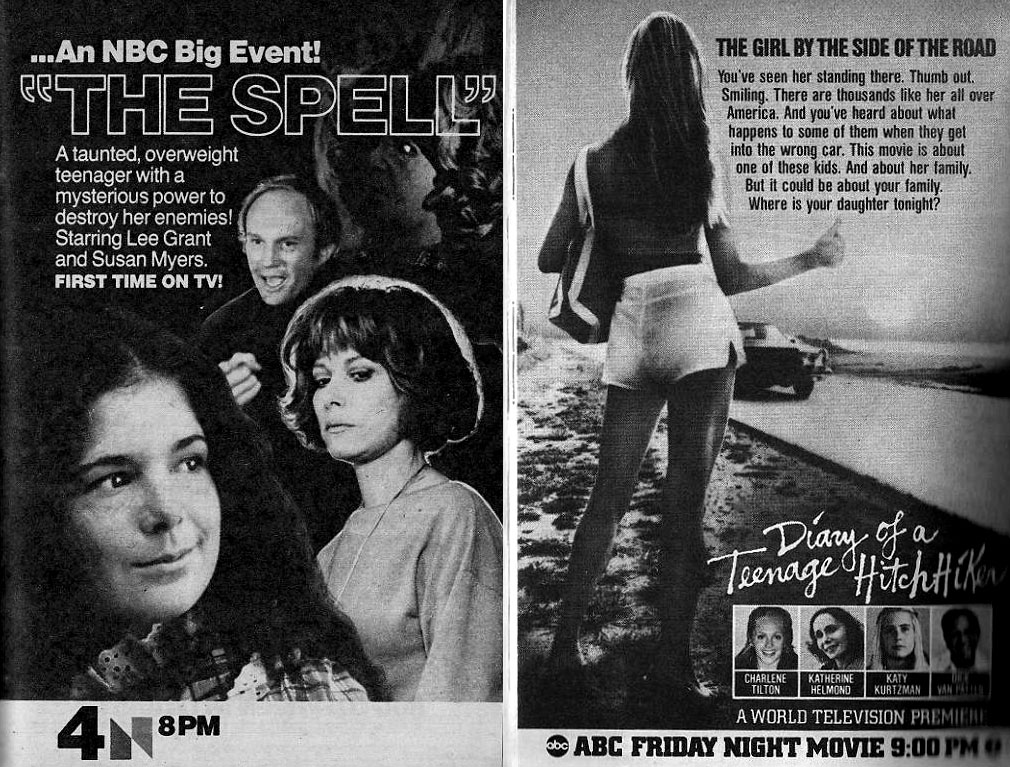 The Spell was a complete rip-off of Carrie which was released a year prior.  Diary of Teenage Hitchhiker starred Charlene Tilton (Dallas) – a movie about a psychopath serial rapist-murderer – great fun for the whole family!
DON'T BE AFRAID OF THE DARK (1973)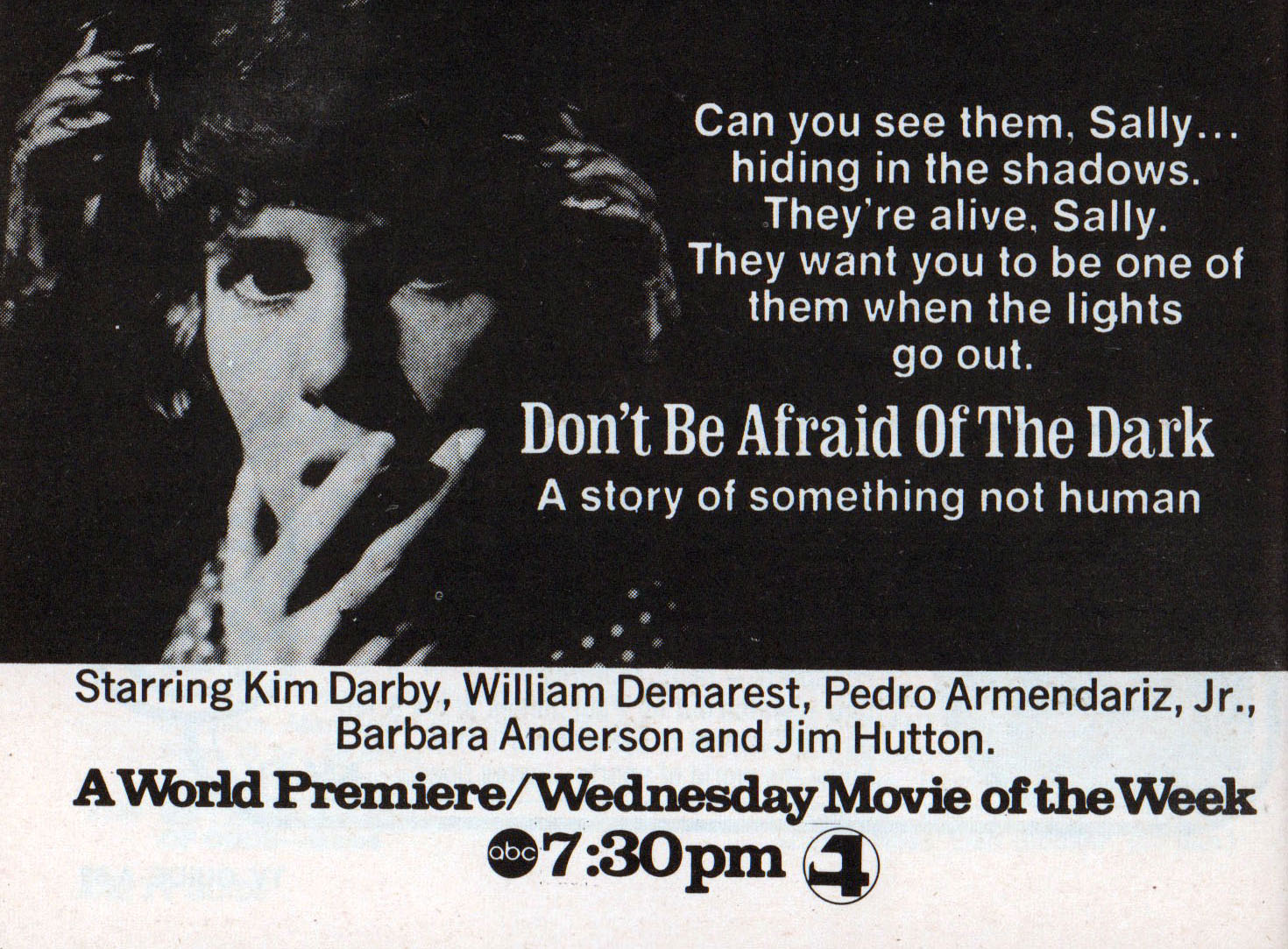 A woman unleashes a band of goblins from her fireplace.  This TV movie is notable in that it greatly inspired Guillermo del Toro who considered it the scariest thing on earth, and remade the film in 2011.
DRACULA (1973)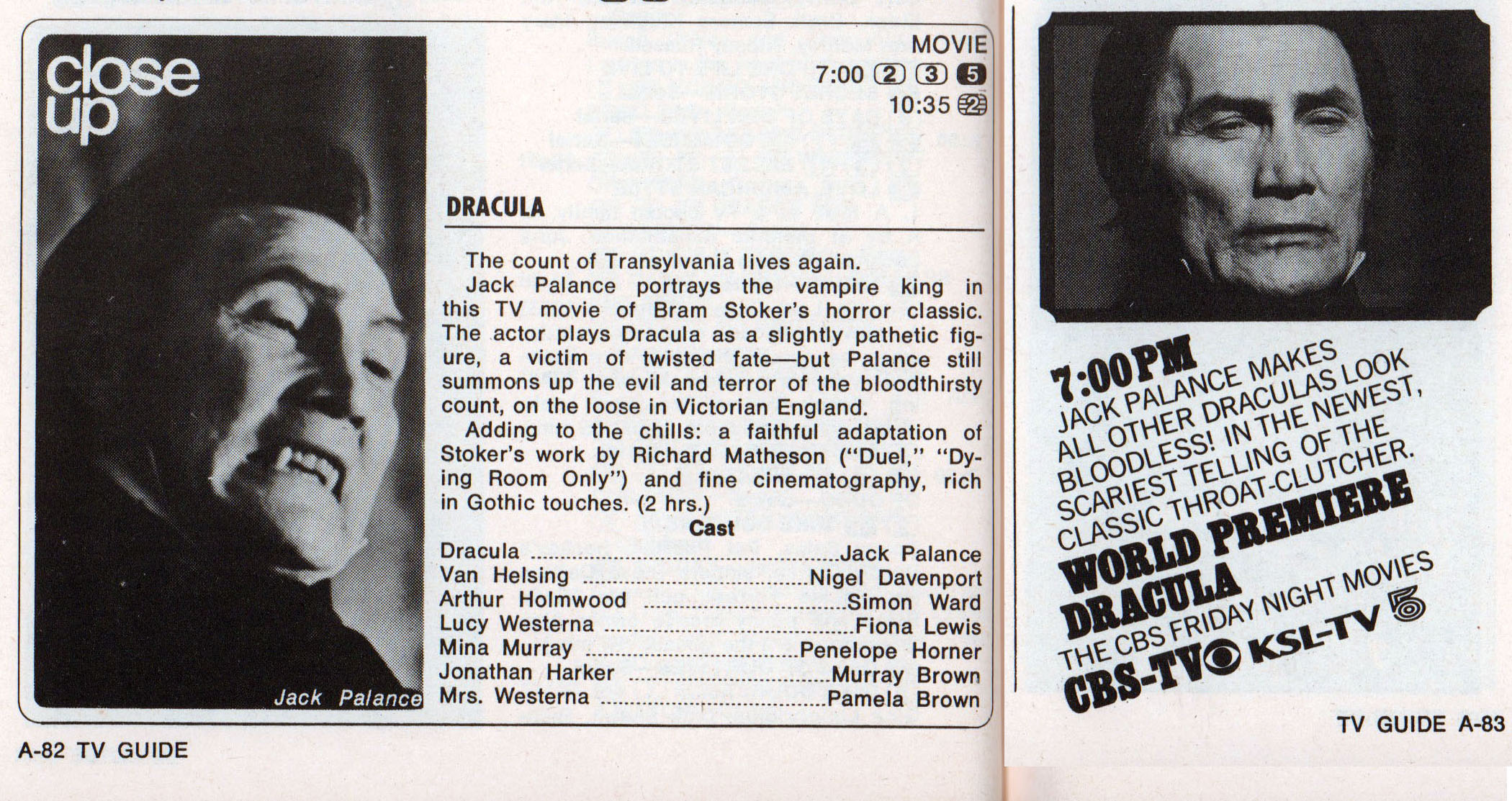 Who played your favorite Drac? Christopher Lee, Bela Lugosi, Gary Oldman, Frank Langella, or Jack Palance?  I must admit, I haven't seen this one – but the fact that it's penned by Richard "I Am Legend" Matheson makes me want to check it out.
BILL (1981)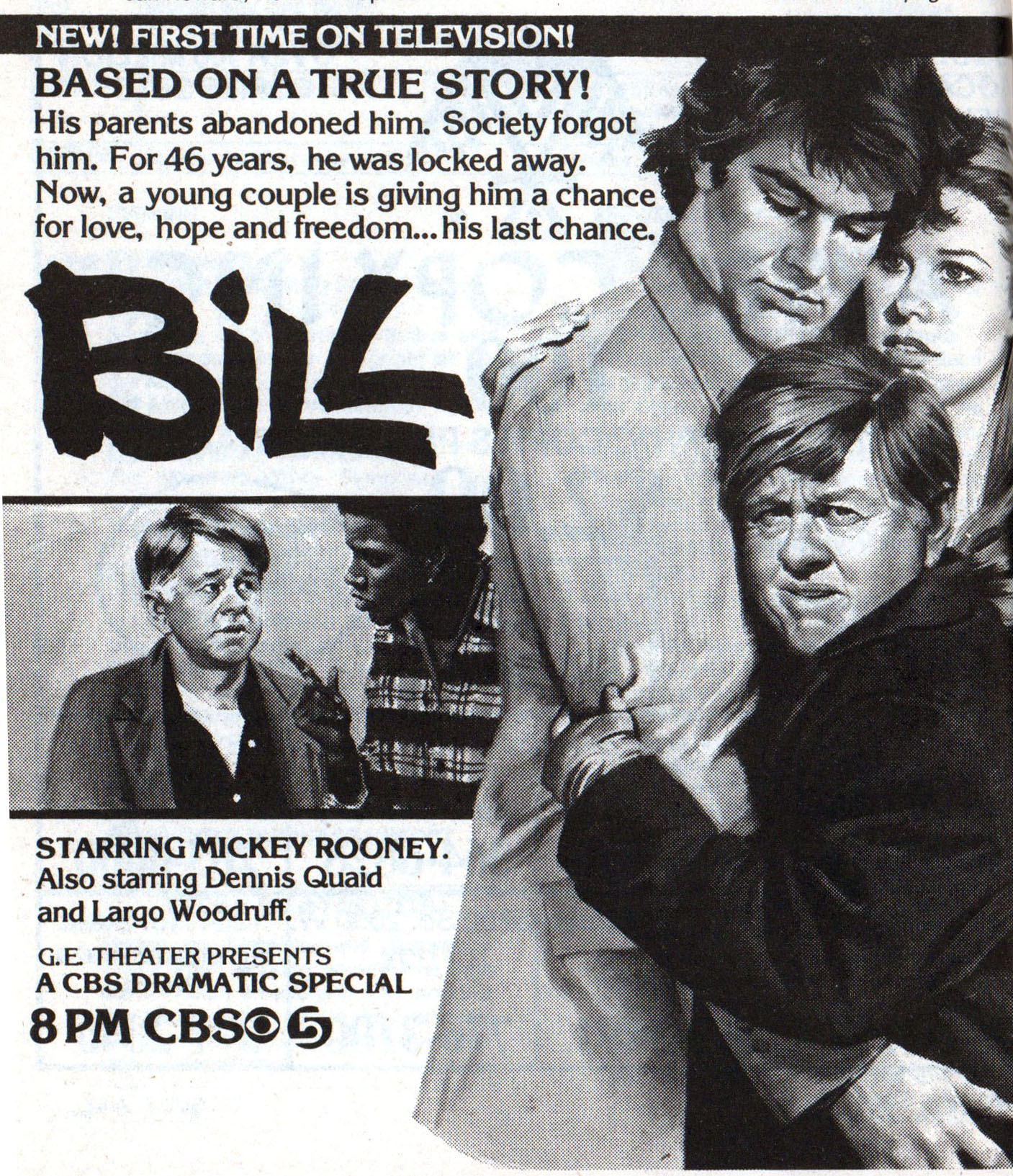 I don't think I put into words how terrible this TV movie is.  So, instead, I'll give you a little taste….
Remember the immortal words of Robert Downey Jr. in Tropic Thunder: "Don't ever go full retard".  If only he'd been there to tell Mickey Rooney.
WHO'LL SAVE THE CHILDREN (1978)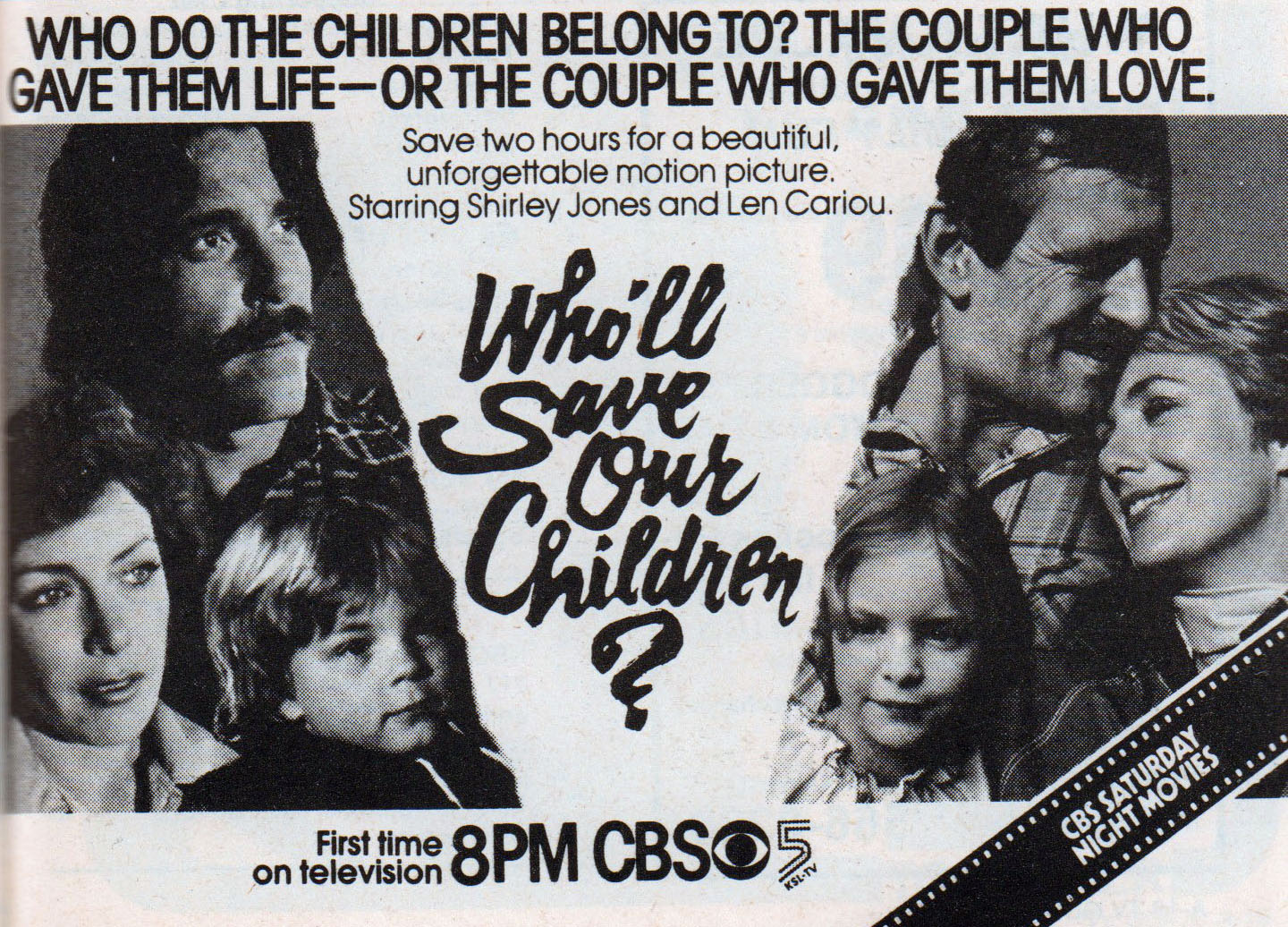 Sadly, the TV movie was, more often than not, a sappy tear-jerker of no interest whatsoever to kids in the 70s.  Mom may have been clutching her Kleenex, but dad and the kids were wishing The Six Million Dollar Man was on instead.
INSIDE THE THIRD REICH (1982)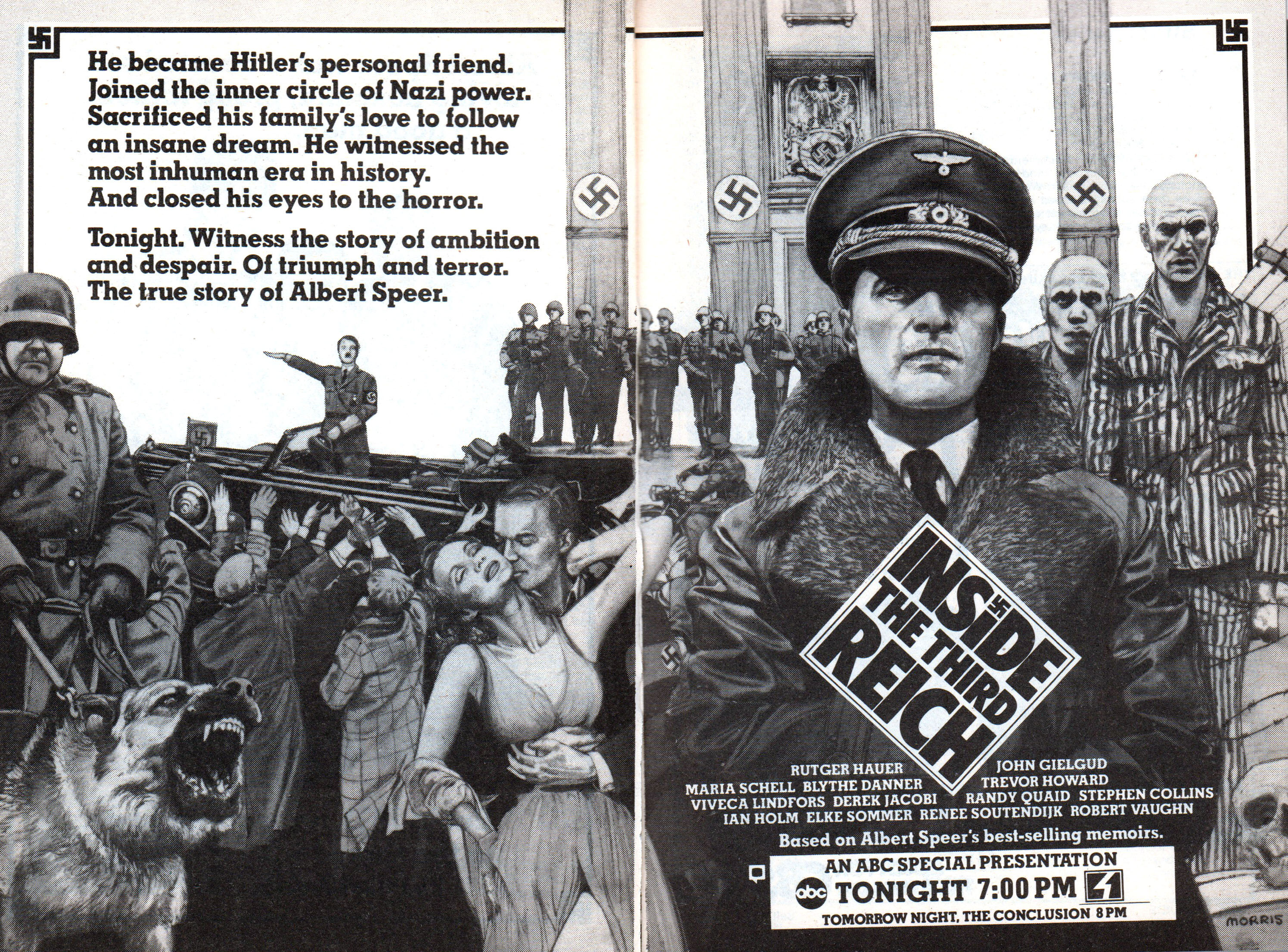 Every once and a while, the networks would put some real money behind their TV movie, and they could be quite good.  Let's not forget that Roots was made for television.
DEADLY LESSONS (1983)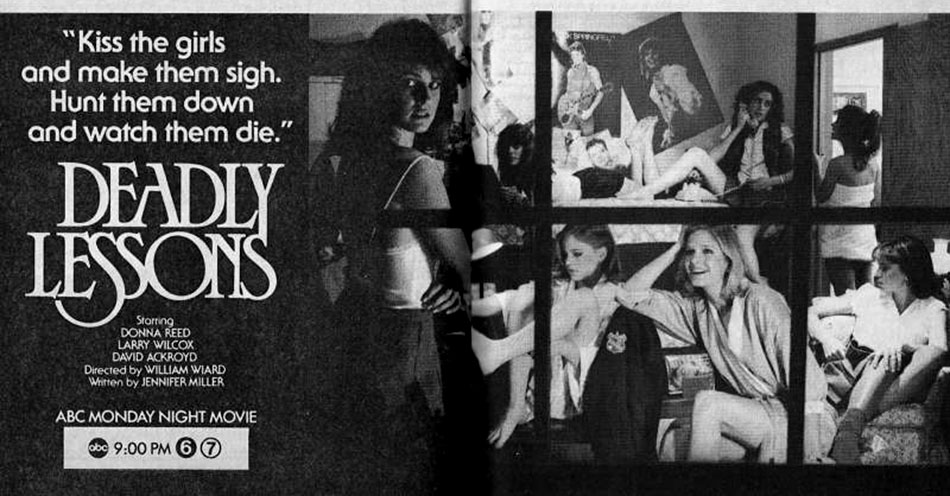 The slasher movie was big in '83, but this, being a TV movie, provided none of the requisite blood and boobs.  However, we do get to see early film appearances by Bill Paxton and Ally Sheedy.
THE MILLIONAIRE (1978)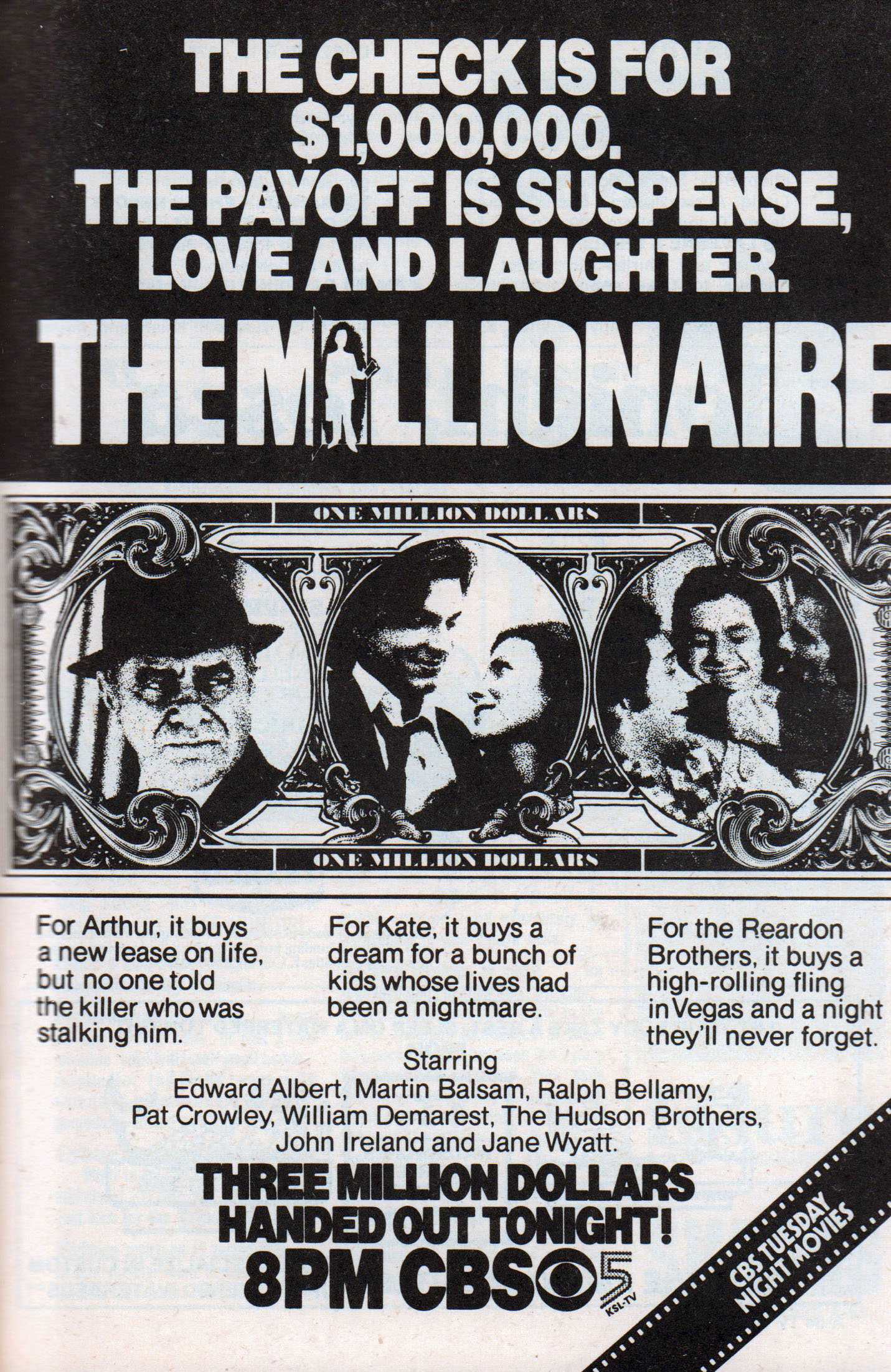 This is a rehash of the old show where a millionaire hands out a million dollars and we see how it affects the recipients' lives.  Starring The Hudson Brothers who had their own cheesy variety show – and one brother, known for being one of the biggest studs of the decade, fathered Kate Hudson (mother Goldie Hawn).
THE LAKER GIRLS (1990)/ DALLAS COWBOYS CHEERLEADERS II (1980)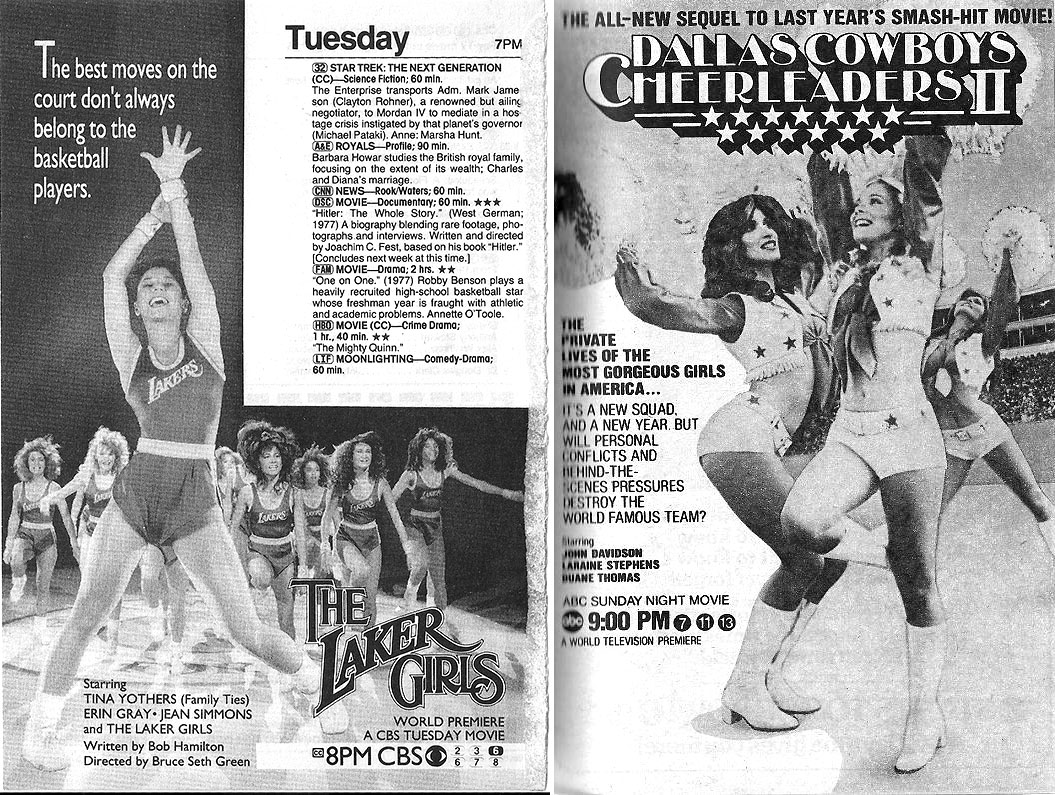 A decade apart, but kindred spirits: two TV movies about cheerleaders… and both, I'm fairly confident, are plain awful.  The fact that The Lakers Girls stars Tina Yothers (Family Ties) is troubling to say the least.
THE CHILDREN NOBODY WANTED (1981)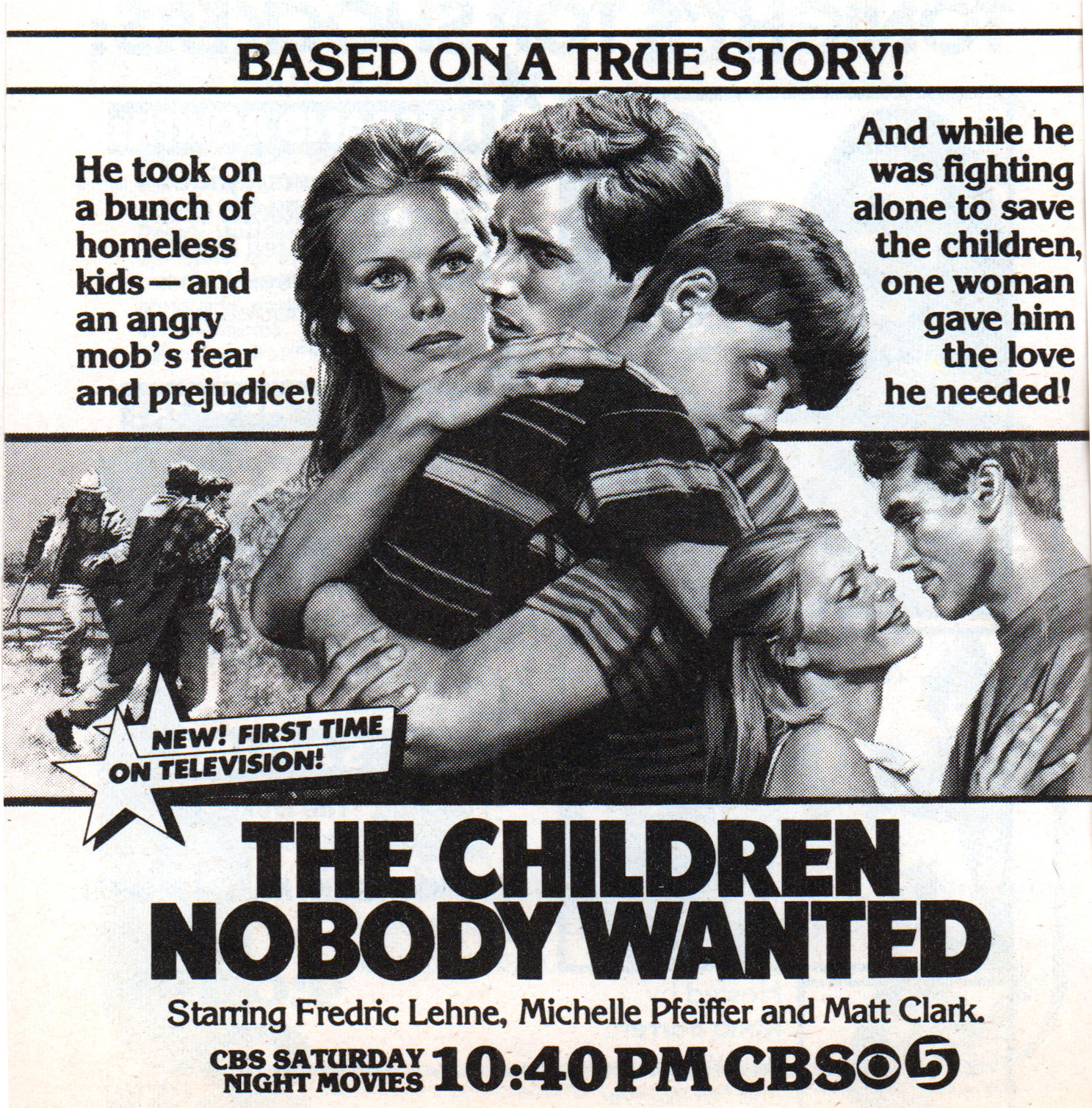 Other than being Michelle Pfeiffer's first starring role, not much of interest here.  Another saccharine TV movie designed to pull on the heartstrings of housewives.
THE DEMON MURDER CASE (1983)/ MAYDAY AT 40,000 FEET (1976)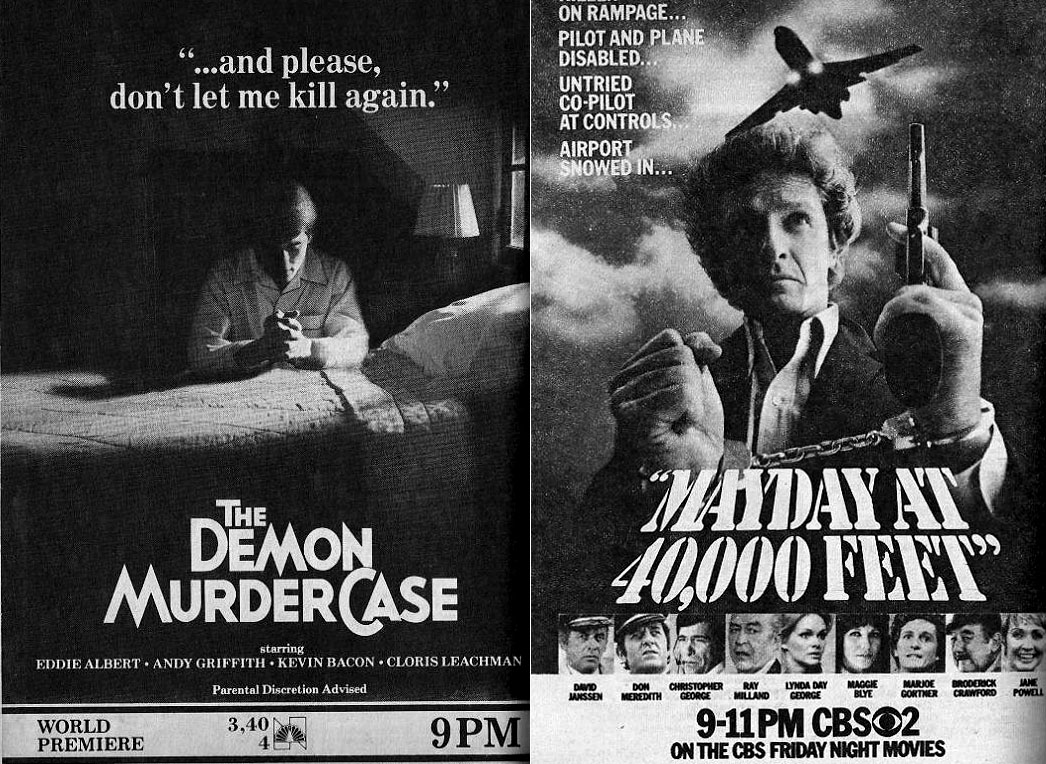 Part Exorcist, part boring courtroom procedural, The Demon Murder Case stars Kevin Bacon and a possessed kid – supposedly based on true events. Mayday at 40,000 came out at the tail-end of the disaster movie phenomenon of the seventies, and it has all the hallmarks: a big ensemble cast of largely washed up actors dealing with some titanic tragedy.
CHILD BRIDE OF SHORT CREEK (1981)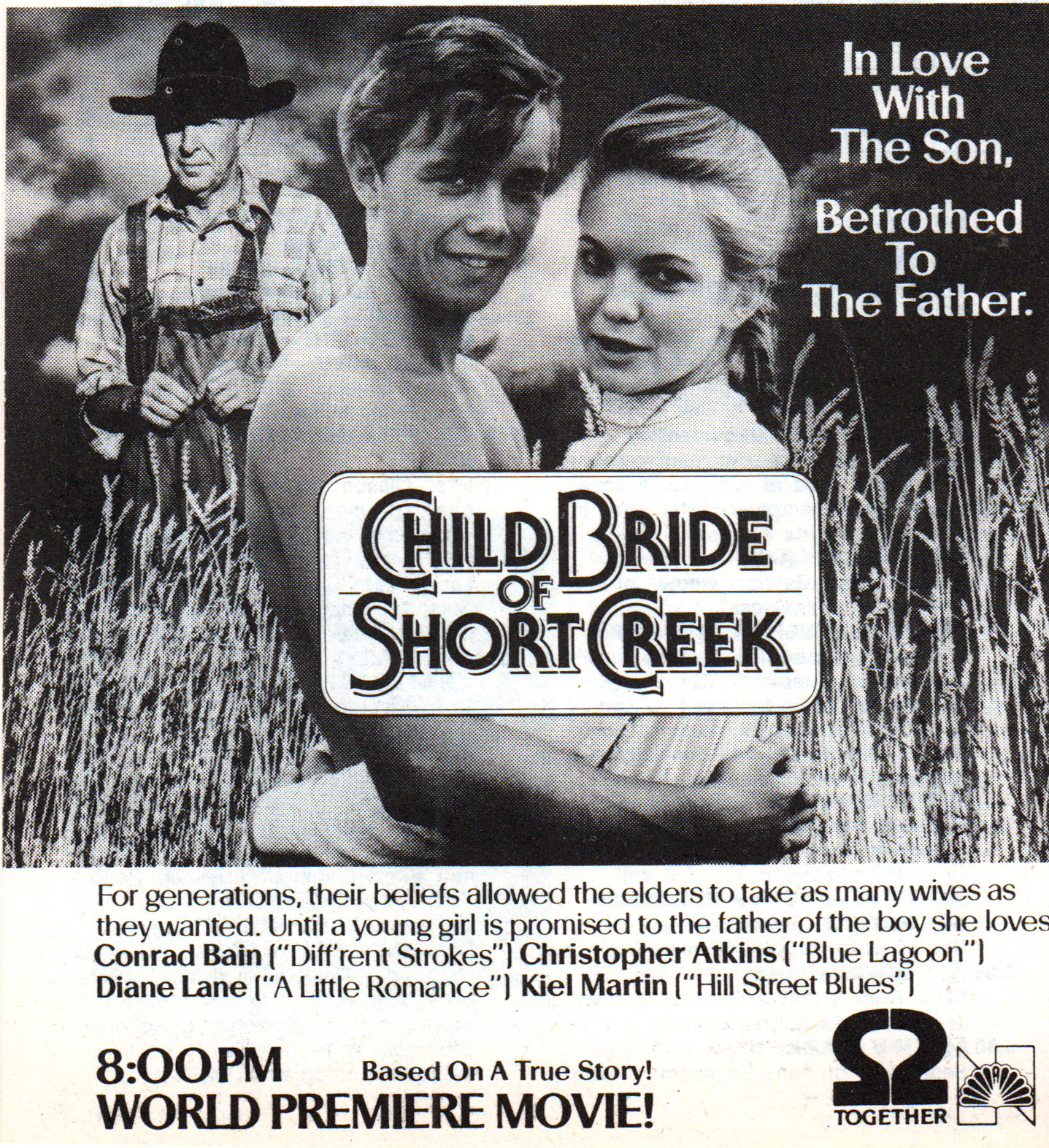 (Also starring Helen Hunt.)  Not sure if I'm into seeing the dad from Diff'rent Strokes as a pedophile polygamist; but, back then, you only had a few channels to choose from, so beggars couldn't be choosers.
POLICEWOMAN CENTERFOLD (1983)/ MAZES AND MONSTERS (1982)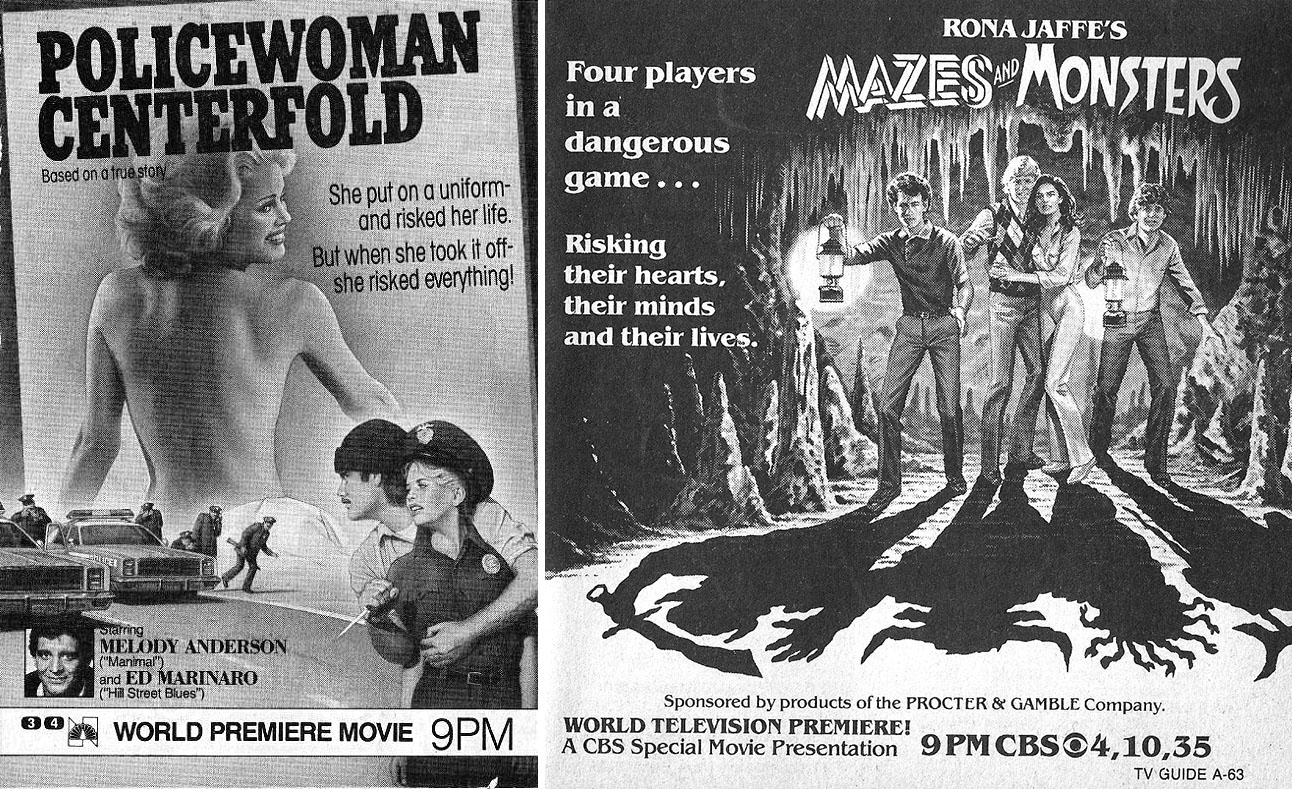 Policewoman Centerfold stars Melody Anderson (of Flash Gordon and Manimal fame), based on a true story.  Mazes and Monsters stars Tom Hanks – a film that capitalized on the fears of American parents over the dreaded "occult" pastime of their kids: Dungeons & Dragons.
THE RULES OF MARRIAGE (1982)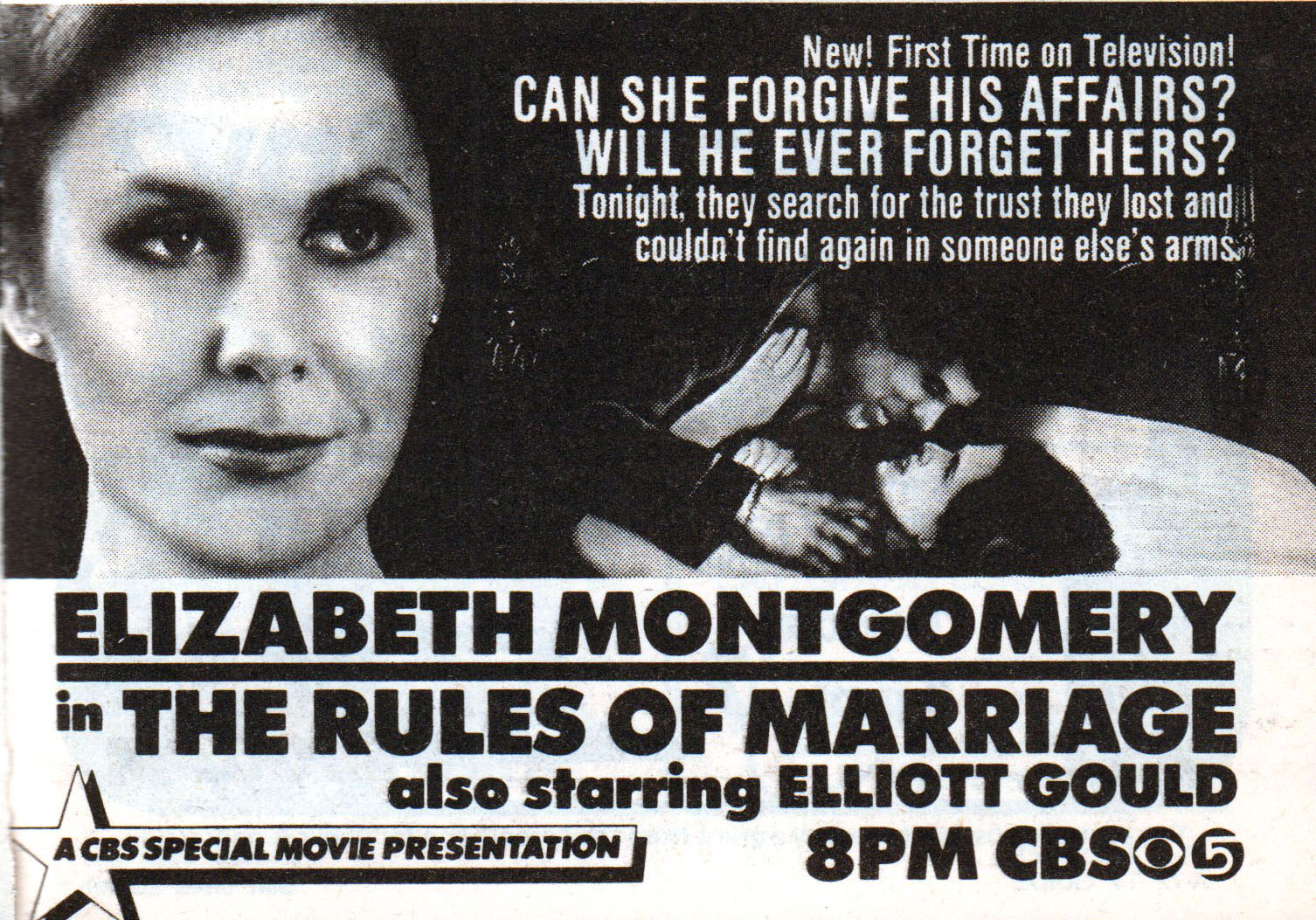 For some reason Elizabeth Montgomery became the TV Movie queen during the late seventies/early eighties.  Most notably, she starred in the much-hyped Lizzie Borden movie.
SWEET HOSTAGE (1975)/ THE BOY IN THE PLASTIC BUBBLE (1976)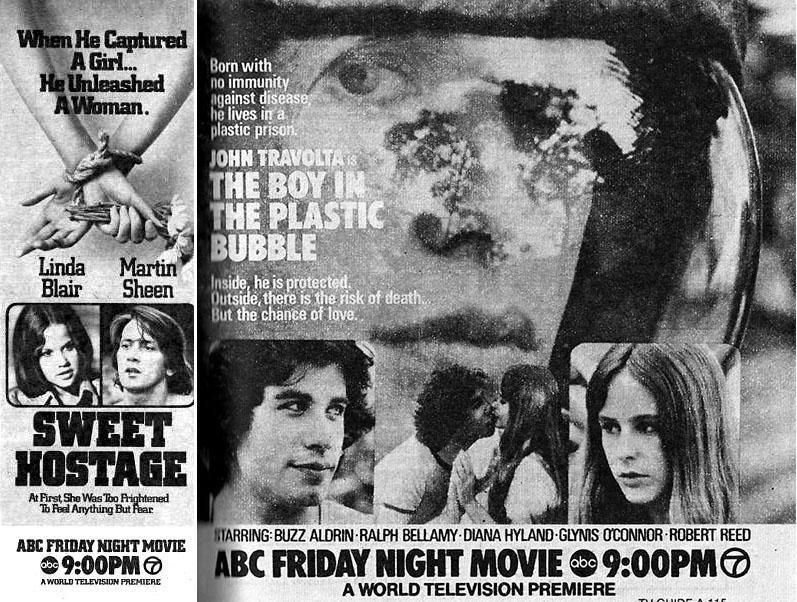 Linda Blair reported took the role in Sweet Hostage because she thought her boyfriend, Rick Springfield, would be cast opposite her (but it went to Martin Sheen instead).
And finally, I think it is fitting to end with The Boy in the Plastic Bubble.  For some reason, this little TV movie has stuck in the minds of Generation Xers perhaps more than any other made-for-television film.  Starring John Travolta and the dad from The Brady Bunch,  The Boy in the Plastic Bubble was everything a TV movie should be: cheesy, overly sentimental, full of familiar celebs, and oh-so-very seventies.