Let's have a look inside the rooms of 38 U.S. hotels and motels from the late fifties through the seventies. Whether it's a cheap roadside motel in Tennessee or a chic Hawaiian resort – the "handsomely decorated" retro interiors  are a wonder to behold. Be prepared for a plentiful supply of wood paneling, tiny televisions, and gaudy wallpaper. The images come from vintage postcards, and I've included the postcard text when available.  Enjoy.
The Biltmore Hotel – Los Angeles, California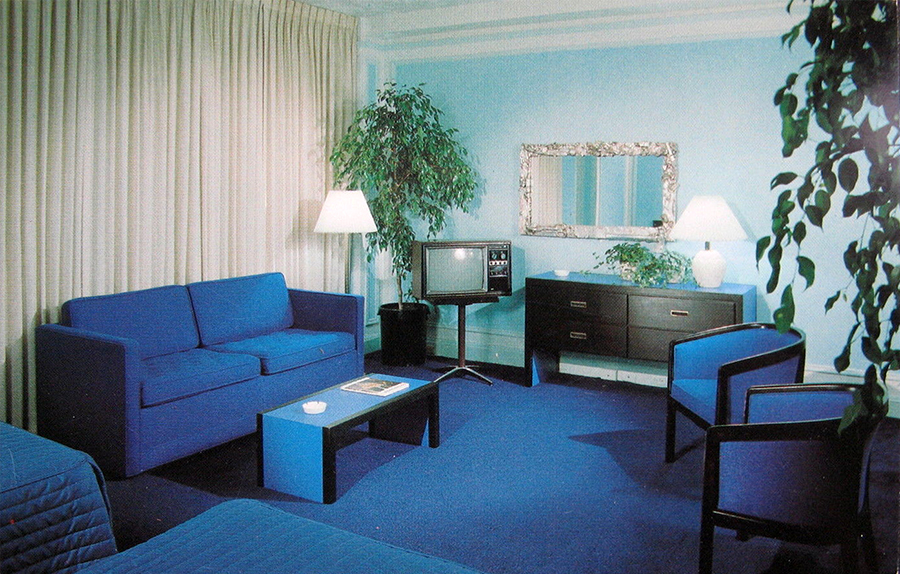 Offered guests the choice of blue, green, orange, yellow, or violet rooms.
Wenonah Hotel – Bay City, Michigan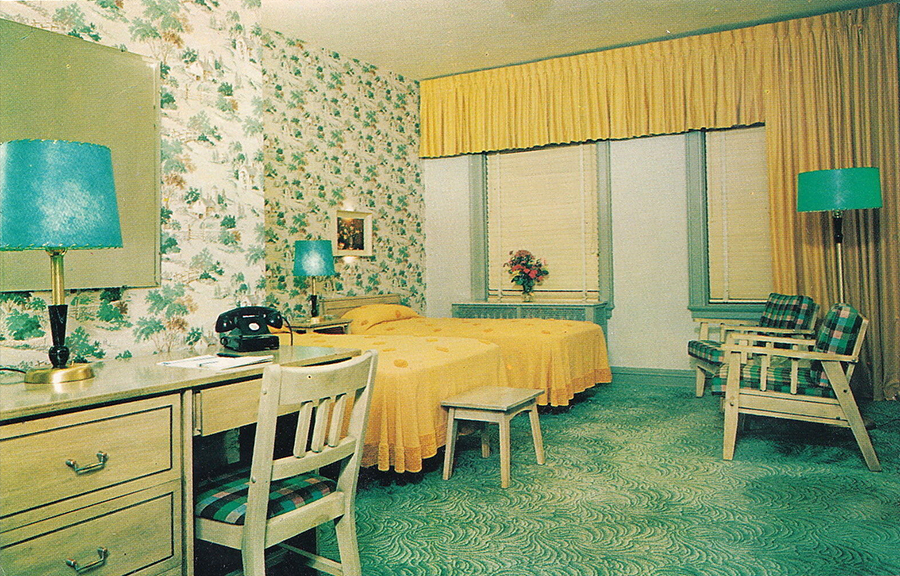 "200 rooms with private shower bath, facing beautiful Wenonah Park.  Plenty of parking. Television and air conditioning.  Good food, cocktail lounge, excellent convention facilities."
Windjammer Motel – Newport, Oregon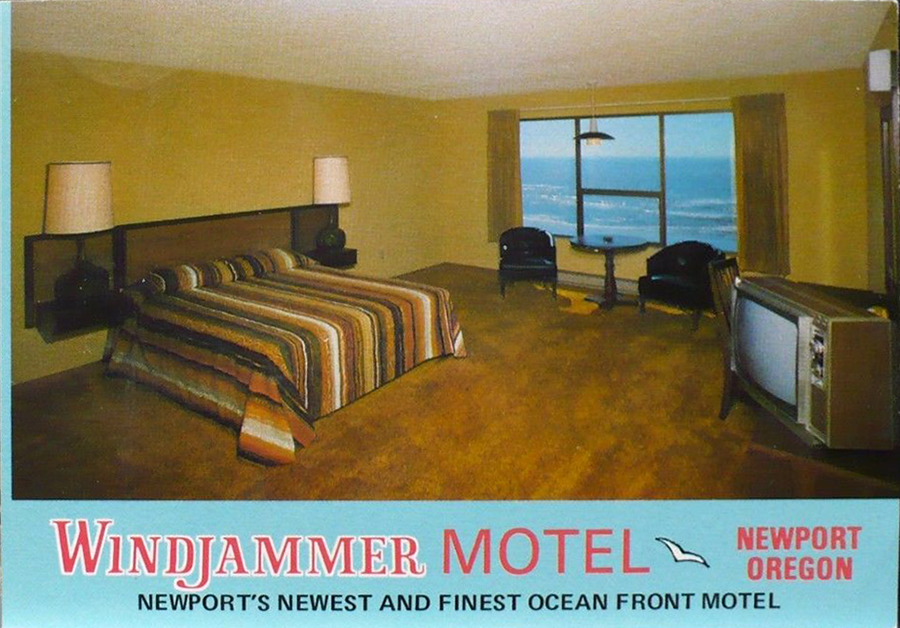 Copper Hills Motel & Coffee Shop – Miami, Arizona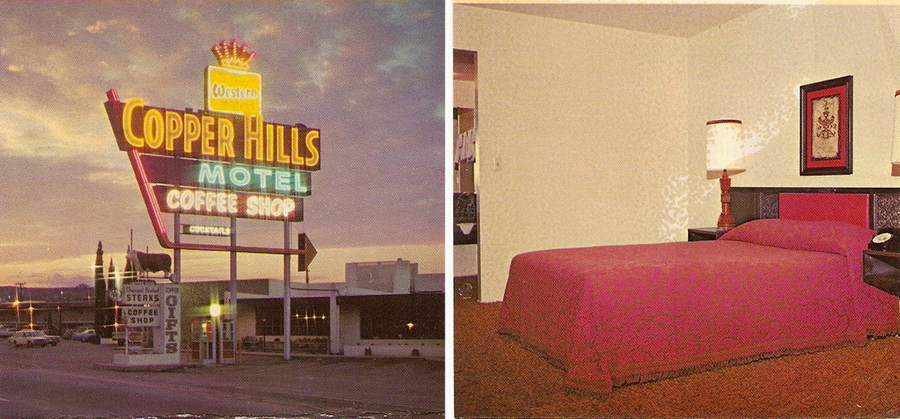 "Facilities: coffee shop (6AM-10PM), dining room, cocktail lounge, nightly entertainment, bowling alley, liquor store, heated pool, color TV, gift shop"
Quality Courts Motel – Pocomoke, Maryland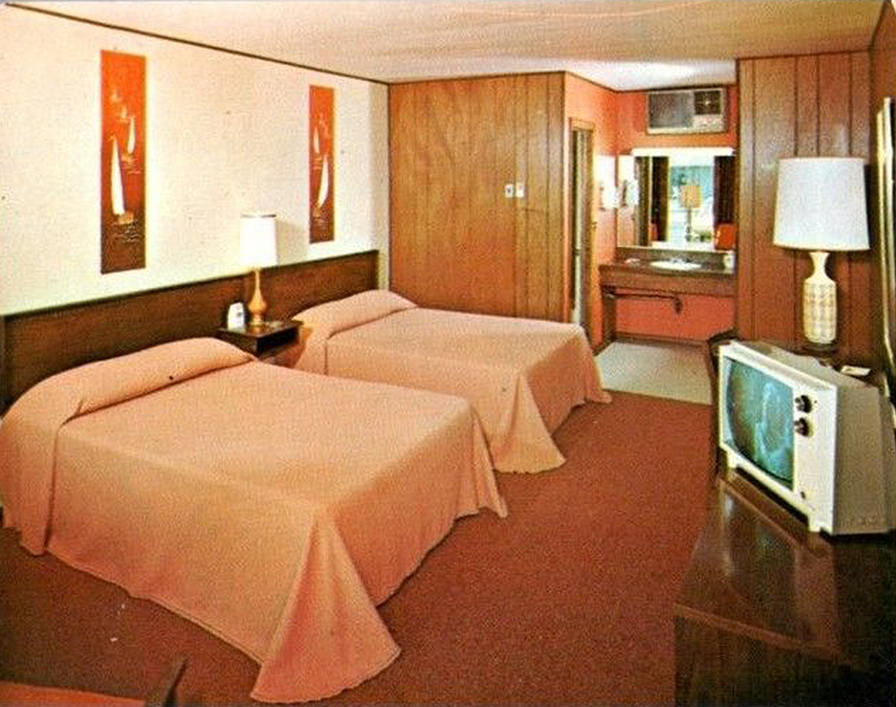 Town House Motor Inn – Fargo, North Dakota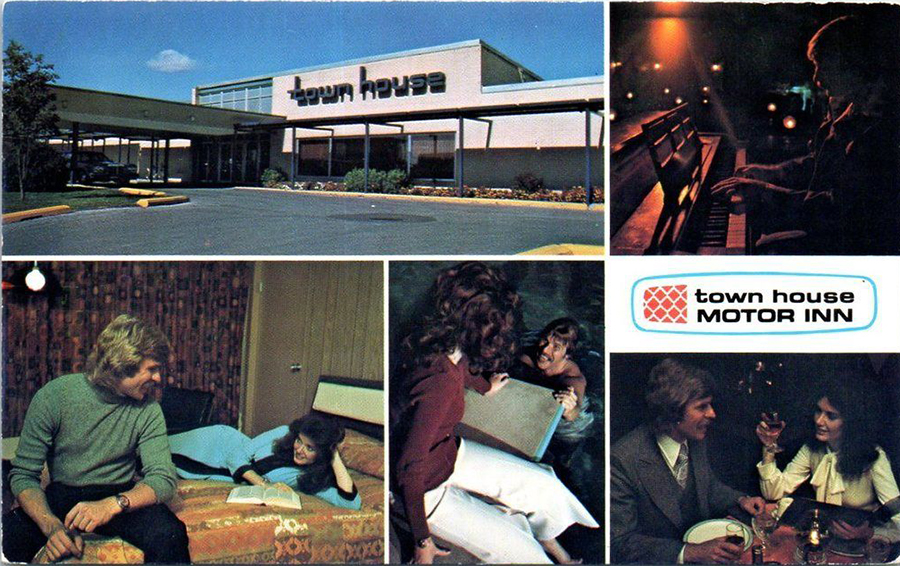 Nixon Hotel – Butler, Pennsylvania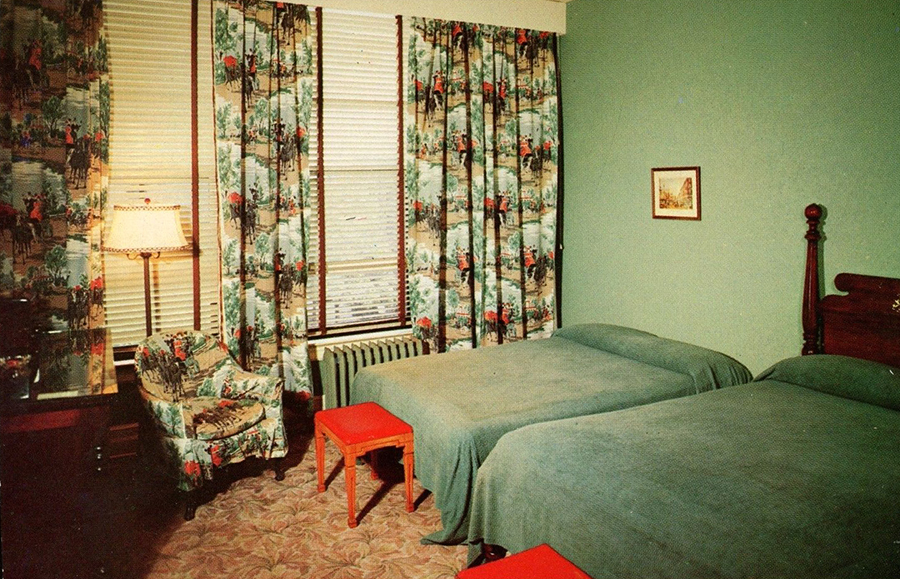 "Say! Let's stop at the Nixon Hotel. Beautiful and modern lobby, General Butler Dining Room, Cocktail Lounge & Bar; guest rooms with TV and radios."
Quality Motel – Perry, Georgia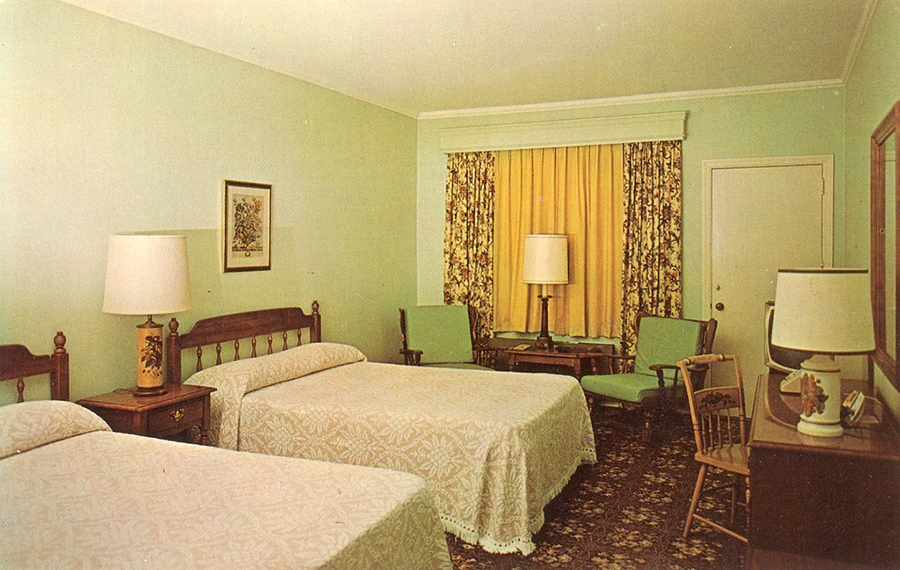 Best Western Rondee – Sedona, Arizona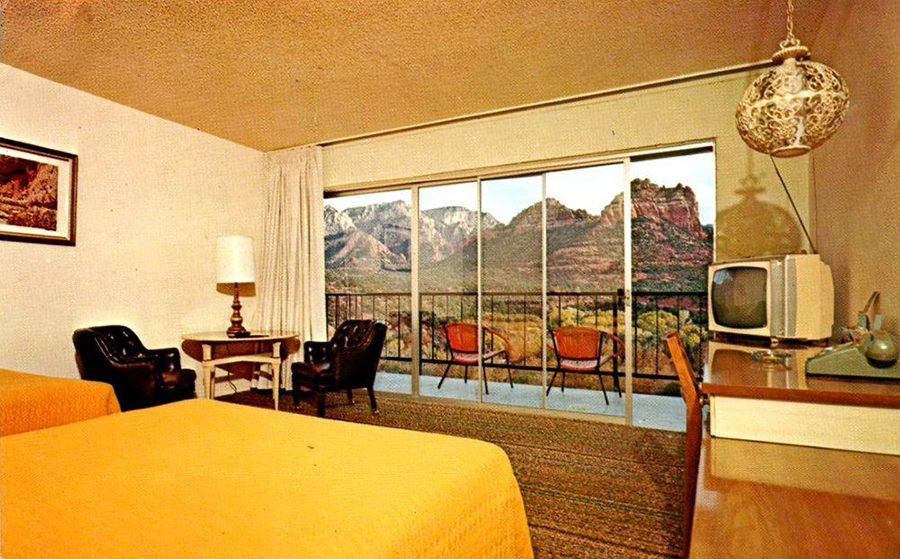 Lake Merritt Travelodge – Oakland, California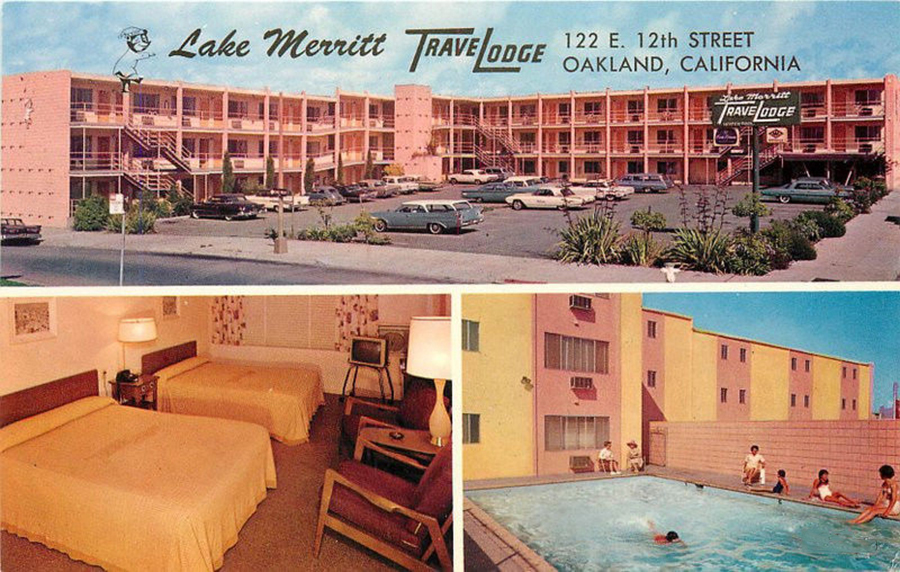 "Heated swimming pool, air conditioned, elevator, televisions, radios, and telephones in all rooms."
Hanalei Plantation – Hanalei Bay, Kauai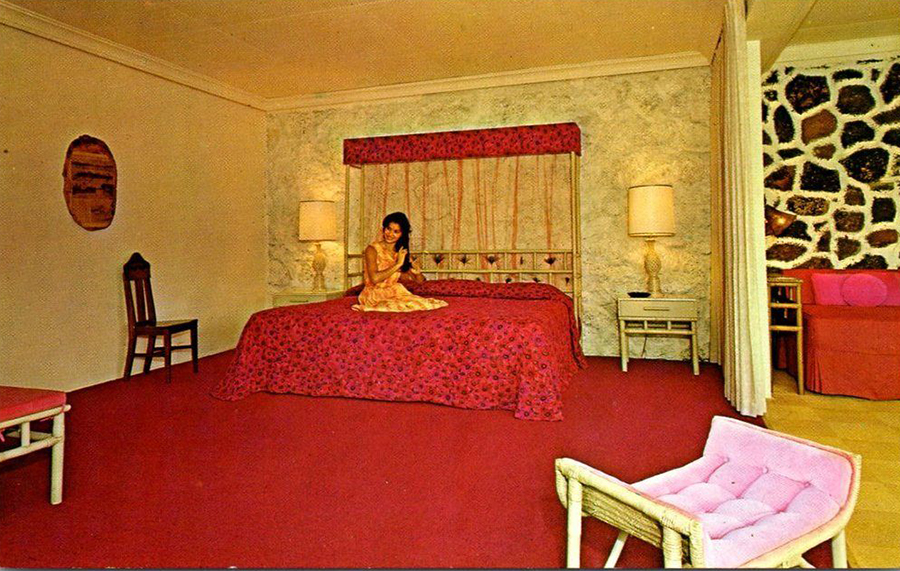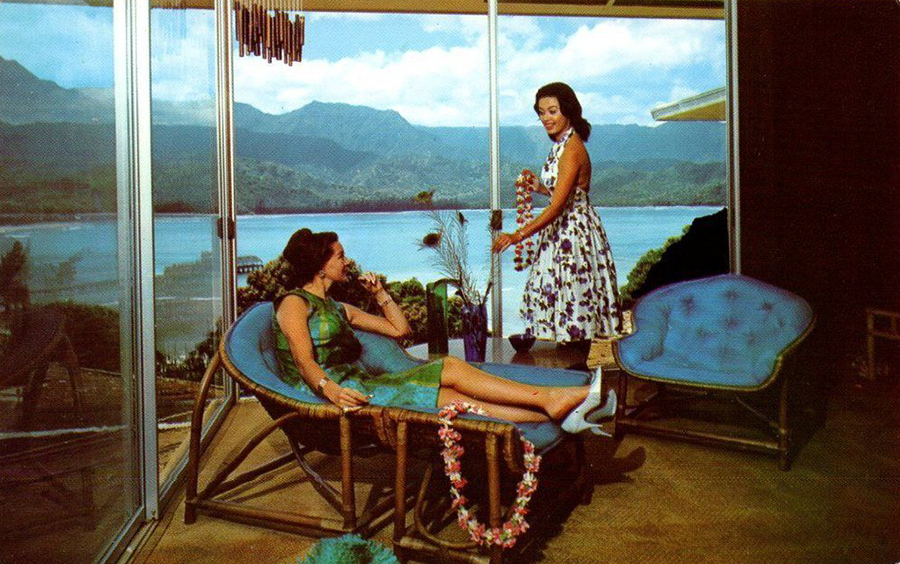 Town & Country Motor Hotel – Cuyahoga Falls, Ohio

Abbey Hotel – 51st Street, New York, NY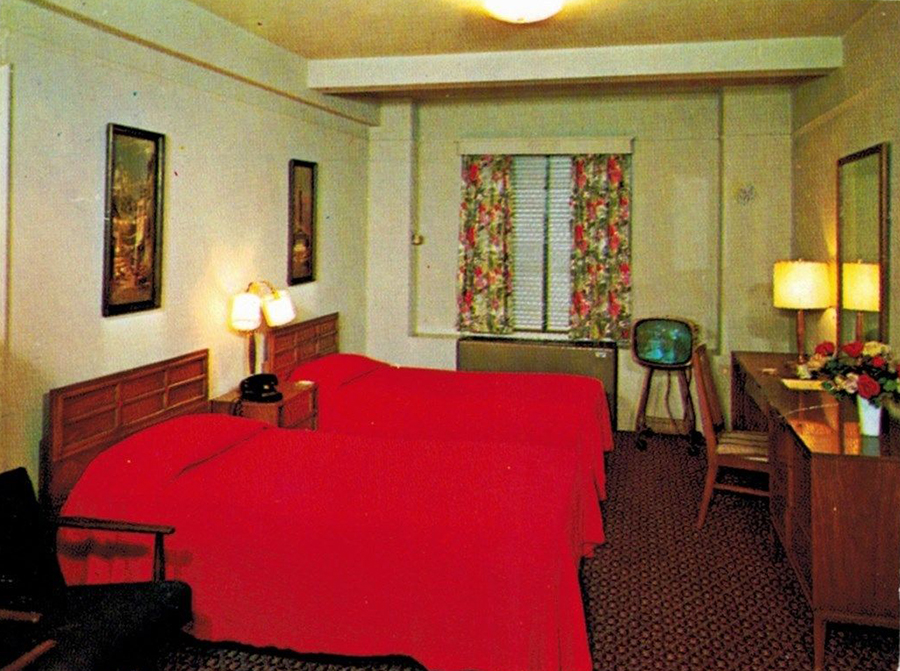 "Accommodating 1000 guests – 23 stories, modern rooms and suites, television in every room, in Radio City and Rockefeller Center area, home of the famous Stockholm Restaurant and Cocktail Lounge."
Herkimer Hotel – Herkimer, New York

Hotel King Kemehameha – Kailua Kona, Hawaii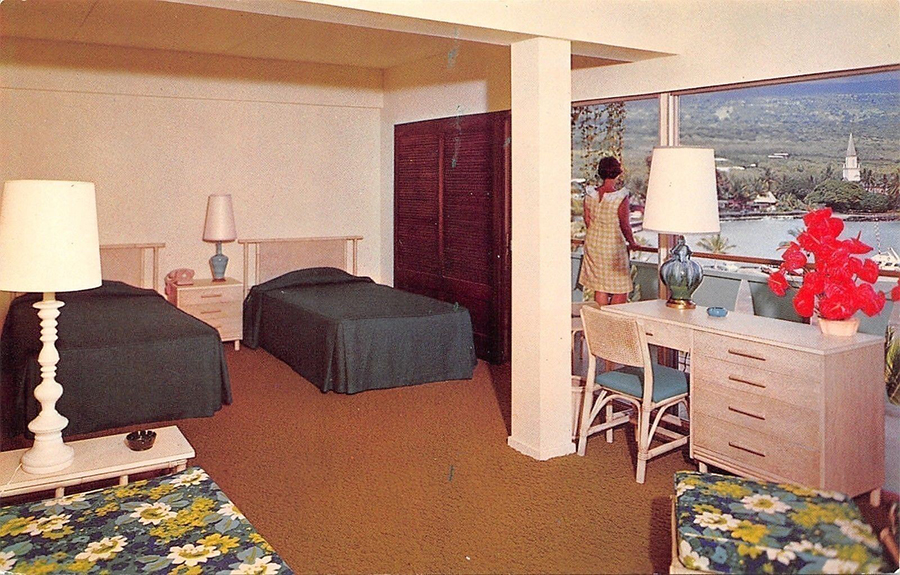 "As in this lovely suite, every guest room in Hotel King Kamehameha boasts its own private lanai with a superb view of delightful Kailua town and the scenic Kona Coast."
The Hotel Bethlehem – Bethlehem, Pennsylvania

"A modern hotel located in the heart of the city and convenient to business, shopping, amusement and sight-seeing areas."
The Nalioa Hotel – Hilo, Hawaii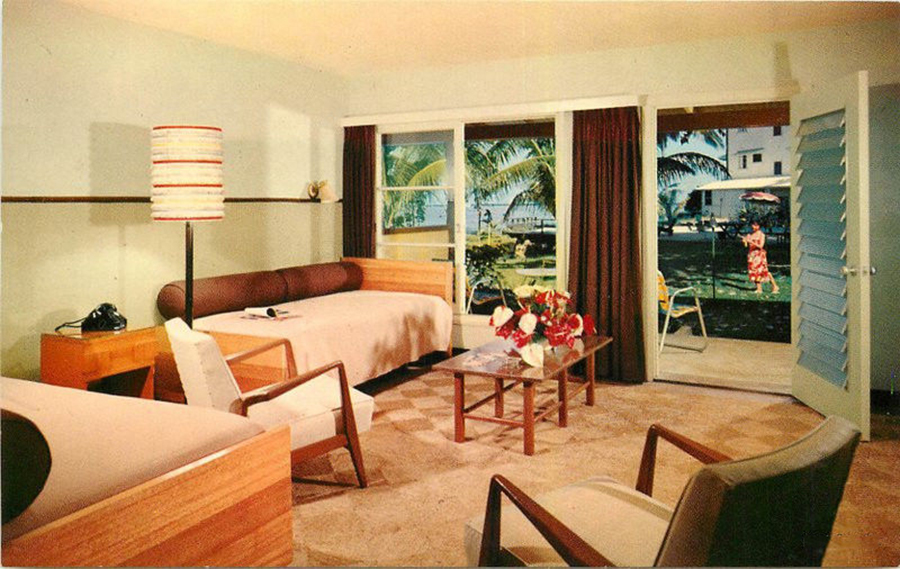 "This beautiful Inter-Island Resorts' hotel is a favorite of Islanders and visitors alike.  Each modern room is casually comfortable and affords a pleasant vista of tropical gardens and Hilo Bay."
Bo-Bet Motel & Coffee Shop – Plack Horse Pike, Mount Ephraim, New Jersey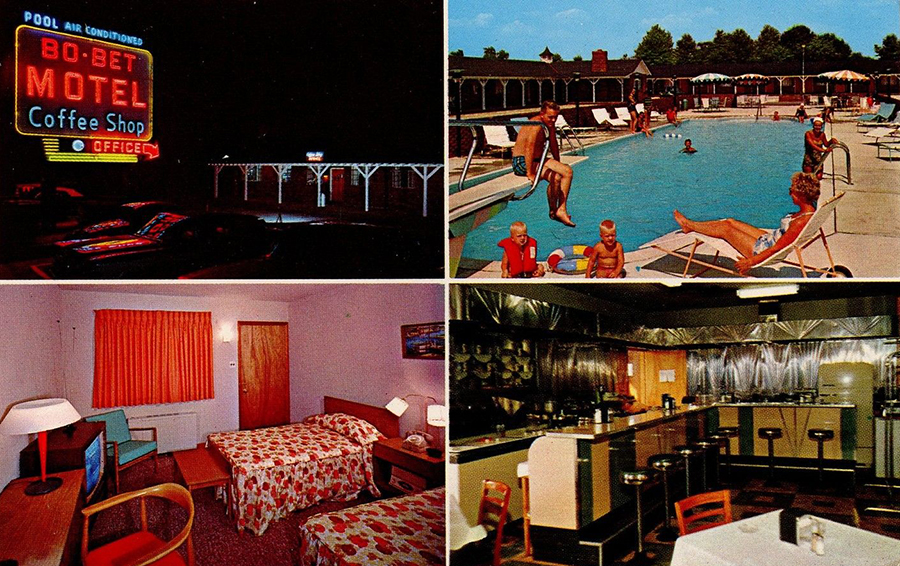 "Complete with colored television, radio, telephone, air conditioning.  Motel, coffee shop, and valet service, open 24 hours daily.  New Olympic size swimming pool."
Hotel Commodore –  Park Avenue at 42nd Street, New York, NY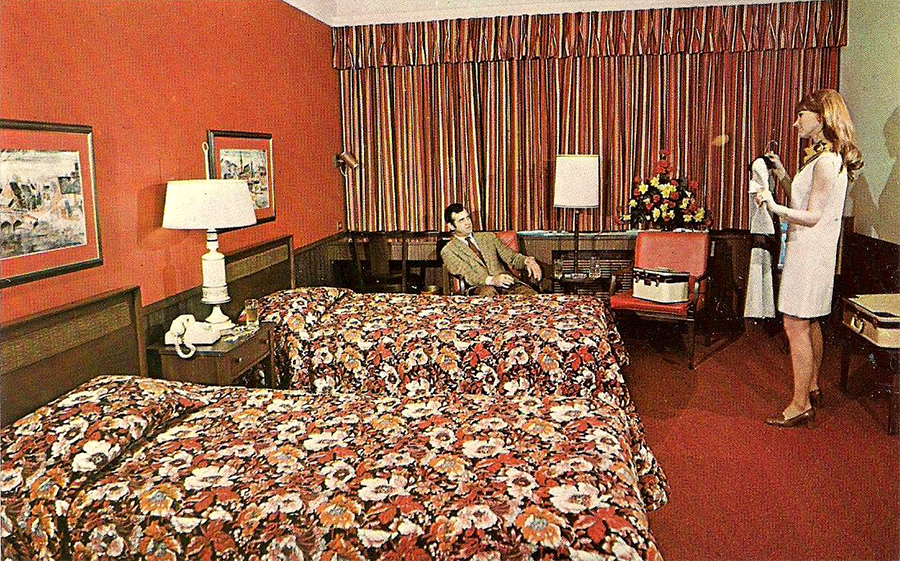 Broadway Motel – Eureka, California

Colonial Motel – Rockford, Michigan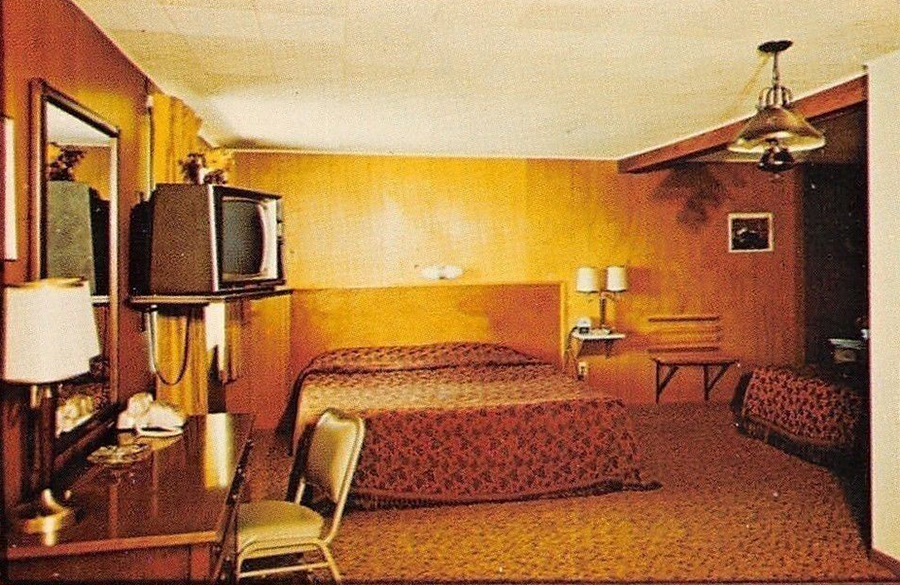 "Color TV, showers, tubs, carpeting, king size beds, self-dial phones, continental breakfast."
Colonial Brick Motel – Hallstead, Pennsylvania

Hanalei Plantation – Hanalei Bay, Kauai, Hawaii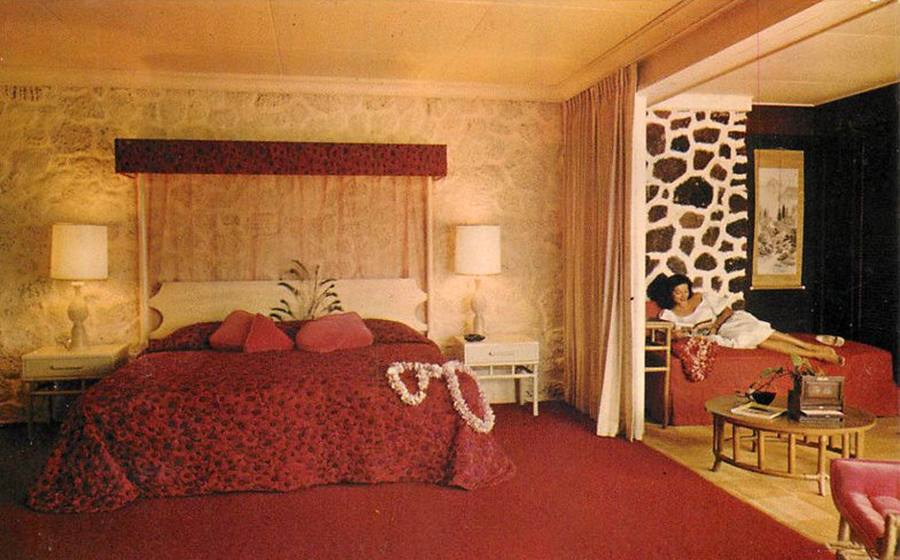 "A bedroom in one of the private cottages that line the brow of the hill at Hanalei… overlooking river, valley, mountains and deep blue ocean."
Hill Top Motel – Belmar, New Jersey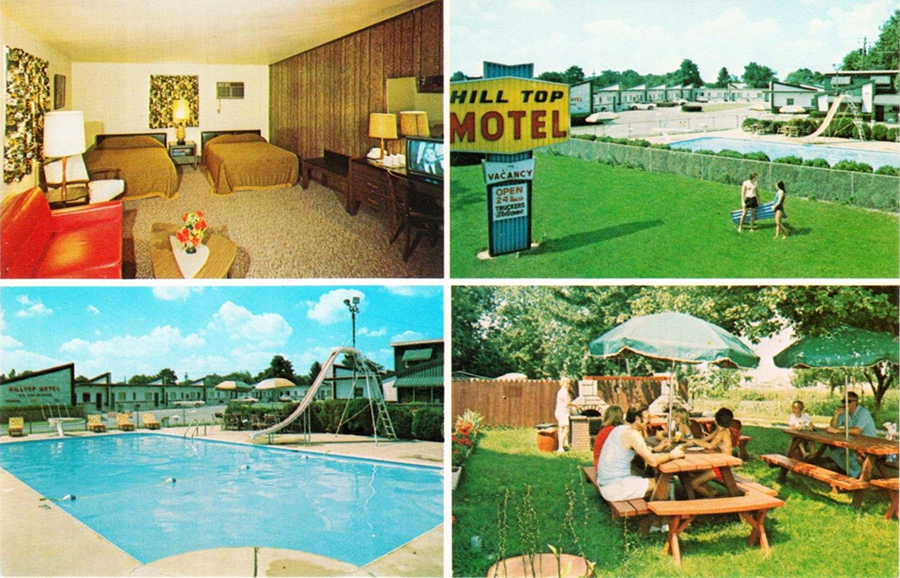 Sea Horse Motel & Apartments – North Wildwood, New Jersey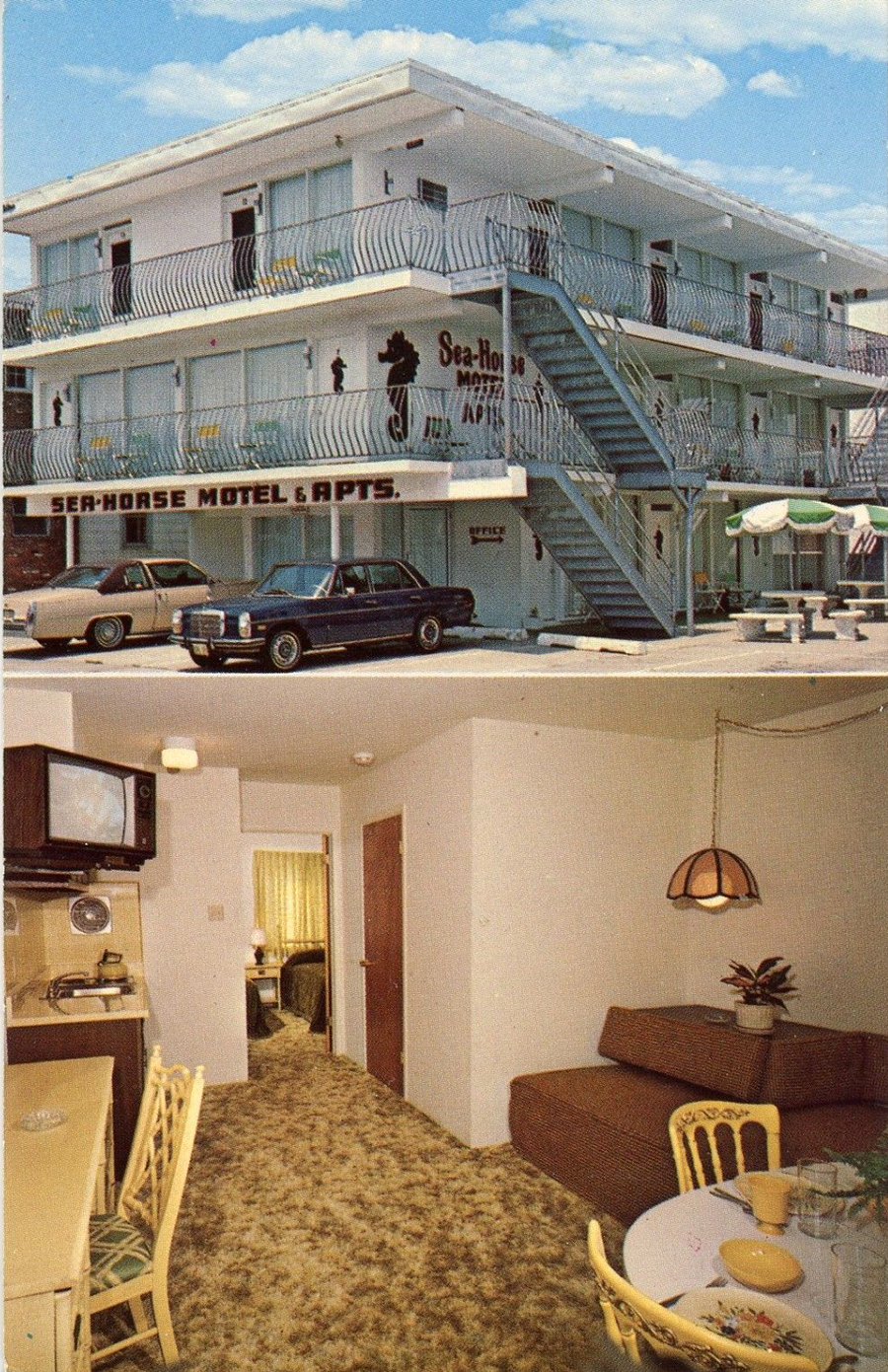 "All with air conditioning, cable color TV, private bath with tub and shower, daily maid service, in-room coffee units and refrigerators in motel rooms, gas barbecue grill, babysitting service, and off street parking."
Berkshire Spur Motel – Canaan, New York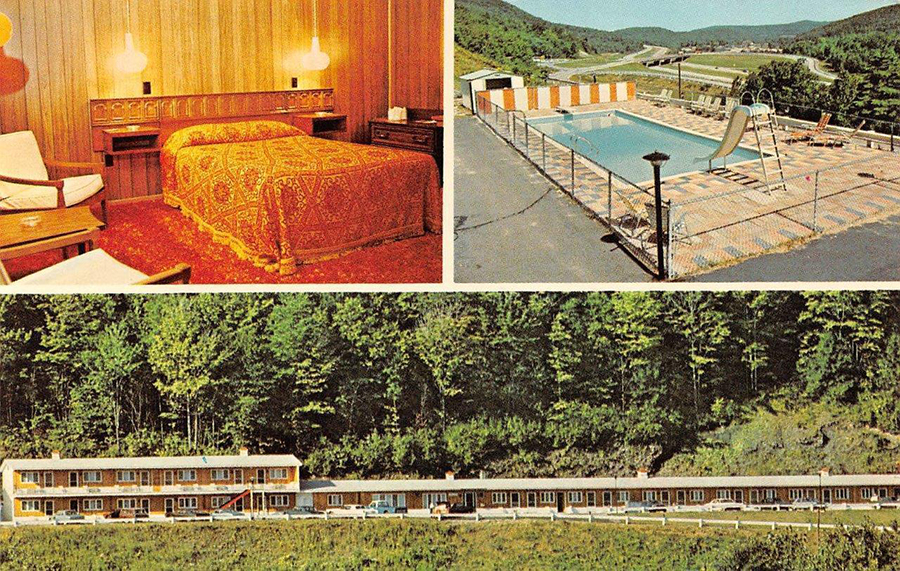 Congress Inn – Monroe, Ohio

Kauaui Beachboy Hotel – Waipuli Beach, Kauai, Hawaii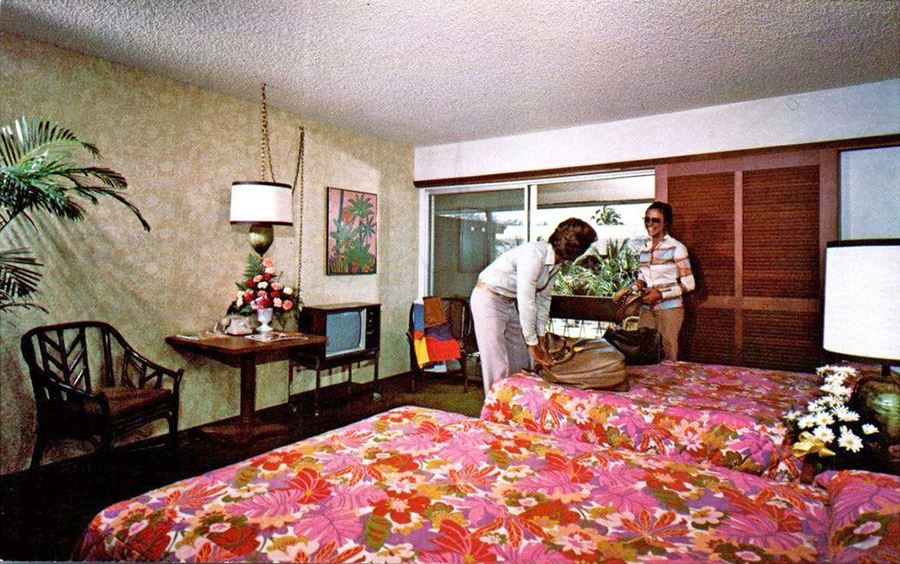 8 Inn Motel – Manchester, Tennessee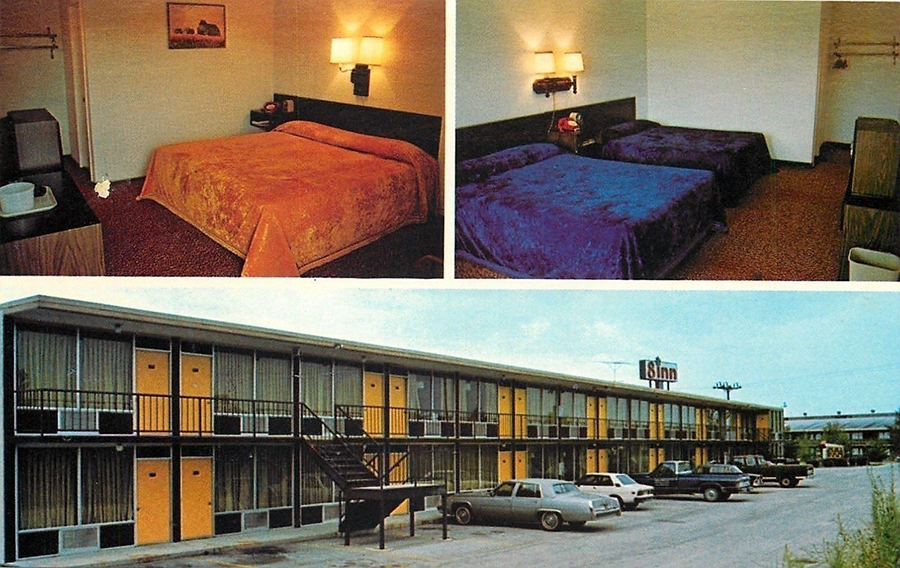 "52 guest rooms, direct dial phones, bath and shower combination, color cable TV, air conditioning, king size waterbeds, honeymoon suites, located half-way between Nashville and Chattanooga in beautiful Middle Tennessee."
Broadview Hotel – Wichita, Kansas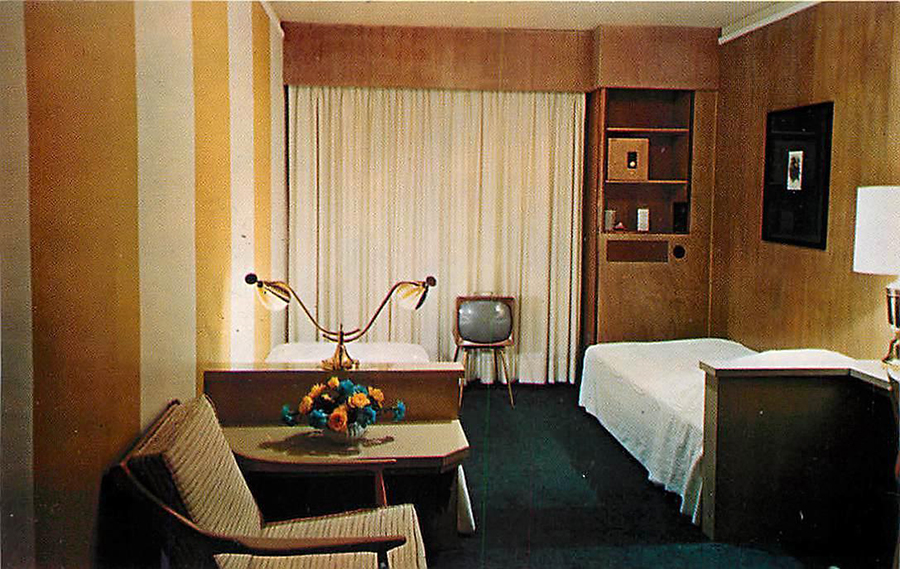 Thunderbird Motel – Klamath Falls, Oregon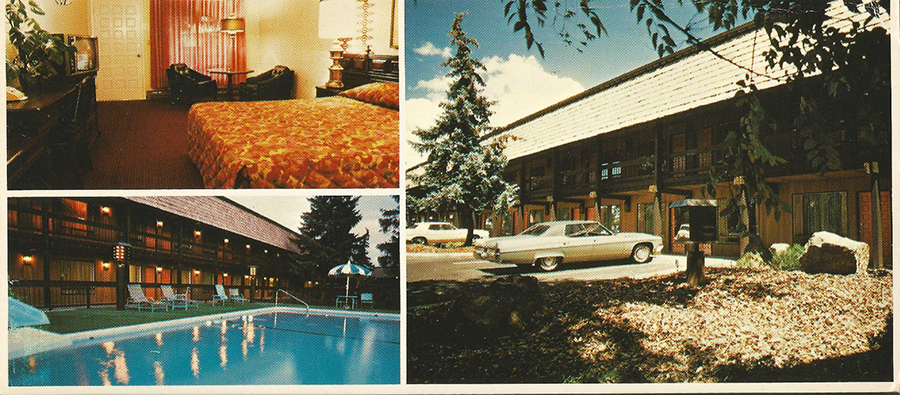 Wingate Motel – Wildwood, New Jersey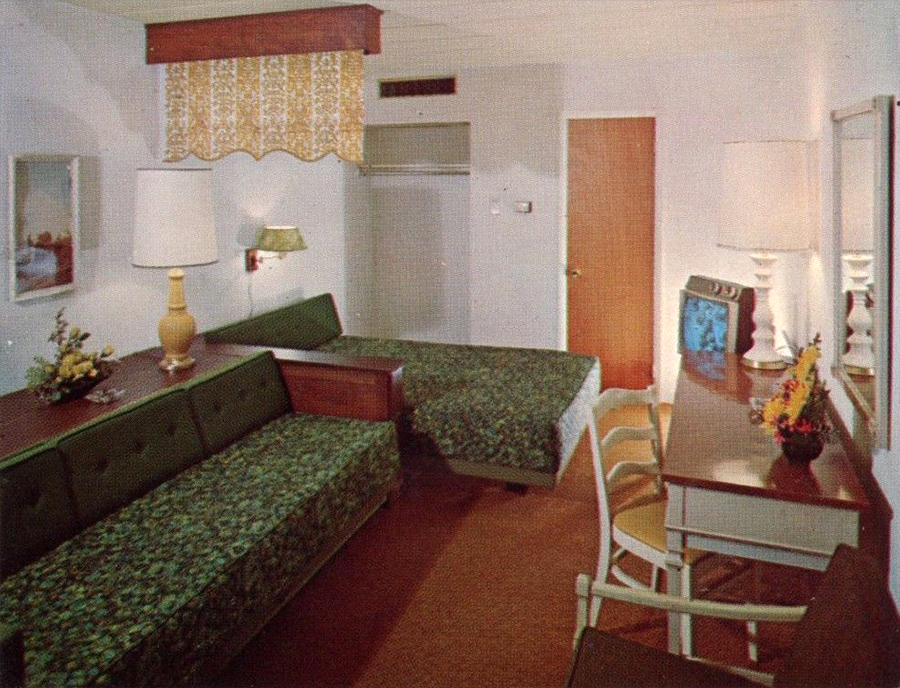 Deluxe motel rooms feature silent central air conditioning & heat – individually controlled, ceramic tile bath with tub and shower, free Color TV, wall-to-wall carpeting, inn coffee, daily maid service and refrigerators optional."
Millwood Motel – Millbrae, California

"34 Deluxe Units, color television, coffee in rooms, room phones, kitchenettes available, 1 1/2 miles from San Francisco International Airport"
The Diplomat Motel – Oak Ridge, Tennessee

56 De Luxe air conditioned rooms, all rooms with color TV, phones, heated pool, 3 min. to O.R. Atomic Museum."
University Hotel – Athens, Georgia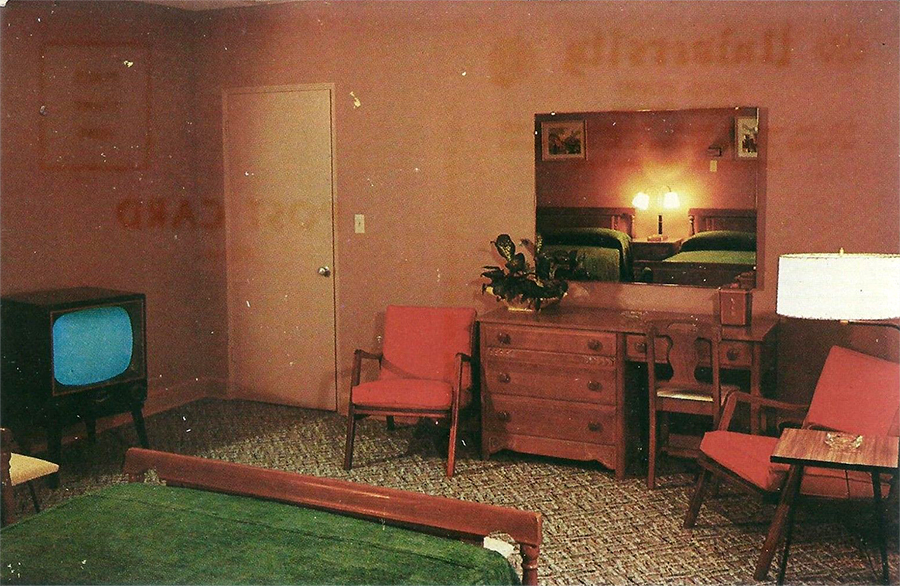 Madonna Inn – San Luis Obispo, California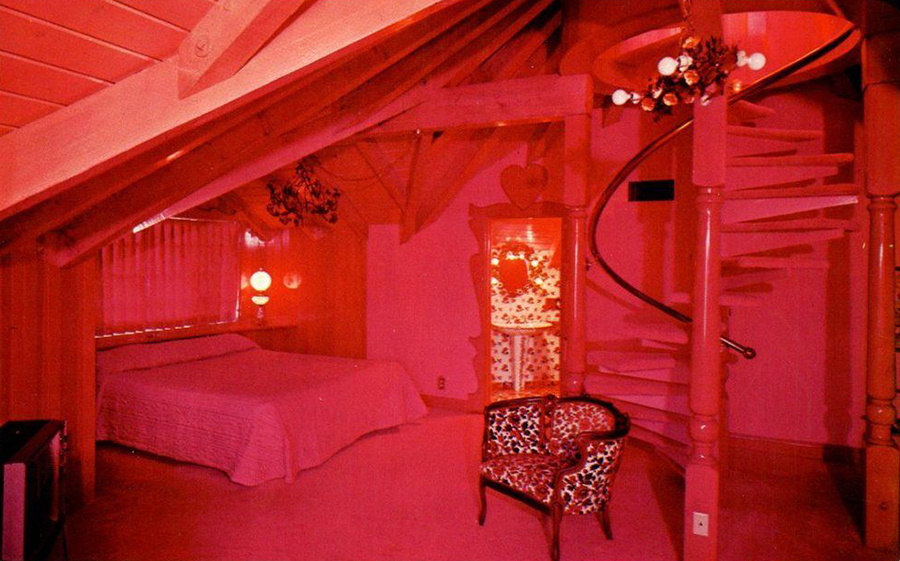 Hotel Executive – Madison Avenue, New York, NY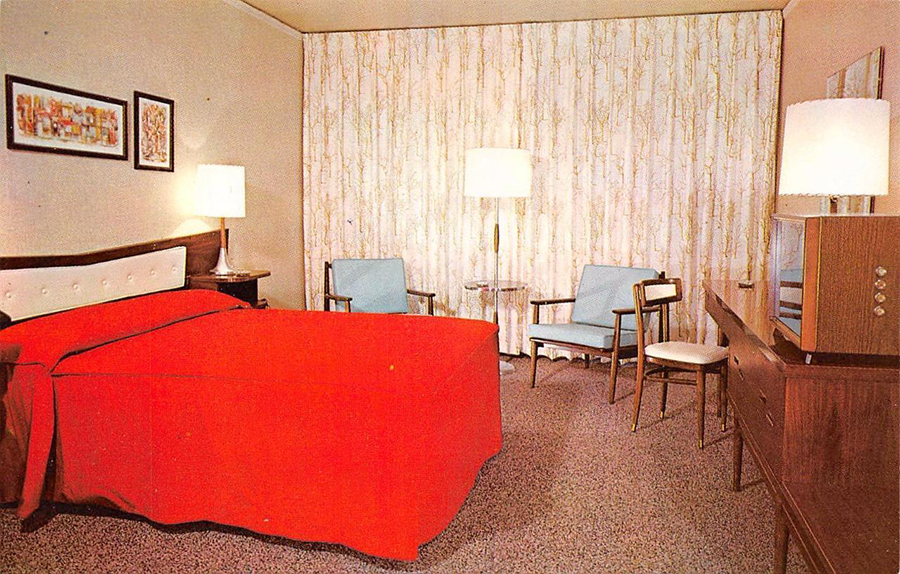 "Located in exclusive Murray Hill section.  All rooms air conditioned and with television. Hotel features a fine restaurant and cocktail lounge."