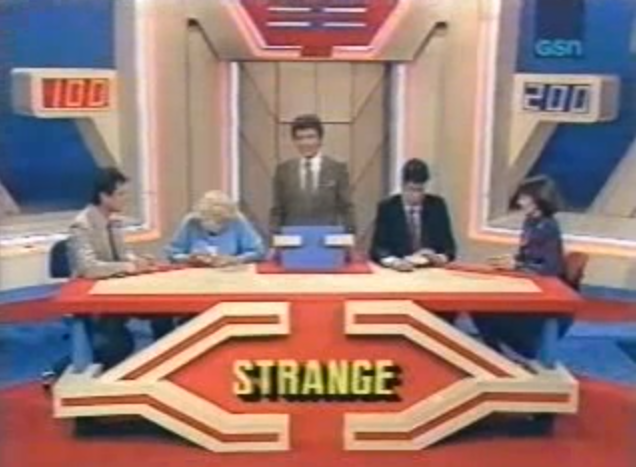 WE'VE all seen the lists of top ten outrageous game show moments.  This isn't one of those.  I'm not interested in zany answers or your standard cheesy game show tomfoolery.  We're looking at those moments that just leave you feeling uncomfortable.
RIOTOUS REACTION TO WOMAN'S PANTIES
A "Match Game" contestant in a miniskirt bends over to hug a celeb whilst flashing the TV audience her undergarments.  Nothing alarming about that – what is alarming is the rapturously orgasmic reaction from McLean Stephenson and host Gene Rayburn.  You'd think they just simultaneously won the lottery and the World Cup.  I've never seen such jubilation at the sight of a woman's panties.  Alas, it was the 1970s, and people just acted… different.
CREEPY SEXUAL PREDATOR HOSTS CANADIAN GAME SHOW
From 1980 to '85 there was a Canadian game show called "Just Like Mom" hosted by Fergie Oliver.  Aside from the show's premise of mothers and daughters competing to demonstrate who knows each other best, the show involved Fergie behaving like a sexual predator.
I'd love to give him the benefit of the doubt and just say he was being friendly.  Unfortunately, Fergie acts too much like an out-of-control peadophile, and dashes any hope that this might all be just innocent fun.  Take special note of the crowd's awkward silence as the poor girls squirm to escape his drooling pursed lips.
OBNOXIOUS KID MAKES THINGS AWKWARD
This academic competition was rendered painfully awkward by an unbearable smart-ass.  If only this show had been hosted by Chuck Norris; a roundhouse kick to the solar plexus would have wiped that sanctimonious grin off his face real quick.
CELEBRATORY DRY HUMPING
Upon winning the "$25,000 Pyramid", a female contestant is bum rushed by two strange 70s gentlemen.  Unusual as that was (typically, a single spouse or boyfriend joins the winner), things get exponentially bizarre as one of the guys begins dry humping the woman's backside!  If only we had a clearer video of the incident; game show dry humping is so much better in HD.
INEXPLICABLE "BREAST" APPEARANCE
The contestants of "Password" are asked to come up with the word "strange". Normally, the word would then appear on the board… instead, for no reason whatsoever, the word "breast" appears.  What in God's name happened?
The situation is made dramatically worse by host, Bert Convy, who doesn't play it off well.  Instead of finding humor in the absurdity of it all, he becomes flustered and embarrassed.  An awkward time was had by all.
ACTUAL SERIAL KILLER ON DATING GAME
This episode of The Dating Game would be creepy even if I didn't know Bachelor #1 would become a notorious Los Angeles serial killer.
Rodney James Alcala actually gets chosen by the Bachelorette.  I